Pineapple Teriyaki Turkey Meatballs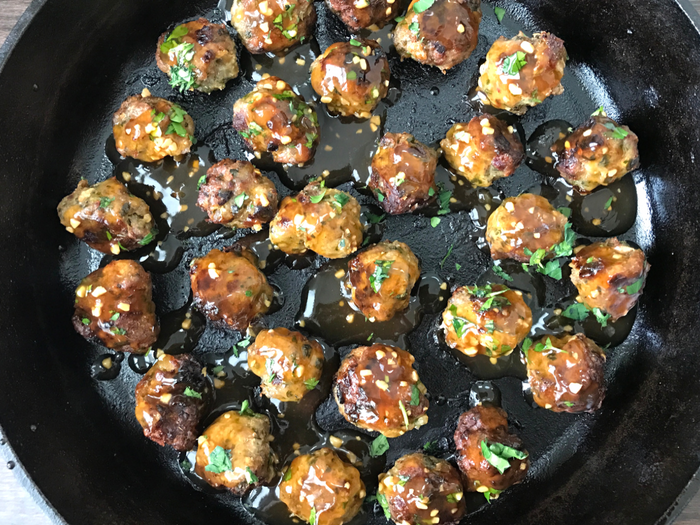 Christina Shoemaker:
The Whole Cook
Recipe type:
Entree, Dinner
FOR THE MEATBALLS:
1 lb lean ground turkey (I use Honest Turkey 93/7)
1 tablespoon olive oil
½ yellow onion, finely chopped
1 tablespoon garlic, minced
¼ cup fresh cilantro, chopped
¼ cup fresh parsley, chopped
½ cup breadcrumbs
1 egg
1 teaspoon salt
½ teaspoon pepper
½ teaspoon ground ginger
1 teaspoon crushed red pepper
FOR THE PINEAPPLE TERIYAKI SAUCE
¾ cup soy sauce
2 tablespoons honey
2 tablespoons garlic, minced
¾ cup pineapple juice
½ teaspoon ground ginger
1 cup water
⅓ cup cold water
3 tablespoons corn starch
Preheat oven to 400 degrees.
In a large cast iron skillet add your tablespoon of olive oil, onion, and garlic. Saute on medium high heat, stirring frequently, for approximately 2-3 minutes. The garlic should be a nice golden color.
Move your sauteed garlic and onion to a mixing bowl. Add your ground turkey, cilantro, parsley, breadcrumbs, egg, salt, pepper, ground ginger, and crushed red pepper. Combine with your hands until it's completely mixed. Place in the refrigerator for 30 minutes.
After 30 minutes remove your meatball mixture from the refrigerator. Use a small cookie scoop or your hands to create balls that are approximately 1 to 1½ inches in diameter (smaller than a golf ball). Place in the same cast iron skillet you'd originally used for your onion and garlic.
Place your meatballs in the oven and bake for 30 minutes. (If you'd like to bake pineapple and mini sweet peppers too this is when you'd also place them in the oven. Just slice them up, add to a greased with olive oil baking sheet, and bake.)
Remove from the oven. Flip your meatballs in the skillet. Add ⅓ inch of vegetable or peanut oil. Fry on medium high heat, flipping meatballs during the frying until they're browned all over. This takes 3-5 minutes total. Remove meatballs from the oil and set aside on a paper towel lined plate until you're ready to serve.
Let's make the pineapple teriyaki sauce. In a small pot add soy sauce, honey, garlic, pineapple juice, ground ginger, and 1 cup water. Stir and heat over medium heat.
In a separate bowl whisk together your ¼ cup cold water and corn starch. Once combined add it to your teriyaki sauce mixture. Stir. Heat a few more minutes. You'll notice your sauce will now thicken very quickly. If it's too thick for your liking you can add water in small increments until you get it where you want it.
Drizzle pineapple teriyaki sauce over your meatballs and garnish with parsley or cilantro. Enjoy!
Recipe by
The Whole Cook
at https://thewholecook.com/pineapple-teriyaki-turkey-meatballs/