Grilled Chicken Cauli Rice Burrito Bowl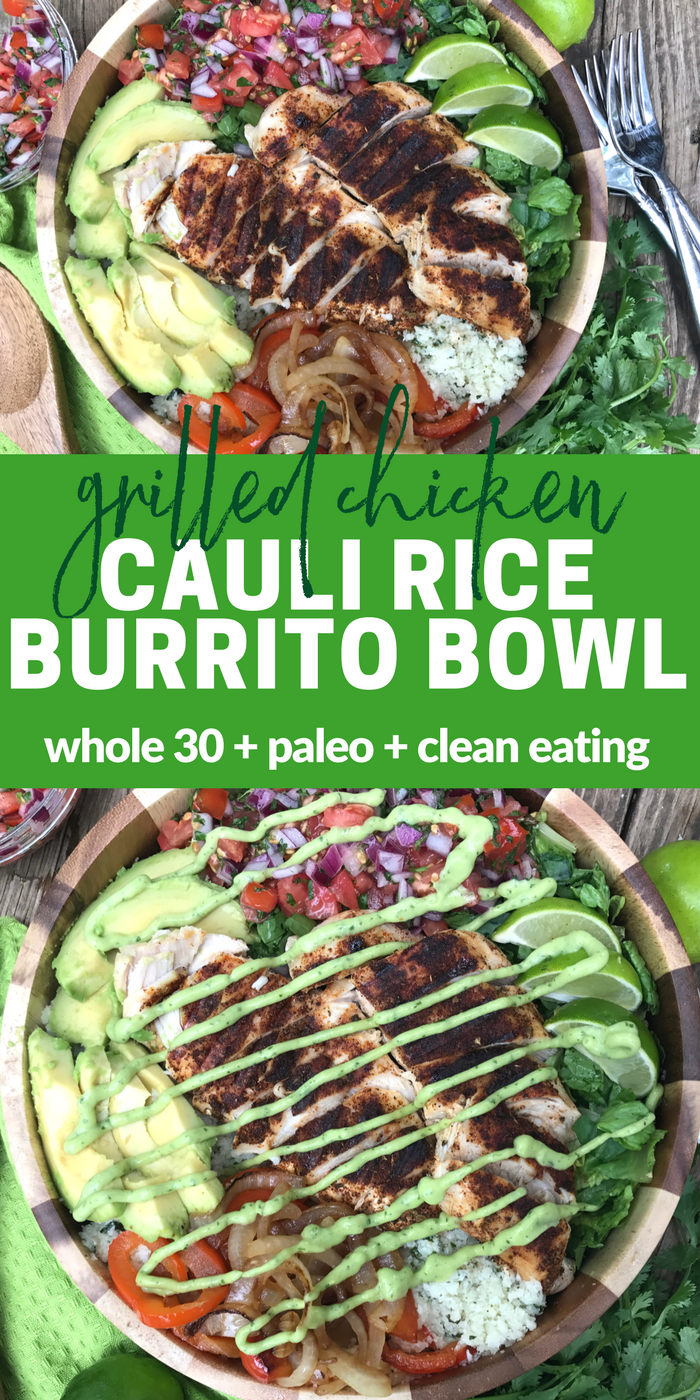 Christina Shoemaker:
The Whole Cook
4 chicken breasts, trimmed
1 - 2 tablespoons olive oil
Taco Seasoning: 1 teaspoon chili powder, ¼ teaspoon paprika, ¼ teaspoon cumin, ½ teaspoon onion powder, ½ teaspoon garlic powder, ¼ teaspoon salt, ½ teaspoon dried oregano
½ tablespoon ghee (you can substitute coconut oil or olive oil)
1 red bell pepper, sliced into strips
1 onion (white or yellow), sliced into strips
2 heads of romaine lettuce
2 avocados, sliced
Pat your chicken breasts dry with a paper towel.
Coat the chicken in olive oil and the Taco Seasoning spices.
Grill chicken for 5-7 minutes on each side or until fully cooked. The spices will help get the outside nice and browned.
Prepare your Cilantro Lime Cauliflower Rice and Pico de Gallo according to those recipe instructions.
In a saute pan add your ghee, red bell pepper, and onion. Cook on medium heat for approximately 5 minutes, stirring occasionally. Remove from heat when onion and peppers are wilted.
Place Cilantro Lime Cauliflower Rice in the bottom of a large bowl or divide between several bowls if you're creating individual portions.
Top with chopped romaine lettuce, Pico de Gallo, avocado slices, sauteed onions and peppers, and grilled chicken.
Drizzle Creamy Avocado Dressing over everything.
Recipe by
The Whole Cook
at https://thewholecook.com/grilled-chicken-cauli-rice-burrito-bowl/