Walmart Grocery Pickup: The Ultimate Mom Life Hack
I love grocery shopping. I love perusing all the options on every aisle. I love taking my time and reading the labels. I love squeezing all the avocados until I find just the right one, checking items off my carefully organized shopping list, and…
NOPE. I'm a mom of small children. The only avocado squeezing that occurs is if my toddler grabs one while I'm not looking. And that's not a good thing. My grocery shopping goes something like this.
"Please stay in the cart."
"You want out? Okay."
"You want back in the cart? Okay."
"Please keep your shoes on."
"Please stop touching everything."
"No, I'm not buying that."
"I'll buy it if you promise to stay in the cart."
"I promise we're going home in 5 minutes."
"Okay, we're not doing this again until you're 16. Or until we run out of orange juice on Tuesday."
I end up leaving with only half of what I intended to buy and a lingering suspicion that the other shoppers were silently analyzing my parenting and the volume of my kids' voices.
Good news! The days of praying my way through the aisles while moving at breakneck speed to identify the necessities are over. I have recently discovered the ultimate mom life hack. This is not an exaggeration. Look into my eyes. This will seriously revolutionize how you do your grocery shopping. I'm talking about Walmart's Grocery Pickup.
Picture this. You are in your cozy pajamas at the kitchen counter with your favorite coffee (mostly cream). It's delicious, right? Now you pull out your phone and open your new favorite app. You start building your grocery shopping list. You can browse the many organic produce options. You can search online for recipes you want to try (like my macaroni & cheese) and then toss the needed ingredients into your cart. You can make thoughtful decisions about your purchases instead of rushed ones.
Gone are the days of trying to remember that we need orange juice when we're in the store. No more leaving my list at home. Now when I notice we're running low on diapers I just open the app and add it to my cart. I can continue to add items as I discover we need them throughout the week and then checkout whenever I'm ready.
To get started simply download the Walmart Grocery app. It's available in iOS and Android.
Enter your zip code to see what stores provide this service near you.
Create an account by supplying just a bit of information or login using your existing Walmart.com account.
Start shopping! Voila! You can shop by department or use the search box to find specific brands or products. The app remembers your previous purchases so you can easily find them in your Favorites.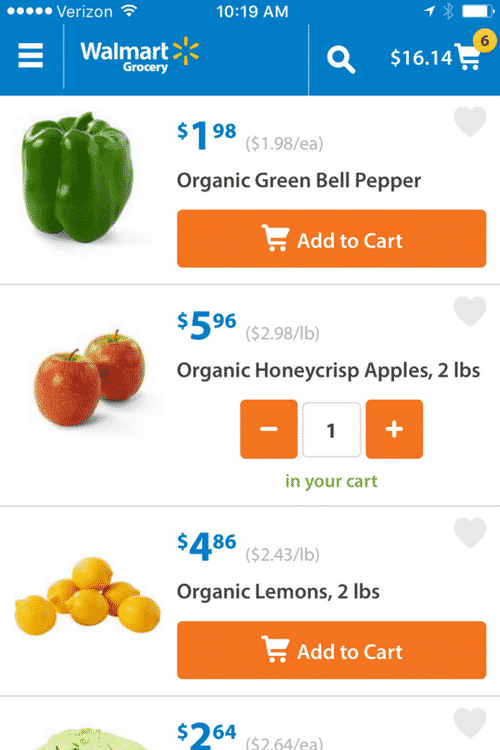 At checkout you'll select a time to pick up your items. Then you go about your day. Meanwhile some saintly stranger is packing up your purchases for you. When it's time to pick up your groceries just pull up to your store's grocery pickup location. You can even check-in using the app to let them know you'll be there in 15 minutes. Hear this, friend. You do not have to get out of the car. You do not have to get your kids out of the car. Your glorious purchases are loaded into your car!
The first time I did this I was amazed. I pulled into the parking lot and the friendliest gentleman came out with my purchases in less than 5 minutes. He loaded everything into the car while asking my son all about his superhero cape. I couldn't have been happier.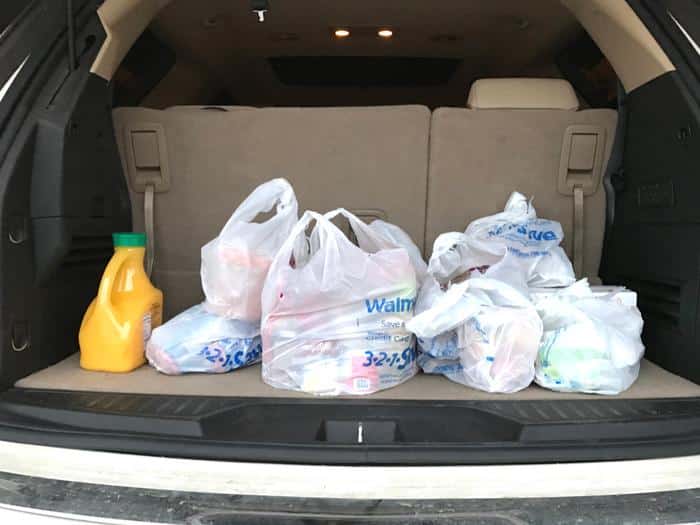 It's free. There's no service fee or markup. You get the same low prices you've come to expect from Walmart. Plus you get so much time back in your day. Your kids are happy. You're happy. Is it weird if I show up at the office of whoever created this and kiss them? Because I might.
Are you ready to introduce this ultimate mom life hack into your own life? Get started here and tell me all about your experience in the comments below! I can't wait to hear how much you love it.
*I received compensation for this post. As always the words and opinions are 100% my own.
Save
Save
Save
Save
Save
Save
Save
Save