Baked Egg Avocado Boats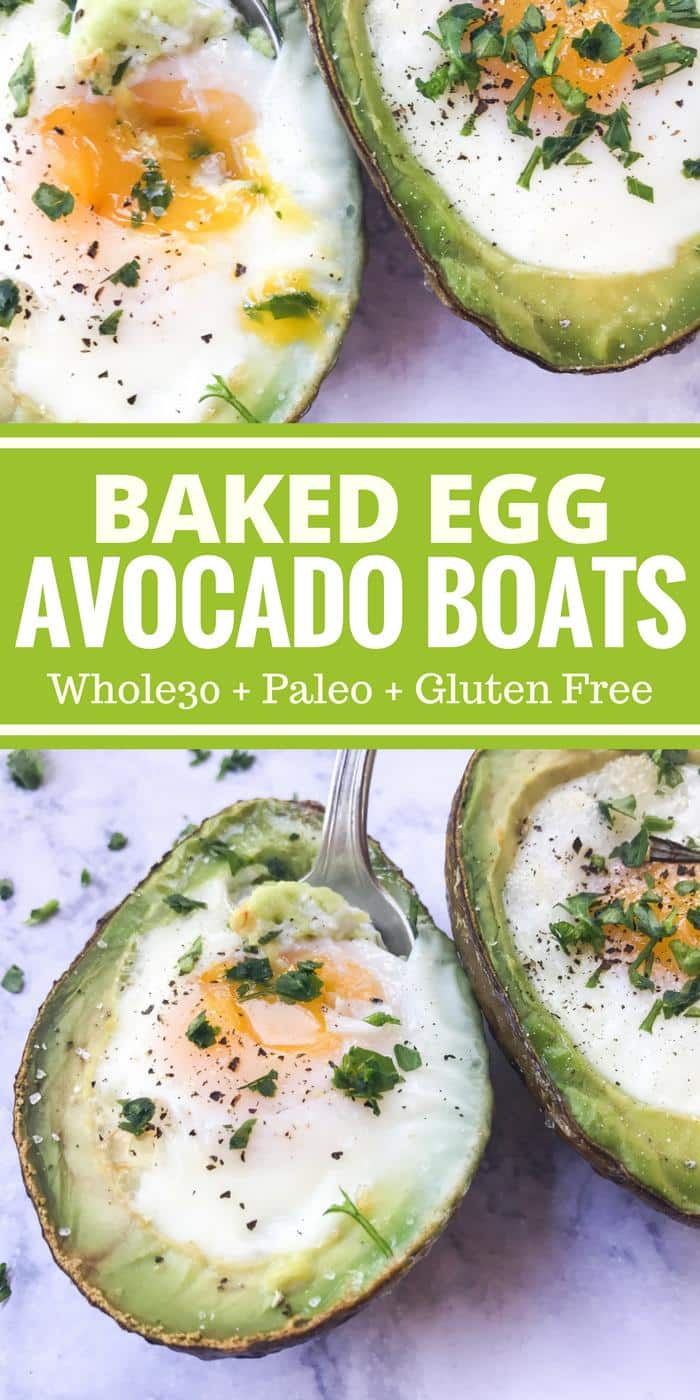 Anyone love avocado as much as I do? For some reason I was not an avocado (or – gasp – guacamole) eater until adulthood. But I've been making up for those wasted years ever since.
For these Baked Egg Avocado Boats I decided to combine two of my favorite things. Avocado and eggs. Aren't they so fun together? The creaminess of the baked avocado is just heaven when paired with the runny yolks of these baked eggs.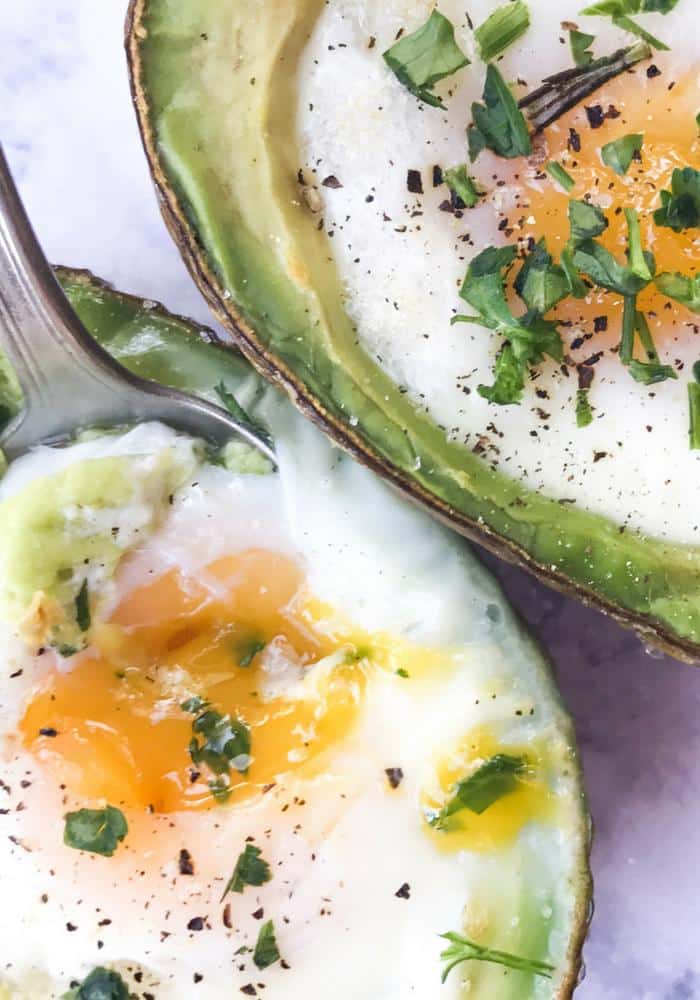 There are a few tricks to making these babies so let's get moving.
Your avocados don't need to be overly ripe. If you feel just a little give when you press the outside then you're good to go. They'll soften up further in the oven.
You want to use larger avocados so you have room for an entire egg in each one. After you've scooped out the pit use your spoon to remove more of the avocado flesh. You need a decent sized hole to accommodate the egg.
When you crack your egg into each avocado go slowly and be gentle. You don't want it to spill out. If it does then you may need to make that hole a little bigger.
If you have an avocado half that won't sit flat you can use a knife to level the surface by gently removing a bit of the bottom skin. Be careful though because removing too much will leave you with a hole in your avocado. If it's really close to level and just a smidge off you can prop it up against the side of your baking sheet to hold it straight so no egg leaks out as it cooks.
You can top your finished avocado however you like. I played around with a few options but my favorite was simply salt, pepper, and herbs. I little drizzle of salsa or pico de gallo is also darn delicious.
Baked Egg Avocado Boats
Recipe Type: Breakfast, Brunch
Cuisine: Whole30, Paleo, Gluten Free, Dairy Free, Vegetarian
Author:
Prep time:
Cook time:
Total time:
Serves: 4
Baked Egg Avocado Boats are simple to make and have a lot of wow factor! The creaminess of the baked avocado is incredible paired with runny baked eggs.
Ingredients
2 avocados
4 eggs
salt & pepper to taste
Optional: fresh chopped herbs or salsa for topping
Instructions
Preheat oven to 425 degrees.
Slice your avocados in half. Remove the pit. Scoop out a bit more to ensure you have room for your egg.
On a baking sheet crack an egg in the center of each avocado half.
Bake for 16-19 minutes. Check the egg for doneness at 16 minutes. I like my whites to be cooked but soft and my yellow to be runny. In my oven that's consistently accomplished at the 18 minute mark.
Remove from oven. Sprinkle salt and pepper on each. Top with chopped herbs, salsa, [url href="https://thewholecook.com/2017/07/11/pico-de-gallo/" target="_blank"]pico de gallo[/url], or anything else you come up with!
Looking for more healthy breakfast ideas? My Dairy Free Taco Breakfast Casserole is very popular and so yummy!