No Bean 30 Minute Chili
This chili is thick, rich, and has a flavorful kick that earns rave reviews! It's also free of beans!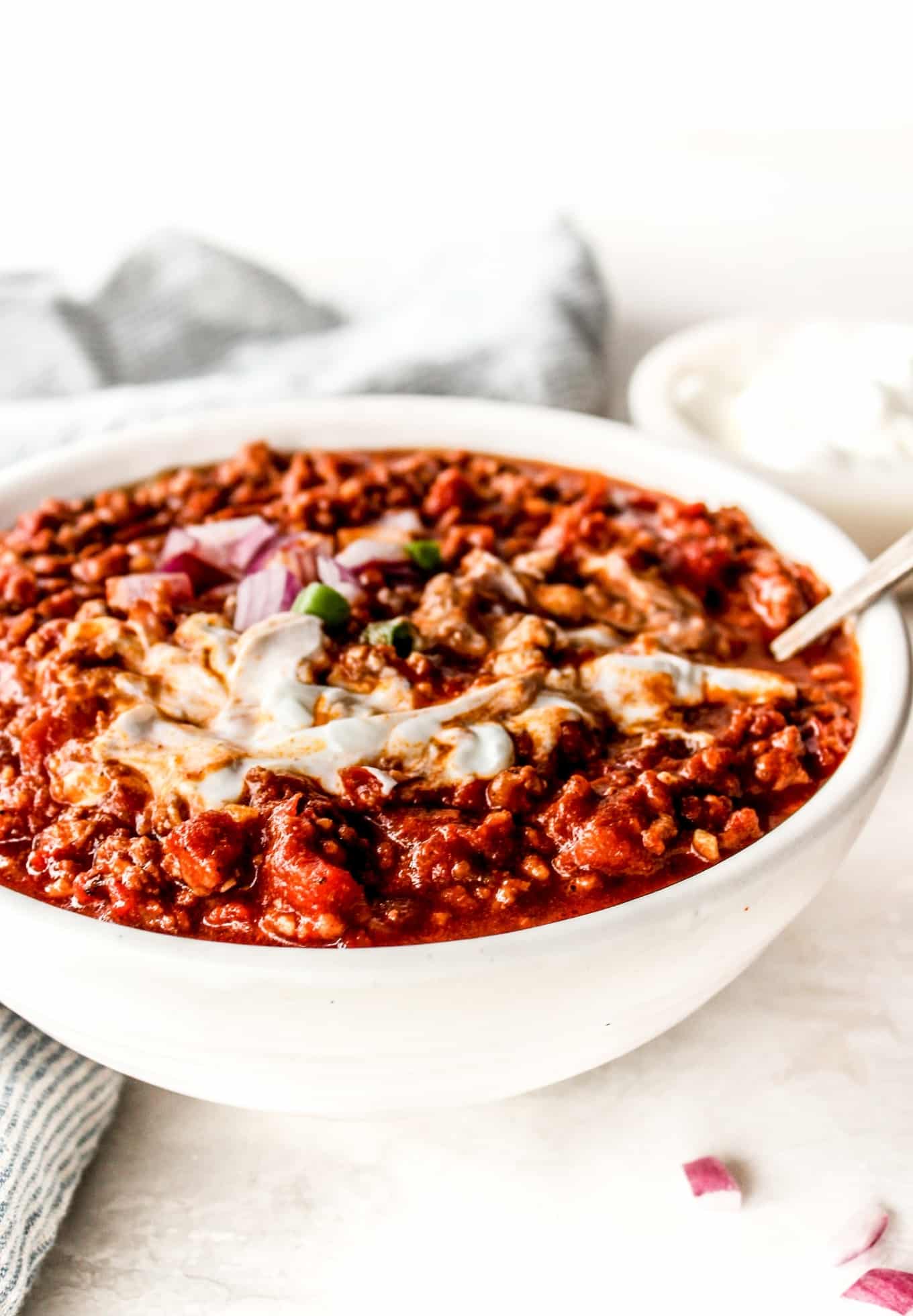 I love chili. I know it's traditionally a cold weather dish but I don't care if it's 100 degrees outside. I'll still crave it. My husband has never understood this.
When I first adopted a clean eating lifestyle I tried a lot of chili recipes. Unfortunately, because I was limiting my dairy and legumes, I was left dissatisfied with the options. Many were thin and full of veggies that just don't belong in a classic chili. No thank you, zucchini. I'm not making vegetable soup here.
I'm a chili traditionalist. That's a thing. I made it up but now it's a thing. I want my chili to look, smell, and taste like chili. It's that simple.
If that sounds like you too then you're going to be really happy with this No Bean 30 Minute Chili.
Yes, you can really make it in 30 minutes! Of course if you want to cook it low and slow for 100 hours that's on you. Me? I like to cook fast whenever possible.
So let's dig in to this recipe.
Start by crumbling your lean ground beef in your soup pot. Then add the diced onion and bell pepper. Sauté until your beef is browned and the onion and pepper are tender. Once the meat is browned, add the other chili ingredients. Now cover and simmer everything together for 20 to 25 minutes.
It's done! I told you it was fast!
This yummy chili is thick. It's hearty. It's dark. It doesn't have beans but you're not going to notice. It's a chili you're going to want to make on a regular basis.
Does this chili freeze well?
Yes! Because it doesn't include beans this chili freezes, thaws, and reheats perfectly! Feel free to double the recipe and save some in the freezer.
Why so much garlic?
Because garlic is delicious. What kind of silly question is that?
Can you add beans?
Well of course you can. If you want beans, add beans. Two cans of kidney beans will do the trick.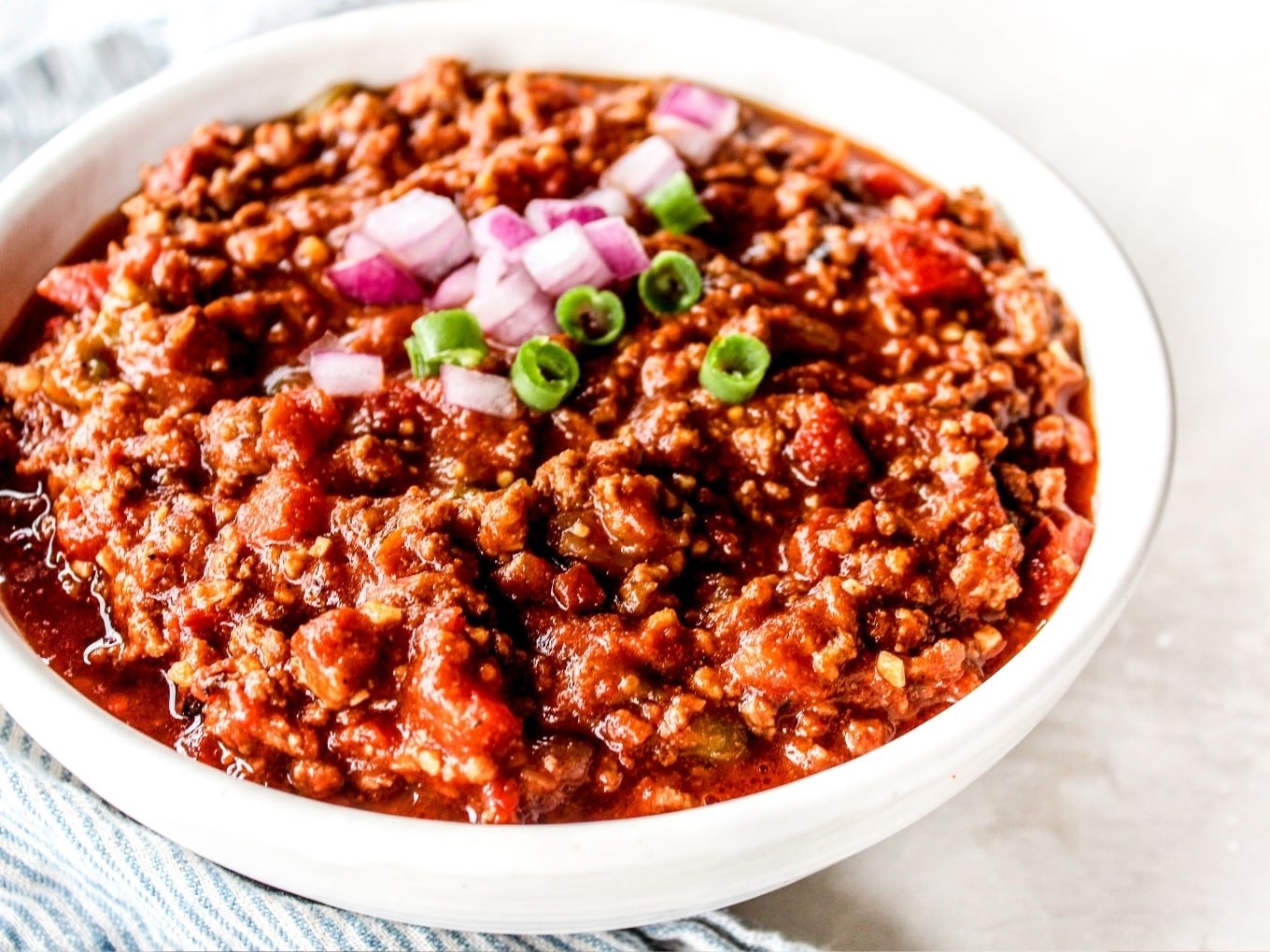 Can you use ground turkey instead of beef?
Sure! Go right ahead! However, I do have a ground turkey chili recipe too. You might prefer my The Best No Bean Turkey Chili instead.
What kind of toppings are great on chili?
I love loading up my chili with all kinds of toppings! Sliced avocado, chopped green onion, and diced red onion are my personal favorites. If you're not avoiding dairy I recommend a dollop of sour cream or a sprinkle of shredded cheddar. And of course everyone loves tortilla or salty kettle chips with chili!
Want to make this chili in the slow cooker?
Simply brown your ground beef, onion, and pepper on the stovetop. Then add all your ingredients to your slow cooker. Cook on high for 4 to 5 hours or low for 6 to 8 hours.
Want to make this chili in your Instant Pot?
Turn your Instant Pot to the sauté setting. When it's hot, add your ground beef. Use a spatula to crumble the beef. Then add the diced onion and bell pepper. Sauté until beef is browned and onion is tender, stirring frequently. Once done press the cancel button to stop sautéing.
Now add the rest of the ingredients. Everything goes in!
Seal the Instant Pot. Set it to Pressure Cook (or Manual, depending on the model Instant Pot you have) on high pressure for 15 minutes.
Once cooking is complete, natural release pressure for at least 10 minutes.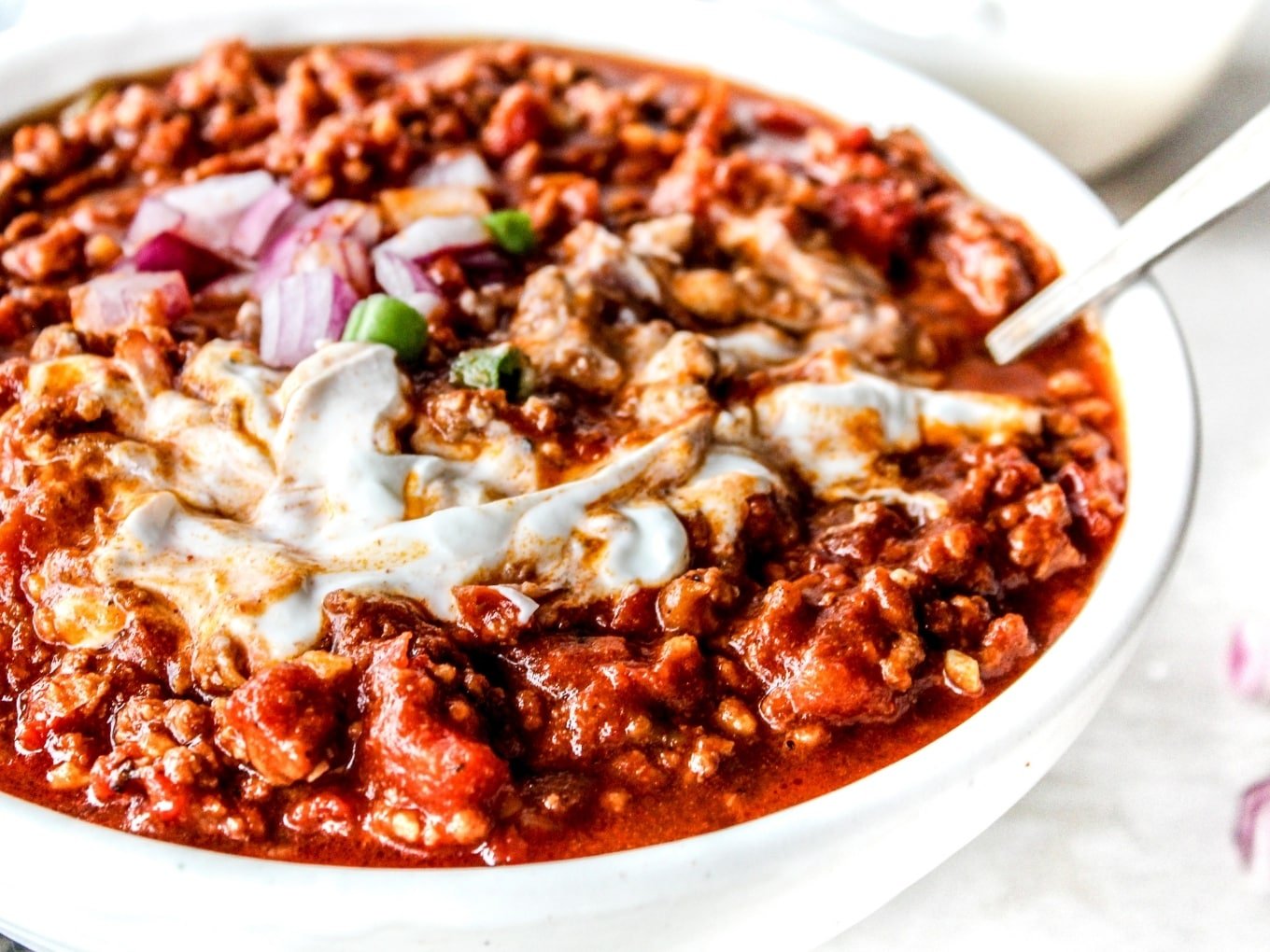 More recipes like this:
Healthy 30 Minute Hamburger Soup
Slow Cooker White Chicken Chili
30 Minute Dairy Free Potato Soup
No Bean 30 Minute Chili
This No Bean 30 Minute Chili is hearty comfort food at it's best! Thick, hearty, and a family favorite. Plus it's Whole30 compliant, dairy free, and gluten free!

Ingredients
2 lbs lean ground beef, I use 93/7
1 green bell pepper, finely chopped
1 large yellow onion, finely chopped
30 oz canned diced tomatoes, I prefer fired-roasted when available
6 oz tomato paste
2 cups beef stock
1 1/2 tbsp chili powder
1 1/2 tsp paprika
1 1/2 tsp onion powder
1 tsp garlic powder
1 tsp ground cumin
1 1/2 tsp salt
1 tsp black pepper
4 tbsp garlic, minced
Instructions
Add your ground beef to a large stock pot. Use your spatula to crumble the beef. Add in your chopped green pepper and onion. Cook on medium high, stirring occasionally, until beef is browned.

If your beef isn't very lean you'll want to drain the grease before moving on to the next step. I use a very lean beef so I don't need to drain mine.

Once your ground beef is cooked it's time to add the other ingredients to the pot. Stir. Cover and let simmer for 20 - 25 minutes.

Taste. Add extra salt or pepper if that's your preference. Top with green onions, avocado, cilantro, or onion. Enjoy!
Notes
You can substitute ground turkey if you prefer that to beef. If you prefer to use the stove top or Instant Pot you'll find directions for both above this recipe card.
Nutrition
Serving: 1cup, Calories: 217kcal, Carbohydrates: 12g, Protein: 27g, Fat: 6g, Saturated Fat: 2g, Cholesterol: 70mg, Sodium: 936mg, Potassium: 973mg, Fiber: 2g, Sugar: 5g, Vitamin A: 1130IU, Vitamin C: 25.1mg, Calcium: 63mg, Iron: 4.8mg
Save
Save
Save
Save
Save