Whole 30 + Dairy Free Crustless Quiche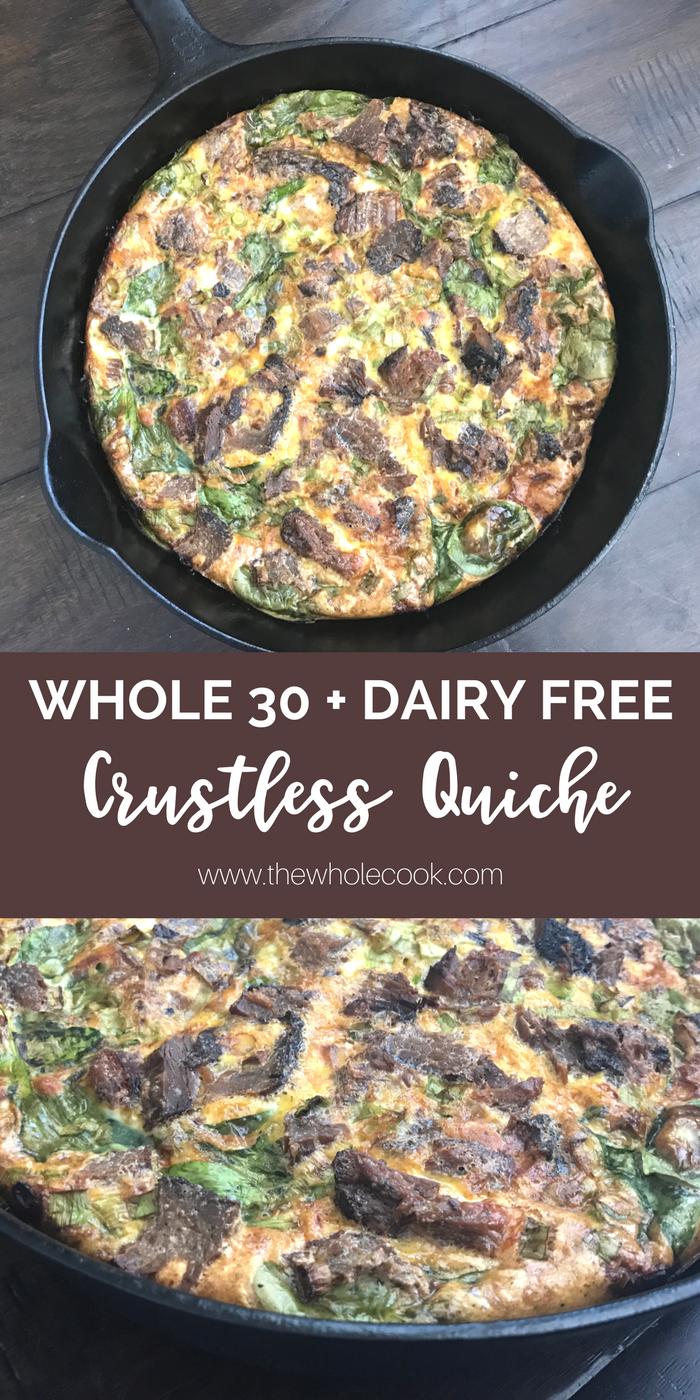 Hello, you beautiful quiche.
What's not to love about a spectacular quiche? It's flavorful because you can pack in all kinds of fun ingredients. It's pretty enough to serve to guests for brunch. You can even incorporate your leftovers which (tell me you agree) is THE BEST THING EVER.
I wanted to make a quiche that tastes amazing without using cheese, milk, or a crust. And boy this recipe accomplishes just that! Don't get me wrong. I love a good crust. Sometimes I just want something that's guilt-free. This is!
Plus the onions at the bottom of this quiche serve to create a makeshift crust. Gimme all the sauteed onions!
I used beef brisket for this particular recipe because we enjoy it often and always have leftovers. You can easily substitute steak or ground beef. My vote? Use whatever meat your family enjoyed the night before. I love a meal that I can make work for two days, don't you?
Bonus: This quiche is Whole 30 compliant. Just good for you and full of great tasting ingredients. That's my kind of breakfast.
Whole 30 + Dairy Free Crustless Quiche
Recipe Type: Whole 30
Cuisine: Breakfast, Brunch
Author:
Prep time:
Cook time:
Total time:
This quiche is dairy free which makes it Whole 30 compliant. Yet it's full of flavor and even has a little kick! If you're looking for a filling guilt-free way to start your day this is it.
Ingredients
1 medium onion, thinly sliced (not chopped)
1/2 tablespoon olive oil
9 large eggs
1/2 cup almond milk
1 teaspoon ground mustard
1/2 teaspoon cayenne pepper
1/2 teaspoon salt
Pinch of black pepper
1 cup fresh spinach
1 cup chopped fully cooked beef brisket or another meat of choice
1/8 cup sliced green onions (green part only)
Instructions
Preheat oven to 400 degrees.
In a cast iron or ovenproof skillet, saute onion in olive oil until tender and browned.
In a medium bowl, add eggs, almond milk, ground mustard, cayenne pepper, salt, & pepper. Whisk together. Set aside.
Now that your onions are cooked spread them evenly across the bottom of the cast iron skillet.
Spread the fresh spinach evenly over your cooked onions.
Add your layer of cooked beef brisket (spread evenly also).
Sprinkle the sliced green onions on top.
Pour in your whisked egg mixture.
Transfer the quiche to the preheated oven. Bake for 45 minutes. The surface of the quiche should be browned when it's cooked through. Remove from oven and set aside to cool for 15 minutes.
Slice, serve, & enjoy!
Made this dish? I'd love to see it! Tag me on Instagram if you share it!
Save