Italian Chicken Zoodle Salad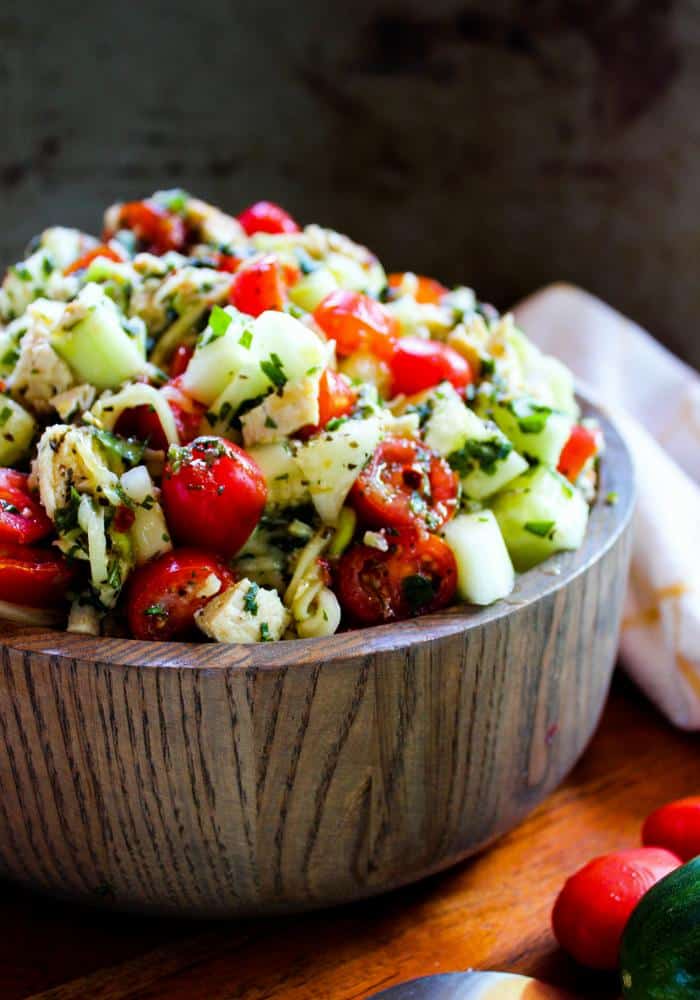 This recipe has been a long time coming. I adore a cold Italian pasta. For months I intended to work on a healthier version without the actual pasta. Guess who finally did it? This gal!
My Italian Chicken Zoodle Salad is a real winner. It is fresh, simple, and delicious as an entree or side dish. It's perfect for a light lunch, brunch, or cookouts!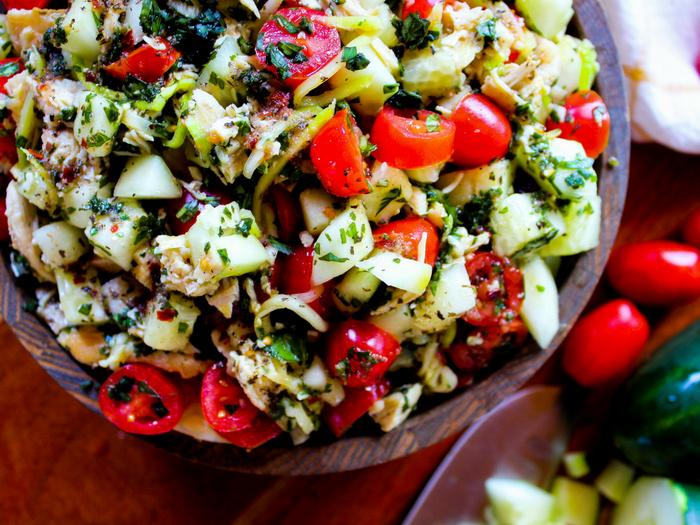 I use a version of my Easy Homemade Italian Dressing for this recipe but I amped up the spices a bit. (It's not spicy at all. It's just flavorful.)
I heat up the zoodles a smidge so they're softened and really absorb that dressing. They cool down when you combine the ingredients and it's really a cold "pasta" dish.
Cucumbers, tomatoes, and fresh basil add lots of freshness to this zoodle salad. Plus the cucumber gives you a bit of crunch.
Prepare your chicken however you like. I've tried store-bought rotisserie and a sauteed chicken breast. Both were perfect so go whichever route works best for you.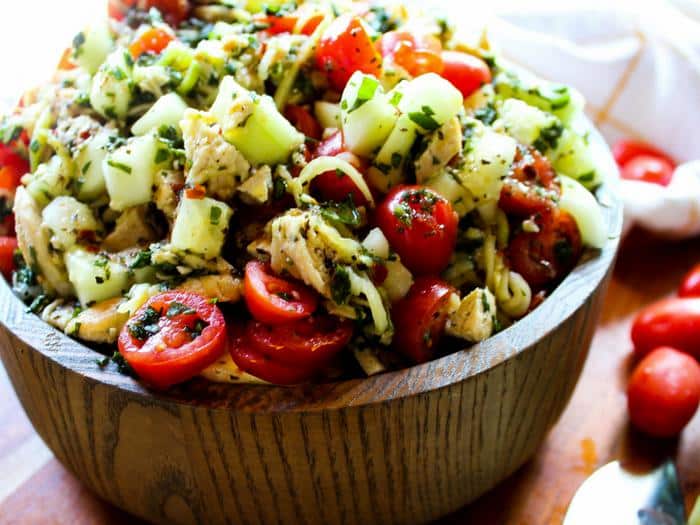 Let's talk about cooking zoodles. It's really more about heating the zoodles so they get tender. I saute them in a tablespoon of oil (or my Easy Homemade Italian Dressing) for 1 to 2 minutes. When I use my $3 spiralizer I get very thin zoodles so about a minute is plenty. When I use my Inspiralizer I get thicker zoodles and I let them saute for two minutes. You can go as long as three minutes if your zoodles are especially thick and you don't want any crunch.
The real challenge with sauteing zoodles is the water. They release water as they cook and even after they cook. Why? Because zucchini is about 95% water! (Hey! That's why they're such a light substitute for traditional pasta!)
Don't worry. I have three tips that help with this problem.
First tip: Once you've zoodled your zoodles (let's make zoodled a verb, okay?) liberally salt them. Then spread them in a single layer on a paper towel. Add another paper towel on top of your raw zoodles. Press down. You'll immediately see that some of the water is released on the top paper towel. Let them sit like this for 15 minutes to an hour, pressing down occasionally. The salt will help release a lot of that moisture.
Second tip: Use tongs to remove your zoodles from the skillet once they've heated. That way you can leave some of that extra water in the pan.
Third tip: If you're really worried about watery zoodles just add them to a colander after cooking and let them rest there for a few minutes. You'll drain plenty of water that way.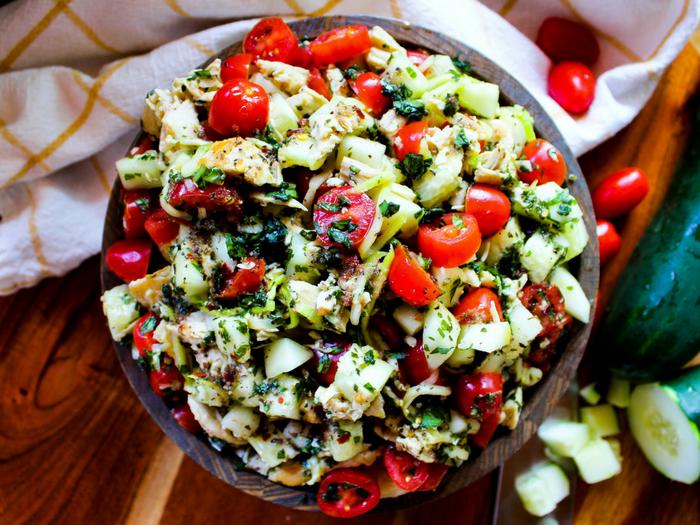 You can always add sliced black olives, green onion, or red onion if you're interested. If you enjoy dairy I recommend crumbled feta.
This dish is best served cold. Once the zoodles have sauteed do not reheat them as they'll turn to mush. If you have leftovers simply store them in an airtight container in the refrigerator and enjoy them cold later.
Made this and love it? If you share a photo of your finished dish on Instagram tag me so I can check it out!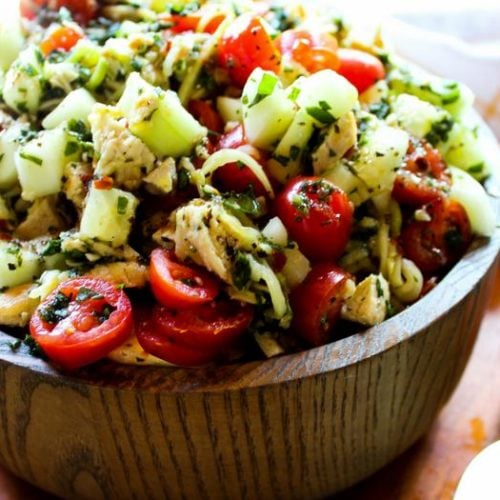 Italian Chicken Zoodles
Italian Chicken Zoodle Salad is a yummy entree or side dish. It's packed with fresh flavors, dairy free, gluten free, and Whole30 compliant!

Ingredients
1 cup cooked chicken, shredded or chopped
4 cups zoodles, raw
1 cup cucumber, diced
1/2 cup cherry or grape tomatoes, cut into thirds or fourths
salt & pepper
Easy Homemade Italian Dressing
3 tbsp olive oil
1 tbsp red or white wine vinegar
1/8 tsp garlic powder
1/8 tsp dried oregano
1/8 tsp dried basil
1/8 tsp onion powder
1/8 tsp crushed red pepper
1/8 tsp salt
1/8 tsp pepper
1/8 tsp lemon juice
Instructions
Give your zoodles a few good chops so you don't have giant strings of zoodles. (If you bought your zucchini already in zoodle form at the grocery store this may already be done.)


Salt your zoodles liberally.


Spread zoodles on a paper towel. Add a paper towel on top and press down. Leave the zoodles pressed between the paper towels for 15 minutes to an hour, pressing down occasionally. (This is optional but it does help with the excess water that zoodles typically release after cooking.)


Combine Easy Homemade Italian Dressing ingredients in a jar and shake.


Heat 1 tbsp of your Easy Homemade Italian Dressing in a skillet on medium heat.


Once the skillet is hot toss in your zoodles. Give them a quick stir. Cook for 1 to 2 minutes. Stir. Remove zoodles from the skillet using tongs so you can leave any excess liquid in the pan.


Toss zoodles, tomatoes, cucumber, and remaining 3 tbsp of Easy Homemade Italian Dressing together in a large bowl.


Salt & pepper to taste. Serve!

Notes
It's up to you whether you peel or don't peel your zoodles! The peel adds some extra green which is awfully pretty but it's really a matter of personal preference. Can you leave your zoodles raw? Sure you can. Chicken should be cooked but doesn't necessarily need to be warm when you combine the ingredients. This is a cold dish. I don't recommend making this dish in advance just because of the nature of zoodles. They can get mushy so I like to enjoy them right away. If you do make this in advance or have leftovers store them in an airtight container in the refrigerator. I'd eat it within the next 24 hours just to avoid overly soft zoodles. When you're ready to eat do not reheat. Serve cold.  
Nutrition
Calories: 440kcal, Carbohydrates: 18g, Protein: 23g, Fat: 32g, Saturated Fat: 5g, Cholesterol: 53mg, Sodium: 243mg, Potassium: 1554mg, Fiber: 5g, Sugar: 13g, Vitamin A: 1270IU, Vitamin C: 95.3mg, Calcium: 93mg, Iron: 3.2mg