30 Minute Dairy Free Potato Soup
Oh you are going to be so happy with this creamy potato soup. It's a favorite of mine for very good reason. You'll never believe that it doesn't contain dairy!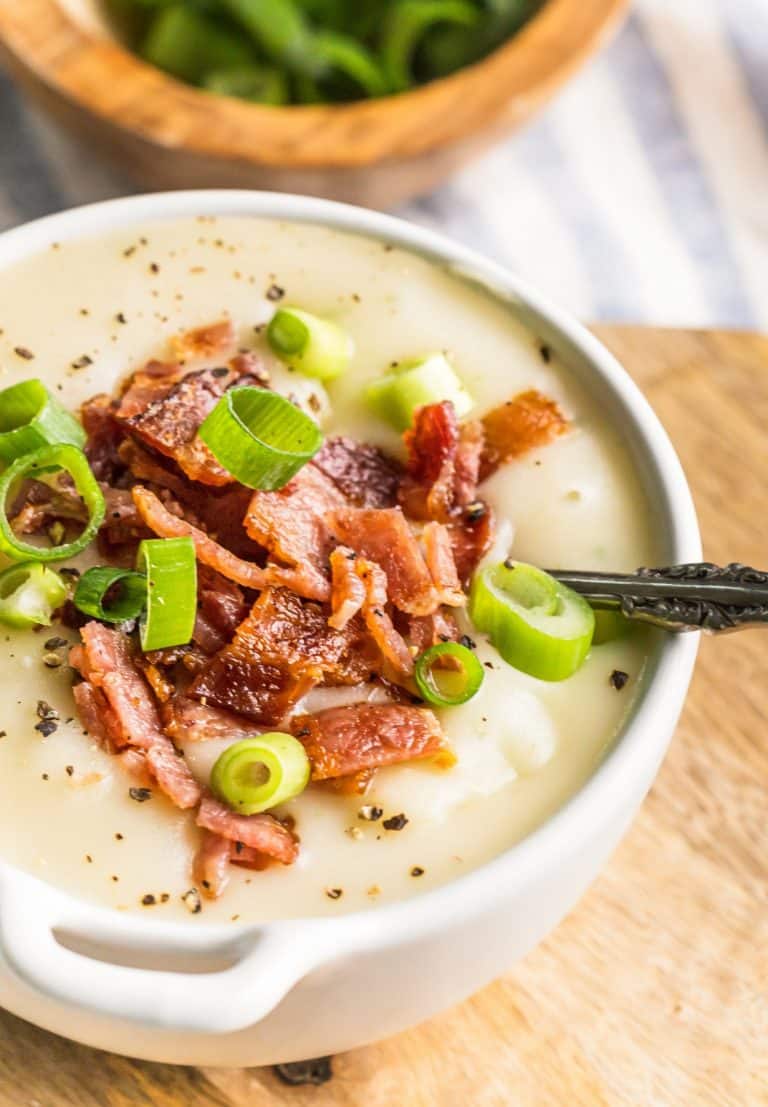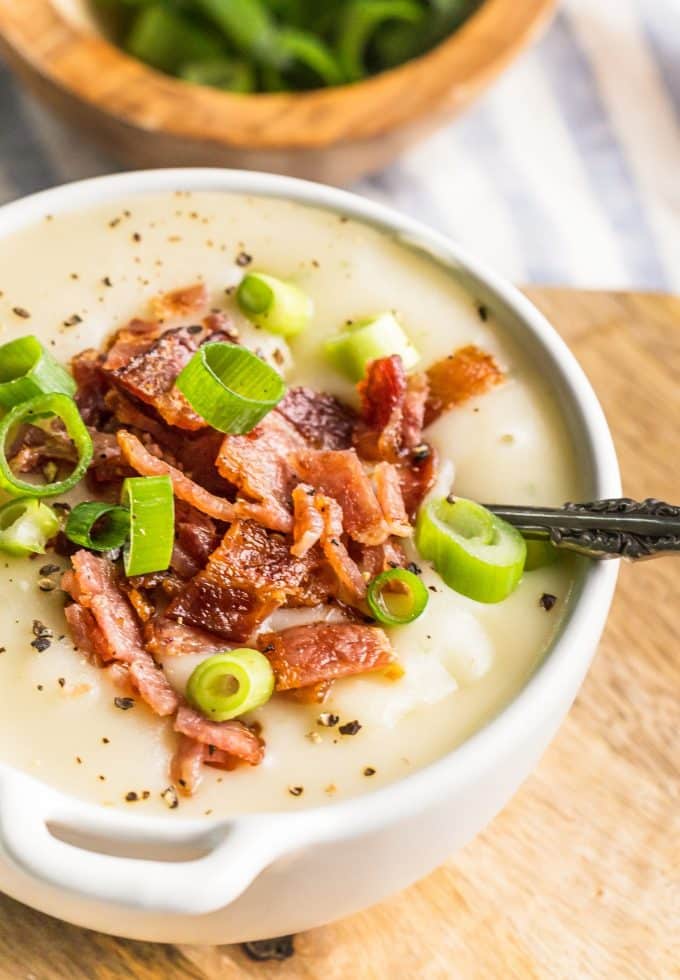 Update: This recipe was originally published in 2017 and has been republished with all new photos.
Okay, it's still 90 degrees here but in the morning it's 60 degrees so I believe that's cause to celebrate. So I'm declaring it soup weather. I'm working like crazy on a lot of fun comfort food recipes for y'all so there's plenty more to come.
When I say this 30 Minute Dairy Free Potato Soup is creamy I mean it's really truly very creamy. It's a blended soup and that blender makes everything perfectly smooth. You'll also set aside one cup of diced potatoes to add back in after you've blended the rest. We need a few chunks of potato too, right?
Did you catch the part about this being dairy free? I typically avoid potato soup in restaurants because I know they're full of milk and cheese. Not this one! This means my version is less calories but I'm betting you won't be able to tell.
Since I'm not using milk the creaminess of this soup comes from a cup of unsweetened canned coconut milk. It doesn't give the soup any coconut flavor at all!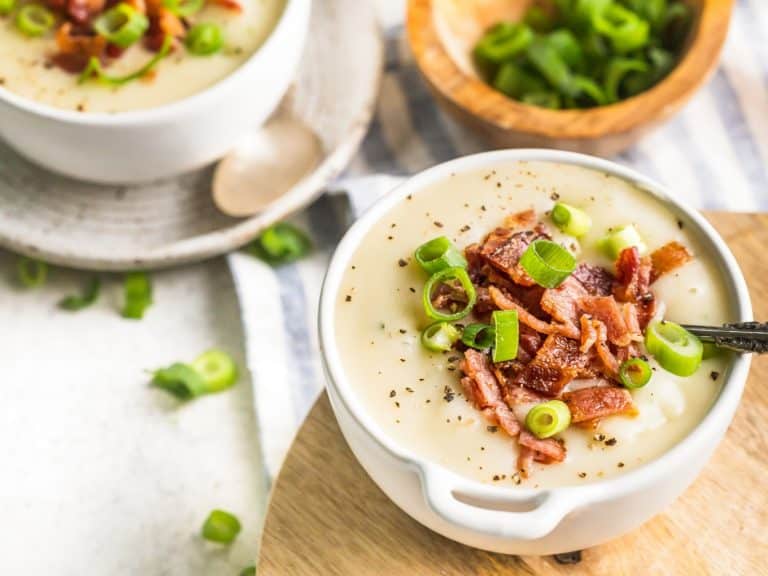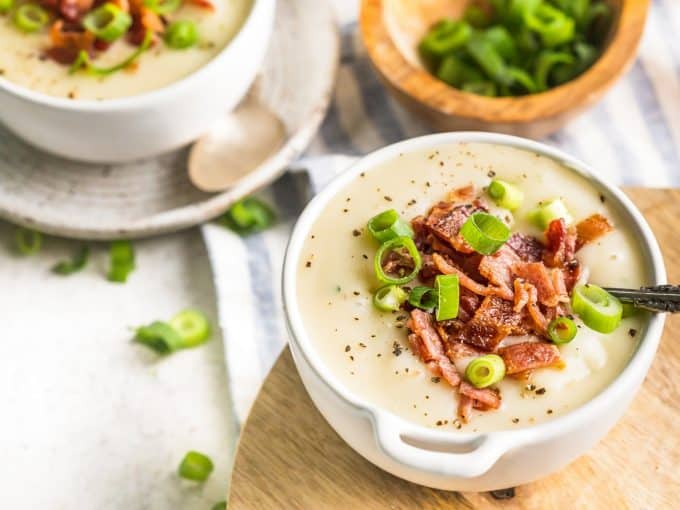 For this recipe you'll need (full list of ingredients and instructions are in the recipe card below):
Potatoes
Chicken stock or broth
Onion
Canned coconut milk
Dried herbs
Seasonings
Let's chat about how to make this luscious soup. First you'll peel your potatoes and dice them into cubes. Then add them to a soup pot with chicken stock and onion. We'll let that all simmer until your potato pieces and onion are tender. Since we've diced our potato first this doesn't take much time at all. (You can of course just halve your potatoes to avoid chopping them but I've found that the time you save by not chopping really just gets added to the cooking time so it's not worth it.)
Set aside 1 cup of the cooked diced potatoes. We'll add those back in a minute. Now blend the remaining potatoes, onions, and chicken stock with canned coconut milk. Oh things are starting to get creamy, friends!
Add the diced potatoes back. Season. You're done!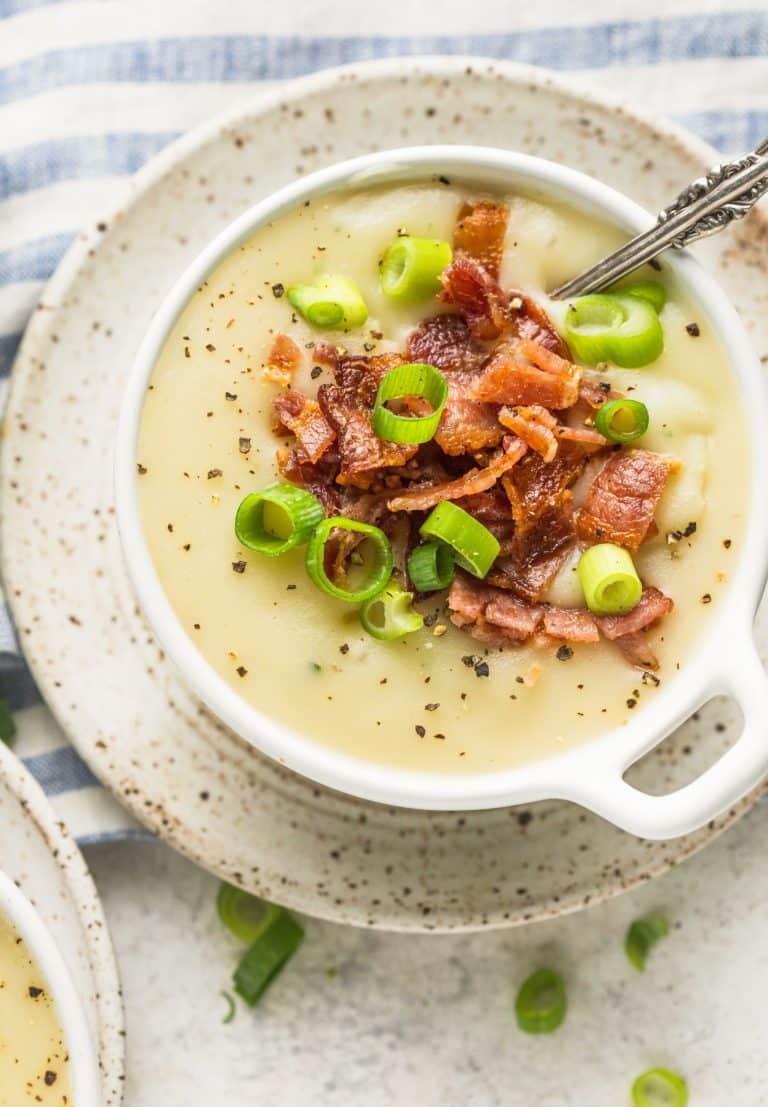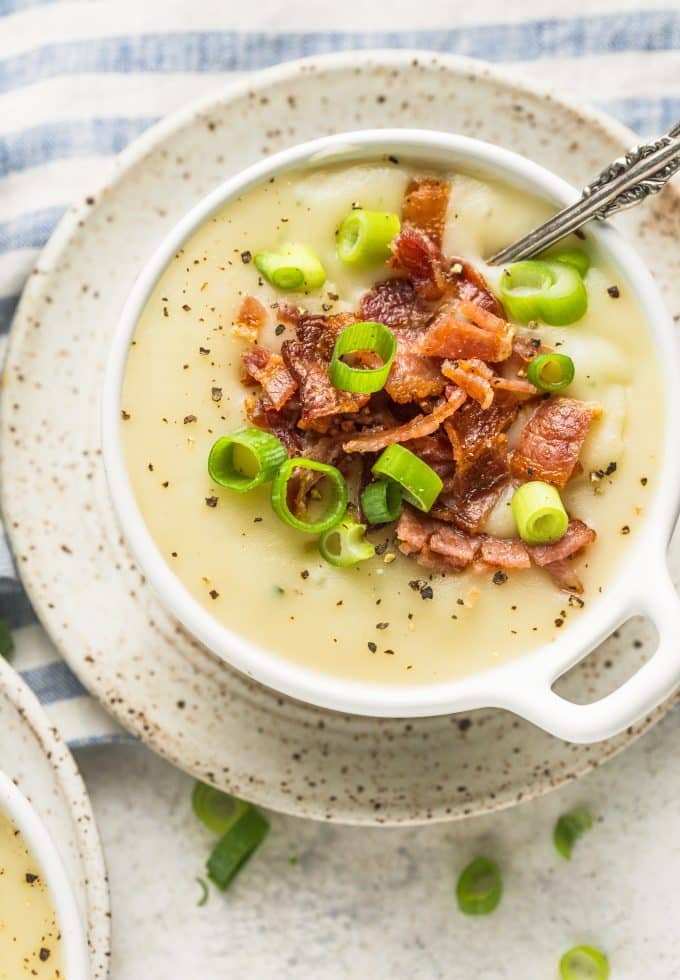 Why use unsweetened canned coconut milk?
Canned coconut milk is my favorite way to make dairy free recipes creamy. It's thick and if you're not using too much you won't get a strong coconut flavor. There really is no coconut taste in this soup.
It's important to make sure you don't use a sweetened can though. That drastically changes the flavor and won't work well.
Can you substitute a different milk for canned coconut milk?
In most recipes the answer is no because those other milks are all a lot thinner. But here I say yes since the potatoes do a lot of the heavy lifting when it comes to achieving the texture we want. You're welcome to use regular cow's milk, almond milk, or the refrigerated coconut milk instead of canned coconut milk. Be sure whatever you use is unsweetened and add less since these other milks are not as thick.
What to top this soup with?
Oooo I personally love crispy bits of bacon and chopped green onion! If you're not avoiding dairy, sour cream and shredded cheddar work great too!
Does this soup freeze well?
Oh yes it does! This soup freezes, thaws, and reheats beautifully. Feel free to double this recipe so you have plenty to freeze.
More 30 minute soup recipes:
30 Minute Dairy Free Tomato Basil Soup
Healthy 30 Minute Hamburger Soup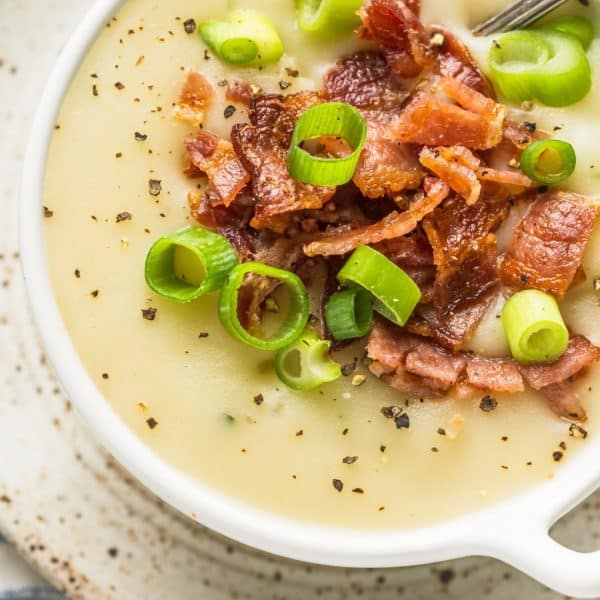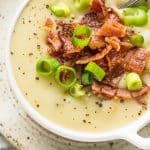 30 Minute Dairy Free Potato Soup
This 30 Minute Dairy Free Potato Soup is so creamy and easy to make! You'll be surprised it's dairy free, gluten free, and Whole30 compliant!

Ingredients
2.5 lbs potatoes, russet, yellow, or gold potatoes work best, peeled and diced
32 oz chicken stock or broth
1/2 white or yellow onion, sliced
1 cup canned coconut milk, unsweetened
1/4 tsp garlic powder
1 1/2 tsp salt
1/2 tsp pepper
1/4 tsp dried thyme or dried chives
Optional toppings: fresh chopped chives, crispy bacon, drizzle of canned coconut milk
Instructions
Add chicken stock, onion, and potatoes (peeled and diced into 1 inch cubes) to a soup pot. Bring to boiling and cook for approximately 5 – 8 minutes or until potatoes are easily pierced with a fork. Be careful to not overcook your potatoes or you'll end up decreasing the amount of chicken stock you have.

Once cooked, remove 1 cup of the diced potatoes from chicken stock. Set aside in a separate dish.


Blend the diced potatoes (excluding the 1 cup you set aside), onion, chicken stock, and 1 cup canned coconut milk until smooth.

Pour the blended soup back into your pot. Add the 1 cup diced potatoes you set aside earlier, salt, pepper, garlic powder, and dried thyme (or dried chives). Stir.

Ladle the finished soup into bowls and top with fresh chopped chives and crispy bacon.
Notes
If you accidentally boil your potatoes too long you can still recover! Just add a little extra chicken stock as you're blending until you get the consistency you want. I recommend using canned full fat unsweetened coconut milk. Full fat just means it doesn't say light on the label. The ingredient list should be coconut, water, and guar gum. It's really easy to find at every grocery store (usually on the international foods aisle) and it's something you can keep in the pantry for months. Just give it a good stir when you open it because it does separate. Nutritional information is calculated based on a 1 cup serving. This is the amount I'd use when enjoying this along with something else. If the meal is the soup alone you may want a 2 cup serving.  
Nutrition
Serving: 1cup, Calories: 210kcal, Carbohydrates: 24g, Protein: 7g, Fat: 10g, Saturated Fat: 8g, Cholesterol: 3mg, Sodium: 617mg, Potassium: 793mg, Fiber: 4g, Sugar: 3g, Vitamin C: 17.7mg, Calcium: 52mg, Iron: 5.4mg