Light & Creamy Mashed Potatoes
Today I'm sharing my Light & Creamy Mashed Potatoes. Traditional mashed potatoes are blended with heavy cream or milk. Not these potatoes, friends. But you honestly won't miss it.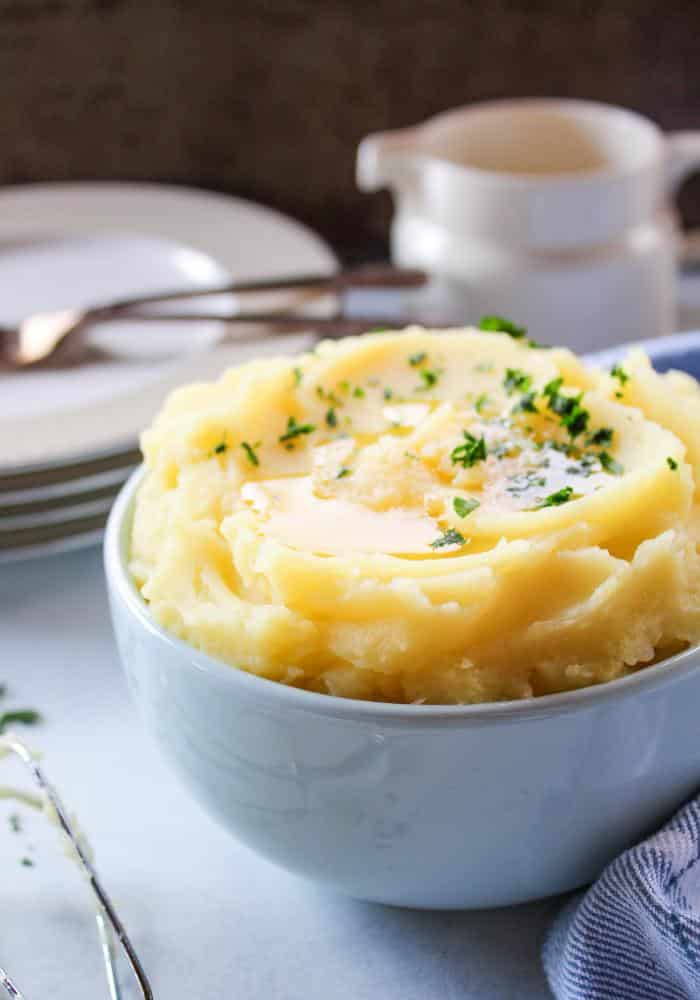 I don't know a single person who doesn't love mashed potatoes. If I did I'd quickly banish them from my life. Too harsh? Okay, I take that back. But I'd definitely give them a stern talking to. And maybe recommend they see a doctor.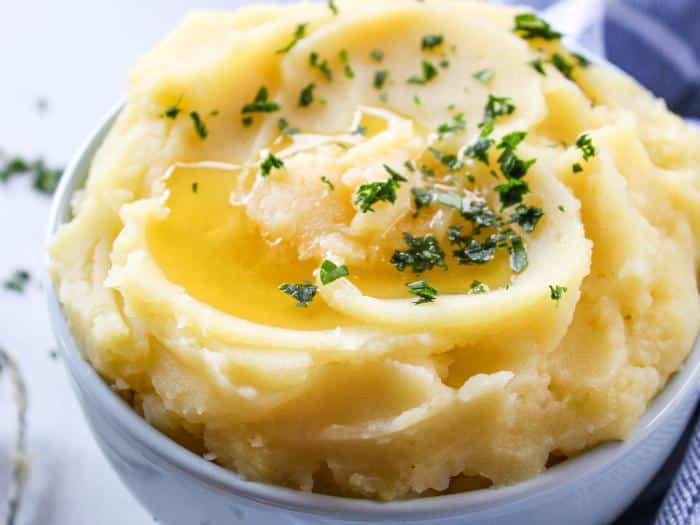 For these Light & Creamy Mashed Potatoes I use yellow or gold potatoes. They give that buttery taste without the butter. They are by far my favorite potatoes for making all the things.
Another ingredient that sets this recipe apart is the chicken stock. Chicken stock?! Yep. No milk. It's chicken stock that makes this so creamy! It lightens up this popular side dish and adds another layer of flavor.
Instead of regular ole' butter I use ghee. If you're new to it prepare to have your mind blown. Ghee is a type of clarified butter. The milk fat has been cooked out which means that even my dairy allergic husband can enjoy it. (I am not saying that's the case for everyone with a dairy allergy. You can easily substitute a vegan buttery spread if you're completely dairy free.) Y'all, it is so good. The beautiful people who make ghee let it simmer for a long time. The result is a very rich taste that I personally think is far superior to standard butter. I use it exclusively in my cooking and I even prefer it over standard butter on toast. You can find ghee in natural food stores and in some chain grocery stores as well due to it's recent rise in popularity. (I have been known to send messages over Instagram to grocery stores when I'm shopping and can't find it to let them know they need it. I am that person and it is that good.)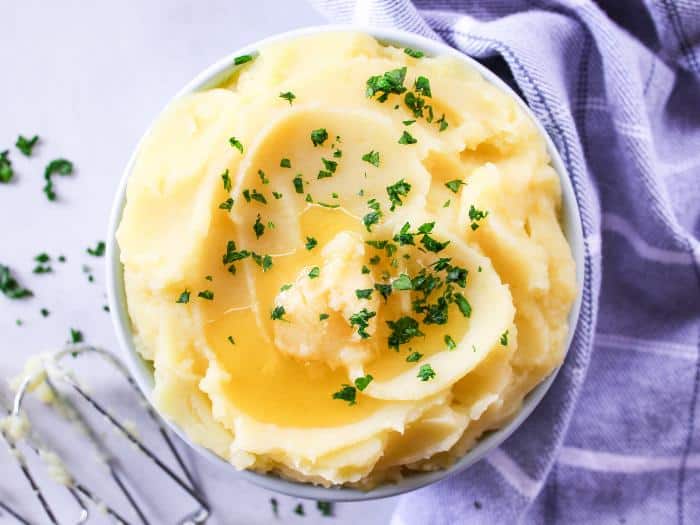 For a special touch I stir in fresh herbs to really make the potatoes stand out. Why the heck not, right? I tend to go with parsley because it's mild and won't overpower the potatoes. Finely chopped chives work great too. I'd avoid rosemary because (although I do love rosemary) the texture can be a little off putting against the smoothness of the potatoes.
Oh, did I mention these potatoes are Whole30 compliant? Well they are!
Made this recipe and loved it? If you share a photo of your potatoes on Instagram tag me so I can check it out!
Looking for more side dishes? I have so many! Spend a little time scrolling through the side dish section of my blog for all my personal favorites!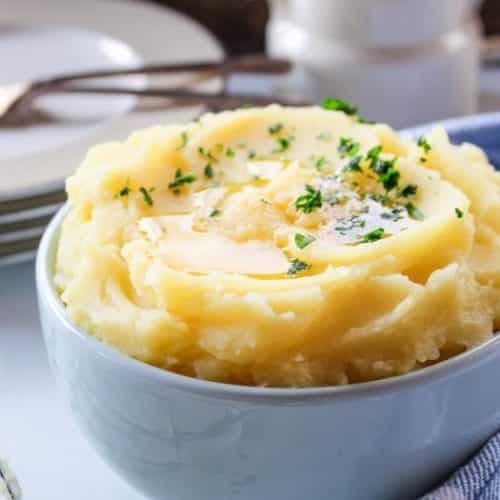 Light & Creamy Mashed Potatoes
These Light & Creamy Mashed Potatoes are a crowd pleaser! You won't believe they don't include milk. Plus they're Whole30, Paleo, and gluten free.
Ingredients
8 medium potatoes, I recommend yellow or gold potatoes.
water
1 1/2 cups chicken stock
2 tablespoons ghee, Can substitute a vegan buttery spread if dairy free.
salt & pepper to taste
Optional: chopped fresh herbs
Instructions
Heat a pot of water to boil. You'll want enough to cover your potatoes completely.

Peel your potatoes and slice in half.

Add potatoes to the boiling water.

Boil until you can easily pierce the largest potato with a fork.

Drain water from pot.

Add 1 cup of your chicken stock.

Using an electric beater slowly blend your potatoes with the chicken stock.

Add a little more chicken stock. Beat again. Continue until your potatoes are smooth and you're happy with the texture. You may not require the full 1 1/2 cups of chicken stock or you may want to add a bit extra. The amount needed varies based on the size of the potatoes used.

Add ghee, salt, and pepper to taste.

Optional: Stir in finely chopped herbs or top with an extra dollop of ghee.
Notes
Nutrition info is based on using 1 1/2 cups of chicken stock. Amount used can vary based on size of your potatoes but I always tend to land somewhere in this neighborhood. Feel free to use less or more to achieve your desired consistency. Instead of ghee you can substitute a vegan buttery spread if you're dairy free.
Nutrition
Calories: 125kcal, Carbohydrates: 20g, Protein: 4g, Fat: 3g, Saturated Fat: 1g, Cholesterol: 7mg, Sodium: 62mg, Potassium: 674mg, Fiber: 3g, Vitamin C: 17.7mg, Calcium: 47mg, Iron: 5.1mg