Easy Diced Air Fryer Potatoes
These Easy Diced Air Fryer Potatoes are fast and can (and should) be served with everything! Crispy, tender, and totally delicious!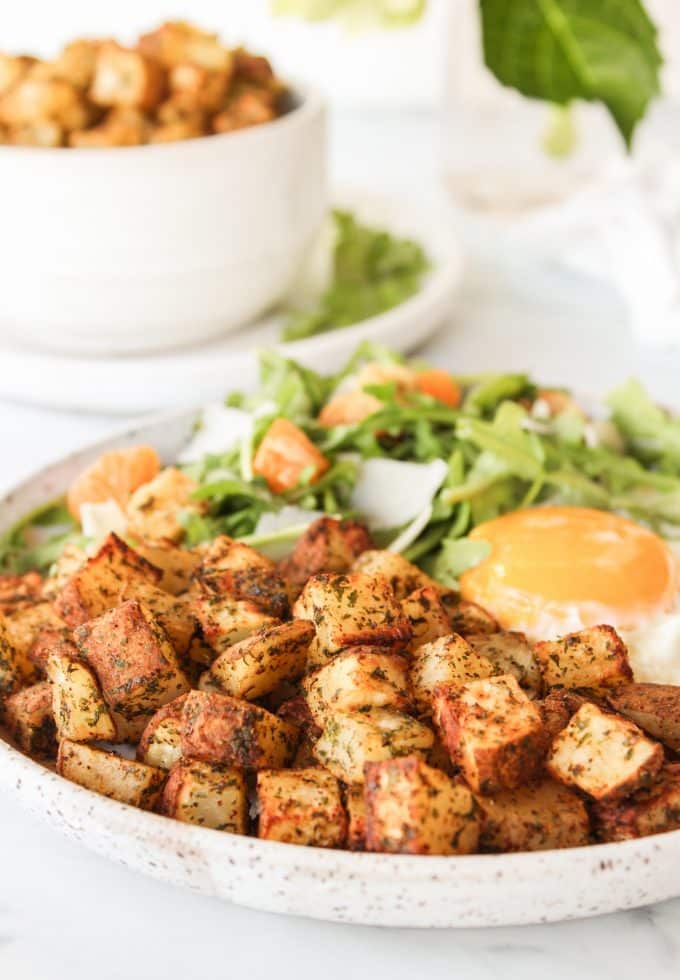 I've been making these Easy Diced Air Fryer Potatoes at least twice a week for the last three months. If you watch my Instagram stories then you've seen it over and over again. What can I say? Once I like something it stays in the dinner rotation for 8-10 years.
Now I'm finally dropping the recipe here. If you haven't tried these yet, go grab your ingredients and let's do this!
You'll need potatoes, oil, dried parsley, salt, pepper, and chili powder. That's it! And you're really using so little oil which I love.
The air fryer makes your potatoes beautifully crispy with minimal mess, prep, or oil.
To flavor the potatoes, simply dice them and toss them in a mix of olive oil and seasonings. Be sure to dice them the same size so they'll all cook in the same amount of time.
Then pop them into the air fryer and cook for a total of 17 to 23 minutes. If using a basket style area fryer you'll want to give everything a good shake at the halfway mark. This ensures the potatoes settled in the bottom of the basket won't be underdone.
How to avoid uneven cooking in the air fryer?
First, don't cook too much at one time. In a compact air fryer I can do 2 cups of diced potatoes but no more. While the basket would absolutely fit 4 cups half of them end up undercooked so stick to the 2 cups. My 7 quart can easily cook 4 cups to absolute perfection. So figure out what your air fryer can handle and don't cook more than that amount at one time.
Second, if using a basket style air fryer don't forget to shake the food at the halfway mark. This ensures the food at the bottom of the basket makes its way to the top. A halfhearted or nonexistent basket shake will give you underdone potatoes stuck at the bottom.
What kind of air fryer should you use?
There are so many options out there and you do not need a pricey air fryer to achieve crispy potato perfection. I started with a Bosh Compact Air Fryer and it was under $40. I found it at Sam's Club and the price tag appealed to me because at the time I wasn't sure how often I'd use it! The only negative is that it's small so I wouldn't recommend it if you're feeding more than two people.
I now use a 7 quart Go Wise Air Fryer and I'm obsessed with it. Obsessed!! It holds a lot of food! I honestly use it every single day.
How to serve these air fryer potatoes?
These crispy potatoes go with everything. You really have two ways to go about it.
Serve them beside something. Examples: Lemon Herb Grilled Chicken + Spicy Roasted Broccoli or 15 Minute Honey Chicken + Garlic Green Beans.
Or serve them under something. Examples: 20 Minute Skillet Sausage & Zucchini or Easy Turkey & Zucchini Skillet.
More potato recipes:
Easy Seasoned Roasted Potatoes
Pesto Potatoes & Brussels Sprouts
Smashed & Roasted Italian Potatoes
Easy Diced Air Fryer Potatoes
These Easy Diced Air Fryer Potatoes are fast and can (and should) be served with everything! Crispy, tender, and totally delicious!
Ingredients
2 cups diced potatoes, I prefer gold or yellow potatoes.
1/2 tsp olive oil, extra virgin
1/2 tbsp dried parsley
1/2 tsp salt
1/4 tsp pepper
1/4 tsp chili powder
Instructions
Toss your diced potatoes in a large bowl with olive oil. Season with salt, pepper, chili powder, and dried parsley. Use your hands or a spoon to move the potatoes around so each piece is evenly coated.

Place them in the air fryer at 400 degrees for 17 to 23 minutes. Potatoes should be crispy and fully cooked. (If your air fryer has a basket you'll want to shake it halfway through the cooking time.)

Total air fryer cooking time is 17 to 23 minutes. 17 minutes is the right number for my air fryer but time can vary based on how small you dice your potatoes and what air fryer you use. Compact air fryers take the longest because your potatoes are piled on top of each other. Tray air fryers take the least amount of time because potatoes are usually in a single layer.
Notes
Measure your oil carefully. Too much oil means your potatoes will get soggy and the oil may settle in the bottom of the basket. 1/2 teaspoon is the perfect amount!
Nutrition
Calories: 55kcal, Carbohydrates: 10g, Protein: 2g, Sodium: 302mg, Potassium: 351mg, Fiber: 2g, Vitamin A: 50IU, Vitamin C: 9.9mg, Calcium: 25mg, Iron: 2.8mg