Sheet Pan Brussels Sprouts & Broccoli
I'm currently working like a mad woman on some more easy dinner recipes for y'all. Lots of slow cooker, skillet, and sheet pan meals coming your way! But it's been a bit since I've done a side dish so let's knock one out, shall we?
Your girl (that's me) loves veggies. I can make a complete meal out of them. But I am absolutely not a fan of just steaming them. That's a hard pass. It just makes them so wilted and mushy. Nope nope nopity nope. I prefer to bring out the natural goodness of vegetables by roasting or sauteing.
Today's recipe is Sheet Pan Brussels Sprouts & Broccoli. These little green wonders are halved so you can get plenty of crispiness on the sides. There's turkey bacon in there too. Oh and some balsamic vinegar for a little flavor punch.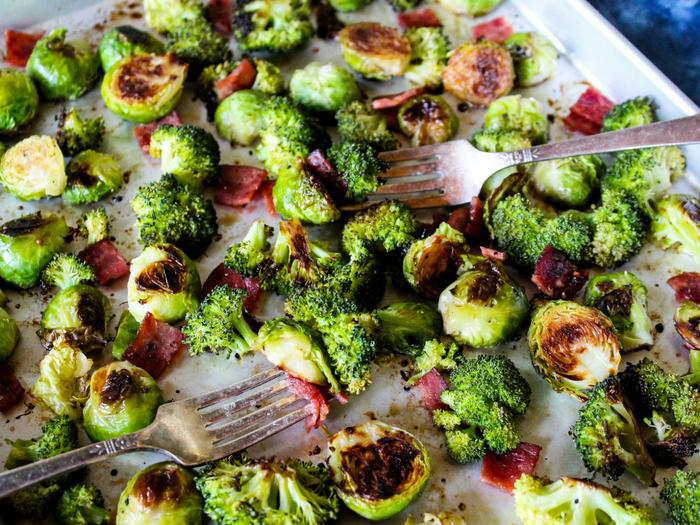 You into it? I'm really into it.
This recipe calls for 1 lb of fresh (not frozen) brussels sprouts and broccoli. Sometimes I can only find the 12 oz bags in the produce department and that's totally fine too. But whatever you do don't use frozen. Roasting frozen veggies will give you a sogginess and I'm all about that crispiness.
I eat a lot of turkey bacon. Aside from the fact that I just don't eat pork (gasp!), I also love that turkey bacon has less calories and less fat than the pork kind. If you haven't found a brand you dig let me point you in the right direction because there are some pretty horrible thin, overly processed ones out there. My absolute favorite is Wellshire Classic Sliced Turkey. It's minimally processed and nitrate free (except for those that are naturally occurring in sea salt and celery powder). The ingredient list is short and uncomplicated. They also have a sugar free turkey bacon that is equally delicious for those of you who are avoiding sugar. I buy mine at Whole Foods. (P.S. This is not an ad. It's just my opinion since I know a good turkey bacon can be hard to find.)
For this recipe I dice my turkey bacon and cook it on the sheet pan with the veggies. It won't get crispy because it doesn't have a lot of fat. If you really want your bacon crispy you'll want to saute it in a little oil on the stove. It works like a charm every single time. But for this dish I prefer to just throw it on the sheet pan as I do enjoy it when it's not crispy too.
I have a feeling you're really going to like this tasty side dish. The prep is minimal (just a little cutting) and the veggies roast quickly. This is perfect for weeknights when you're schedule is especially busy!
Sheet Pan Brussels Sprouts & Broccoli
Sheet Pan Brussels Sprouts & Broccoli is an easy side dish that bakes in 20 minutes! Perfect for weeknight dinners when you want something healthy fast.

Ingredients
1

lb

fresh brussels sprouts

1

lb

fresh broccoli

2

thick slices of turkey bacon

2

tbsp

balsamic vinegar

2

tsp

lemon juice

salt & pepper to taste

cooking spray to prevent sticking

,

olive oil or coconut oil are my favorites
Instructions
Preheat oven to 425 degrees.


Lightly oil your baking sheet. You can use olive oil, coconut oil, or a cooking spray.


Trim the bottom of each brussels sprout and peel away the first layer of leaves. That's where you usually see the dirt and any brown sprouts. Once this is done you'll have beautiful little bright green sprouts. Slice each sprout in half and add them to your baking sheet in a single layer.

Slice any large broccoli florets in half. Leave smaller ones whole. Add them to baking sheet.


Chop the turkey bacon and spread on baking sheet.


Drizzle balsamic vinegar and lemon juice over veggies. Sprinkle salt and pepper.


Bake for 15 to 20 minutes. (I prefer 20 minutes for my oven because I love me some crispy brussels sprouts.)

Notes
Nutrition information assumes you used a cooking spray. If you prefer you can use a teaspoon of olive oil or coconut oil to grease your baking sheet instead but you'll want to add in those calories as they're not included.
Nutrition information is displaying a higher number of calories for the turkey bacon than if you use the brand I recommend. If you do use the Wellshire Classic Sliced Turkey you can subtract 26 calories from the total (not from each serving size).
Nutrition
Calories:
81
kcal
,
Carbohydrates:
12
g
,
Protein:
6
g
,
Fat:
1
g
,
Cholesterol:
4
mg
,
Sodium:
151
mg
,
Potassium:
557
mg
,
Fiber:
4
g
,
Sugar:
3
g
,
Vitamin A:
1040
IU
,
Vitamin C:
132.3
mg
,
Calcium:
67
mg
,
Iron:
1.7
mg