Cinnamon Pecan Sweet Potato Rounds
You'll love these tender sweet potato rounds topped with an easy cinnamon pecan crumble!

Last summer I started thinking about how I could capture the flavor of a sweet potato casserole without using any sugar. My first stab at it was these Cinnamon Raisin Diced Sweet Potatoes.  They're super simple and light. Ultimately I wanted to capture the sticky richness of that casserole though so I kept testing and tweaking until I landed here. Enter Cinnamon Pecan Sweet Potato Rounds.
Good golly, these things are heaven.
The magic is in the cinnamon pecan crust. That stuff is so crazy tasty. A little ghee or butter with finely chopped pecans and cinnamon. Yum. I prefer ghee because the milk fat is cooked out so I believe it's a little better for you and honestly I'm just such a huge fan of the stuff. Also, we've found that my husband who has a serious dairy allergy can actually tolerate ghee.
The potato rounds themselves bake with a little coconut oil until they're tender and lightly browned.
Then that crust goes on for a few additional minutes of baking.
Voila! These babies are finished and ready for a sprinkle of shredded coconut.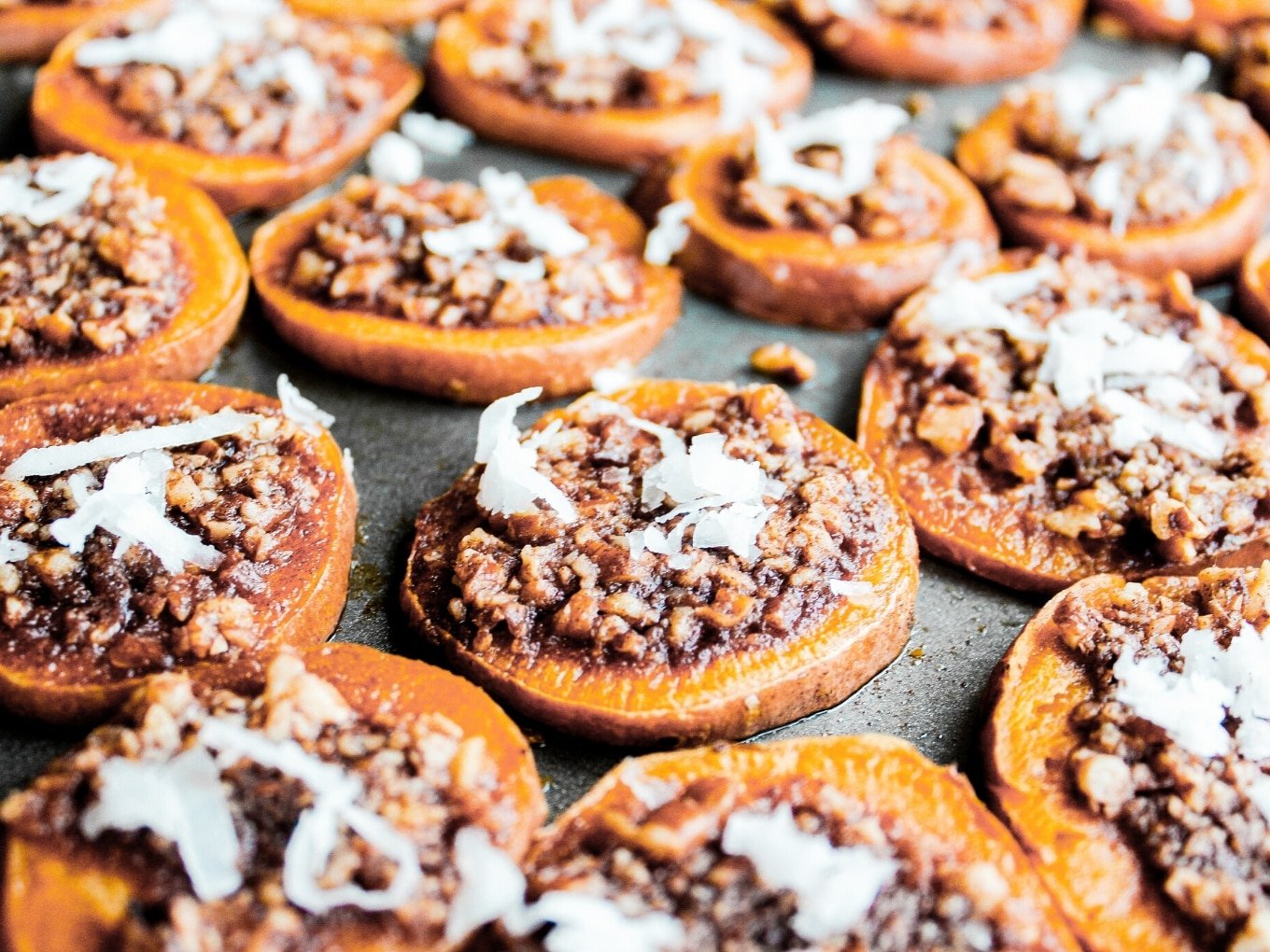 I swear each bite feels like a sweet potato casserole. Sweet. Rich. Satisfying. You're going to love it.
If you're on Whole30 you may want to avoid this one. While the ingredients are technically all compliant the end result is sweet so I'd probably consider this dish SWYPO.
Cinnamon Pecan Sweet Potato Rounds
Cinnamon Pecan Sweet Potato Rounds are a naturally sweet and very rich side dish. They taste a lot like a sweet potato casserole!

Ingredients
Sweet Potatoes
4 sweet potatoes, medium
3 tbsp coconut oil
Cinnamon Pecan Crust
1/2 cup chopped pecans
4 tbsp ghee, Can use regular butter if prefered.
2 tsp cinnamon
Optional: shredded coconut for topping
Instructions
Sweet Potatoes
Preheat oven to 375 degrees.


Slice your sweet potatoes into rounds. Discard the ends of the potato.


Lay sweet potato rounds in a single layer on a large baking sheet.


Melt coconut oil in the microwave or on stove top. Drizzle melted oil over potato rounds. Flip rounds to ensure each potato is well oiled.


Bake for 10 minutes. Flip potatoes. Bake for 5 minutes. Remove from oven to add crust.

Cinnamon Pecan Crust
Melt ghee in the microwave or on stove top. Stir in cinnamon. Stir in chopped pecans. (If you bought your pecans already chopped you may want to chop them again so you have no large pieces. The smaller the are they better they will combine.) You should now have what looks like a cinnamon pecan paste.


Place a dollop of the cinnamon pecan mixture on each potato round and spread to cover the top of the round.


Place potatoes back in the oven for an additional 5 minutes to warm the crust up.


Remove from oven and use a spatula to remove each round from the baking sheet. (They'll start to stick if you don't remove them right away.)


Sprinkle shredded coconut on top. (Unsweetened works great because the sweet potatoes are naturally sweet on their own.) Serve immediately.

Nutrition
Calories: 285kcal, Carbohydrates: 19g, Protein: 2g, Fat: 23g, Saturated Fat: 12g, Cholesterol: 25mg, Sodium: 47mg, Potassium: 329mg, Fiber: 3g, Sugar: 4g, Vitamin A: 12295IU, Vitamin C: 2.1mg, Calcium: 41mg, Iron: 0.8mg