Sheet Pan Chicken with Potatoes & Zucchini
Let's keep dinner simple, shall we? If you're in favor then check out this recipe for Sheet Pan Chicken with Potatoes & Zucchini. Everything cooks in the oven together for a quick meal everyone will love.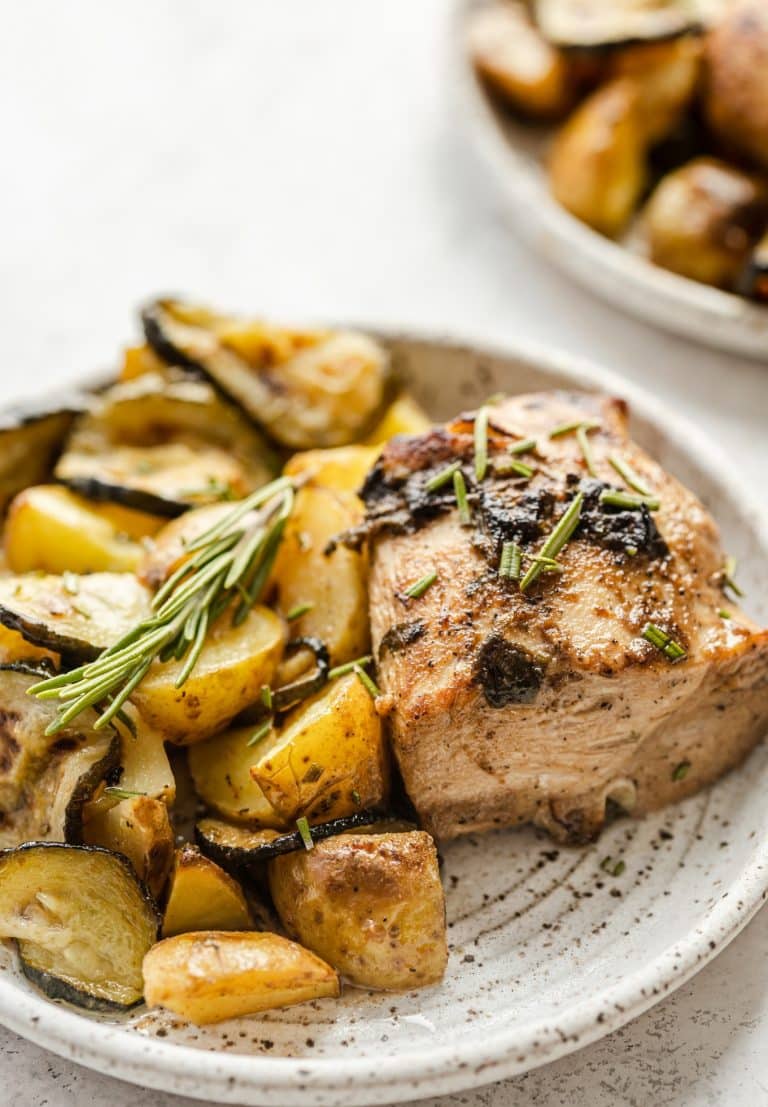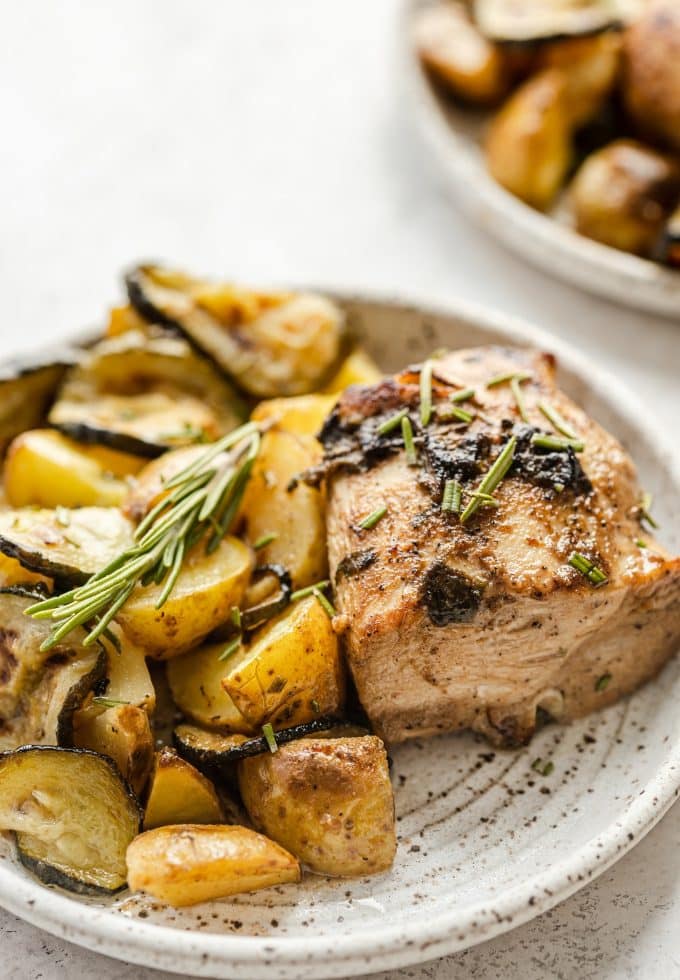 Update: This recipe was originally published in 2017 and has been republished with all new photos.
Fresh rosemary. Garlic. Roasted potatoes. Yes please. Okay there's other stuff too but I come for the potatoes and the garlic. Just keeping it real.
This sheet pan dinner is so easy. It all cooks together so you just marinate, chop, and bake.
The marinade is quick and full of fragrant herbs. It's what will make the whole kitchen smell ahhhhmazing while dinner is in the oven.
For this recipe you'll want four chicken breasts. If your chicken is looking a little thick you may want to cut it horizontally to create thinner cutlets.
Now you know it's not a complete meal without something green. I adore zucchini. We grow some in our garden every year since we eat so much of it. It's so tender with a mild flavor. Just the perfect compliment to everything else.
That's it! On this one sheet pan you'll have everything you need for a complete meal. That makes it a winner on busy weeknights!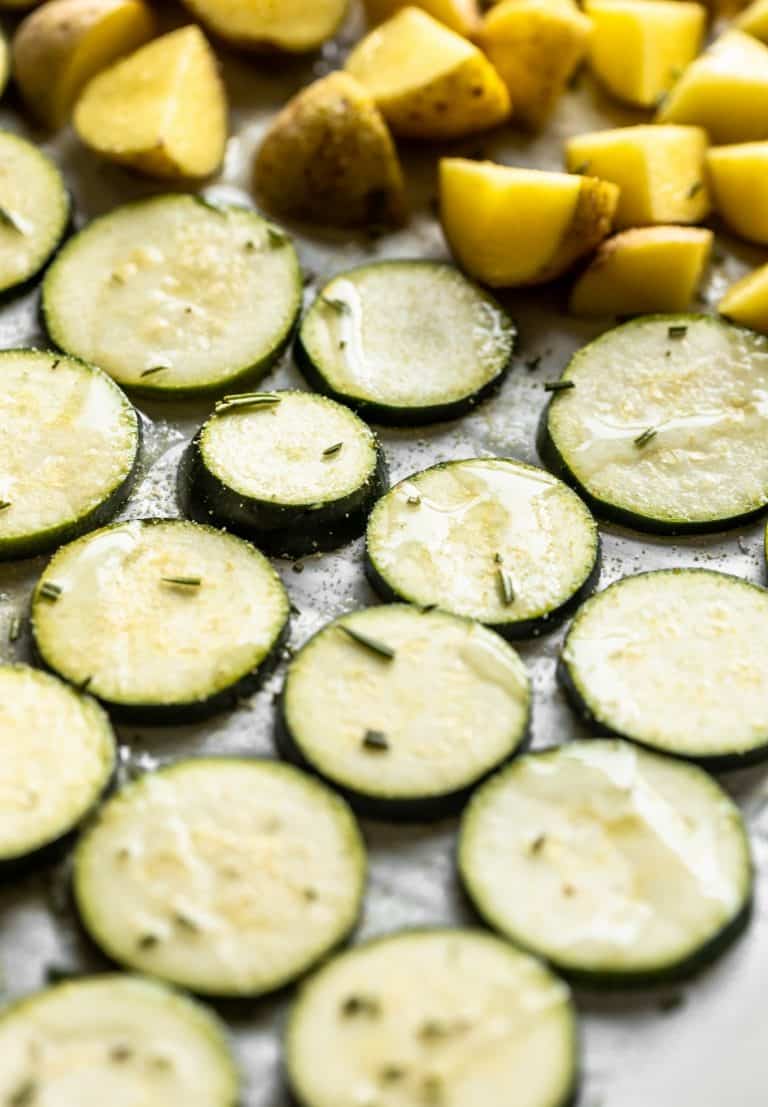 For this recipe you'll need (full list of ingredients and instructions are in the recipe card below):
Chicken breasts
Olive oil
Balsamic vinegar
Apple cider vinegar
Minced garlic
Basil
Rosemary
Baby dutch yellow potatoes
Zucchini
Seasoning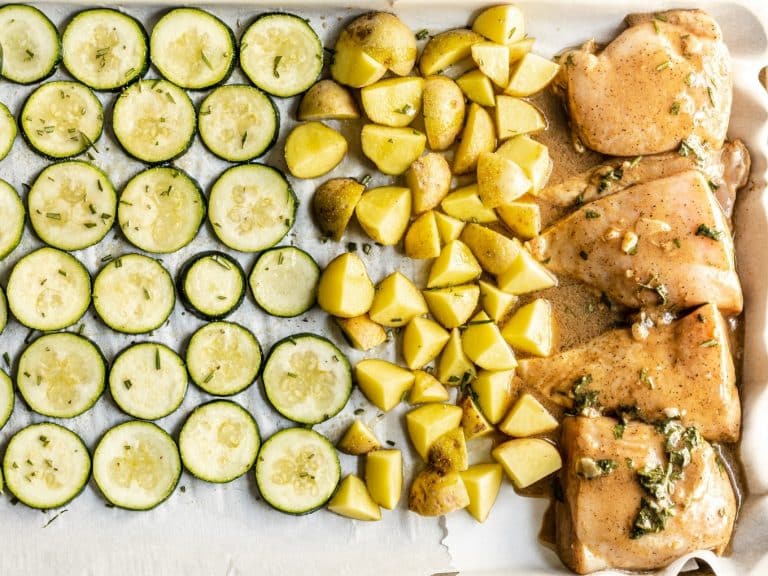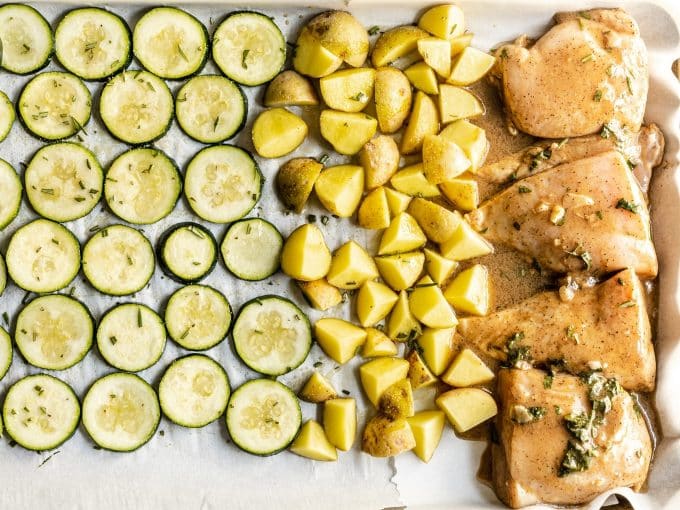 What size sheet pan is best to use?
I use a 12 x 17 baking sheet for all my sheet pan recipes. This accommodates a lot of food without overcrowding. If your baking sheet is smaller, use two instead of one. (Don't overcrowd.)
Why use baby dutch yellow potatoes?
Anyone else currently obsessed with baby dutch yellow potatoes? They're essentially my go to potatoes these days. I really enjoy how small they are. Plus (and this is the most important part) they taste buttery without any actual butter.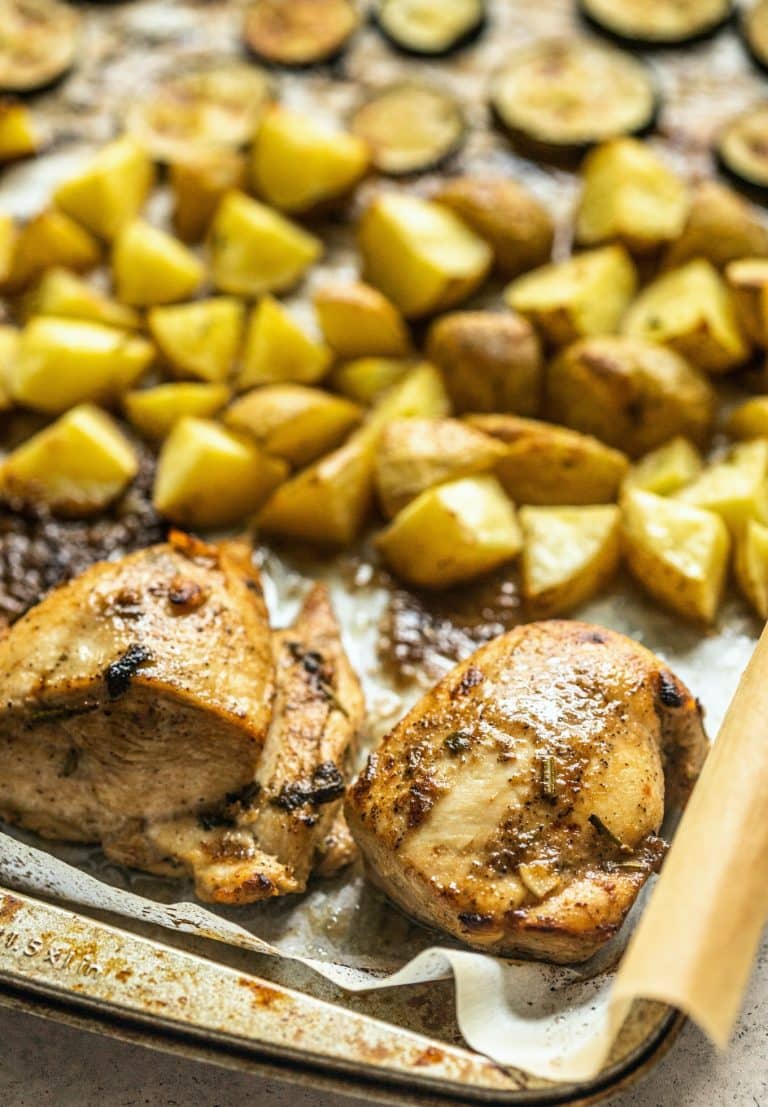 Can you use a different potato?
Yes. You can use yellow, gold, russet potatoes if you like. Just cut them into 1-inch pieces for this recipe.
Can you use a different vegetable?
If zucchini isn't your thing you could easily swap it out for broccoli or brussels sprouts. Both will roast beautifully at this temperature.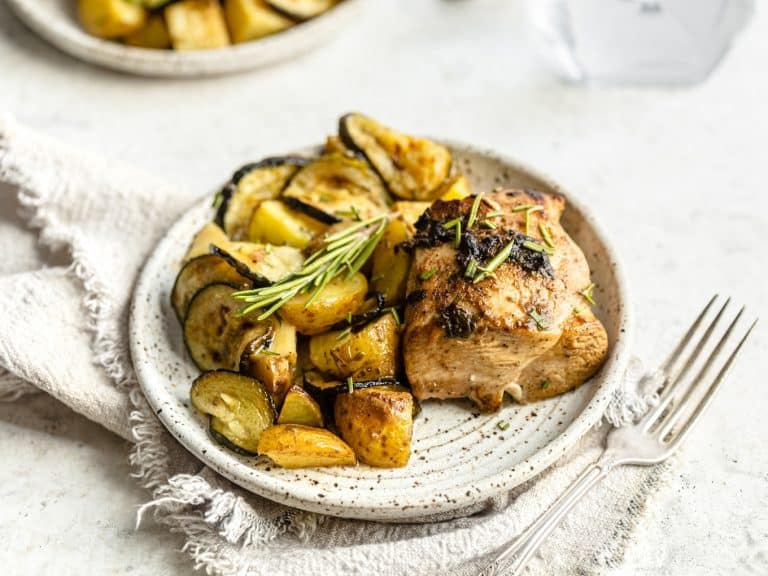 How to serve this
If you're wanting to add something else you could always serve a salad on the side too. I recommend topping that salad with my easy Strawberry Basil Dressing (all the ingredients just go in a blender).
More sheet pan meals like this:
Pistachio Herb Crusted Salmon with Asparagus
Sheet Pan Lemon Chicken Dinner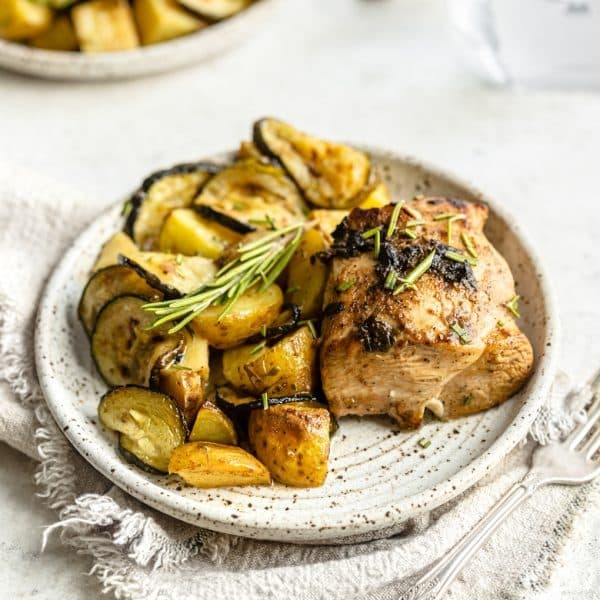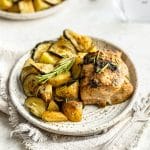 Sheet Pan Chicken with Potatoes & Zucchini
This sheet pan chicken dinner is a complete meal with potatoes and zucchini! Perfect for busy weeknights! Everything cooks in the oven together for a quick dinner everyone will love.
Ingredients
Chicken & Marinade:
4 chicken breasts
1/4 cup olive oil, extra virgin
1/8 cup balsamic vinegar
2 tbsp apple cider vinegar
1 tbsp garlic, minced
1 tsp onion powder
1 tsp ground ginger
1 1/2 tsp ground mustard
1/2 tsp salt
1/2 tsp black pepper
3 large basil leaves, chopped
2 sprigs fresh rosemary, chopped
Everything else:
12 oz baby dutch yellow potatoes, cut into fourths
2 zucchini, sliced into circles
1 tbsp olive oil, extra virgin, enough to coat your zucchini & potatoes
1/2 tsp garlic powder
1/2 tsp salt
1 sprig fresh rosemary, chopped
Instructions
Preheat oven to 400 degrees. Line the bottom of a large baking sheet (mine is 12×17) with parchment paper.

Add your chicken breasts to a large ziplock bag with all marinade ingredients. Seal the bag, squeezing out any air. Use your fingers to massage the bag so the marinade coats the chicken. Set aside. Allow marinade to work its magic for at least 30 minutes. The longer you marinade the stronger the flavor.

Slice your potatoes into fourths (or even sixths if some aren't small enough). Place in a single layer on the parchment paper lined baking sheet. It's going to be a tight fit so don't worry if they touch each other. Just make sure it's a single layer.

Add zucchini slices to the baking sheet too. Again, they can touch but should remain in a single layer.

Drizzle the 1 tbsp of olive oil over your potatoes and zucchini.

Sprinkle the garlic powder and salt over your potatoes and zucchini.

Add your marinated chicken to the sheet pan. Pour any leftover marinade on top of the chicken on the sheet.


Bake at 400 degrees for 25 minutes.

Broil on high for 3 minutes.


Remove from the oven. Sprinkle the remaining sprig of rosemary (chopped) on everything and serve!
Notes
This is a tight fit on a large sheet pan (mine is 12×17). If you don't have a large enough pan or if you don't have room for everything just use two sheet pans. Please note that I use two small zucchini. If you use bigger zucchini you will likely not have  room on the sheet pan for all the slices.
Nutrition
Calories: 491kcal, Carbohydrates: 17g, Protein: 51g, Fat: 23g, Saturated Fat: 3g, Cholesterol: 144mg, Sodium: 863mg, Potassium: 1452mg, Fiber: 3g, Sugar: 3g, Vitamin A: 295IU, Vitamin C: 30.6mg, Calcium: 56mg, Iron: 4.2mg
Save