Roasted Cherry Tomatoes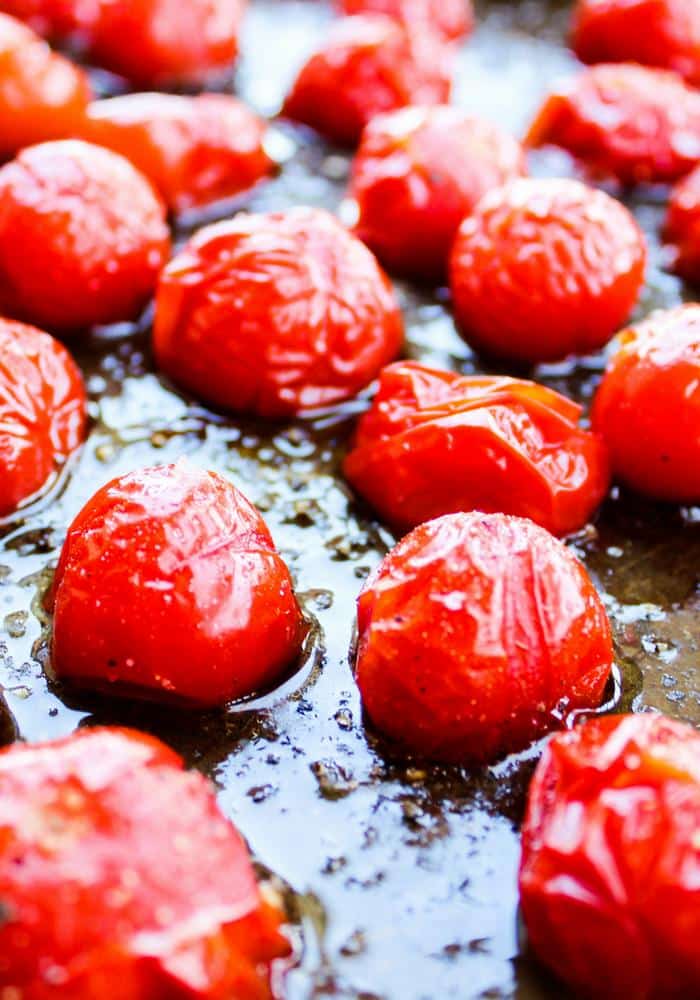 I've dedicated a lot of time trying to convince you all that roasting veggies is the way to go. (See Roasted Parsley Carrots, Roasted Brussels Sprouts, Roasted Red Cabbage, & Spicy Roasted Broccoli.) Have I convinced you yet?
Well today it's all about these Roasted Cherry Tomatoes. If you're not roasting tomatoes you may want to rethink your life.
Go ahead.
I'll wait.
Tomatoes on their own are good, right? Gimme all the tomatoes on my salads, burgers, sandwiches, you know the drill. But, friend. Roasted Cherry Tomatoes are so crazy superior to their boring (I'm sorry, it's true) but less yummy raw counterparts. There. I said it.
Throw them on a baking sheet with olive oil, salt, and pepper and you're well on your way to Flavor City. (Wow. That was extreme. Drink a little less coffee, Christina.)
The key is to roast them just long enough so the skin starts to peel back a bit. That means they're super soft and sweet.
If you open the oven and you're not quite sure if they're ready gently move a few around with a spatula or other utensil. You'll be able to tell right away if they've softened.
Add these to a pasta dish, mix them in scrambled eggs, serve them in an omelet, top them on avocado toast, there's so much you can do!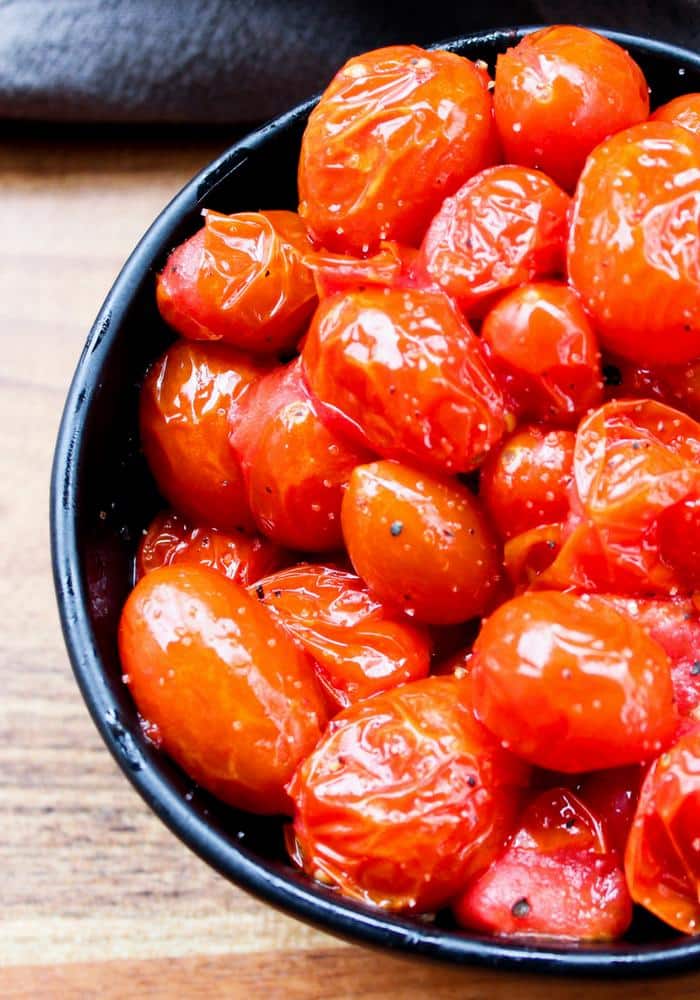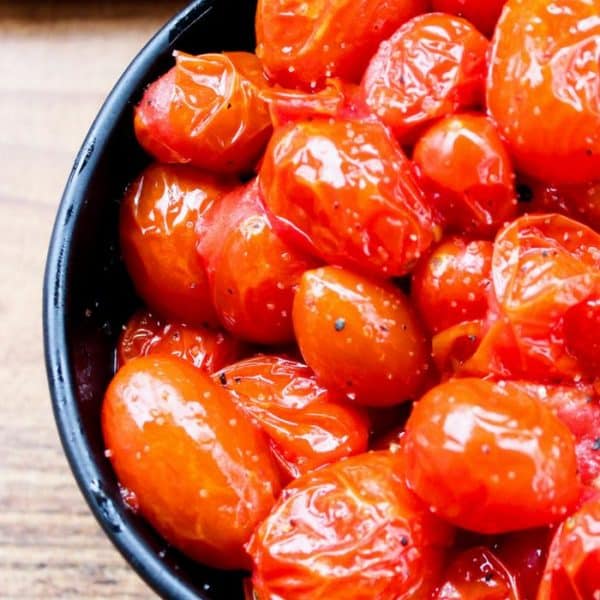 Roasted Cherry Tomatoes
Roasted Cherry Tomatoes are a naturally sweet addition to any dish! Add them to pasta, eggs, avocado toast, there's so much you can do!
Ingredients
10 oz cherry tomatoes, grape tomatoes work too
2 tbsp olive oil
salt & pepper
Instructions
Heat oven to 350 degrees.

Spread your tomatoes on a baking sheet, drizzle with olive oil, and roll the tomatoes in the oil so they're all coated.

Sprinkle with salt and pepper.

Bake for 15 to 20 minutes. (15 minutes is the sweet spot for my oven.) You'll know they're done when you see the skin crinkle and separates some from the tomato flesh.

Remove from oven. Enjoy as is or add to pasta, salads, omelets, and more!
Nutrition
Serving: 2.5oz, Calories: 74kcal, Carbohydrates: 2g, Fat: 7g, Sodium: 7mg, Potassium: 154mg, Sugar: 1g, Vitamin A: 345IU, Vitamin C: 16.2mg, Calcium: 8mg, Iron: 0.5mg
Are you team Roasted Cherry Tomatoes now? If you made them, love them, and share a photo on Instagram tag me so I can come check it out! Or don't. Totally up to you.
For more roasted goodness check out these recipes below. Click any of the photos and you'll go straight to the recipe.