Creamy Lemon Garlic Chicken
Creamy Lemon Garlic Chicken is an easy entree featuring two of my favorite flavors, lemon and garlic.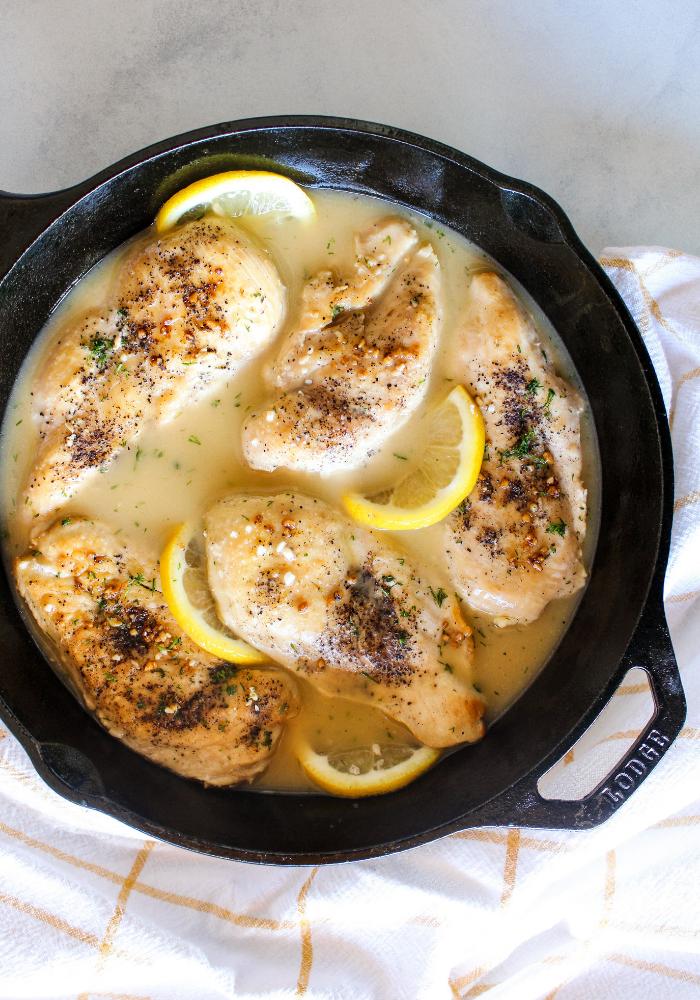 Update: This recipe was originally published in 2016 and has been republished with all new photos.
My mother in-law once told me that I love garlic in everything. The woman is right. I do. She's a smart lady.
This simple entree is dairy free but looks and feels like a little heavy cream was thrown in there. It wasn't. I use canned coconut milk to get it that creamy appearance. (It absolutely does not taste like coconut at all since we use just a bit.)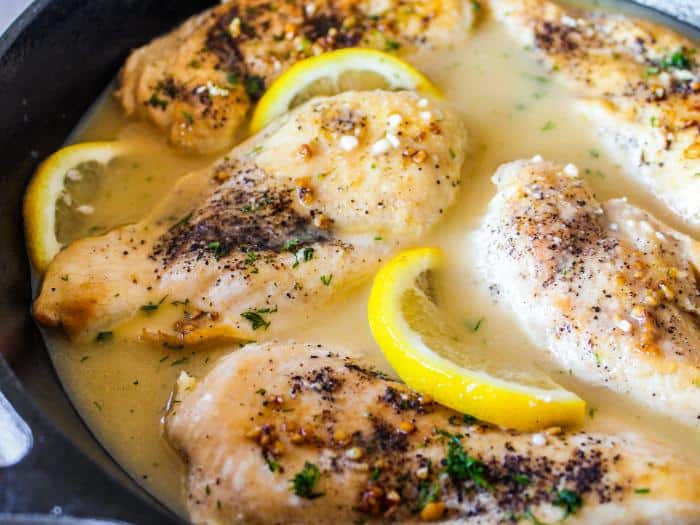 Serve this over zoodles, noodles, sautéed spinach, or veggies to take full advantage of the sauce.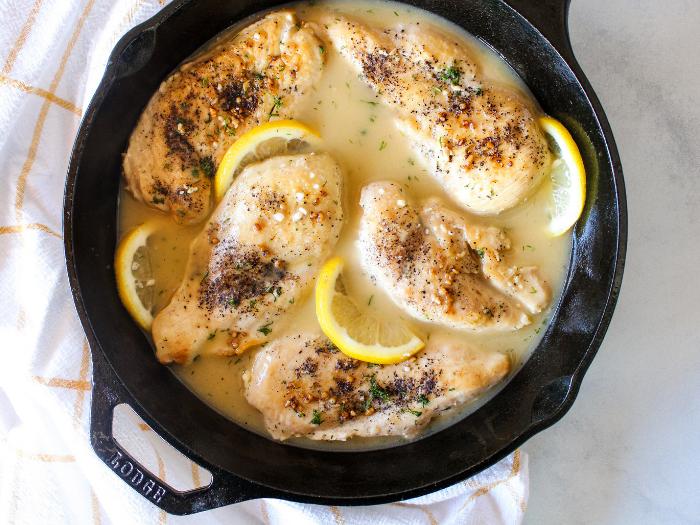 Craving more skillet chicken recipes? My Coconut Lime Chicken is a favorite if you're a fan of coconut and lime. Healthy Bruschetta Chicken is a gorgeous dish that always wows too.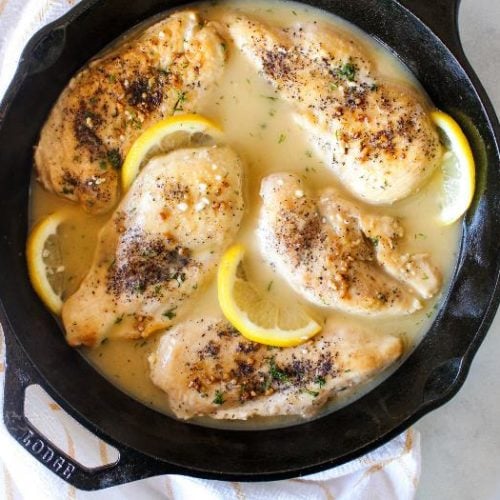 Creamy Lemon Garlic Chicken
Creamy Lemon Garlic Chicken is an easy entree that's dairy free and so delicious!
Ingredients
Chicken
4 chicken breasts
2 tbsp cooking fat of choice, I use olive oil.
salt & pepper
Lemon Garlic Sauce
1 1/2 cups chicken stock
1/4 cup canned coconut milk, unsweetened
2 tbsp lemon juice
1 tsp minced garlic
1/2 tsp salt
1/4 tsp garlic powder
1/4 tsp onion powder
1 tbsp arrowroot flour
1 tbsp water
fresh dill, chopped, for garnish
Instructions
Add your cooking fat of choice to a large skillet and heat on medium high heat.

Unless your chicken breasts are already fairly thin slice them horizontally. This will give you very thin cutlets so they'll cook faster and more evenly.

Add your chicken breasts to the hot pan. Liberally salt and pepper the side facing up. Saute until each side has some browning and chicken is cooked through or mostly cooked through, about 3 to 4 minutes per side.

Lower heat to medium.

Add chicken stock, lemon juice, coconut milk (stir it in the can so that you don't have any separation), minced garlic, salt, garlic powder, and onion powder to the skillet. Stir your sauce.

Cover. Let simmer on medium for 5 minutes.

To thicken the sauce remove the chicken from the pan. Turn off the stove. In a small container shake together 1 tbsp arrowroot flour with 1 tbsp water. Pour the flour mixture into the skillet and stir. Sauce will begin to thicken immediately. Add your chicken back to the skillet. Taste your sauce and add more salt if needed. Garnish with fresh dill. Serve!
Notes
Do not under any circumstances use any coconut milk other than canned unsweetened coconut milk. I get this question a lot. Canned coconut milk is thick and not as watered down as the kind you'll find in the refrigerated section of the store. It adds a creaminess to your dish. I prefer Thai Kitchen (make sure it says unsweetened and does not say low fat) but there are other brands that work well too! Don't have arrowroot flour? You can always omit it for a thinner sauce.  Nutrition information is for one chicken breast. If you end up slicing yours horizontally to make them thinner then you'd need two to equal one full chicken breast. Photos show 4 chicken breasts but one was cut horizontally because it was so thick. This makes a lot of sauce. You'd easily have enough for 6 chicken breasts if you're feeding more people.
Nutrition
Serving: 1chicken breast, Calories: 387kcal, Carbohydrates: 5g, Protein: 50g, Fat: 17g, Saturated Fat: 10g, Cholesterol: 147mg, Sodium: 684mg, Potassium: 970mg, Sugar: 2g, Vitamin A: 70IU, Vitamin C: 6.3mg, Calcium: 14mg, Iron: 1.3mg
Save
Save
Save