Coconut Lime Chicken
This Coconut Lime Chicken is a quick entree that earns rave reviews! The light and creamy sauce includes a bright burst of lime flavor you're going to love.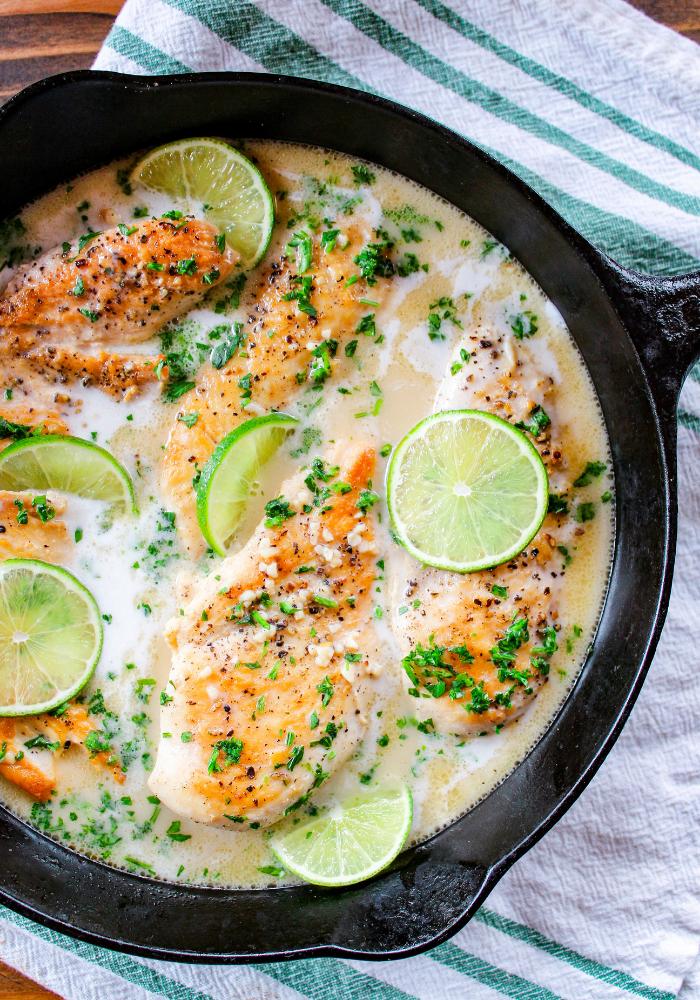 A few weeks ago I bought a big bag of gorgeous limes and promptly forgot about them. Don't you hate when that happens? They got stuck behind who knows what in the refrigerator and I never saw them. So the following week I bought another bag. It wasn't small either. I ended up with a whole lot of limes just begging me to create something. Okay, limes, I hear you.
Luckily I'd had this recipe in mind for a while and, oh my goodness, it was amazing from the very first try. I made it a few times to get the sauce consistency just right. It is.
The sauce in this Skillet Creamy Lime Chicken is creamy, coconutty, and limey (I'm fairly sure that's not an actual word.)
I know I use canned coconut milk in a lot of recipes and I often say "but it won't taste like coconut". Well that's not the case for this recipe. It does taste like coconut (because we use a lot of the coconut milk) and it's downright yummy.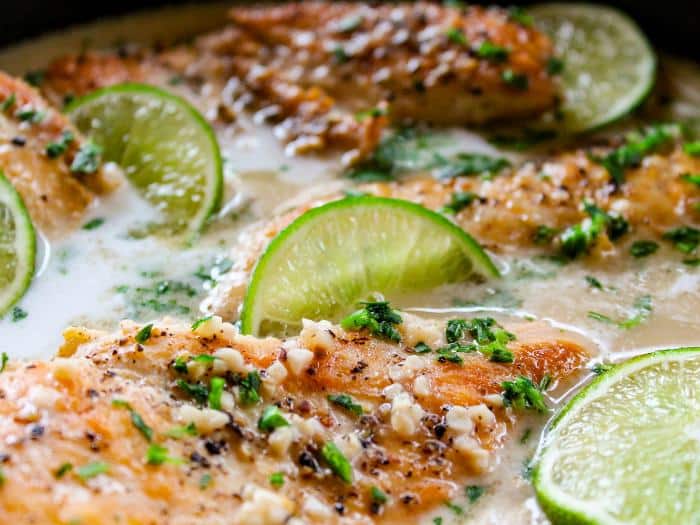 To make this delectable recipe you'll start with the chicken. I like to slice mine horizontally to create thin cutlets. They cook so much faster and more evenly than thick chicken breasts.
The key to any skillet chicken is to crank up the heat when you first add the chicken to the pan. That way you can get a really good browning on it. Beige chicken creeps me out, friends. Plus when you get some good coloring on your chicken that means you'll get yummy crispy bits of chicken in the pan to scrape up as you make the sauce. It always makes the sauce richer.
Once your chicken is browned, remove it from the skillet and set aside. Add in the sauce ingredients. Stir to combine. Place the chicken back in the skillet and let everything simmer until flavors have married and everything is warmed through.
That's it! Guess what? This recipe is Whole30 compliant, gluten free, and dairy free. That's right. I said it. It's all of those things and it's still super yummy! It's basically kitchen sorcery. My specialty.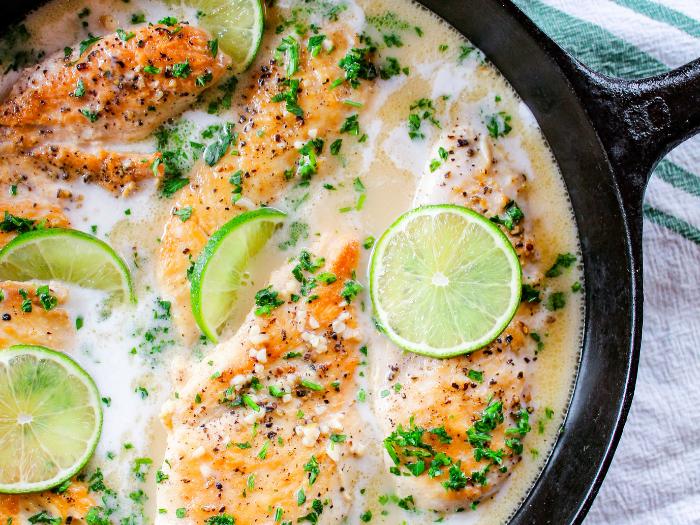 Now go whip up some for dinner tonight. Be sure to serve this over simply prepared vegetables or diced potatoes so you can take full advantage of that sauce. Enjoy!
But don't just take my word for it, here's what people who've made this recipe have to say on Instagram:
Made this for dinner tonight but forgot to snap a pic. Served over brown basmati rice and sautéed broccolini. It was so yummy and super easy! Definitely going in the regular rotation!
Just a tip. Double that sauce!!! It's that good.
It's so good! My anti-healthy-eating dad had seconds when I made it for him.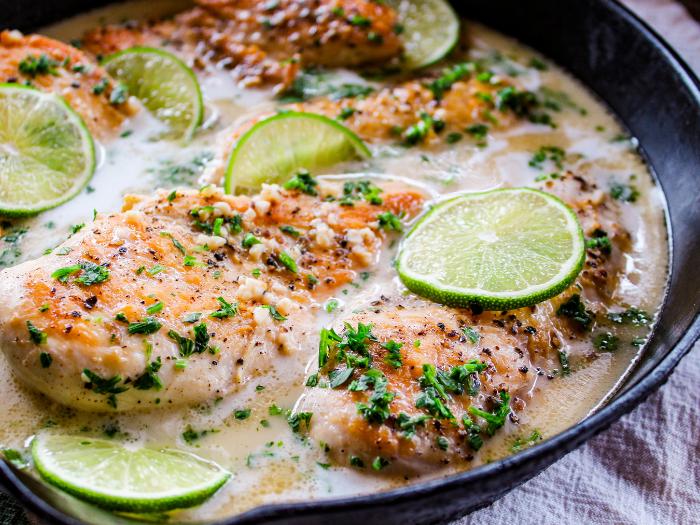 How to serve this saucy chicken?
This sauce is outrageously good so be sure to serve this chicken over something that can sop it all up! I recommend Cilantro Lime Cauliflower Rice, Light & Creamy Mashed Potatoes, Easy Seasoned Roasted Potatoes, Easy Diced Air Fryer Potatoes, or Skillet Breakfast Potatoes. Steamed cauliflower rice or traditional rice work great too!
And now let's talk sides! If you're thinking of something green I recommend my Spicy Roasted Broccoli, Easy Roasted Broccoli, Garlic Green Beans, Simple Sautéed Cabbage, or Roasted Green Beans with Almonds.
Want to add more color to your plate? These Roasted Ranch Veggies will give you your vegetable fix and look so dang pretty. You'll enjoy these Roasted Parsley Carrots and my Roasted Red Cabbage too.
More recipes like this:
Sun-Dried Tomato Lemon Chicken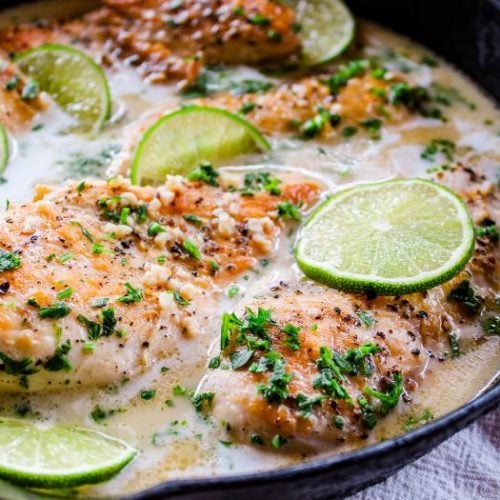 Coconut Lime Chicken
Coconut Lime Chicken is dairy free and oh so good. You'll really love this creamy sauce!
Ingredients
4 chicken breasts
2 tbsp cooking fat of choice, (I use coconut oil.)
1/4 cup chicken stock
1/4 cup lime juice
1 1/2 cup canned coconut milk, unsweetened and full fat (should not say lite or low fat)
1 tbsp minced garlic
1/2 tsp salt
1/2 tsp pepper
1/8 cup fresh chopped cilantro
Additional salt & pepper to taste.
Instructions
Add your cooking fat of choice to a large skillet and heat on medium high heat.


Unless your chicken breasts are already fairly thin slice them horizontally. This will give you very thin cutlets so they'll cook faster and more evenly.


Add your chicken breasts to the hot pan. Liberally salt and pepper the side facing up. Saute until each side has some browning and chicken is cooked through or mostly cooked through, about 3 to 4 minutes per side.


Remove chicken from the skillet and set aside on a plate. Lower heat to medium.


Add chicken stock, lime juice, coconut milk (stir it in the can so that you don't have any separation), minced garlic, 1/2 tsp salt, and 1/2 tsp pepper to the skillet. You'll have a bit of coconut milk remaining in your can. Set it aside because we'll drizzle some of that on top after everything is finished. Stir your sauce, scraping up any browned bits remaining in the pan from when you cooked your chicken.


Add the chicken breasts back to the skillet with the sauce. Cover. Let simmer on medium to medium low for 5 minutes.


Right before serving use a spoon to scrape up some of the remaining coconut milk from the can and drizzle it over your chicken. Sprinkle fresh chopped cilantro. You're done!


Serve with vegetables or potatoes to take full advantage of the yummy coconut lime sauce!

Notes
Do not under any circumstances use any coconut milk other than canned unsweetened coconut milk. I get this question a lot. Canned coconut milk is thick and not as watered down as the kind you'll find in the refrigerated section of the store. This results in a strong coconut flavor and that's what we want in this dish! I prefer Thai Kitchen (make sure it says unsweetened and does not say low fat) but there are other brands that work well too! Nutritional information is for 1 chicken breast plus 1/4 of the sauce. If you slice each breast in half and end up with 8 thin cutlets remember that 2 of those cutlets is the equivalent of 1 breast. If you only have 1 thin cutlet then you'll need to 1/2 the nutritional info.
Nutrition
Serving: 1chicken breast, Calories: 407kcal, Carbohydrates: 7g, Protein: 26g, Fat: 31g, Saturated Fat: 25g, Cholesterol: 72mg, Sodium: 457mg, Potassium: 688mg, Fiber: 2g, Sugar: 3g, Vitamin A: 70IU, Vitamin C: 9.1mg, Calcium: 24mg, Iron: 1.9mg