Healthy Bruschetta Chicken
This Healthy Bruschetta Chicken contains many of the flavors you love from traditional bruschetta but now you can enjoy it for dinner!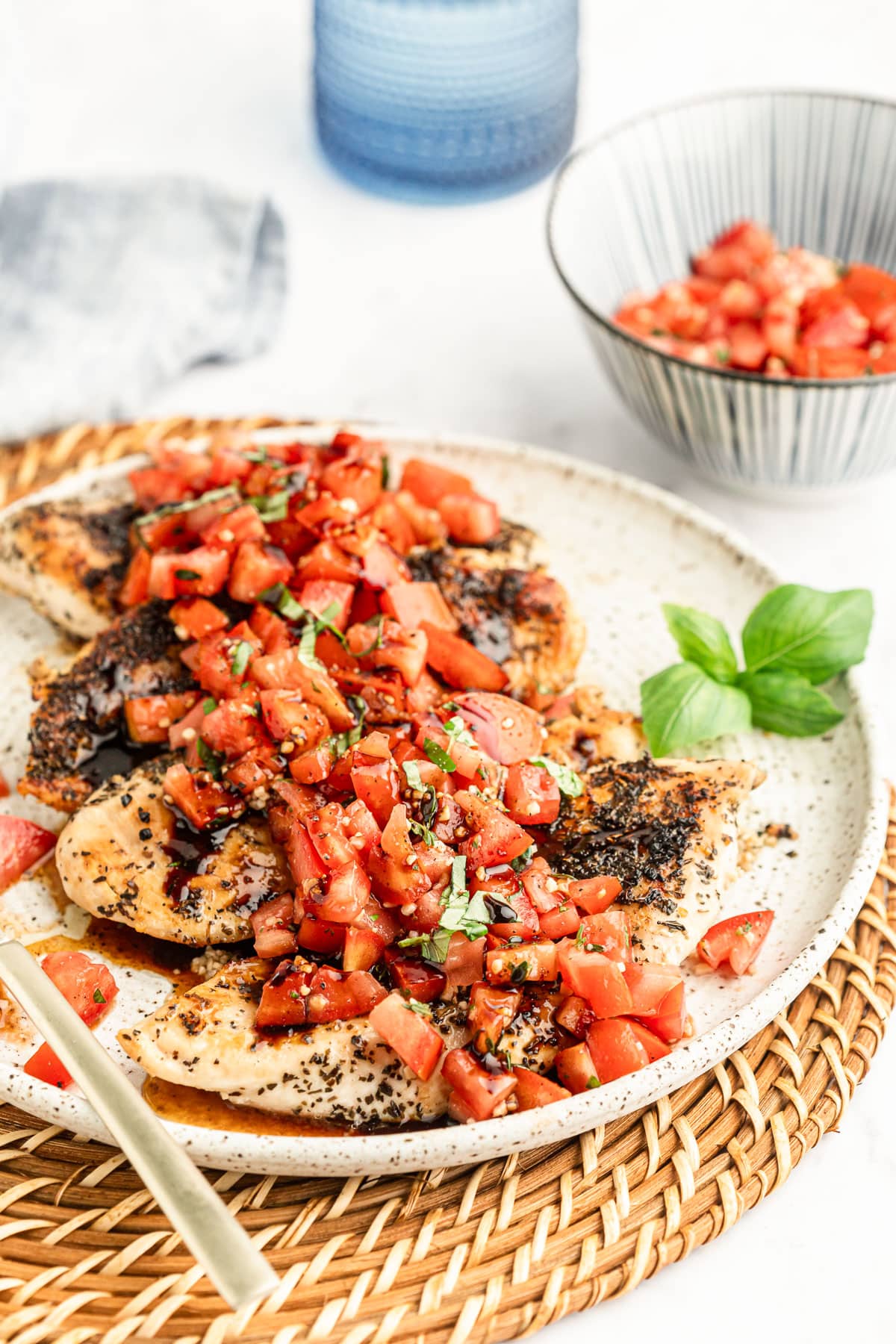 Recently we were eating at a restaurant that served a complimentary bruschetta appetizer to all of it's guests. I'm not usually someone who orders it but this one smelled strongly of garlic. Since garlic is my love language I couldn't say no. It was really out of this world good. Naturally it got me thinking about how to incorporate those flavors in a better for you dish. So let's turn it into an entree, shall we?
Y'all, you're going to go gaga for this Healthy Bruschetta Chicken.
Bruschetta is widely known as a mix of tomatoes, basil, garlic, and mozzarella or parmesan served over grilled bread. Mine is a bit different.
This is an entree, not an appetizer. I've included no bread and no cheese. It's just not necessary with so many other big flavors.
This version includes fresh tomatoes, basil, and oregano. Oregano? Yes! Oregano! It smells so incredibly fragrant. The leaves are small so there's not much cutting involved. It pairs beautifully with all the other ingredients. I know it's not in most bruschetta but it should be.
There's also garlic, olive oil, and balsamic vinegar.
For punch I used extra balsamic vinegar to make a quick balsamic reduction to drizzle on top. You need no other ingredients. Just balsamic vinegar and a few minutes on the stove. The end result is a thick sauce that clings to your chicken perfectly.
That's it! This is one dish that's sure to wow!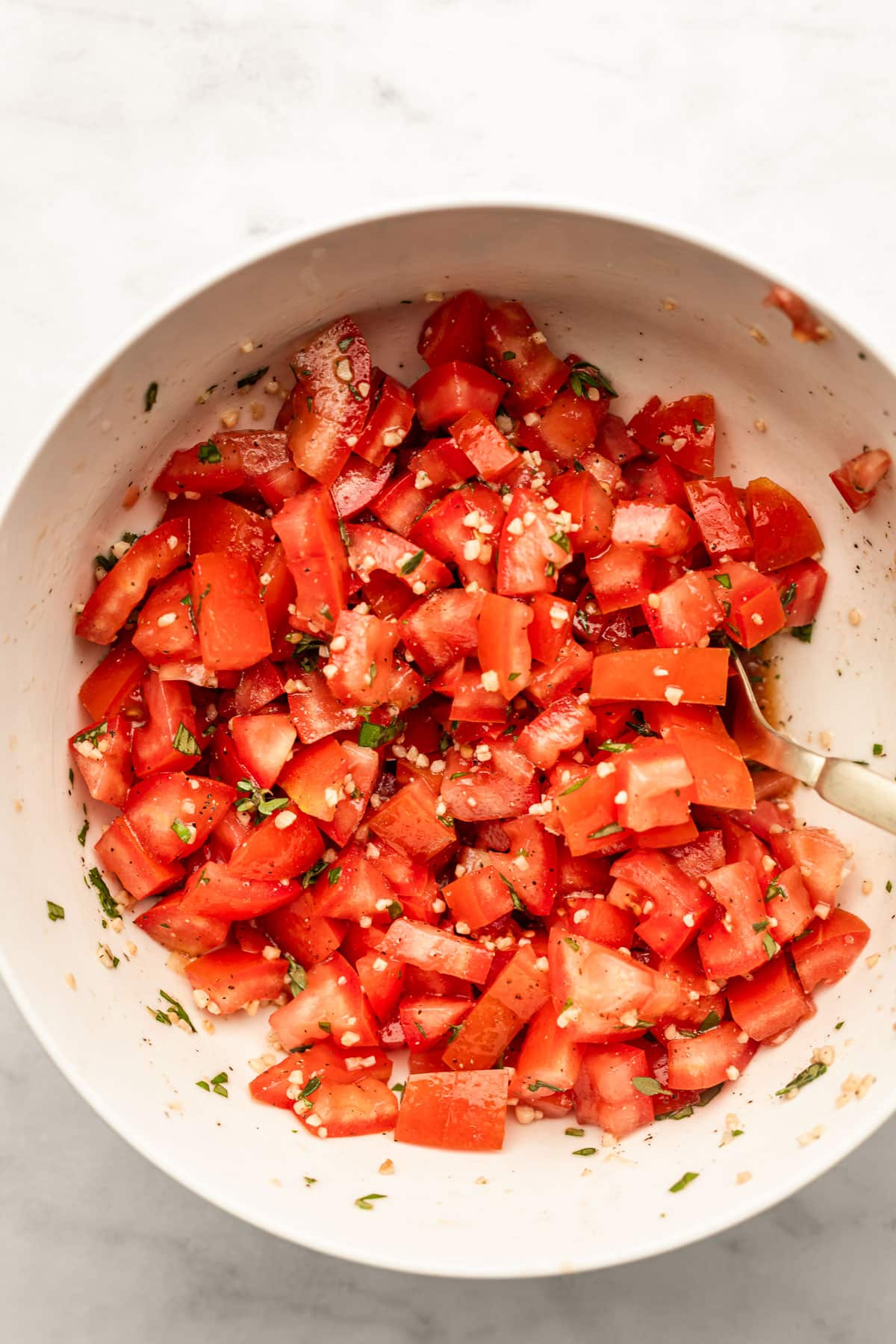 What is balsamic glaze?
Balsamic glaze is also called a balsamic reduction. It's what happens when you cook balsamic vinegar until it reduces or thickens. The final consistency is similar to a syrup and it has a highly concentrated flavor that's both sweet and tangy.
Some people like to sweeten their glaze with sugar or honey but I love it as is. No other ingredients needed!
How long does it take to make a balsamic glaze?
The cooking time is generally between 10 and 15 minutes but can vary depending on two factors.
The quality of the vinegar: A high quality balsamic will reduce faster than a lower quality watered down vinegar.
Your cooking temperature: The vinegar needs to simmer in order to reduce.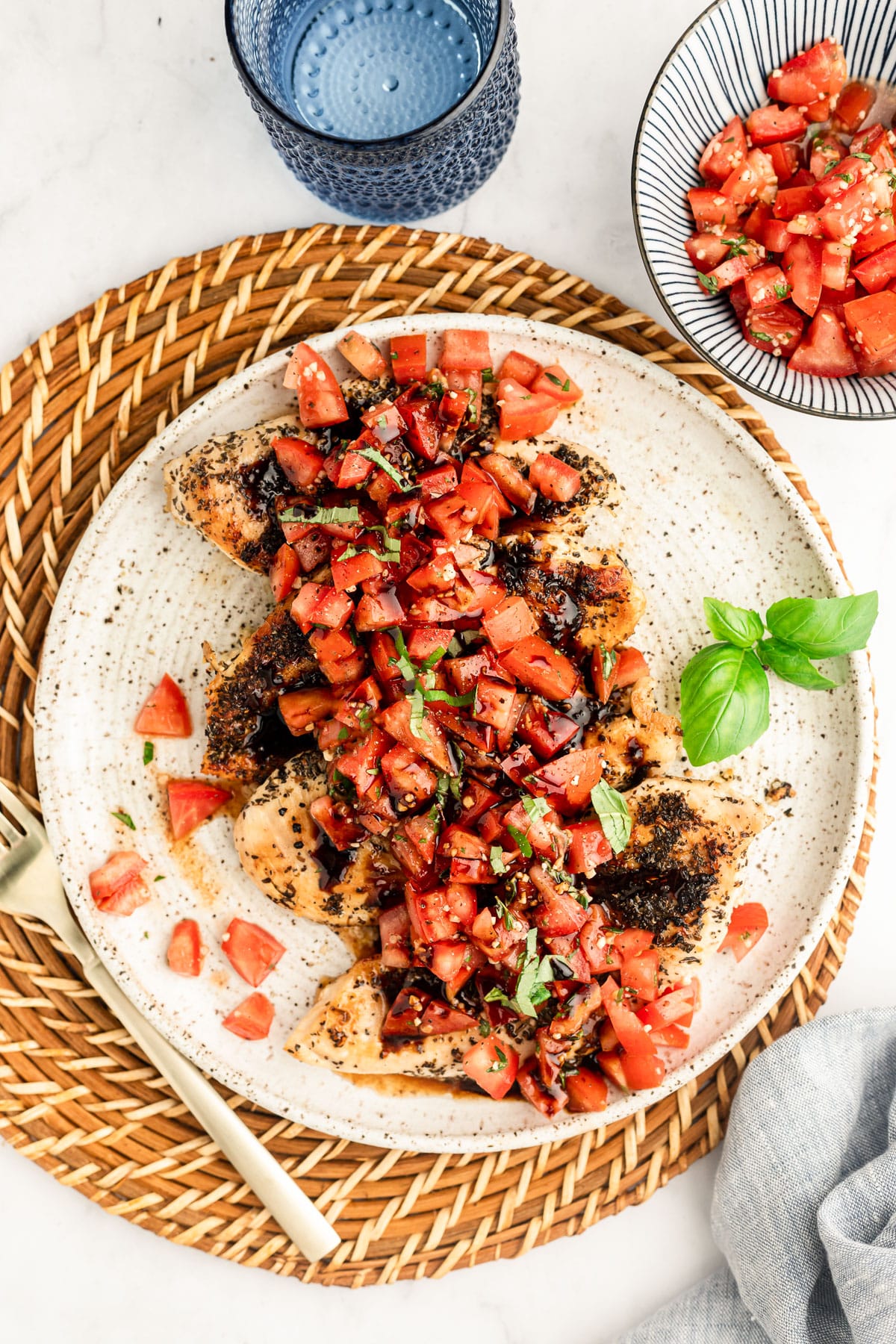 How do you know your balsamic glaze is done?
The finished glaze should be glossy and coat the back of your spoon. It will reduce to at least half your original amount.
Once it's done remove it from the heat immediately. It will continue to thicken as it cools.
If your vinegar isn't reducing, make sure you're using enough heat. Your balsamic vinegar should be simmering as it cooks. If it's not simmering then you're not using enough heat.
How to fix balsamic glaze that's too thick
If you've accidentally overcooked your glaze and it's too thick (but not burned), simply stir in a little water and heat into it's thinned out a bit.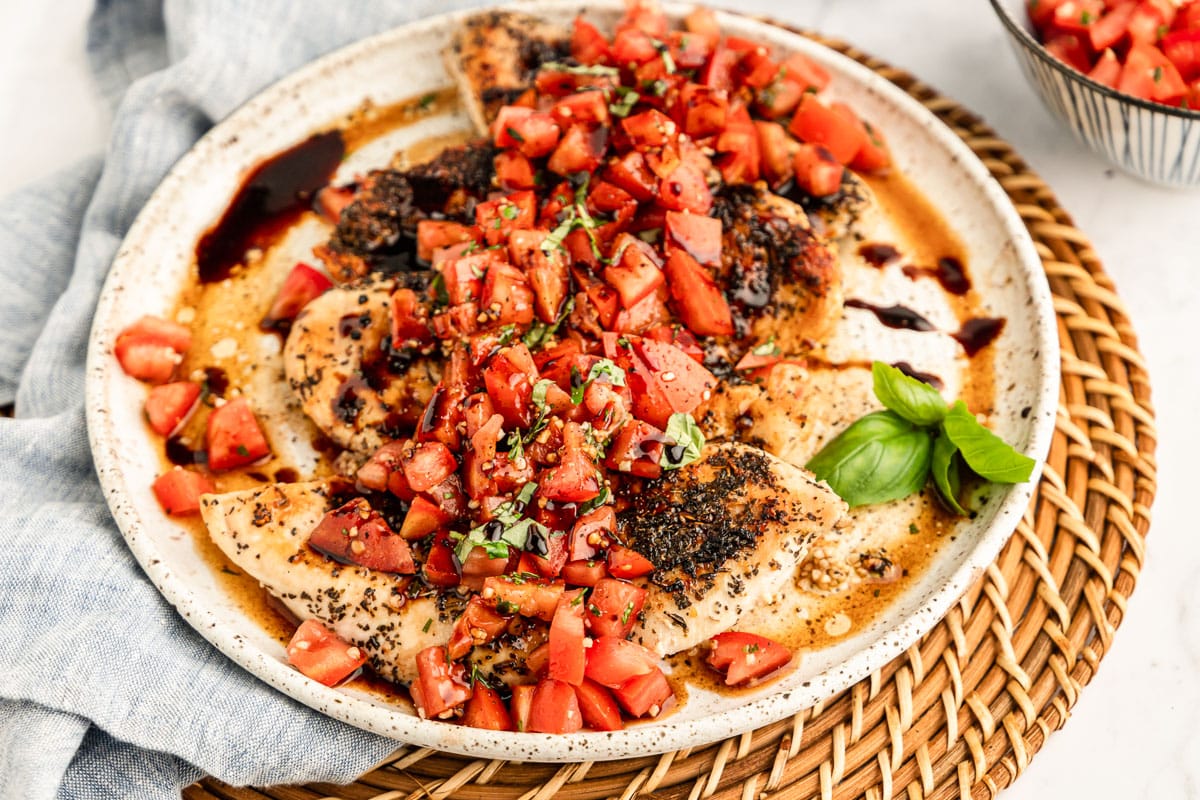 How to serve
I love serving this chicken with a big salad topped with my Easy Homemade Italian Dressing and Homemade Croutons. What a simple and delicious meal!
You can also pair this chicken with Roasted Spaghetti Squash, Easy Roasted Broccoli, or Herb Roasted Brussels Sprouts & Broccoli.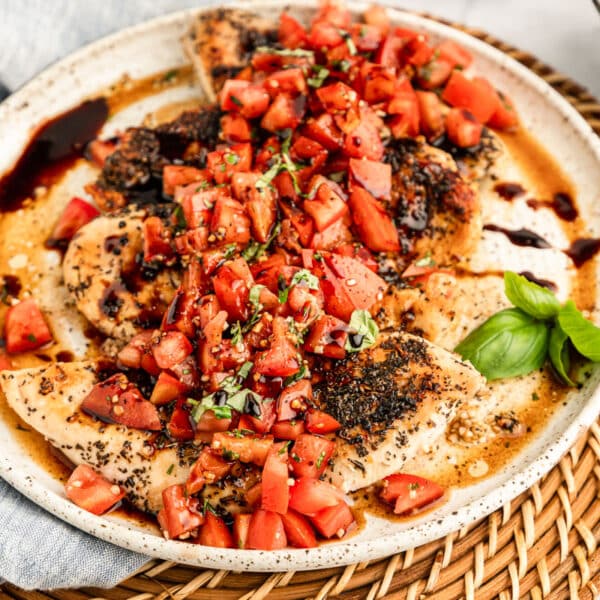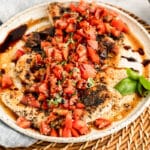 Healthy Bruschetta Chicken
Healthy Bruschetta Chicken contains many of the flavors you love from traditional bruschetta but now you can enjoy it for dinner! Fresh ingredients and a thick balsamic reduction make this dish a family favorite!

Ingredients
Chicken
2 tbsp olive oil, extra virgin
4 chicken breasts
salt & pepper to taste
1 tbsp dried basil
1 tbsp minced garlic
Bruschetta
3 ripe roma tomatoes, diced
7 basil leaves, chopped
1 sprig oregano, chopped
2 tsp minced garlic
1 tbsp olive oil, extra virgin
1 tsp balsamic vinegar
1/4 tsp salt
1/4 tsp pepper
Instructions
Chicken
Add olive oil to saute pan or cast iron skillet. Heat pan to medium high heat.


Add chicken to hot pan. Sprinkle salt, pepper, and dried basil on top of each cutlet. Cook until browned, about 5 minutes. Flip chicken. Add garlic to the pan. Cook until remaining side of chicken is browned, about 5 minutes.

Bruschetta
Add all ingredients to a bowl and stir together until combined.


Pour over your cooked chicken breasts.

Balsamic Glaze
Add 1 cup balsamic vinegar to a small saucepan. Bring to a boil over medium high heat. Reduce heat to medium. You should see bubbling along the outside of your pan. Let simmer for 10 minutes. Stir occasionally as vinegar begins to thicken and coat the spoon. Remove from heat and set aside to cool for a few minutes. It will thicken a bit more as it sits and you'll end up with around 1/3 cup of balsamic glaze.

Drizzle over bruschetta topped chicken.

Nutrition
Serving: 1chicken breast + 1/4 bruschetta topping and glaze, Calories: 283kcal, Carbohydrates: 11g, Protein: 25g, Fat: 13g, Saturated Fat: 2g, Cholesterol: 72mg, Sodium: 291mg, Potassium: 595mg, Sugar: 8g, Vitamin A: 460IU, Vitamin C: 8.8mg, Calcium: 49mg, Iron: 1.5mg