Easy Ranch Dressing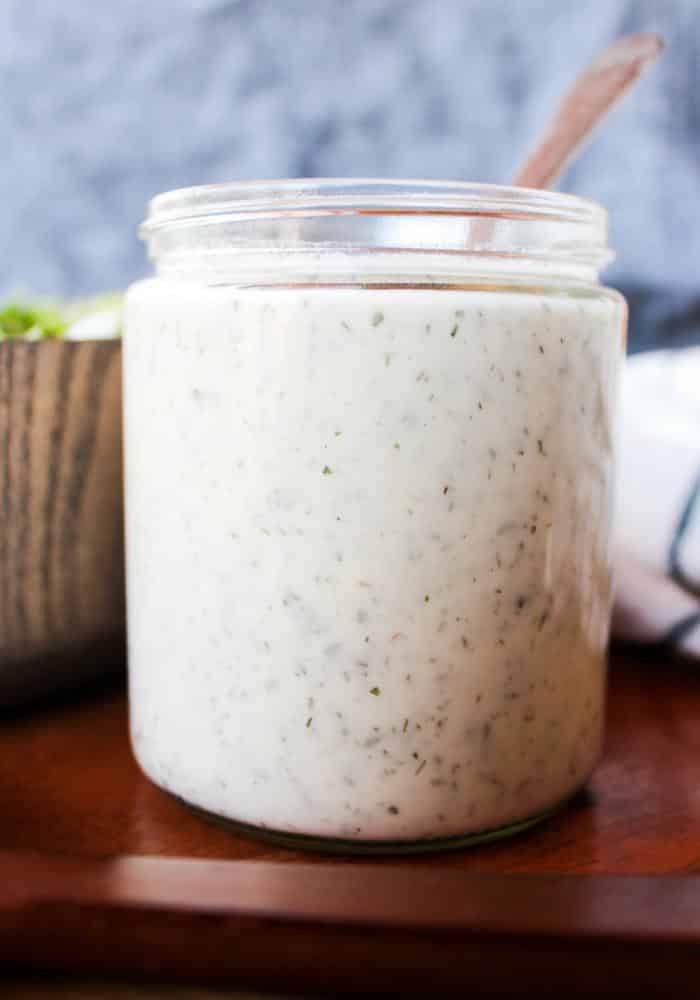 I am ranch dressing obsessed. When I set out to create my own recipe I knew that I wanted to use only clean ingredients. This Easy Dairy Free Ranch Dressing delivers!
If you've tried any of my recipes you know I'm a huge fan of fresh herbs. I didn't go that route here. Surprising, I know. I feel like it's important that this particular dressing include only ingredients you would have in your kitchen all the time. That way you can make this dressing at a moment's notice. No quick trip to the store required!
My version is dairy-free which means you can enjoy it even if you choose to do a round of Whole30. It's also so tasty I make it year-round.
Just toss everything in the blender. There's no chopping. No dirtying cutting boards or bowls. Give it all a quick blend and your favorite dressing is ready to go.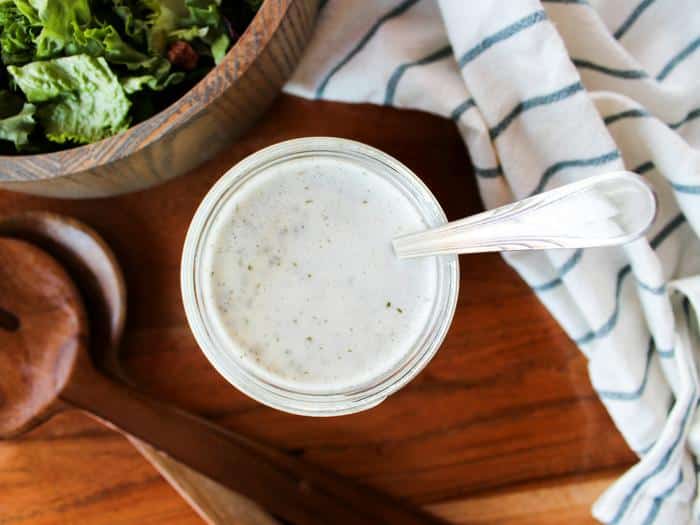 A few things to note:
Use light olive oil instead of extra virgin. EVOO makes your dressing too oily tasting but a light olive oil works perfectly.
I recommend using canned full fat unsweetened coconut milk. Full fat just means it doesn't say light on the label. The ingredient list should be coconut, water, and guar gum. It's really easy to find at every grocery store (usually on the international foods aisle) and it's something you can keep in the pantry for months. Just give it a good stir when you open it because it does separate.
In less than 5 minutes you can have this easy ranch dressing ready to go! Use it on your salad or as a dip!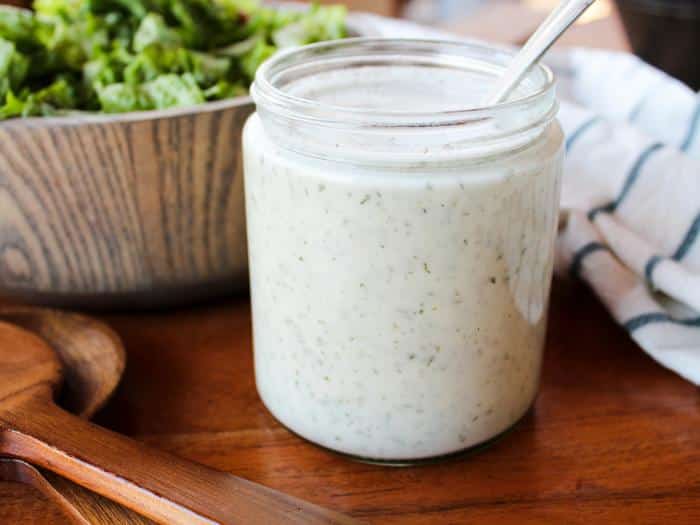 Feeling squeamish about the raw egg? That's totally fine! Check out my Dairy Free Ranch Dressing & Dip instead! It's thick and starts with your favorite mayo (I recommend Primal Kitchen Avocado Oil Mayo) so you don't need to mess with the egg at all.
Interested in another easy Whole30, sugar free, gluten free, and dairy free dressing? I have several! I bet you'll really love my Strawberry Basil Dressing, Cilantro Citrus Vinaigrette, Blueberry Dressing, Easy Homemade Italian Dressing, or Raspberry Mint Dressing.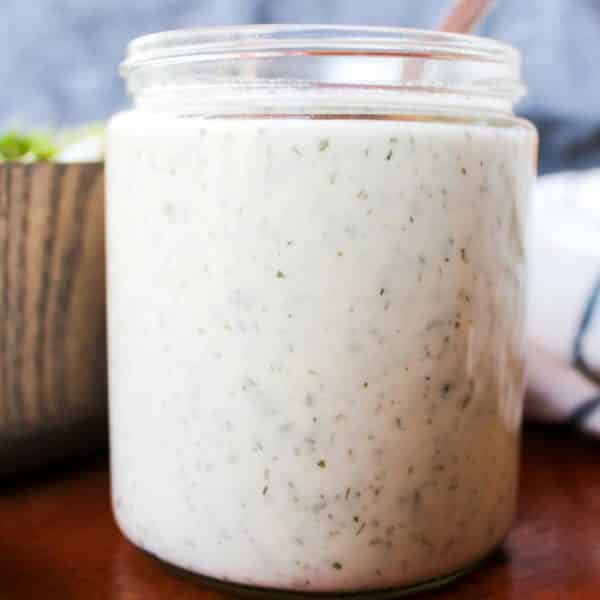 Easy Ranch Dressing
This is the easiest Ranch Dressing you'll ever make and it's ready in less than 5 minutes! It's dairy free (but you'd never know it), sugar free, gluten free, and Whole30 compliant!

Ingredients
1 egg, room temperature
1 1/4 cup light olive oil, not EVOO
3/4 cup unsweetened canned coconut milk
1 1/2 tablespoons apple cider vinegar
2 1/2 tablespoons lemon juice
1 tablespoon dried parsley
1 tablespoon dried dill weed
1 teaspoon garlic powder
1 teaspoon onion powder
1/2 teaspoon salt
1/2 teaspoon pepper
Instructions
Toss it all in a blender and blend until well combined. This takes about 30 - 60 seconds.

Drizzle it on your salad or use it as a yummy dip!
Notes
Do not use extra virgin olive oil. I mean that. Do not do it. It produces a much oilier flavor that just doesn't work well in a Ranch Dressing. Make sure your olive oil is labeled light. If you prefer a thick dressing simply scale back the coconut milk, adding a little at a time, until you achieve the texture you desire. You can also skip the part about stirring your canned coconut milk and just use the coconut cream found at the top of the can. Eggs must be room temperature to blend properly in this recipe. If your egg isn't then the dressing may separate immediately after blending. You can store this dressing in the refrigerator and use the remainder later. The general rule for dressings is that they last as long as the individual ingredients do. For this dressing I've stored it in the fridge for as long as a week but you'll need to shake before serving. 
Nutrition
Serving: 2tbsp, Calories: 157kcal, Fat: 2g, Saturated Fat: 4g, Polyunsaturated Fat: 1g, Monounsaturated Fat: 11g, Cholesterol: 9mg, Sodium: 70mg, Potassium: 36mg, Vitamin A: 25IU, Vitamin C: 1.2mg, Calcium: 7mg, Iron: 0.5mg
Save