Raspberry Mint Dressing
This Raspberry Mint Dressing is so refreshing and easy to make! It's made with only six simple and fresh ingredients!
Update: This recipe was originally published in 2018 and has been republished with all new photos.
Creating salad dressing recipes has been a lot of fun for me lately. I think it's because I'm enjoying playing with so many fruits now that the weather is finally warm! Anyone else enjoying all this sunshine? I was one happy camper when I was finally able to plant my flowers, vegetables, and herbs outside.
With the right ingredients making your own salad dressing is surprisingly simple! You can feel confident that what you're drizzling on your salad is 100% good for you and free of all those chemically sounding names that often fill the store bought kind.
Today I'm really digging this Raspberry Mint Dressing.
It requires only six simple and fresh ingredients.
Raspberries introduce a mild sweetness. The dressing is not terribly sweet so you can enjoy it with a wide variety of salad toppings. In fact I included a hint of fresh squeezed orange juice in here to amp up the sweetness just a bit.
Mint adds a bit of complexity to the flavor. We don't use much though and it definitely doesn't overpower the raspberries. This isn't a mojito, folks. (Not that I'd complain if I had one right now.)
Can we talk about the color of this dressing? That's one of the best things about working with fruit. Let's get up close on this drizzle before you go.
Yep. You definitely need to make this.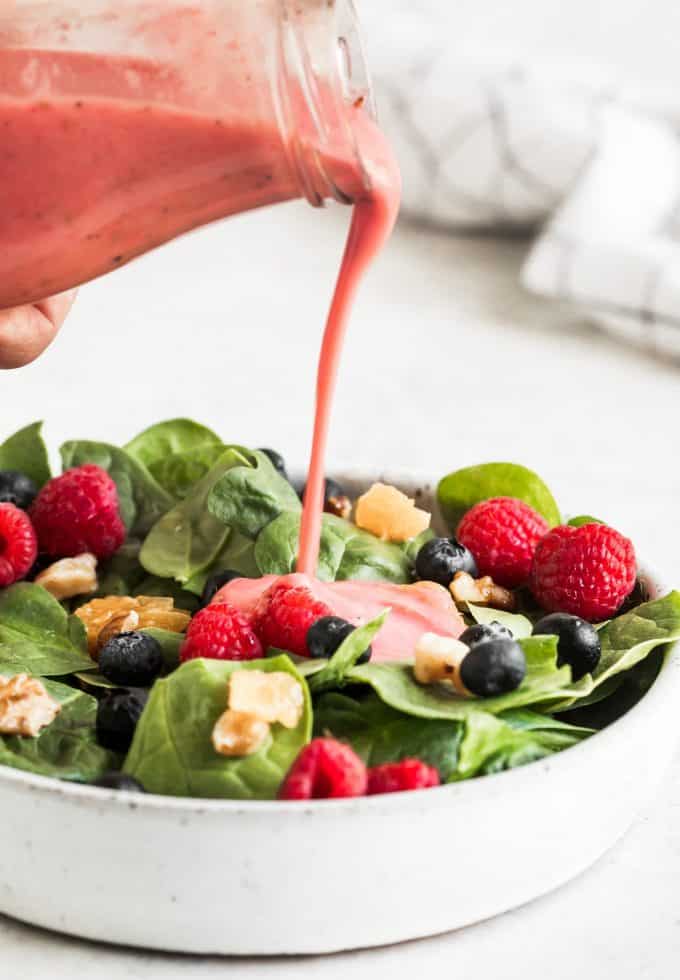 For this recipe you'll need (full list of ingredients and instructions are in the recipe card below):
Light olive oil (not extra virgin)
Raspberries
Water
Orange juice
Mint
Salt
To make the dressing just add all ingredients to the blender and blend until smooth. It's that easy!
Why use light olive oil instead of extra virgin?
This is the number one question I receive for my dressings. While I love extra virgin olive oil and use it in tons of recipes, do not use it here. Extra virgin olive oil has a strong flavor and an oily texture that really comes through in the finished dressing. We don't want that! Light olive oil has a much milder flavor and blends beautifully so the raspberries and mint can shine. Trust me, the light olive oil makes a huge difference here! Don't waste your time trying to make extra virgin olive oil work here. It doesn't.
Is this dressing Whole30 compliant?
It sure is! There is no dairy or sugar so just be sure to use a compliant orange juice (which is super easy to find).
What makes this dressing creamy if it contains no dairy?
That creamy appearance and texture comes from blending raspberries with the light olive oil. While it's technically a vinaigrette just based on ingredients alone, this dressing definitely doesn't look like one at all.
How to serve this
This dressing is delicious on any salad but I'll tell you my favorite way to enjoy it! I love serving this Raspberry Mint Dressing over a salad with fresh fruit like raspberries, mango, pear, peaches, or blueberries. For crunch add walnuts, pecans, almond slivers, or pine nuts. If you're not avoiding honey in your diet I strongly encourage you to try my Sticky Candied Pecans. I'd go with milder veggies for this dressing. Something like fresh broccoli, carrots, and green onion. If you're eating dairy then goat cheese would be my personal cheese choice.
How to store this dressing
Store any remaining dressing in an airtight container in the refrigerator.
More easy salad dressing recipes:
Easy Homemade Italian Dressing
Raspberry Mint Dressing
This Raspberry Mint Dressing is so refreshing and easy to make! It's made with only six simple and fresh ingredients! Plus it's sugar free, dairy free, gluten free, and Whole30 compliant.

Ingredients
1 cup fresh raspberries
1/2 cup water
1/4 cup light olive oil, do not use extra virgin
3 mint leaves
1 tbsp orange juice, fresh squeezed
1/8 tsp salt
Instructions
Add everything to a blender and blend until smooth.


Serve over salad!


Store any remaining dressing in an airtight container in the refrigerator.

Notes
I prefer to use fresh squeezed orange juice. It only take about a fourth an orange to get the tablespoon needed for this recipe and it's so much sweeter than store bought juice. Worth it every time! I do not recommend using extra virgin olive oil for this dressing. While I love EVOO it is too thick and oily tasting for fruity dressings. Instead go with a light or extra light olive oil. The mint flavor in this dressing is mild. If you prefer a stronger mint taste feel free to add more leaves.
Nutrition
Serving: 2tbsp, Calories: 68kcal, Carbohydrates: 2g, Fat: 6g, Sodium: 37mg, Potassium: 22mg, Vitamin A: 15IU, Vitamin C: 5.1mg, Calcium: 4mg, Iron: 0.1mg