Instant Pot Black Beans
Learn how to cook homemade black beans in your Instant Pot! This delicious side dish is packed with soluble fiber and can be served so many ways.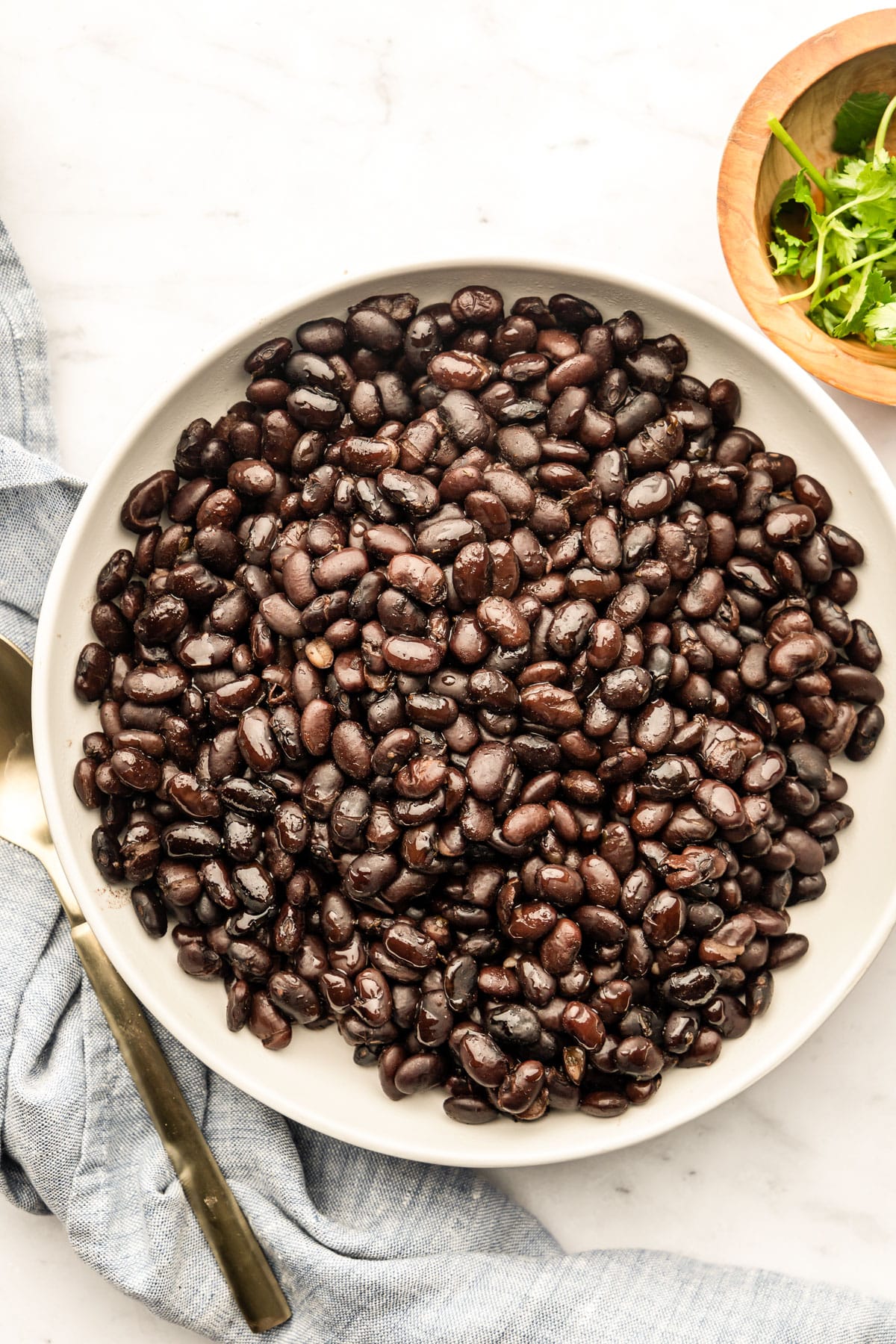 Dried black beans are inexpensive, oh so tasty, and packed full of soluble fiber! So what's holding you back from making them? For most people the answer is that it's a bit of pain to soak them before cooking. It just adds so much time to the cooking process. The good news is that you CAN cook dried black beans without soaking if you use your instant pot!
In the last year I've become pretty obsessed with black beans. I've always been a fan but usually only had them in soups or as a side with tacos. Now I've graduated to a super fan. I keep them on hand in my fridge and add them to a meal pretty much every single day. Seriously if you come to my house just ask to see my fridge and there's a 99% chance you'll find a container of black beans. I love that they're so full of fiber and they help keep me full. So don't save these fiber-packed beauties
For this recipe you'll need (full list of ingredients and instructions are in the recipe card below):
Dried black beans
Water
Seasonings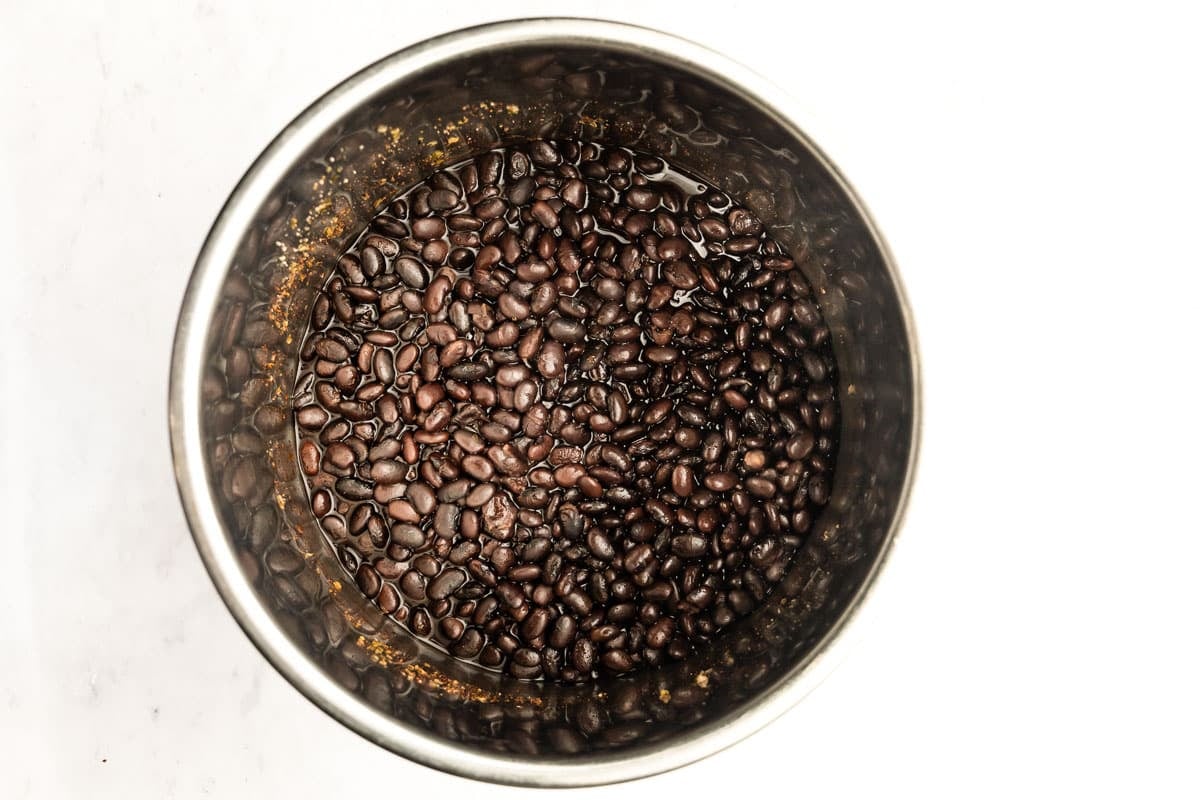 Dried black beans vs canned black beans
Canned black beans are perfect when you have just a few minutes. I personally love them so I'm definitely not discounting them as a great option!
Some people complain that canned beans are too mushy. I enjoy the softer taste so that's really a matter of preference. But yes, dried beans do tend to be firmer after cooking.
Dried beans are cheaper. One bag of dried black beans costs about the same price as a single can of black beans but yields about 3 to 4 times to amount of cooked beans.
Can you use other seasonings?
Absolutely. If you're wanting to keep things extra simple you can simply use salt and pepper. I love big flavors in my black beans so I always use chili powder and garlic powder – even I'm heating up canned black beans. Cumin and paprika also work well in here.
You can stir in lime juice, hot sauce, and/or chopped fresh cilantro at the end.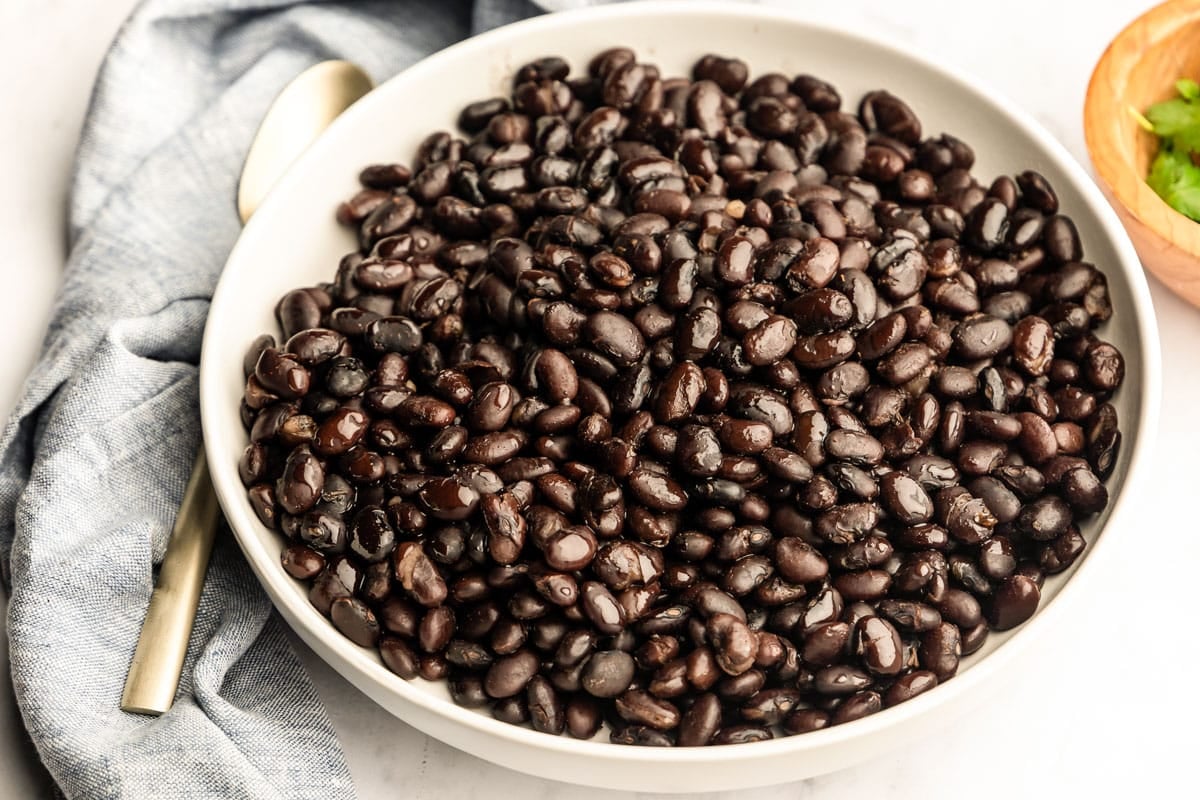 Natural release or quick release?
A quick release is best for foods that cook fast like vegetables. You don't want them to continue cooking any longer than absolutely necessary or they'll be mush.
A natural release allows the cooking to stop gradually. Dried black beans benefit from additional time to get them perfectly soft so stick with natural release for these.
Can you meal prep with these black beans?
Yes! You can store these Instant Pot Black Beans in an airtight container for up to 5 days. If freezing you can store in a freezer safe container for up to 3 months.
How to serve these beans
I usually pair black beans with rice. Add corn, chicken or ground beef, and salsa for an easy meal.
You can also serve these beans with (or in) tacos or burritos.
Add to an egg scramble to amp up the soluble fiber in your breakfast.
One of my favorite breakfast options these days is Air Fryer Zucchini topped with black beans and then top all of that with fried eggs. That may sound weird but I've been eating it several times a week for at least 6 months so obviously I think it's delicious.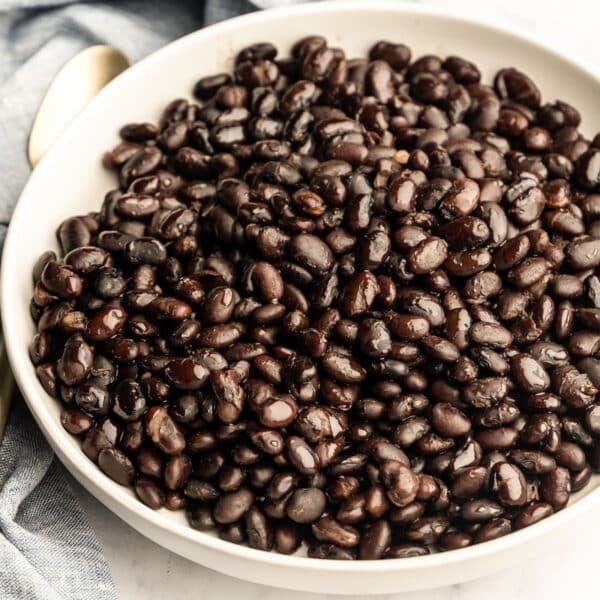 Instant Pot Black Beans
Learn how to cook homemade black beans in your Instant Pot! This delicious side dish is packed with soluble fiber and can be served so many ways.
Ingredients
1 lb dried black beans, about 2 cups
4 cups water
2 tsp chili powder
2 tsp garlic powder
2 tsp salt
1 tsp dried oregano
3/4 tsp black pepper
Instructions
Rinse and drain the dried beans. Remove any debris. (Sometimes you might find small rocks, leaves, etc.)

Add the rinsed beans to the instant pot. Stir in water, chili powder, garlic powder, salt, oregano, and black pepper.

Seal the Instant Pot. Set it to Pressure Cook (or Manual, depending on the model Instant Pot you have) on high pressure for 40 minutes. (It will take a few minutes for it to come to pressure and then the count down will start.)

Once the cooking time has passed do a natural release. (That means you should not vent the instant pot. It will happen naturally but can take about 25 minutes. You'll know it's done when the float valve has dropped or when you flip it to release and don't hear the hiss of steam releasing.)

Serve immediately. Use a slotted spoon to serve beans without any excess liquid if you prefer.
Nutrition
Serving: 0.5cup, Calories: 159kcal, Carbohydrates: 29g, Protein: 10g, Fat: 1g, Saturated Fat: 1g, Polyunsaturated Fat: 1g, Monounsaturated Fat: 1g, Sodium: 479mg, Potassium: 692mg, Fiber: 7g, Sugar: 1g, Vitamin A: 131IU, Vitamin C: 1mg, Calcium: 65mg, Iron: 2mg