Instant Pot Brown Rice
You'll love how easy it is to make brown rice in your instant pot! Perfectly fluffy! Serve right away or save for meal prep!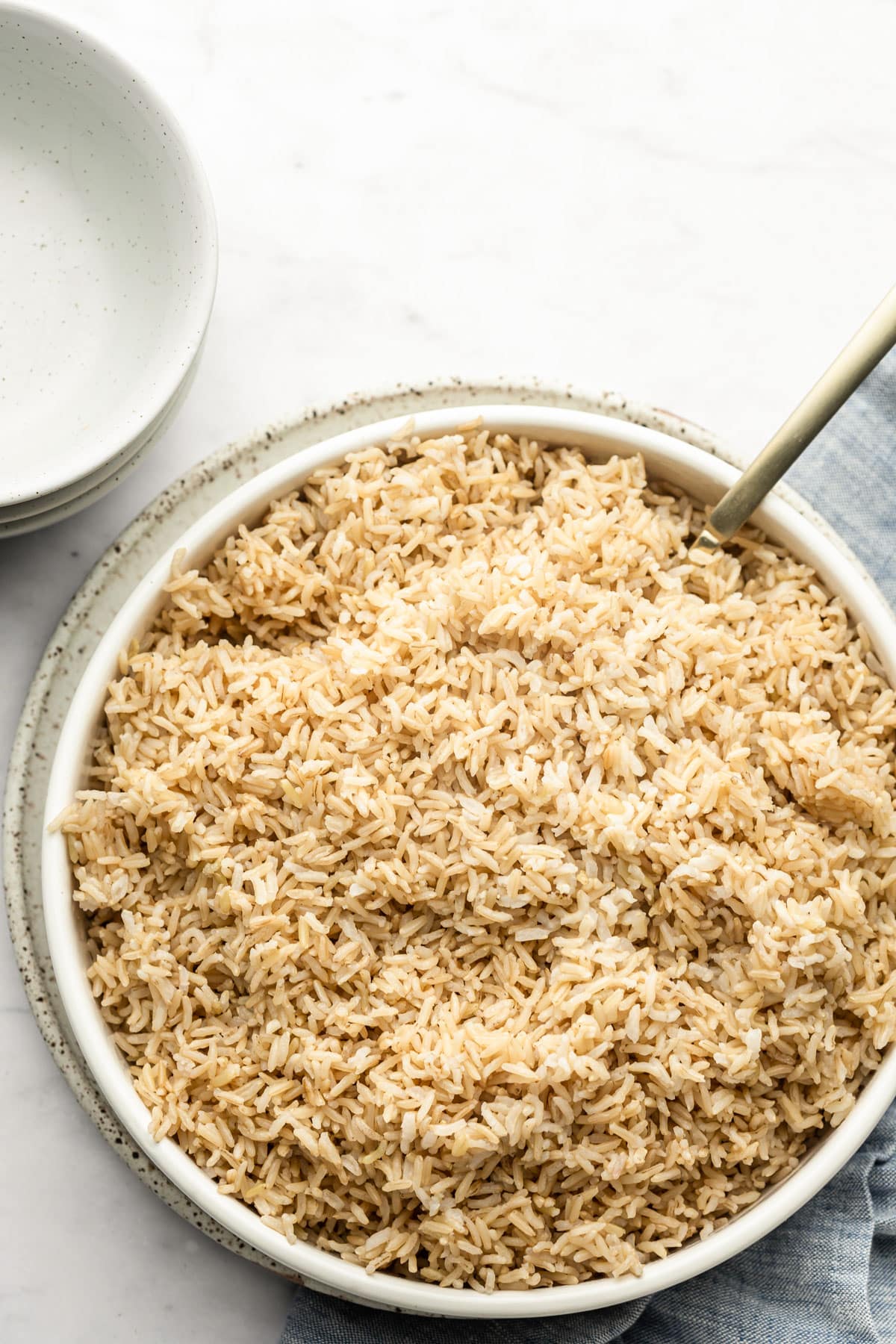 I like to keep brown rice in the fridge at all times because I can easily add it to meals to make them more satiating. Whether you're using brown rice for meal prep or serving it immediately, it's a great addition to any plate!
I've made brown rice many different ways but the instant pot is currently my favorite. I love that how hands off this method is.
Is brown rice healthy?
Yes! Brown rice is a whole grain which means the bran, germ, and endosperm are all kept in tact. Because of this it has twice as much fiber as white rice (which doesn't have these parts in tact).
Brown rice is also a great source for quite a few vitamins and minerals. You can get 88% of your recommended daily requirement of manganese in one cup of brown rice. Manganese is essential for immune system, brain, and nerve function. It also helps with blood clotting and bone formation.
Brown rice can help control blood sugar levels. Studies show that brown rice can reduce inflammatory markers (a heart risk factor) and prevent high cholesterol (reducing heart disease risk).
You can also find magnesium, antioxidants, phosphorus, selenium, copper, and B vitamins in brown rice.
White rice vs brown rice
Brown rice is considered healthier than white rice because it is a whole grain. White rice is refined so the bran and germ have been removed. These are the most nutritious parts of the grain!
Brown rice is higher in protein, antioxidants, and fiber than white rice.
There are several studies that seem to show that switching from white rice to brown rice can help reduce the risk of Type 2 diabetes. White rice increases blood sugar levels considerably faster than brown rice.
From a cooking perspective, white rice is softer and cooks faster than brown rice.
Ways to enjoy brown rice
Breakfast
Many people don't think of brown rice as a breakfast option but it's one of my favorite quick ways to create a hearty morning meal! I personally love it with black beans and eggs. Add hot sauce and it's a pretty perfect start to my day.
Lunch
Whether you're enjoying lunch at home or packing it up in the morning to reheat in the office later, brown rice definitely has a place in your lunchtime routine. I love it with roasted veggies and a lean protein like chicken (or any leftover protein from the night before).
Dinner
Pair brown rice with your favorite stir fry. I love it under my Sheet Pan Cashew Chicken or Air Fryer Chicken and Vegetables. If you're wanting a truly comforting meal, try it with my Slow Cooker Creamy Sun-Dried Tomato Chicken or Salisbury Steak in Mushroom Gravy. Love spice? Serve my Easy Red Beans and Rice over this brown rice!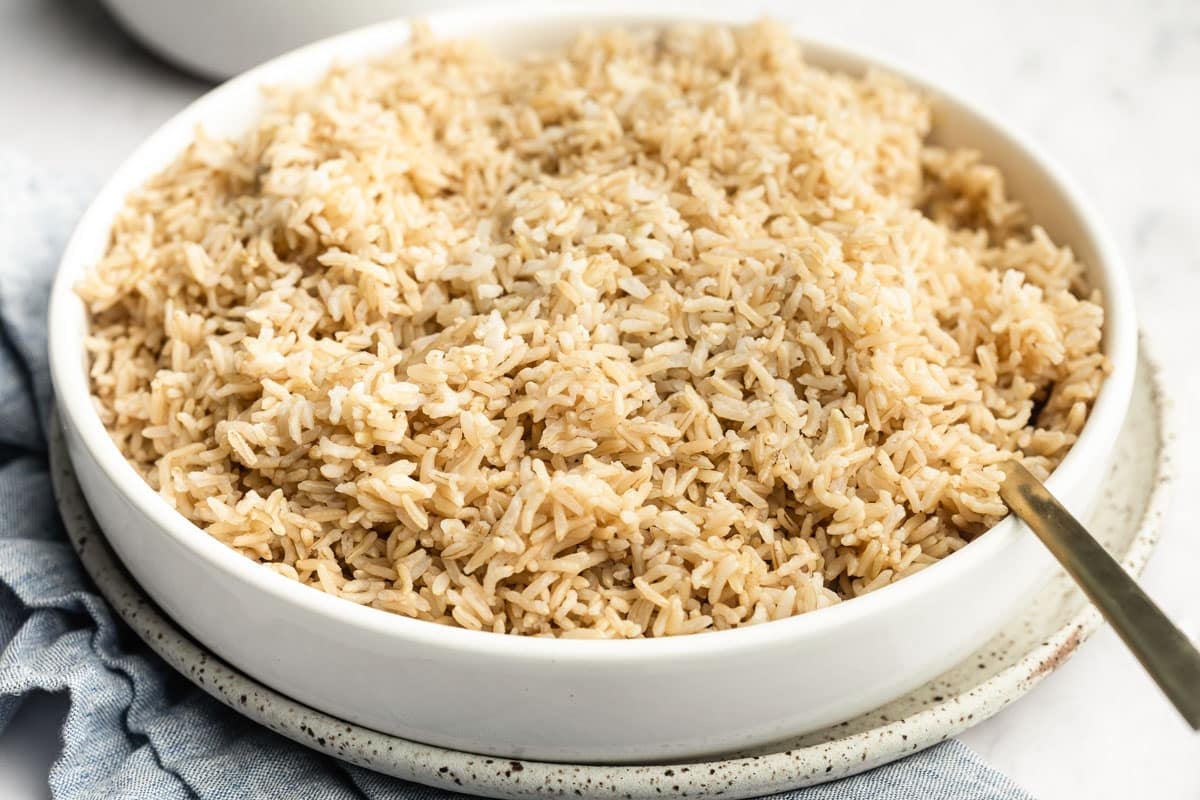 Can you make a smaller batch?
Yes! To make less rice, use 1 cup brown rice and 1 cup water or stock. Cook for 20 minutes in the instant pot.
How to store this
Store leftover cooked brown rice in an airtight container in the refrigerator for up to one week.
Instant Pot Brown Rice
You'll love how easy it is to make brown rice in your instant pot! Perfectly fluffy! Serve right away or save for meal prep!
Ingredients
1 lb whole grain brown rice
2.5 cups water or stock, can use chicken or vegetable stock
salt to taste
Instructions
Rinse rice. Add to the Instant Pot with water or stock.

Seal the Instant Pot. Set it to Pressure Cook (or Manual, depending on the model Instant Pot you have) on high pressure for 22 minutes. (It will take a few minutes for it to come to pressure and then the count down will start.)

Once the cooking time has passed do a natural release. (That means you should not vent the instant pot. It will happen naturally and you'll know it's done when the float valve has dropped or when you flip it to release and don't hear the hiss of steam releasing.)

Salt rice to taste or add other seasonings.
Nutrition
Serving: 0.5cup