Dairy Free Broccoli Cheese Soup
This Broccoli Cheese Soup is dairy free, vegan, and oh so creamy! It's sneaky healthy because its loaded with only potatoes, vegetables, nutritional yeast, and seasonings.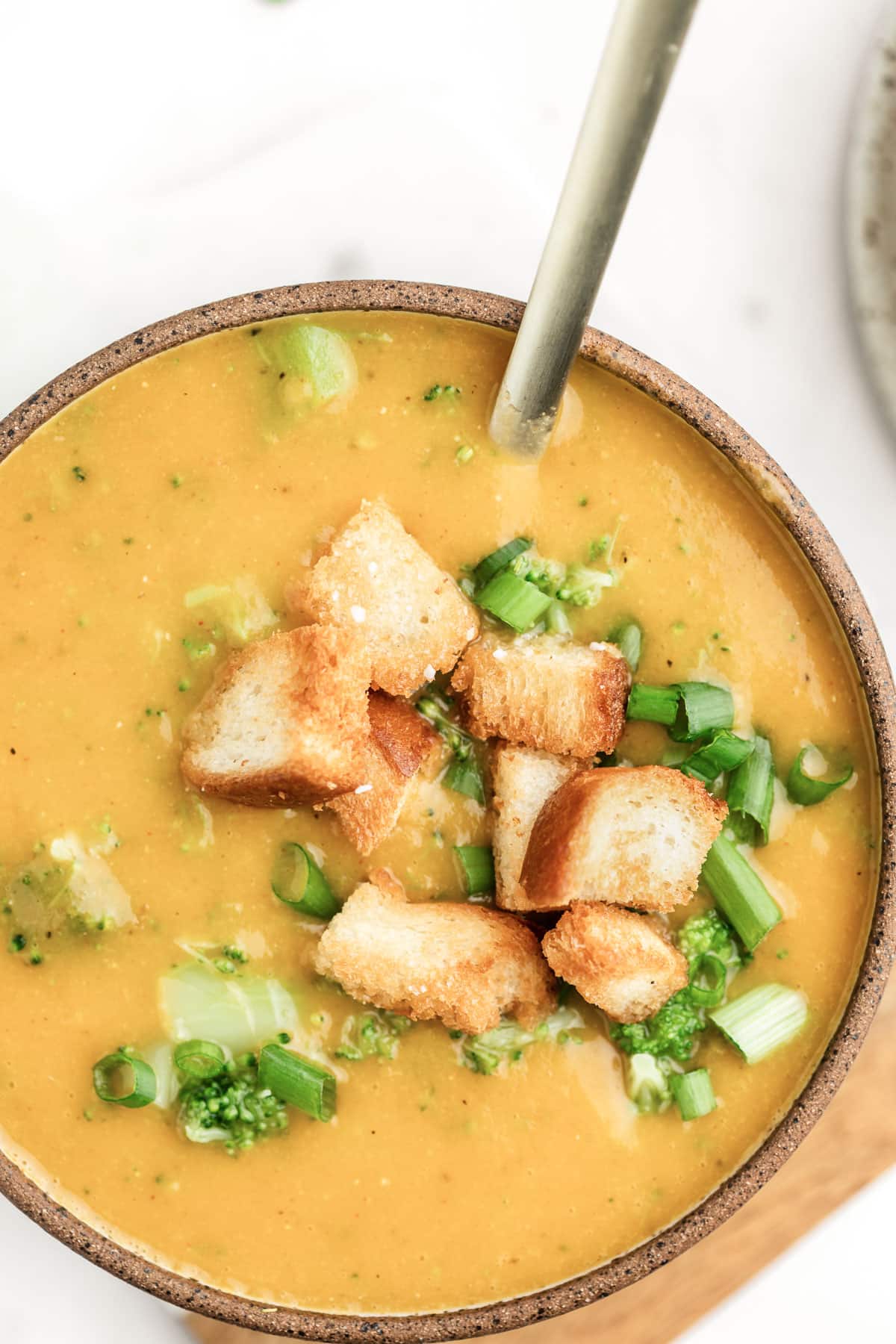 My favorite soup as a kid (probably until age 25 if we're all being honest here) was Broccoli Cheese Soup. A bowl of cheese was essentially my every dream come to life.
In the last ten years I've drastically reduced my dairy intake (remember the days when we all guzzled milk?) and I love the challenge of turning classic dairy-laden dishes into something we can all enjoy without dairy too. It's basically a personal mission of mine these days!
To create this delicious soup I decided to turn to potatoes for that semi-thick blended consistency.
About that color… we're incorporating a combination of carrots and nutritional yeast to for that yellow-orange hue.
And the cheesy flavor? That's all thanks to nutritional yeast! If you're new to nutritional yeast you can find more info on what it is below.
The finished soup really does look and taste like a traditional Broccoli Cheese Soup. It absolutely satisfies that craving for me and I hope it does for you too.
For this recipe you'll need (full list of ingredients and instructions are in the recipe card below):
Olive or avocado oil
Onion
Celery
Minced garlic
Carrots
Potatoes
Vegetable broth
Broccoli
Nutritional yeast
Seasonings
Start by sautéing the onion and celery in a little oil in the bottom of a soup pot. Once those veggies are close to tender, add the minced garlic. Stir and sauté until the garlic is golden in color, about one minute.
Now add the carrots, potatoes, broth, and water. Simmer until potatoes are tender.
Add the contents of the pot to a high-powered blender along with nutritional yeast and seasonings. Blend until smooth.
Steam the broccoli. Chop it up and stir it into your blended soup. Enjoy!
Nutritional Yeast
What is nutritional yeast?
Nutritional yeast is a deactivated form of saccharomyces cerevisiae. It's grown specifically to be used in foods and since it's deactivated it cannot be used to make bread rise when baked (that's active yeast). You may often hear it referred to as nooch.
How is nutritional yeast made?
To make nutritional yeast saccharomyces cerevisiae cells are grown on something that's rich in sugar (like molasses). Heat is applied to deactivate it. Then it's harvested and dried so that it crumbles into the flakes you're likely accustomed to seeing.
Is nutritional yeast good for you?
It may look and sound a little strange but nutritional yeast has a great flavor and lots of health benefits! Even without being fortified nutritional yeast has a good amount of:
B Vitamins: Nutritional yeast can contain 30 – 180% of the recommended daily intake for B vitamins. The actual number depends on the brand you purchase. That number increases if you're purchasing one that's been fortified.
Protein: It's considered a complete protein since it contains all 9 essential amino acids. One tablespoon contains 2 grams of protein.
Trace Minerals: Nutritional yeast contains trace minerals like zinc, selenium, manganese and molybdenum.
Fiber: It contains beta-glucan fiber which can be found in the cell walls of yeast or in oats and barley. The properties and health benefits of Beta-glucan vary depending on where it's derived from. The kind that comes from yeast has been associated with improved immune response, healthy blood sugar levels, and lower cholesterol levels.
What does nutritional yeast taste like?
These yellow flakes have a mild nutty and salty flavor that's similar to cheese. That's why you'll see it used so often in dairy free "cheesy" recipes!
How can you use nutritional yeast?
There are so many ways to enjoy nutritional yeast. It doesn't require cooking so feel free to use it anywhere you'd use grated cheese. Sprinkle on popcorn, salad, pasta, or roasted veggies. You can also use it in sauces and soups like this Dairy Free Broccoli Cheese Soup.
Do you have to be vegan or eat 100% dairy free to enjoy it?
Absolutely not. Thanks to its cheesy flavor nutritional yeast is beloved in the vegan and dairy free communities but I encourage everyone to try it! It is delicious and there's no reason not to take advantage of the nutritional benefits.
Where can you find nutritional yeast?
You can find it in the spice aisle of pretty much any grocery store. The brand I see most often is Bragg Nutritional Yeast. This is the one I buy. The ingredient list is straight-forward: inactive dry yeast plus a few added vitamins (B3, B6, B2, B1, B12, and folic acid).
What kind of potatoes should you use?
Russet, yellow, or gold potatoes are best in this soup.
Fresh or frozen broccoli?
Both work great in this soup. If using fresh broccoli just chop it up and let it cook in the soup. If using frozen broccoli you can do the same OR if it comes in a steamable bag simply steam it in the microwave, chop it up, and then incorporate it into the soup before serving. This is what I do because it's such a time-saver!
How to serve this
My favorite way to enjoy this creamy soup is with a handful of Homemade Croutons on top. That buttery (they don't have actual butter in them) crunch is perfection with the flavors in the soup.
Does this soup freeze well?
Oh yes it does! This soup freezes, thaws, and reheats beautifully. Just add it to a pot on the stove over low to medium-low heat, stirring frequently. You can also reheat in the microwave after thawing. Feel free to double this recipe so you have plenty to freeze.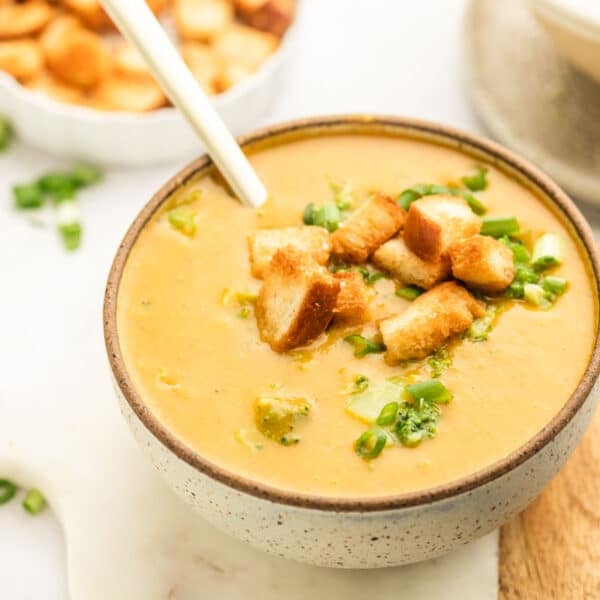 Dairy Free Broccoli Cheese Soup
This Broccoli Cheese Soup is dairy free, vegan, and oh so creamy! While it looks like cheesy goodness this soup is actually loaded with potatoes, vegetables, nutritional yeast, and seasonings. It's sneaky healthy!
Ingredients
1 1/2 tbsp olive or avocado oil
1/2 white or yellow onion, chopped
1 cup celery, chopped, about 2 stalks
2 tsp garlic, minced
1 cup carrots, peeled and chopped, about 2 to 3 carrots
2 medium potatoes, peeled and cut into 2-inch chunks, 2 cups
4 cups vegetable broth
1 cup water
3 tbsp nutritional yeast
1 1/2 tsp salt
3/4 tsp paprika
3/4 tsp black pepper
1/2 tsp mustard powder
2 cups broccoli florets, fresh or frozen
Instructions
Add oil, onion, and celery to your soup pot. Sauté on medium high heat, stirring frequently, until onion is tender. Then add the minced garlic and sauté until it is golden in color, about one minute.

Add carrots, potatoes, vegetable broth, and water. Bring to a boil. Simmer on medium to medium-high heat until potatoes are tender, about 10 minutes.

Pour the contents of the soup pot into a high powered blender along with the nutritional yeast, salt, paprika, mustard powder, and pepper. Blend until smooth.

For the broccoli:If frozen, simply cook the broccoli in the steamable bag per package instructions. Then chop 2 cups of the finished broccoli and stir into the soup before serving. (This is my preferred method. I use a 10 oz package and set aside the extra broccoli to be used later.)If fresh, chop the broccoli into small pieces. Add the blended soup back to the pot. Stir in the chopped broccoli and simmer until tender.
Nutrition
Serving: 1cup, Calories: 164kcal, Carbohydrates: 26g, Protein: 6g, Fat: 5g, Saturated Fat: 1g, Polyunsaturated Fat: 1g, Monounsaturated Fat: 3g, Sodium: 1504mg, Potassium: 732mg, Fiber: 5g, Sugar: 5g, Vitamin A: 5146IU, Vitamin C: 53mg, Calcium: 53mg, Iron: 2mg