30 Minute Vegetable Soup
This vegetable soup is so easy, hearty, and loaded with good for you vegetables! It's perfectly cozy for chilly evenings this fall and winter.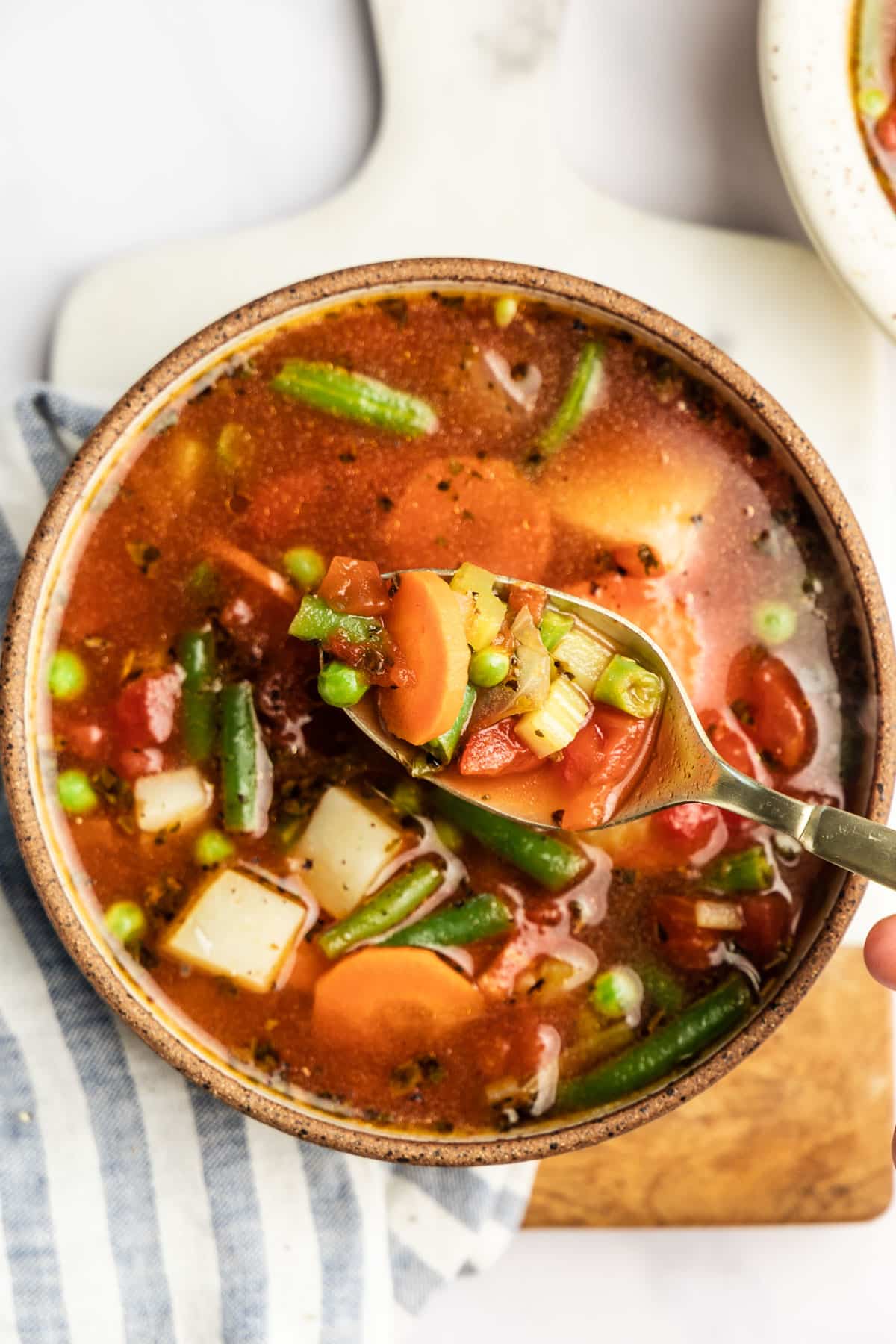 Update: This recipe was originally published in 2021 and has been republished with all new photos.
It's soup season so bring on all the soups! Actually bring them on all year round because let's be honest I don't follow any soup rules. I'm clearly in the corner of Team Soup in Any Weather.
I recently realized that while I have a recipe for Easiest Vegetable Soup in my cookbook (page 145) I've never had one on the blog! Say it ain't so. Here I am fixing that today with this delicious 30 Minute Vegetable Soup that you can easily modify to include any vegetables you have on hand at home.
To keep this truly veggie-focused I'm using a vegetable broth. (You can of course use a beef or chicken stock if you like.) To really amp up the flavor and add tons of richness we're including a bit of balsamic vinegar and tomato paste. These two additions make a huge difference. And then plenty of fresh vegetables make this a truly satiating meal. I bet you love it.
For this recipe you'll need (full list of ingredients and instructions are in the recipe card below):
Olive or avocado oil
Onion
Celery
Carrots
Minced garlic
Balsamic vinegar
Vegetable broth
Tomato paste
Canned diced tomatoes
Potato
Green beans
Peas
Seasonings and herbs
Start by sautéing the onion, celery, and carrots in a little oil. Once those veggies are close to tender, add the minced garlic. Stir and sauté until the garlic is golden in color, about one minute.
Now add balsamic vinegar to the skillet and scrape up any bits of onion or garlic that are stuck to the bottom of the pan. Add in remaining ingredients except for peas. Stir. Bring to a boil and then reduce heat, cover, and simmer for 10 minutes. Now add the peas and simmer for another 5 to 10 minutes, until all veggies are tender.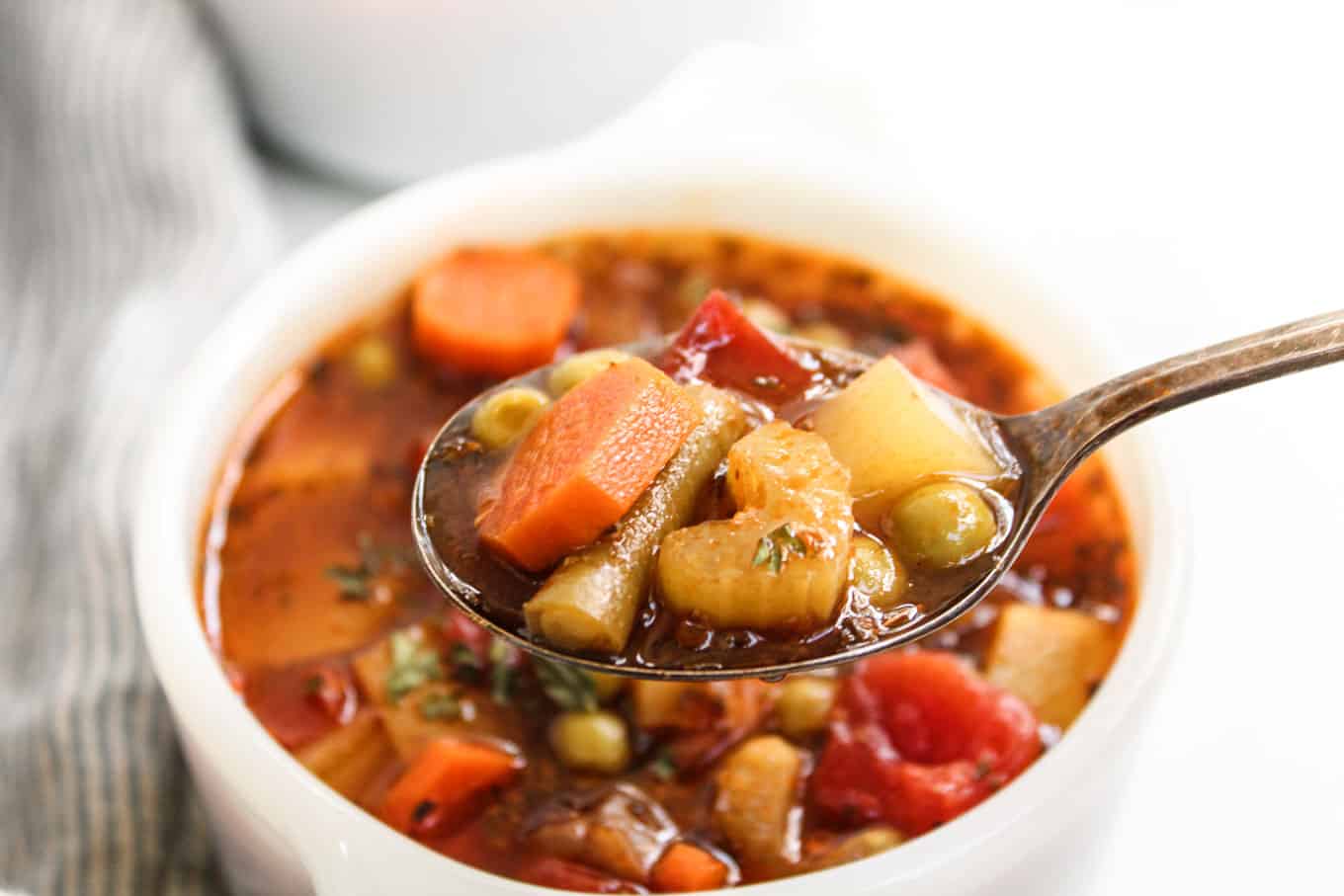 How to customize this soup
This delightful soup is designed to accommodate all kinds of vegetables and legumes so feel free to use what you have. A few of my favorites to include are:
Broccoli
Lima beans
Corn
Zucchini
Squash
Kidney beans
Black beans
Pinto beans
Spinach (just stir it in at the end)
Fresh herbs
What size should you chop the veggies?
It's important to chop all the veggies so they're similar in size. I like to stick with about 3/4 inch to 1-inch. No larger or you'll have a hard time getting several vegetables in each bite.
Yes, even the green beans should be chopped. You want to cut them into thirds or fourths. I know that might seem a little strange, but who really wants to try and cram a whole green bean on their spoon? Nobody. Chop it up, friend.
What kind of potatoes are best in this soup?
Great news! You can use your favorite potato or just whatever you have on hand. Russet, yellow/gold, or sweet potatoes are work beautiful in this vegetable-filled soup.
Should you peel the potatoes?
There is no need to peel the potatoes.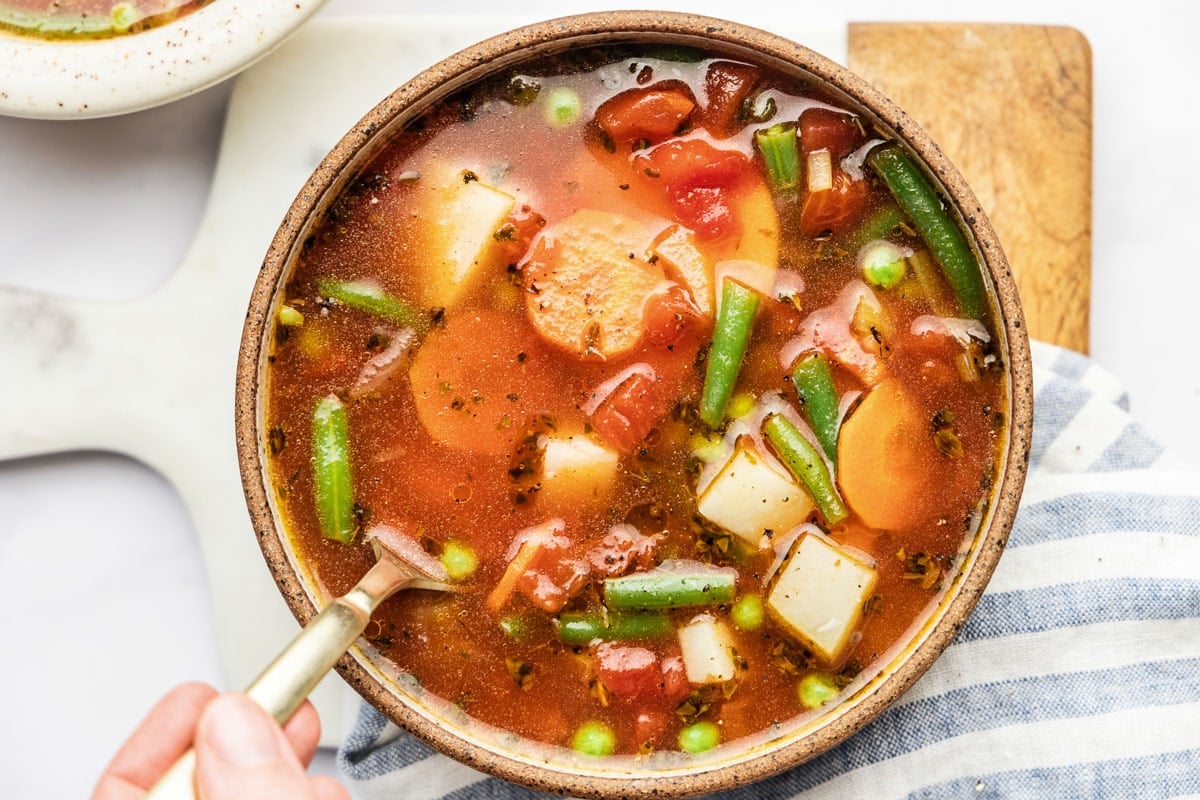 How to make this soup in the instant pot
Turn your Instant Pot to the sauté setting. When it's hot, add the oil and then the diced onion, celery, carrots, and minced garlic to the Instant Pot. Stir and sauté the onion until translucent, about 2 to 3 minutes. Once done press the cancel button to stop sautéing.
Add all other ingredients to the Instant Pot.
Seal the Instant Pot. Set it to Pressure Cook (or Manual, depending on the model Instant Pot you have) on high pressure for 10 minutes. (If you're new to the Instant Pot keep in mind it will take about 15 minutes to come to pressure and begin counting down. Once it's come to pressure the 10 minutes of actual cooking time will begin.)
Carefully release the steam once done. Taste and add more salt if desired.
Does this soup freeze well?
Oh yes it does! This soup freezes, thaws, and reheats beautifully. Feel free to double this recipe so you have plenty to freeze.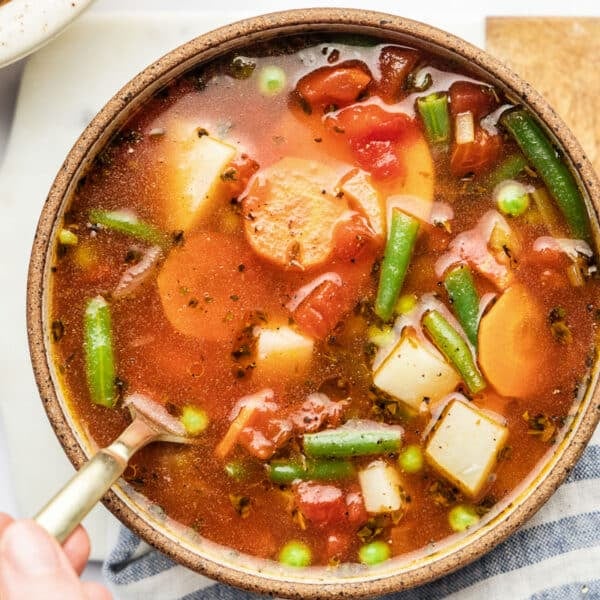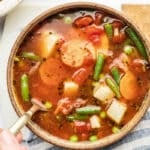 30 Minute Vegetable Soup
This vegetable soup is so easy, hearty, and loaded with good for you vegetables! It's perfectly cozy for chilly evenings this fall and winter.
Ingredients
2 tbsp olive or avocado oil
1/2 medium white or yellow onion, peeled and chopped
2 stalks of celery, chopped
2 carrots, peeled and sliced
1 tbsp garlic, minced
1 tbsp + 1 tsp balsamic vinegar
32 oz vegetable broth, 4 cups
2 cups water
3 tbsp tomato paste
14 1/2 oz canned diced tomatoes, I prefer fire-roasted
1 medium potato, diced, about 1 cup
1 cup green beans, cut into thirds or fourths
1 cup peas
1 1/2 tsp dried oregano
1/2 tsp dried basil
1/2 tsp dried thyme
1 1/4 tsp salt
3/4 tsp black pepper
Instructions
Add oil, onion, celery, carrots to your soup pot. Sauté on medium high heat, stirring frequently, until onion is tender. Add the minced garlic and sauté until it is golden in color.

Add balsamic vinegar to the skillet and use a spatula to scrape up any onion or garlic stuck to the pan.

Stir in all remaining ingredients except for the peas. Bring to a boil on high heat. Then immediately cover and reduce to a simmer (around medium low heat) for 10 minutes.

Stir in the peas. Simmer for another 5 to 10 minutes or until veggies are all tender. Taste and add extra salt or pepper if you like.
Nutrition
Calories: 104kcal, Carbohydrates: 16g, Protein: 3g, Fat: 4g, Saturated Fat: 1g, Polyunsaturated Fat: 1g, Monounsaturated Fat: 3g, Sodium: 957mg, Potassium: 420mg, Fiber: 3g, Sugar: 6g, Vitamin A: 3190IU, Vitamin C: 22mg, Calcium: 52mg, Iron: 2mg