30 of the Best Orange Recipes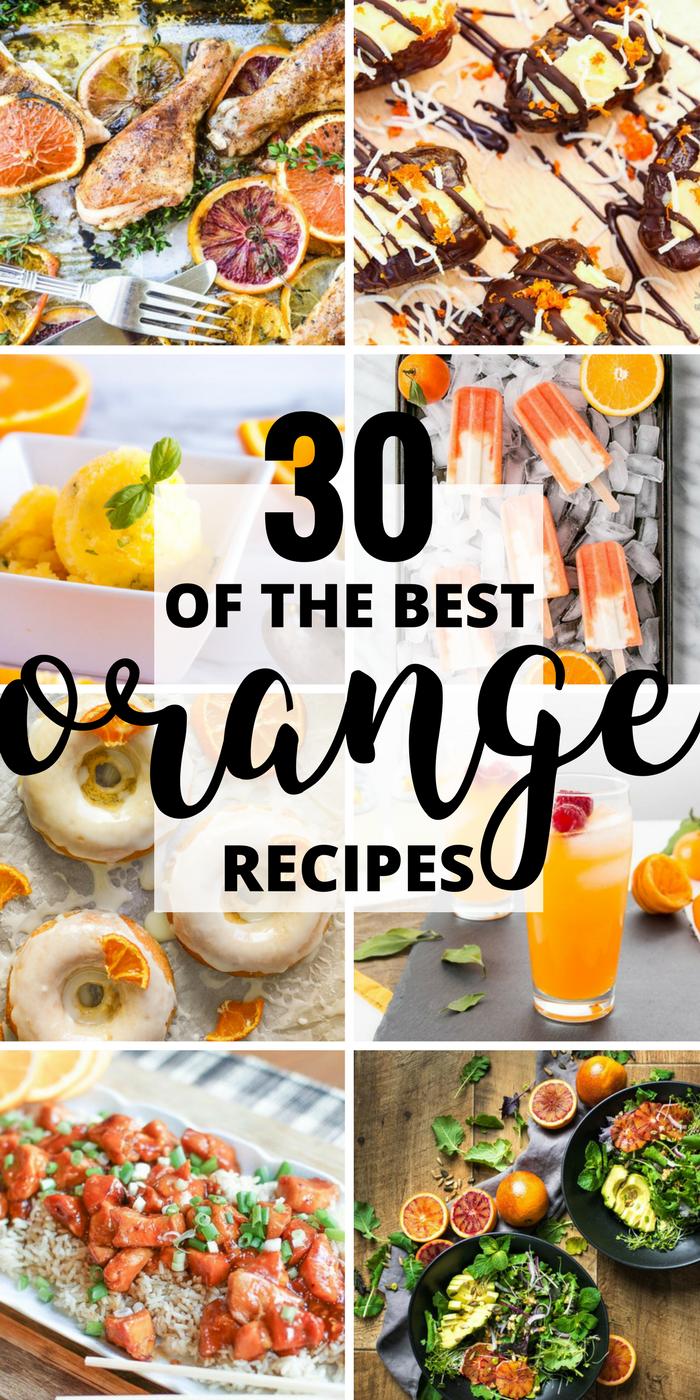 Today we're talking all things orange and I'm sharing this list of 30 of the Best Orange Recipes. This is the second in my series on citrus fruit. If you love lemon (and you should) you'll want to check out 30 of the Best Lemon Recipes too.
Orange is my all time favorite fruit. It's so sweet and juicy that it's perfection on it's own. You can't say that about everything. Sometimes blueberries aren't sweet enough. While I'm a big fan of cooking with lemon and lime you wouldn't exactly want to take a bite of them. Strawberries, as yummy as they are, go bad quickly so we have to rush to devour them before they start to get too soft in the fridge. But an orange never lets you down. It's juicy and bursting with sweetness. It's stays fresh forever (slight exaggeration). It's so versatile you can add it to just about anything. Breakfast, lunch, dinner, desserts, drinks… you can't go wrong.
I hope this collection inspires you to try something yummy, new, and very orange. Like something? Just click the image to be directed to the recipe.
1. 15 Minute Instant Pot Orange Chicken
This stunning dinner can be yours in only 15 minutes. It's the perfect mixture of sweet and salty. I'm fantasizing about this over coconut rice or veggies. Yum!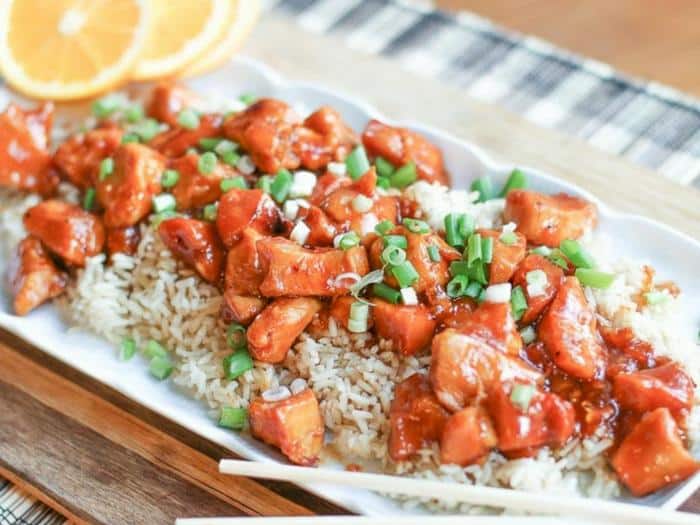 2. Sticky Orange Olive Oil Baked Donuts
I'll take one of these with my morning coffee please. Then another. Heck, probably three.
3. Winter Sweet Citrus Salad
This salad is beautiful no matter the time of year. It includes a honey champagne vinaigrette, oranges, grapefruit, pomegranate, and pistachios. What's not to love?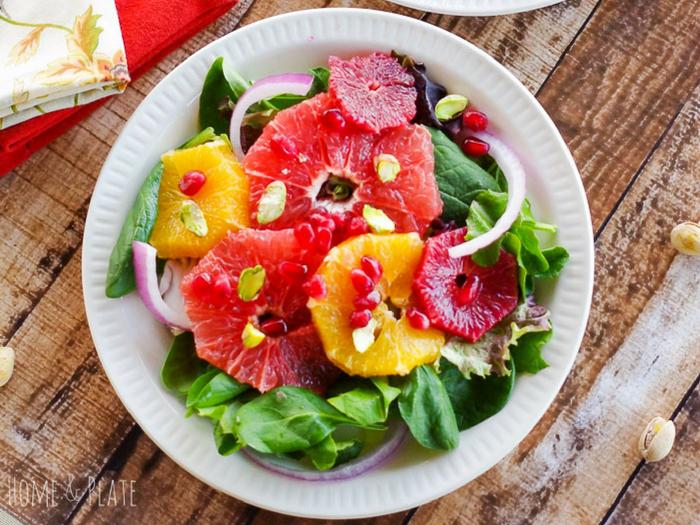 4. Orange Upside Down Cake
An orange version of a pineapple upside down cake? Brilliant. Dripping with caramel sauce? Amazing. This baby might be the cake of my dreams.
5. Orange Cumin Roasted Chicken
Butter, garlic, thyme, red pepper flakes, oranges, OH MY. This flavorful dish has my vote. It's a feast of flavors that is sure to win over everyone at dinner.
6. Healthy Creamsicles
Popsicles are always a great idea because they're so easy to make and the sky is the limit for what flavor combinations you use. This version is essentially a delicious orange frozen yogurt on a stick. You can't go wrong with that.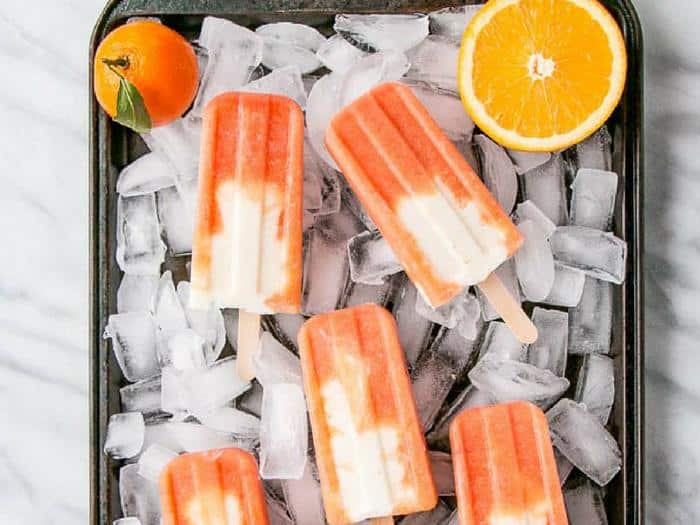 7. Orange Salmon with Dill and Orange Rice
This flavorful fish is paired with a white wine cream sauce that I could never say no to. Did I mention the rice prepared with a little orange juice and zest? And everyone knows dill is seafood's best friend. Get in my belly.
8. Orange Chocolate Chiffon Cake
Orange + Chocolate. Yes. Yes. All the yes. Guests will definitely be wowed by this beautiful dessert.
9. Blood Orange Margaritas
Margarita mixes make me cringe so naturally I got excited about this homemade blood orange version. You can't beat the vibrant color! The splash of carbonated water sounds like a great way to make it extra special.
10. Orange Marshmallows
What a fun way to introduce a little citrus! You could gobble them on their own or add them to dessert recipes and drinks.
11. Citrus Orange Lemon Bars
Traditional lemon bars are a classic dessert. I grew up eager to find them at church potlucks and bake sales. I can't imagine a better way to improve an already tasty treat than with orange!
12. Citrus Caprese Salad
I adore a caprese salad and this is such a fun spin on the traditional version. Here the star is the citrus and it's beautifully paired with basil and mozzarella.
13. Dark Chocolate Covered Dates Stuffed with Orange Coconut Cream
A local restaurant here serves the most incredible stuffed dates. They're savory and stuffed with cheese. One day I'm going to recreate those bad boys. In the meantime I am totally drooling over these sweet dates. How decadent does orange coconut cream sound? I'll answer for you. Very.
14. 3 Minute Mediterranean Orange Salad
Often the very best things are the simplest, aren't they? This salad demonstrates that truth. It includes very few ingredients and each one shines. A stunning blend of sweet and savory.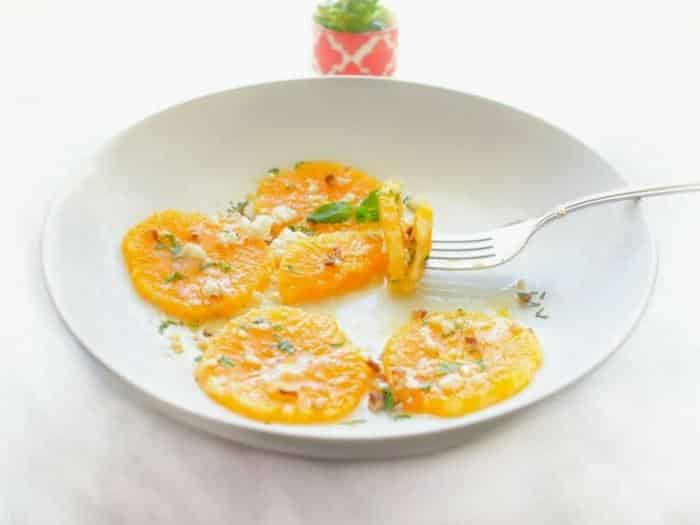 15. Orange Cardamom Chocolate No Churn Ice Cream
When I think of orange I think of the bright sweet taste but this recipe is taking orange to the dark side. In a really good way. So creamy and yummy.
16. Roasted Chicken with All Spice and Citrus
Sheet pan meals are the best because everything goes in the oven together and comes out completely transformed and caramelized. Roasted and caramelized wins the day everyday with me.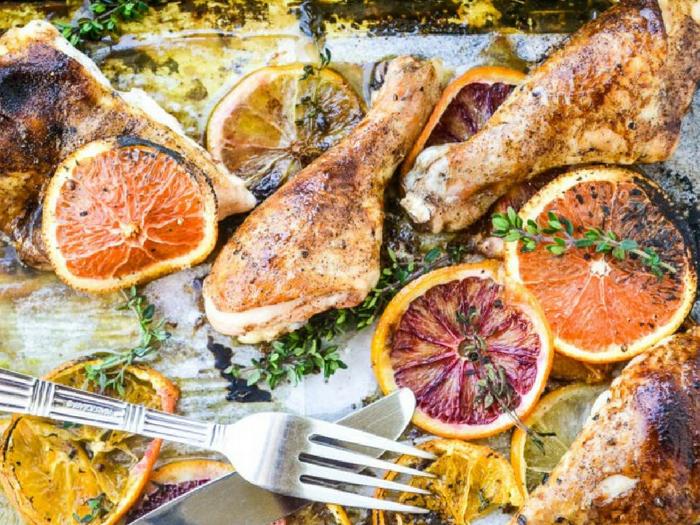 17. Mimosa Poached Salmon Salad
This is not your average salmon. No, this salmon is poached in orange juice and champagne. Say what? Oh yes she  did and I am completely on board with it.
18. Orange Marmalade Chicken
This simple chicken dish requires only 5 ingredients and 5 minutes of prep. I know we can all appreciate that! Plus this sweet glaze just screams summer to me. Also I'm pretty sure it's screaming at me to eat it. And I will.
19. Orange Basil Sherbet
Is there anything basil can't do? I don't think so.
20. Orange Salsa
This sweet colorful salsa would be incredible on seafood or tacos. She recommends a shredded lamb taco recipe (also available on her website) and it looks like a major upgrade from more traditional tacos. Delicious!
21. Polenta Orange Cake
This soft polenta cake is soaked in a homemade orange syrup. Yes please. Let's all agree to just put orange syrup on everything, okay?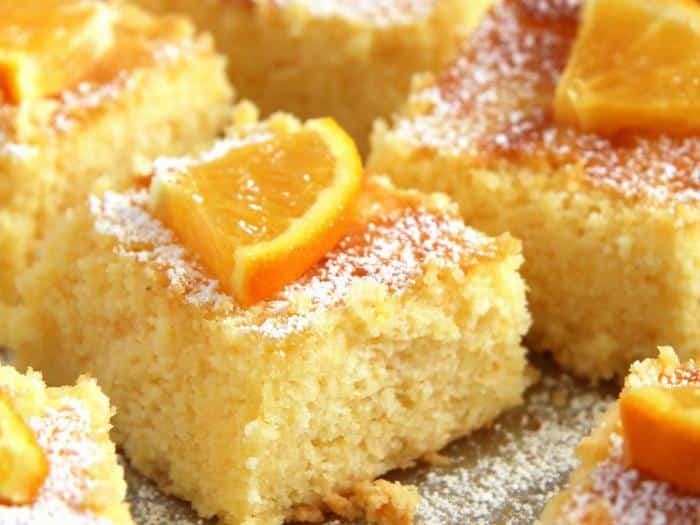 22. Dried Fig & Blood Orange Tart
Fig and orange is such a surprising combo to me and I 100% approve. This tart is simply gorgeous!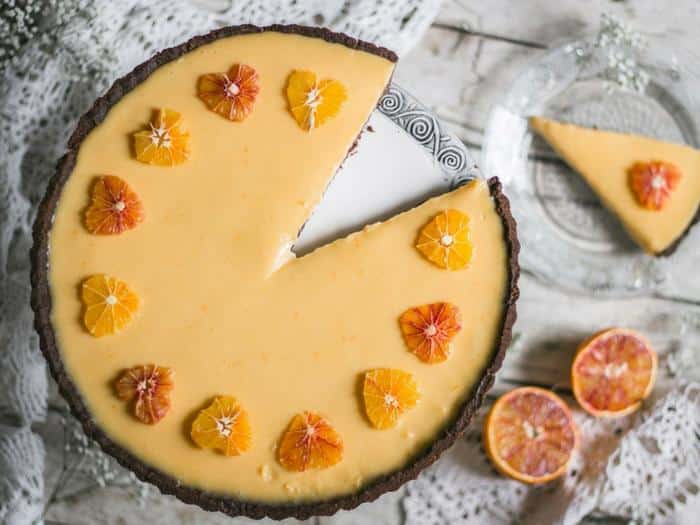 23. Orange Blueberry Buttermilk Cupcakes
I prefer cupcakes that aren't slathered with frosting so these lovelies are speaking my language.
24. Orange Julius Popsicles
Talk about a tropical treat! Coconut milk, orange, and banana. I feel like I'm transported to a beach already!
25. Blood Orange Salad with Balsamic Vinegar Dressing
Blood orange has to be one of the prettiest fruits (with the most unfortunate name). I love that this salad really lets it shine and how it's paired with avocado. The balsamic vinegar perfectly balances it all out.
26. Iced Orange Ginger Green Tea
My sister drinks cold green tea sweetened with a little juice every morning. I know she'd be a big fan of this citrus and ginger version.
27. Honey Tangerine Fizz
Now if you're looking for a drink with alcohol (hello, vacation!) this has my vote for a summer cocktail.
28. Easy Citrus Salts
Salt and orange zest (or any citrus) can liven up every dish. These citrus salts are good for almost a year so you can store them in jars until you're ready to use them!
29. Eggless Orange Blueberry Cornbread
This bread proves that cornbread doesn't have to be savory. I wouldn't mind to waking up to a loaf of this in the morning. Yes, I said loaf and not slice. Because let's be real.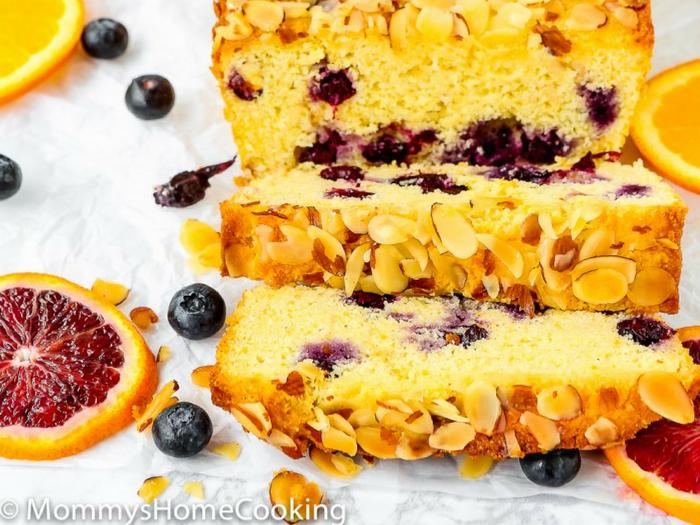 30. Grilled Orange Chicken
This orange chicken is completely good for you and Whole 30 too! It has a mild citrus flavor you'll love. Serve with veggies or over a beautiful salad for a guilt-free meal.
Don't forget to check out the first in this citrus series, 30 of the Best Lemon Recipes! You'll find lots of lemon inspiration there.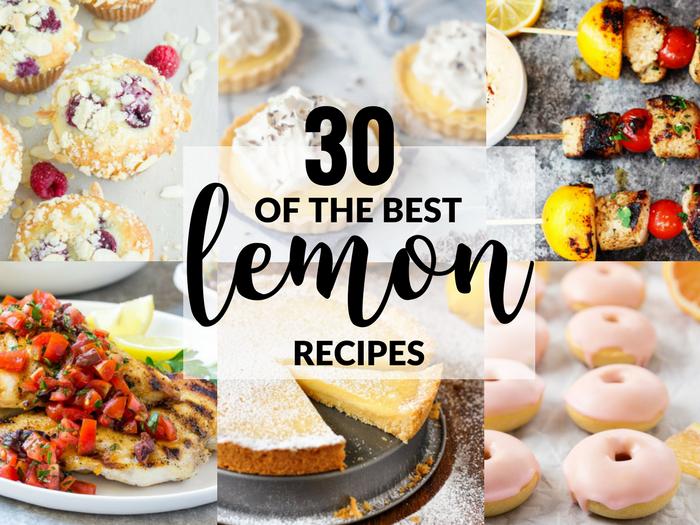 Save
Save
Save
Save
Save
Save
Save
Save