Air Fryer Chicken Breasts
The air fryer is the easiest and fastest way to get perfectly cooked chicken breasts. They'll be delicious for tonight's dinner or for meal prep!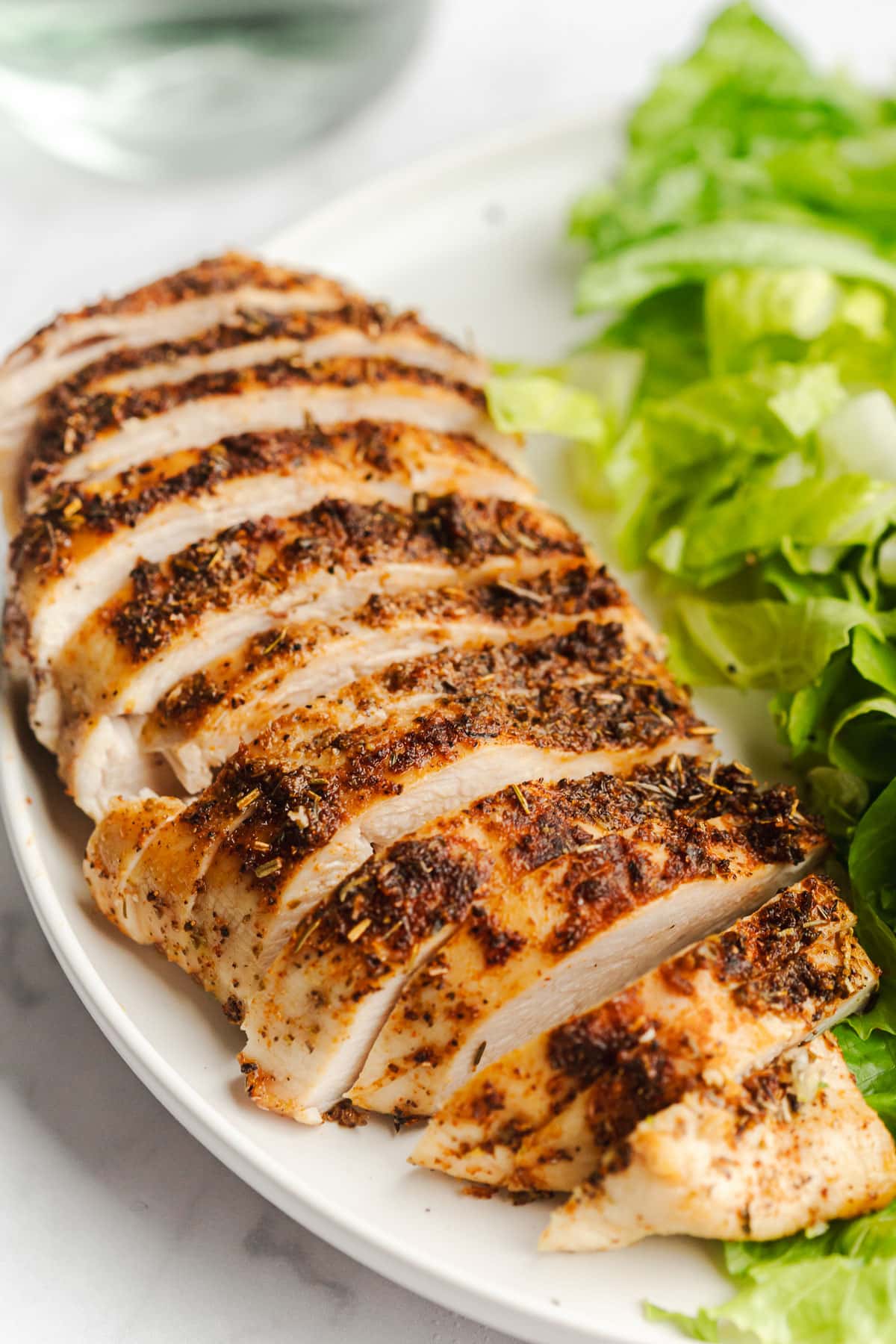 If you watch my Instagram stories you know I've been eating a lot of these Air Fryer Chicken Breasts lately! They have been a total lifesaver this summer while we are still waiting for our kitchen remodel to be finished.
These are just so simple! This is by far the easiest way I've found to make flavorful chicken.
I like to make these for the family at dinnertime of course but I really love to make these for meal prep. I find that it's easier for me to make healthy choices when I have options like this chicken in the fridge. Then there's truly no excuse!
You can adjust the seasonings based on your preferences or what you have on hand. But of course I'm going to share my favorite seasoning combination in the recipe below too.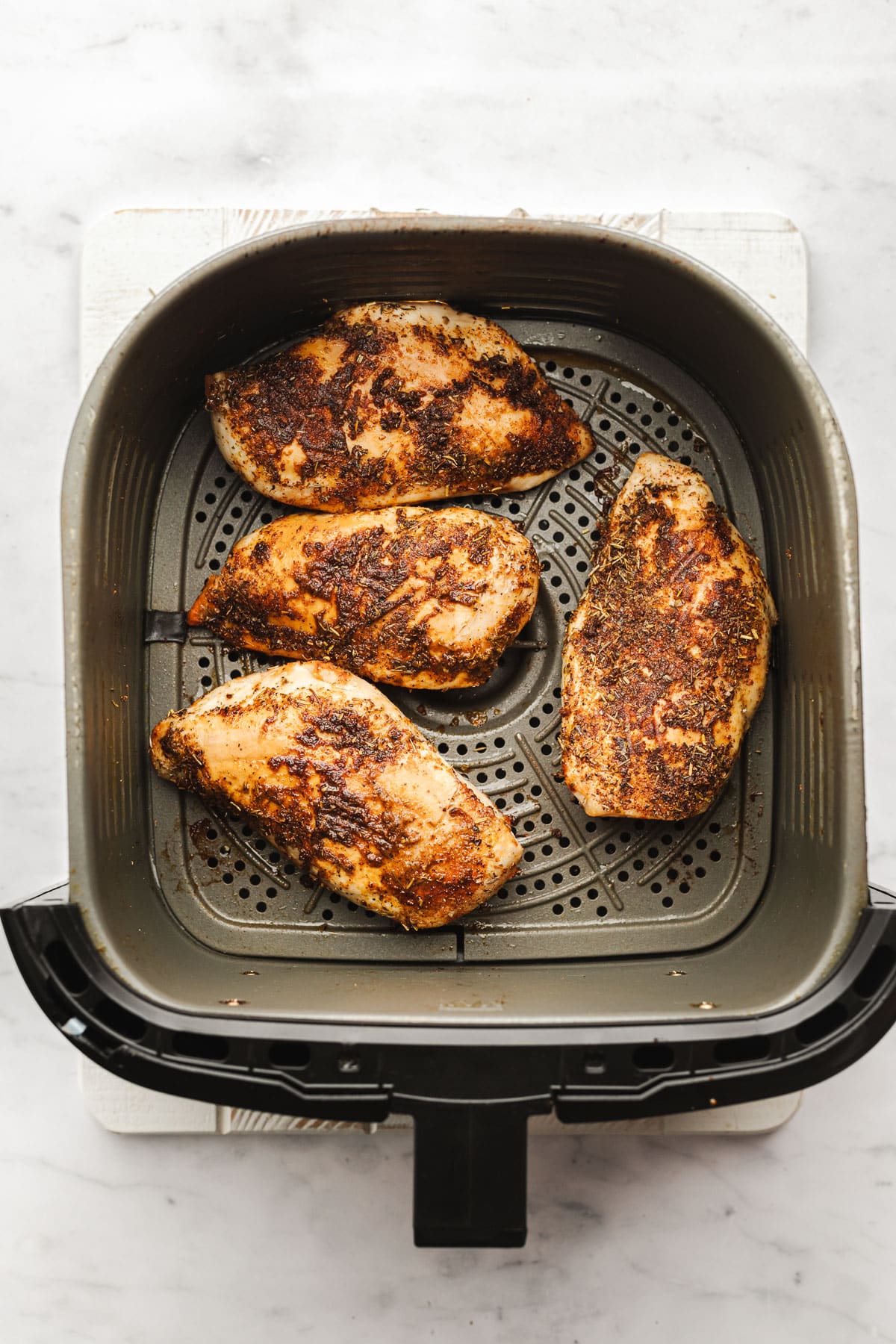 For this recipe you'll need (full list of ingredients and instructions are in the recipe card below):
Chicken breasts
Olive oil or a nonstick spray (I prefer an avocado oil spray)
Seasonings
Tips for the Best Air Fryer Chicken
Be generous with the seasoning. Chicken is naturally very mild in flavor so we're relying on our herbs and spices to make it flavorful.
Spread the chicken breasts in a single layer with a little space in between each breast. You don't want the chicken piled on top of each other (or touching) because the chicken won't cook as evenly.
Don't overcook the chicken. Because chicken is so lean it's really easy to overcook it! You can use a meat thermometer to ensure your chicken is fully cooked. The internal temperature should be 165 degrees. Since we're letting the chicken rest you can remove it from the air fryer around 155 to 160 degrees (since it will continue to cook while resting).
Let the chicken rest after cooking. This is important because it gives the chicken time to reabsorb those juices! If you cut your chicken too early all that juice will spill on to the cutting board.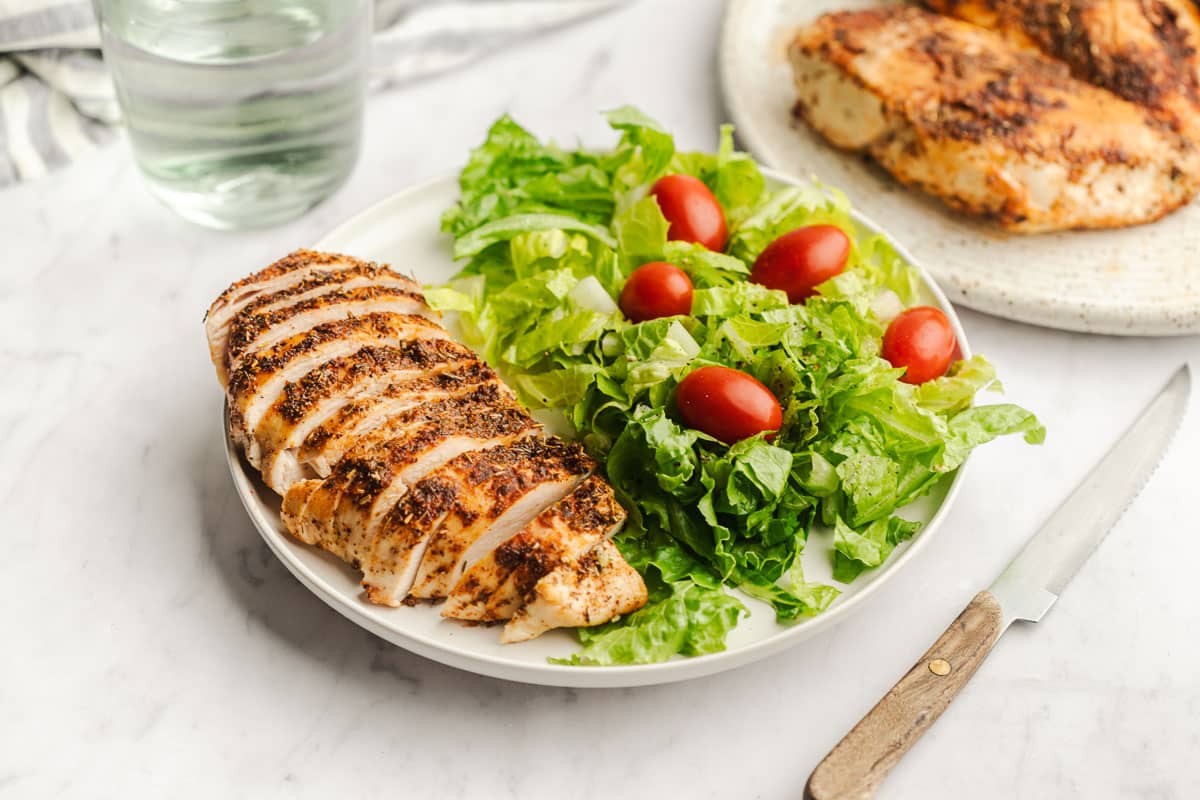 More ways to season your air fryer chicken
You can season this chicken using any combination of spices you like! Here are a few ideas in addition to the spices I recommend in the recipe card.
Use a store-bought taco seasoning or make my Easy Taco Seasoning at home.
Make it spicy! To increase the heat season with more paprika plus chili powder and crushed red pepper flakes.
Add some citrus! You can create your own lemon pepper seasoning blend with lemon zest, onion powder, garlic powder, salt, and pepper.
How to store leftovers
Store leftovers in an airtight container in the refrigerator for 3 to 4 days.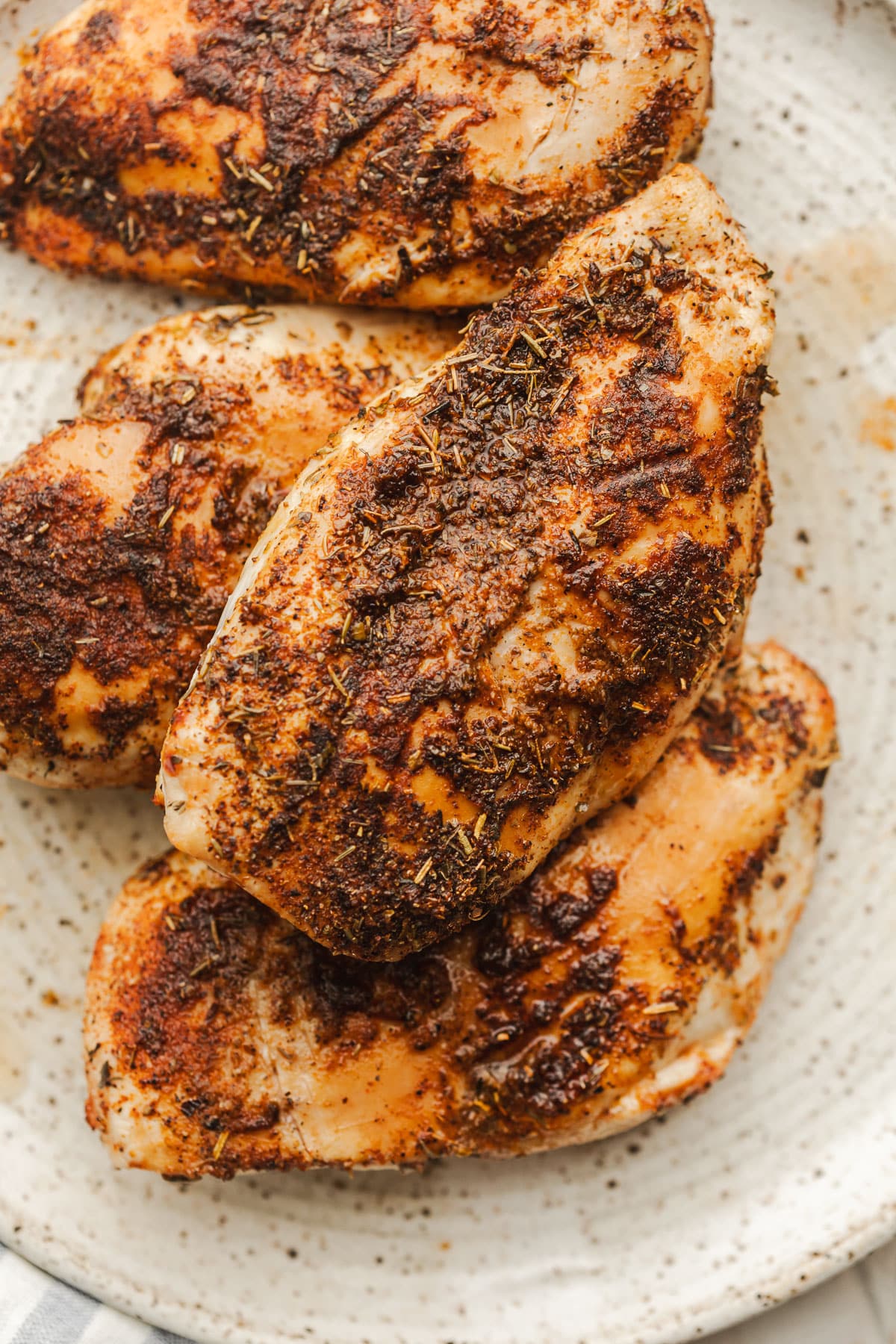 How to serve this
There are endless ways to enjoy these chicken breasts.
Serve with veggies, rice, potatoes, and/or a side salad. My Easy Roasted Broccoli will pair beautifully with this chicken.
My husband and kids love this chicken in a sandwich or wrap. This is often how they use the leftovers for a quick lunch the next day!
Slice this chicken and add to a salad. Use your favorite salad toppings or make my Strawberry Goat Cheese Salad if you're looking for a salad that really wows in summer!
Friday night is pizza night in our house. We often add leftover chicken like this to pizza. Drizzle barbecue sauce on top for a really special meal!
Increase the protein in your breakfast by shredding this chicken and adding it to a big egg scramble or omelet.
Sauté quick cooking veggies like broccoli, green beans, and carrots in a little oil. Once they're almost cooked add your leftover chicken to the skillet along with coconut aminos or soy sauce. Stir until the chicken is warmed. Now you have a fast stir fry!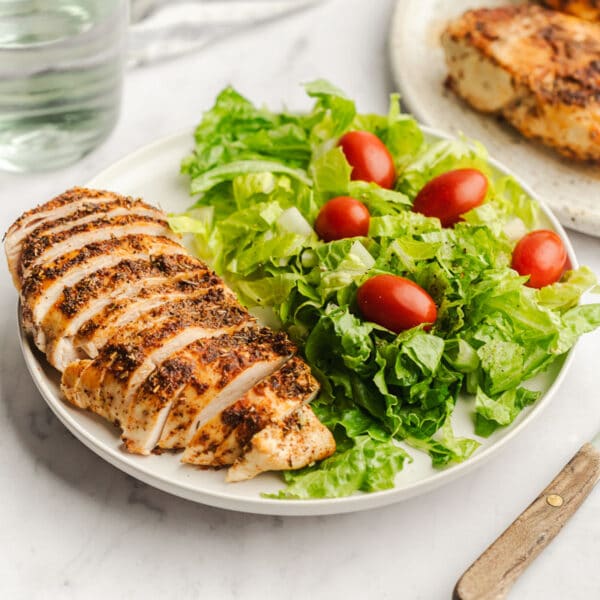 Air Fryer Chicken Breasts
The air fryer is the easiest and fastest way to get perfectly cooked chicken breasts. They'll be delicious for tonight's dinner or for meal prep!
Ingredients
4 chicken breasts, boneless and skinless
1 tbsp olive oil, or use a nonstick spray (I prefer an avocado oil spray)
1 tbsp italian seasoning
1 tsp garlic powder
1 tsp salt
¾ tsp black pepper
¾ tsp paprika
Instructions
Preheat air fryer to 370 degrees. (You can use 375 degrees if your air fryer doesn't offer 370.)

Stir together italian seasoning, garlic powder, salt, pepper, and paprika. Rub olive oil on the chicken breasts (or use a nonstick spray). Press the seasoning mixture onto the chicken.

Place chicken breasts in a single layer in the preheated air fryer so they're not overlapping. Air fry for 10 minutes. Flip chicken. Air fry for another 5 to 10 minutes or until internal temperature reaches 155 to 160 degrees. Be careful not to overcook. (Temperature AFTER resting should be 165 degrees.)Final cooking time will vary based on the thickness of your chicken and the model air fryer you're using.

Remove chicken from the air fryer and let it rest for 5 minutes before slicing.