Barbecue Meatballs
These Barbecue Meatballs are delicious and tangy thanks to an easy homemade barbecue sauce that contains no added sugar!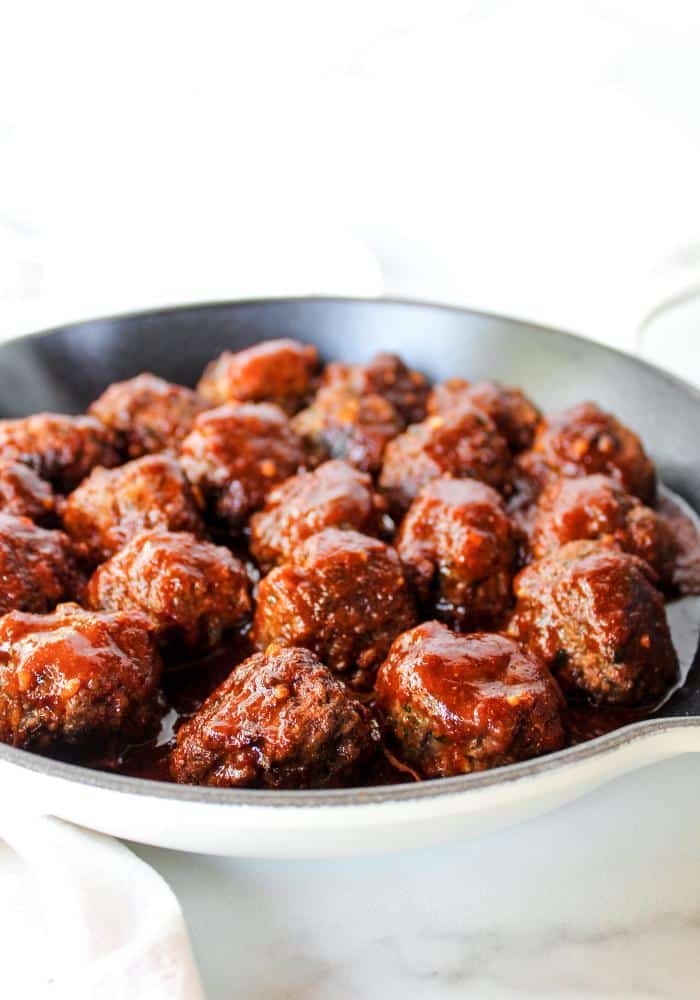 Oh I'm a total sucker for a good meatball. I love playing around with different versions because there are so many ways to switch things up but the end result is just always so addictive! In a good way.
These Barbecue Meatballs (like all the other meatballs you'll find here on my blog) are made without breadcrumbs. Just simple, tasty ingredients to produce flavorful meatballs you'll love.
The secret is the sauce. It's a homemade barbecue sauce that contains none of the brown sugar or honey you find in most. I use Coconut Aminos to add some sweetness instead. I adore Coconut Aminos and use it in a variety of sauces and marinades. If you're new to it, just know that it tastes nothing like coconut. It tastes a lot like soy sauce but the flavor isn't quite as strong. It's absolutely perfect in this sauce!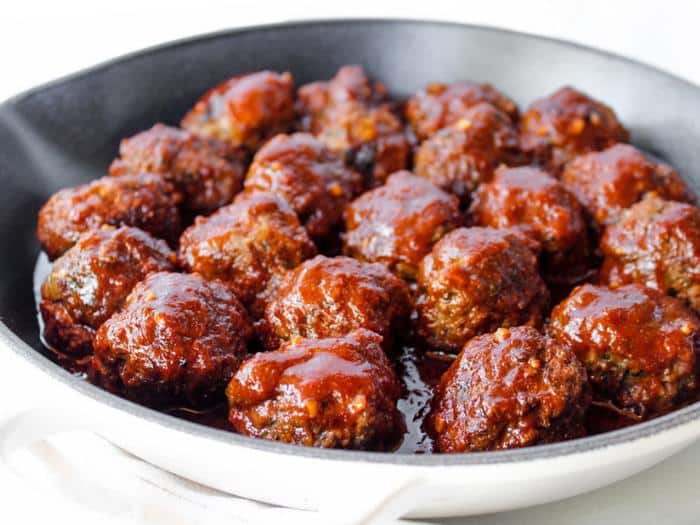 You can use ground beef or ground turkey for these meatballs. I've tested this recipe with both!
Serve as an entree with roasted veggies, mashed potatoes, and a side salad. (Man, I'm hungry just thinking about that meal.) Or feel free to offer these to guests as an appetizer!
More meatball recipes:
Slow Cooker Turkey Meatballs in Marinara
Turkey Apple Breakfast Meatballs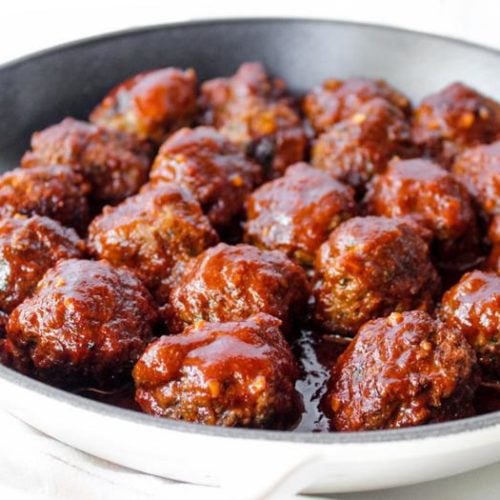 Barbecue Meatballs
These Barbecue Meatballs are delicious and tangy thanks to an easy homemade barbecue sauce that contains no added sugar!
Ingredients
Meatballs
2 lbs lean ground beef or turkey
2 tbsp cooking fat of choice
1/2 white or yellow onion, finely diced
1 tbsp garlic, minced
1/2 cup parsley, chopped
1 egg
1 tsp chili powder
1 tsp onion powder
1 1/2 tsp salt
1/2 tsp pepper
Barbecue Sauce
1 cup ketchup, If Whole30, make sure you select a compliant ketchup.
3/4 cup Coconut Aminos
1 tsp apple cider vinegar
1 tsp garlic, minced
2 tsp chili powder
1 1/2 tsp ground mustard
1 tsp salt
1/4 tsp garlic powder
Instructions
In a large skillet, sauté your diced onion and garlic in 1 tablespoon olive oil or another cooking fat of choice on medium heat. Cook until onion is translucent, approximately 3 minutes. Remove onion and garlic from heat.

In a large bowl, combine your ground beef (or turkey), parsley, egg, salt, pepper, onion powder, chili powder, and sautéed onion and garlic. Roll into meatballs the size you prefer. Mine are 2 inches in diameter. This produces approximately 25 meatballs. You can of course make them smaller if you like.


Add your remaining 1 tablespoon olive oil (or other cooking fat) to the skillet over medium high heat. Brown your meatballs on all sides. This takes roughly 3 minutes per side. Continue rotating your meatballs so that all sides are getting some love.


While browning meatballs, combine all barbecue sauce ingredients in a bowl. Stir together until smooth.

Pour sauce over your browned meatballs. Reduce heat to medium low. Cover and simmer for 5 minutes or until meatballs are cooked through. (Slice one open to confirm.)

Serve as an entree or as an appetizer!
Notes
Nutrition information assumes you're using lean ground beef and have formed 25 meatballs.
Nutrition
Serving: 1meatball, Calories: 83kcal, Carbohydrates: 4g, Protein: 8g, Fat: 3g, Saturated Fat: 1g, Cholesterol: 29mg, Sodium: 515mg, Potassium: 174mg, Sugar: 2g, Vitamin A: 255IU, Vitamin C: 2.3mg, Calcium: 9mg, Iron: 1.1mg