Orange Balsamic Meatballs
Orange Balsamic Meatballs are not your traditional meatballs. The sauce they simmer in is tangy so these have a unique and very addictive flavor I love!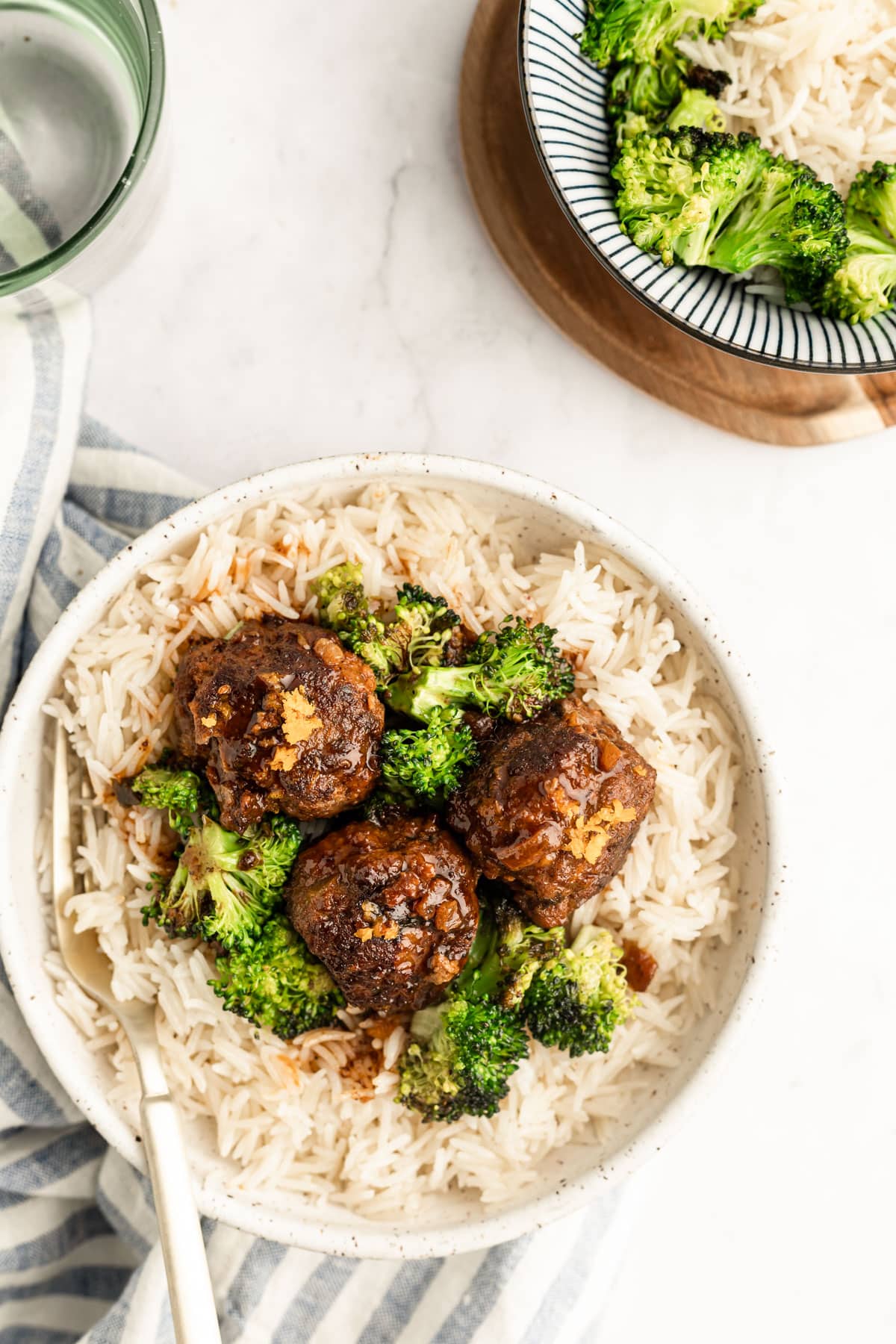 Update: This recipe was originally published in 2019 and has been republished with all new photos.
These are my very favorite meatballs. They're not traditional in flavor in any sense of the word. If you're wanting a tomato sauce stick with my Meatballs in Marinara Sauce or Slow Cooker Turkey Meatballs in Marinara. But if you're wanting a tangy good time then these Orange Balsamic Meatballs are for you!
The idea for this recipe started with my Sticky Orange Balsamic Chicken Wings. I wanted to introduce those same flavors in another way. And I'm a meatball gal so this just made sense.
These meatballs are ready in under 30 minutes. They do not contain breadcrumbs. In fact they're gluten free and Whole30 compliant.
Ghee is the only dairy in here but my dairy allergic husband can tolerate it since the milk fat is cooked out. If you want to completely eliminate the dairy just substitute a vegan butter.
The sauce thickens and reduces as it simmers so you won't be left with a ton. This makes these a perfect appetizer meatball.
Of course I also serve them as an entree. I pair them with zoodles and roasted veggies for a very filling and delicious meal!
Come to think of it, I've enjoyed them for breakfast too. Does that sound weird? I'm an advocate for not limiting breakfast to just breakfast foods so why the heck not?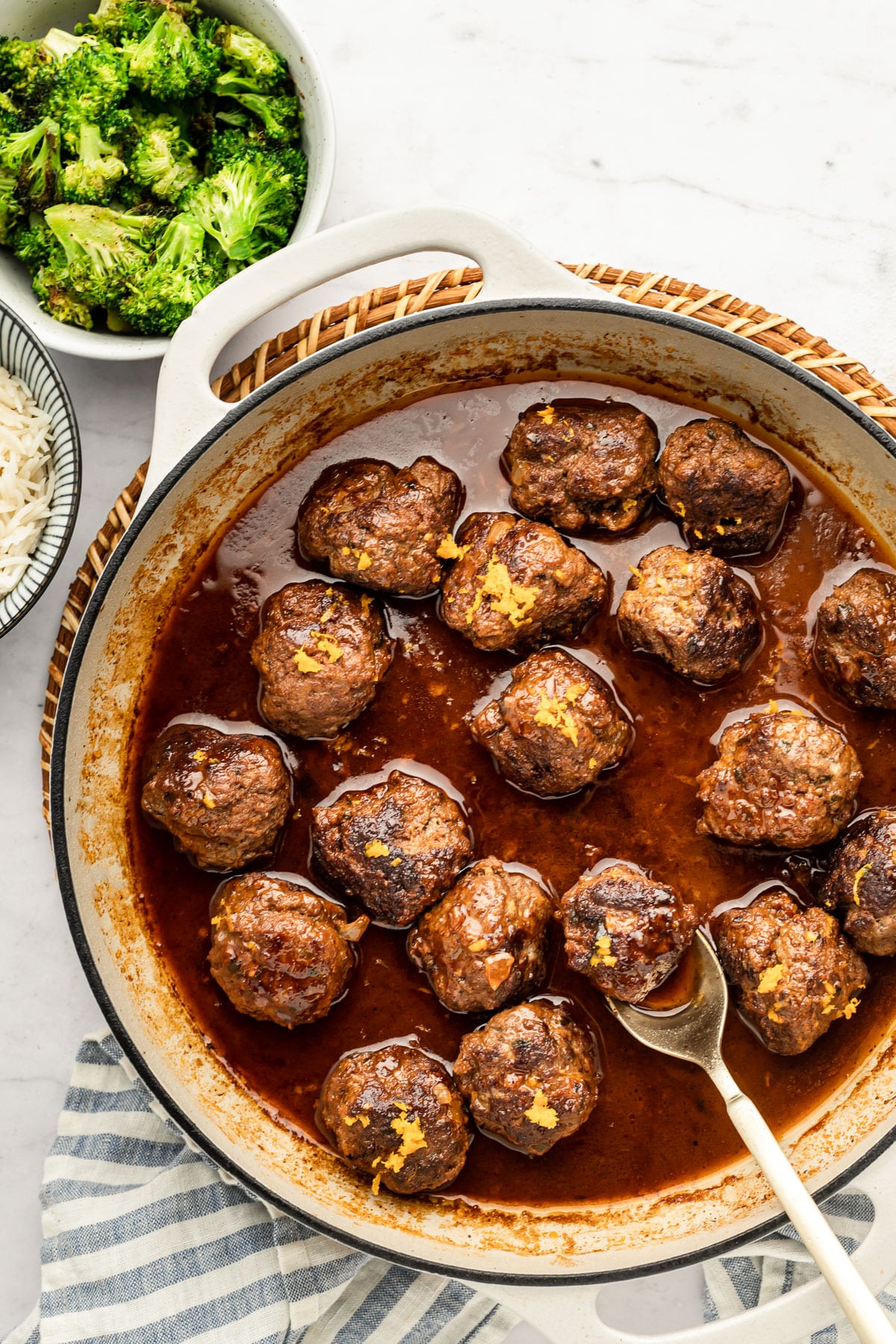 For this recipe you'll need (full list of ingredients and instructions are in the recipe card below):
Lean ground beef
Olive oil
Onion
Minced garlic
Fresh parsley
Egg
Orange juice
Balsamic vinegar
Tomato paste
Ghee, butter, or vegan butter
Seasonings
Can you use ground turkey?
Yes, feel free to use turkey instead of beef if you prefer.
Are these meatballs dairy free?
Yes if you use a vegan butter.
Are these meatballs grain free and gluten free?
They sure are! No breadcrumbs needed for these delicious meatballs!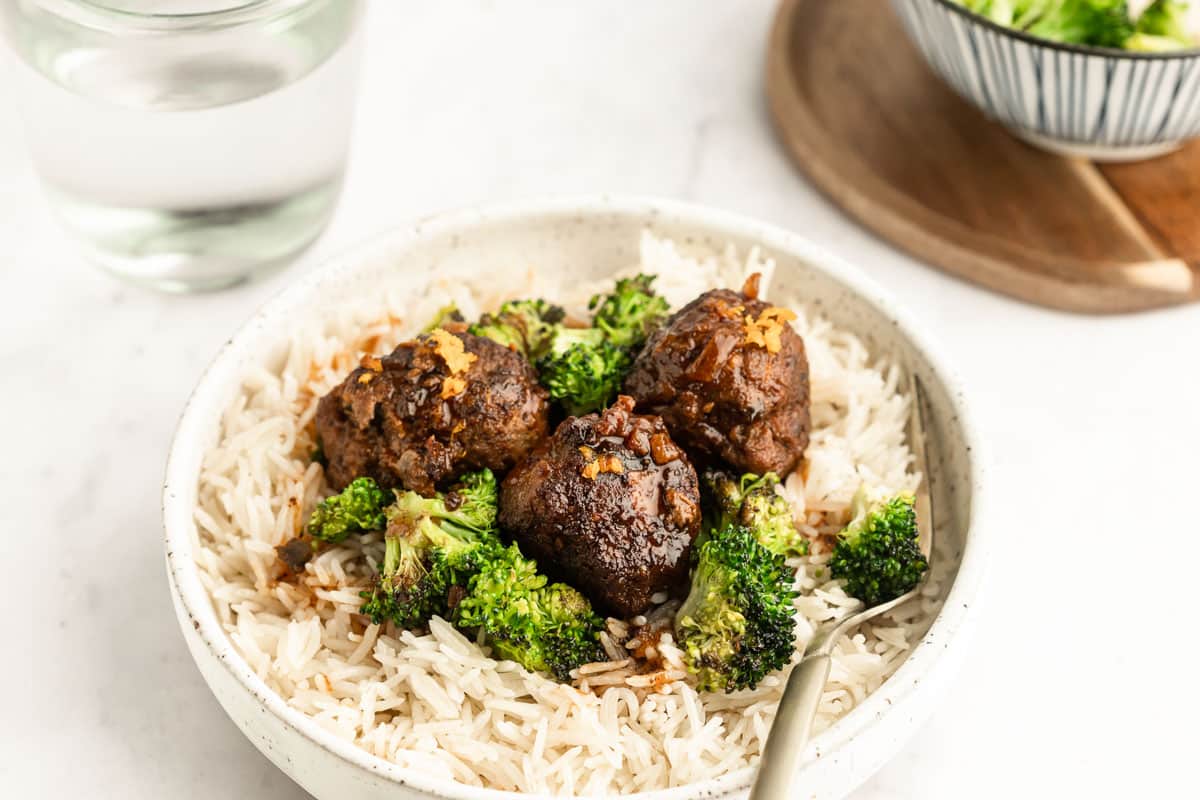 Can you omit the egg?
Occasionally I'll get asked about omitting the egg in my meatball recipes due to egg allergies. We're very familiar with working around allergies around here! You can skip the egg completely if you'd like. The finished meatball will be a bit more dense but it still works well and you'll still get all those yummy flavors!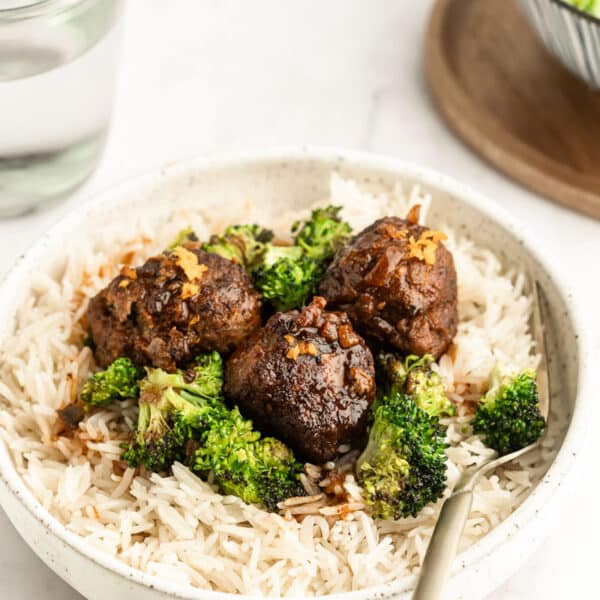 Orange Balsamic Meatballs
These Orange Balsamic Meatballs are so tangy and addictive. Delicious as an entree or appetizer!
Ingredients
Meatballs
2 lbs lean ground beef, Can substitute ground turkey
2 tbs olive or avocado oil, I use extra virgin olive oil.
1/2 medium yellow or white onion, finely diced
1 tbsp garlic, minced
1/2 cup fresh parsley, chopped
1 tsp chili powder
1 1/2 tsp salt
1/2 tsp black pepper
1 egg
Orange Balsamic Sauce
2 cups orange juice
1/2 cup balsamic vinegar
4 tsp tomato paste
2 tbsp ghee or butter, Can substitute a vegan butter to make this completely dairy free.
1/2 tsp salt
1/2 tsp black pepper
zest of one whole orange
Instructions
In a large skillet sauté your diced onions and garlic in 1 tablespoon olive oil on medium heat. Cook until onion is translucent, approximately 3 minutes. Remove from heat.

In a large bowl, combine your ground beef, parsley, egg, salt, pepper, chili powder, and sautéed onion and garlic. Roll into meatballs the size you prefer. Mine are approximately 2 inches in diameter. This produces 20 – 22 meatballs. You can of course make them smaller if you like.

Add your remaining 1 tablespoon olive oil to the skillet over medium high heat. Brown your meatballs on all sides. This takes approximately 3 minutes per side. Continue rotating your meatballs so that all sides are getting some love. Remove meatballs from pan and set aside. They do not need to be full cooked through at this point.

Scrape up all the remaining bits in the skillet and leave them in there. That's going to make your sauce even better. (I don't drain my grease because I'm using a lean ground beef.)

Add all Orange Balsamic Sauce ingredients to pan, setting aside half the orange zest to be used later. Bring to a boil then reduce heat to medium so that the sauce simmers. Allow it to simmer for 10 minutes, stirring occasionally with the cover off.

Add browned meatballs to the sauce. Reduce heat to medium low. Cover and simmer for 5 to 10 minutes. Use a knife to slice open one meatball and make sure it's cooked all the way through. Larger meatballs may take a bit more time.

Garnish with remaining orange zest before serving.
Notes
Nutritional information is for 1 meatball and assumes that you created 22 meatballs. If you have a little more or a little less nutritional information will need to be adjusted slightly.
Nutrition
Serving: 1meatball, Calories: 100kcal, Carbohydrates: 4g, Protein: 9g, Fat: 4g, Saturated Fat: 2g, Cholesterol: 36mg, Sodium: 254mg, Potassium: 221mg, Sugar: 3g, Vitamin A: 225IU, Vitamin C: 13.6mg, Calcium: 12mg, Iron: 1.2mg