Meatballs in Marinara Sauce
These meatballs with marinara sauce are full of flavor and packed with garlic and fresh herbs! Plus they're dairy free and gluten free but you wouldn't guess it from the taste.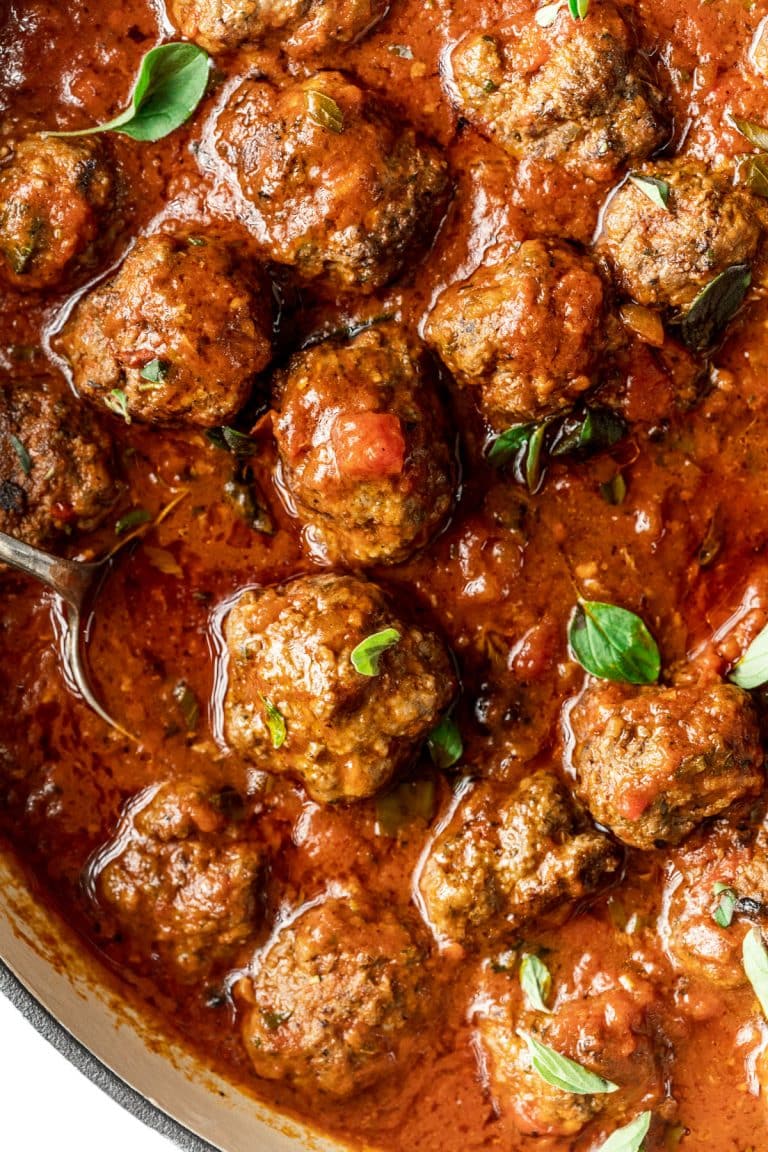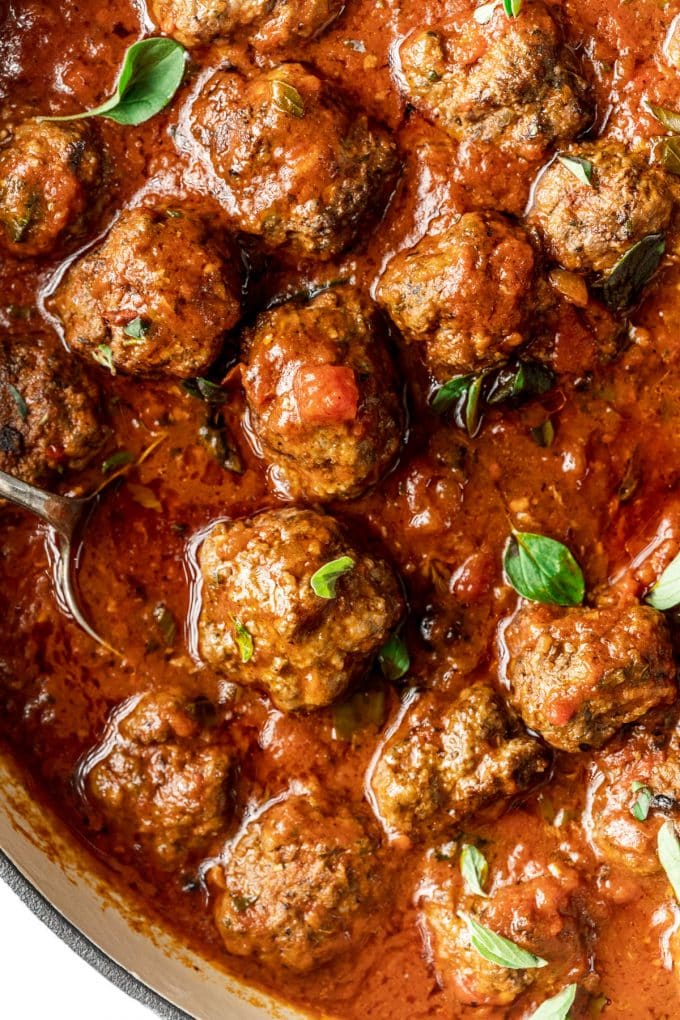 Update: This recipe was originally published in 2017 and has been republished with all new photos.
I've never met a meatball I didn't like. Large, small, over pasta, with sautéed spinach, or on a toothpick. I'll take them all please.
These Meatballs in Marinara Sauce prove that you don't need breadcrumbs or parmesan. You really don't. I'm going to make a believer out of you today. In fact, these meatballs are Whole30, gluten free, and dairy free.
Garlic, sauteed onion, and plenty of fresh herbs bring this dish to life. All my favorite things!
More good news? I'm sharing my super easy marinara sauce as part of this recipe. It's way tastier than a jar of store-bought spaghetti sauce and surprisingly simple.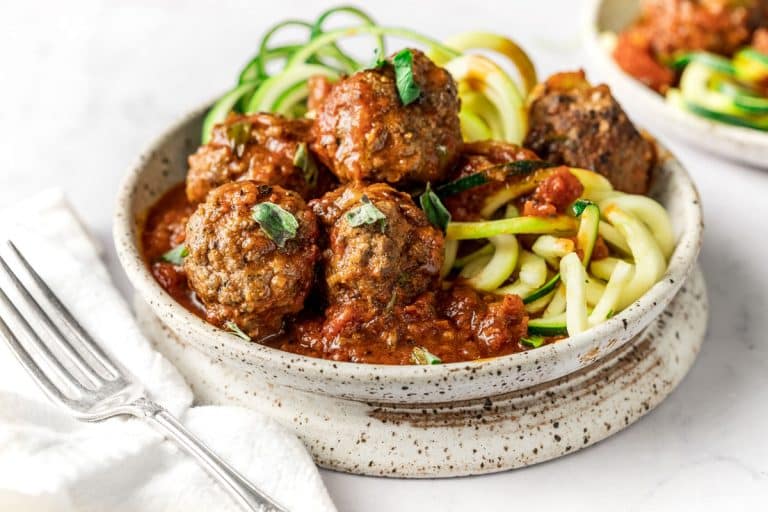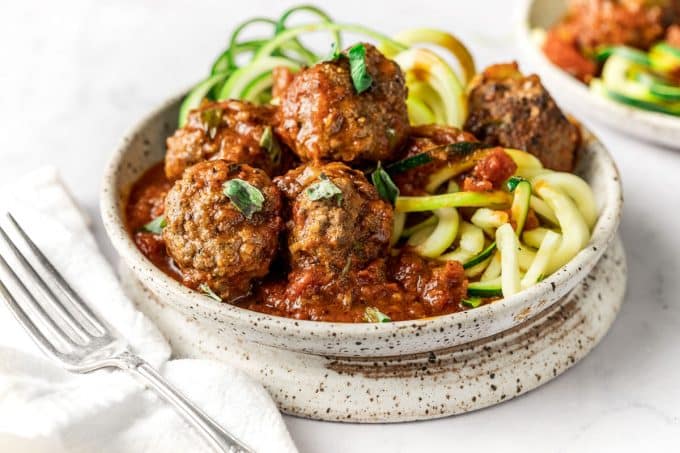 For this recipe you'll need (full list of ingredients and instructions are in the recipe card below):
Lean ground beef
Onion
Olive oil
Minced garlic
Parsley
Rosemary
Basil
Oregano
Egg
Crushed tomatoes
A few seasonings
You'll start by sautéing the onion and garlic in a little olive oil. Then it's time to combine the meatball ingredients and form balls.
Brown meatballs in a large skillet. Add sauce ingredients. Let everything simmer and enjoy!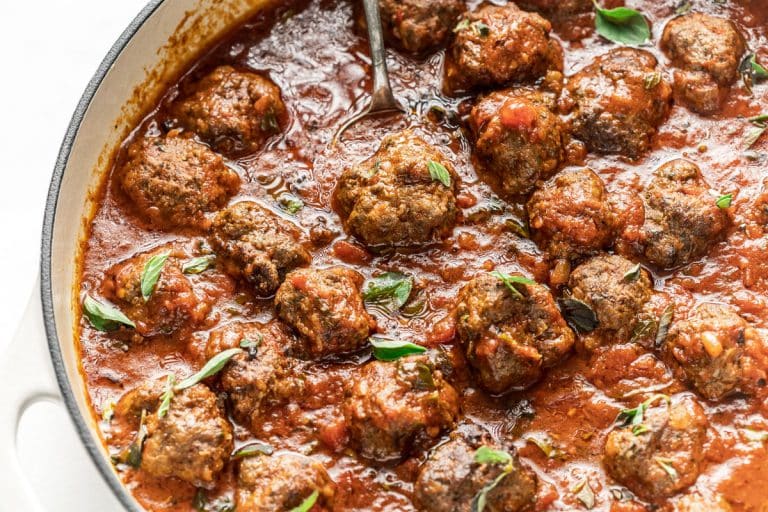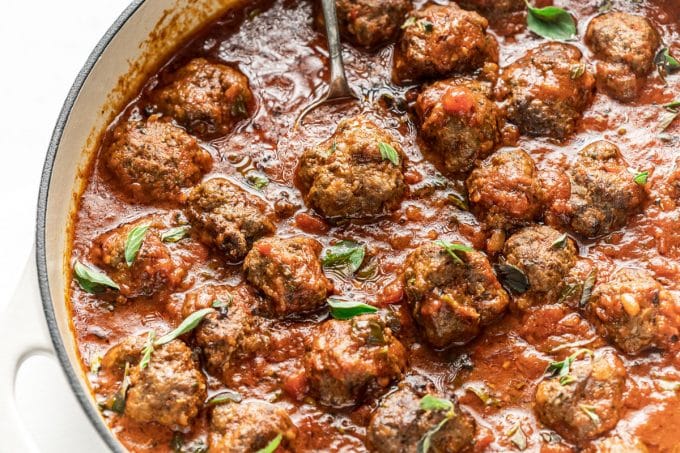 Can you use ground turkey?
Yes! Or give my Slow Cooker Turkey Meatballs in Marinara a try instead. They're designed to be made with ground turkey so you might appreciate the seasoning there even better!
Can you use a ground beef that's not lean?
You can use beef with more fat if you like. You'll just likely want to drain the excess grease after browning your meat.
Don't you need breadcrumbs in meatballs?
Absolutely not! Breadcrumbs are typically used as a binder in meatballs but we're using herbs instead. These fresh herbs add a bright fresh flavor that I think sets these meatballs apart!
Can you make these meatballs spicy?
These meatballs are mild and contain no heat at all. Want some heat? Add crushed red pepper flakes to your meatballs when assembling or directly to the sauce. A little goes a long way!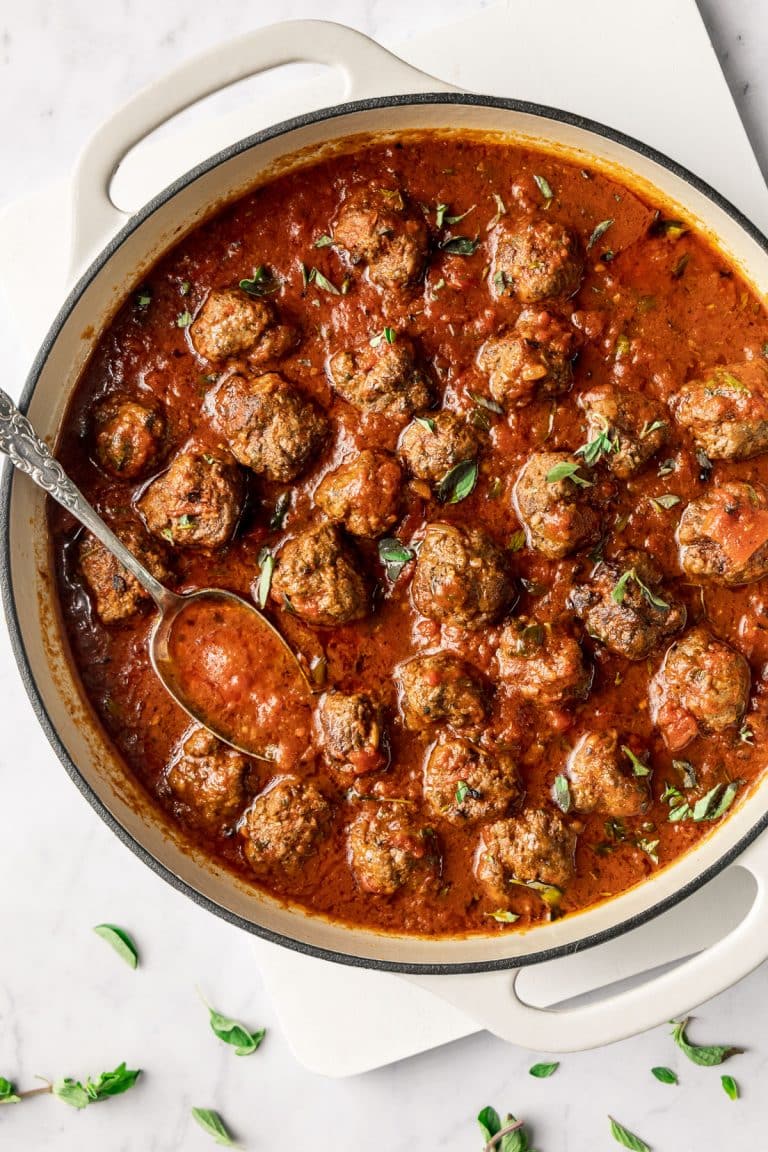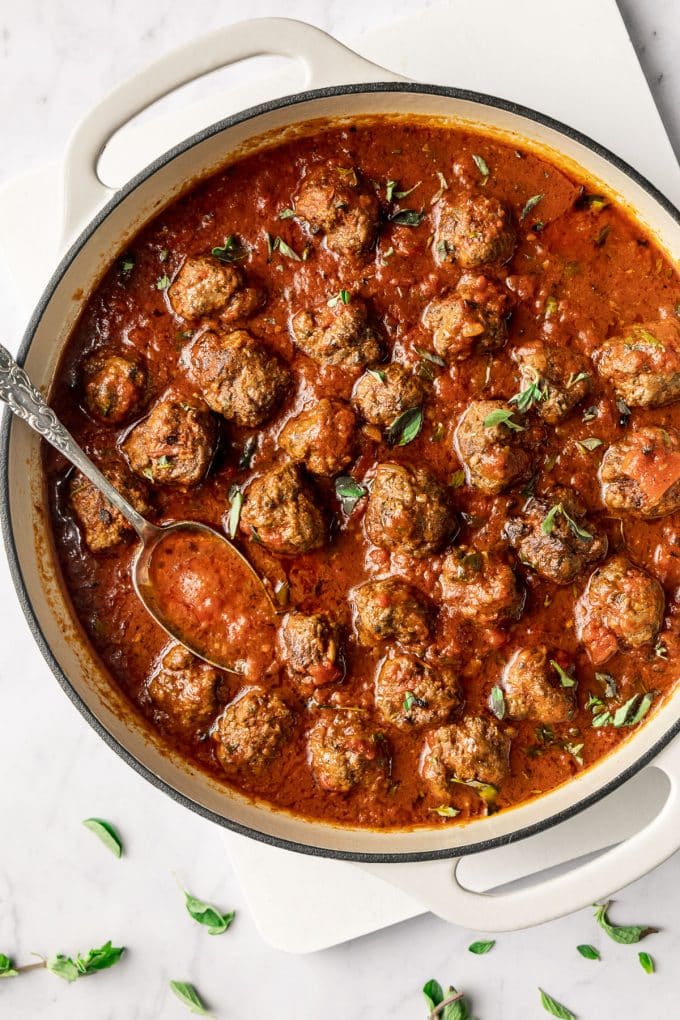 How to serve this
These meatballs and sauce are perfect over pasta. I personally love this with zoodles or Roasted Spaghetti Squash for a low carb meal!
If you're not in the mood for noodles (of any kind) try this recipe over wilted garlic spinach or simply with a side salad. Trust me, the meatballs and the sauce are good enough to stand alone. I may lick my plate if nobody is looking.
Of course these are always yummy as an appetizer. Add a toothpick to these meatballs and they're party ready!
More recipes like this:
Slow Cooker Turkey Meatballs in Marinara
The Easiest Homemade Spaghetti Sauce
Turkey Apple Breakfast Meatballs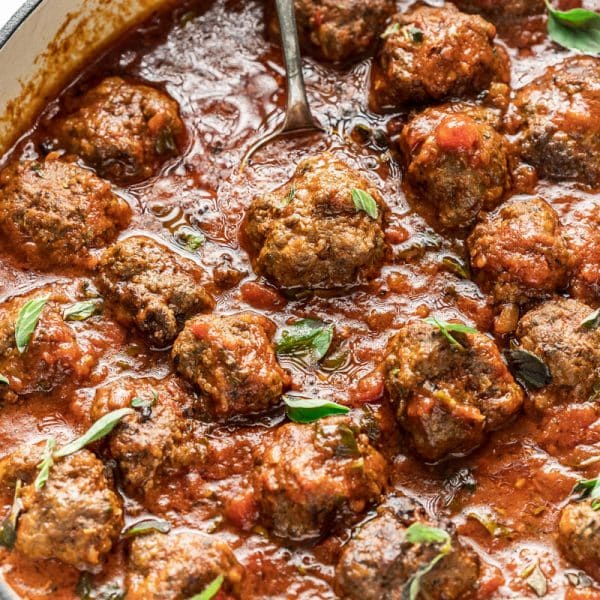 Meatballs in Marinara Sauce
These meatballs with marinara sauce are full of flavor and packed with garlic and fresh herbs! Plus they're dairy free and gluten free but you wouldn't guess it from the taste.
Ingredients
Meatballs
2 lb lean ground beef, can substitute lean ground turkey if you prefer
2 tbsp olive oil
1/2 medium yellow onion, diced
2 tbsp garlic, minced
1/2 cup fresh parsley, finely chopped
3 sprigs fresh rosemary, finely chopped (makes about 1 tablespoon)
1 egg
1 1/2 tsp salt
1 tsp black pepper
Marinara Sauce
28 oz crushed tomatoes, from a can
6 good sized fresh basil leaves, chopped (makes about 1 tablespoon)
2 sprigs fresh oregano, chopped (makes about 1 tablespoon)
2 tbsp garlic, minced
1 tsp onion powder
1/2 tsp salt
1/2 tsp black pepper
Optional: additional chopped basil for topping
Instructions
In a large skillet sauté diced onions and garlic in 1 tablespoon olive oil on medium to medium-high heat. Cook until onion is translucent, approximately 3 minutes. Remove from heat.

In a large bowl, combine your ground beef, parsley, rosemary, egg, salt, pepper, and sautéed onion and garlic. Roll into meatballs the size you prefer. Mine are approximately 2 to 2 1/2 inches in diameter. This produces 16 – 18 meatballs. You can of course make them smaller if you like.

Add your remaining 1 tablespoon olive oil to the skillet over medium high heat. Brown your meatballs on all sides (you may need to do this in batches so you have room to flip them). This takes about 3 minutes per side. Continue rotating the meatballs so that all sides are getting some browning. Remove meatballs from pan and set aside.

Scrape up all the remaining bits in the skillet and leave them in there. That's going to make your sauce even better. (If you have a lot of grease I recommend draining that. You should be fine if you used a very lean beef.)

Add crushed tomatoes, basil, oregano, garlic, onion powder, salt, and pepper to the skillet. Stir to combine. Add additional salt and pepper if desired.

Place your browned meatballs in the sauce. Cover and simmer on low for 5-10 minutes. Use a knife to slice open one meatball and make sure it's cooked all the way through. Larger meatballs may take a bit more time.

Garnish with chopped basil. Enjoy!
Nutrition
Calories: 318kcal, Carbohydrates: 13g, Protein: 36g, Fat: 13g, Saturated Fat: 4g, Cholesterol: 121mg, Sodium: 1064mg, Potassium: 983mg, Fiber: 3g, Sugar: 6g, Vitamin A: 780IU, Vitamin C: 21.2mg, Calcium: 87mg, Iron: 6mg