Beef & Veggie Bowls with Comeback Sauce
Throw together Beef & Veggie Bowls with Comeback Sauce when you need a quick tasty dinner! Easy and satisfying!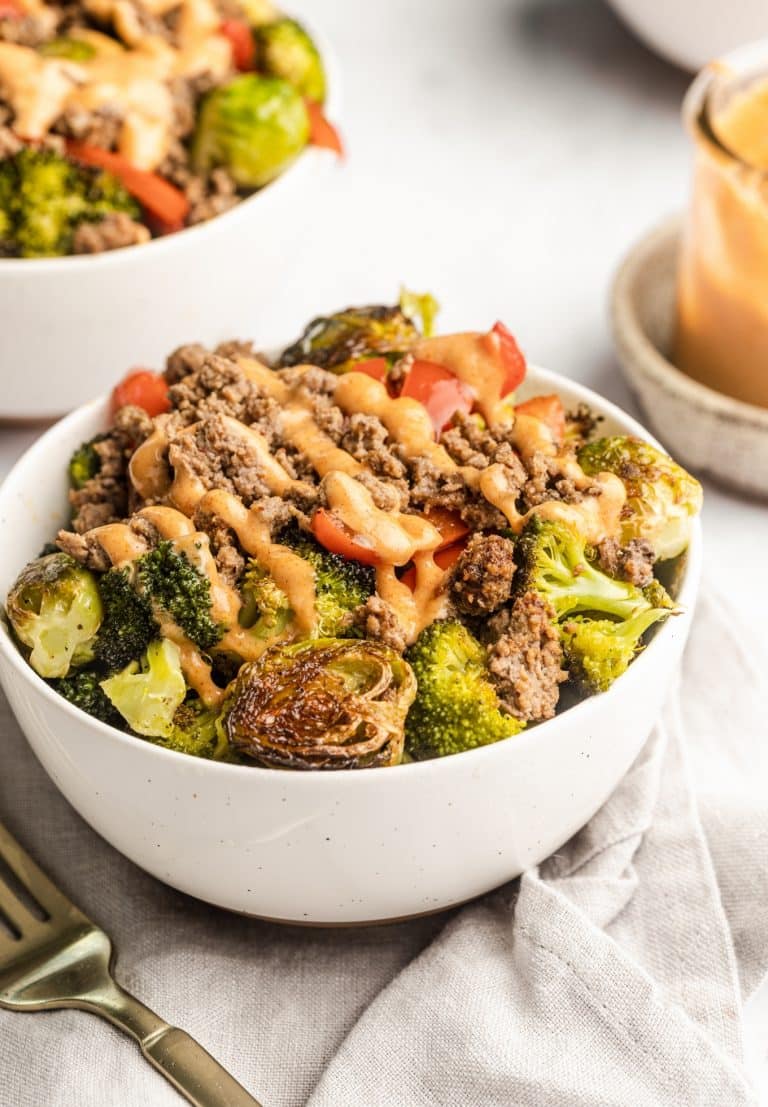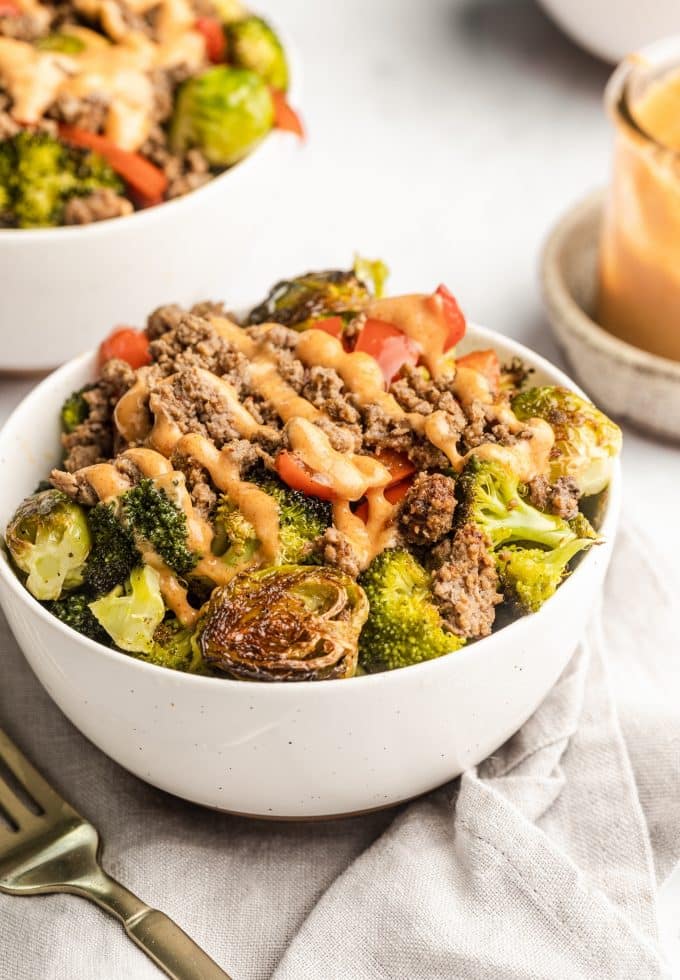 Update: This recipe was originally published in 2019 and has been republished with all new photos.
If you've spent any length of time on here or on my Instagram you probably already know that I'm a fan of piling all my food on top of roasted veggies. These Beef & Veggie Bowls with Comeback Sauce are a natural extension of that. Protein plus perfectly roasted veggies and a creamy sauce! What's not to love?
I'm from Mississippi so Comeback Sauce is something I grew up with and I'm a big believer in the fact (yes, it's a fact) that it makes everything better. You'll be surprised by how easy it is to make! Just stir your ingredients together in a bowl. That's it! Comeback Sauce is also available on the website as a standalone recipe too if you want to use it on other dishes (you do) or as a dip for fries (you do).
For this recipe you'll need (full list of ingredients and instructions are in the recipe card below):
Ground beef
Broccoli
Brussels sprouts
Bell pepper
Olive oil
Mayo
Ketchup
Lemon juice
Tabasco
Seasonings
Veggies go on a sheet pan with olive oil and seasonings. They take 20 to 25 minutes to roast. While the oven is doing it's thing, brown your beef. You can of course use ground turkey. Season.
Stir together the Comeback Sauce ingredients until well combined.
Now assemble those yummy bowls!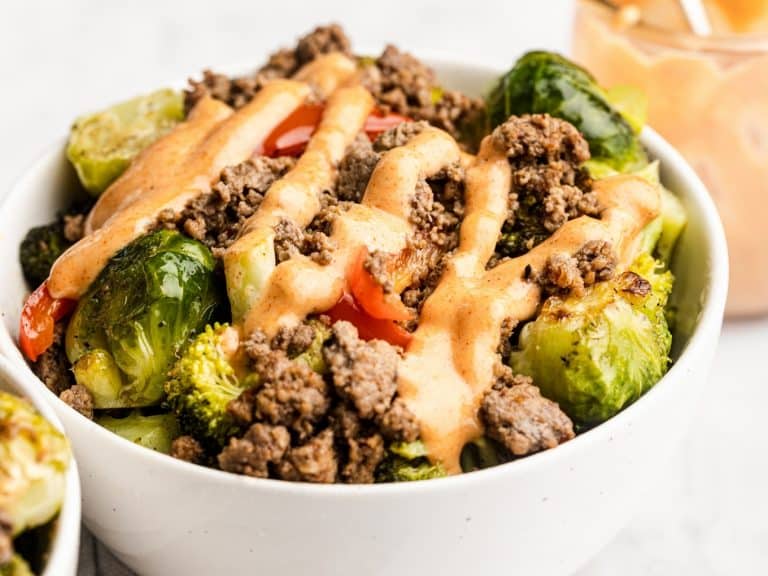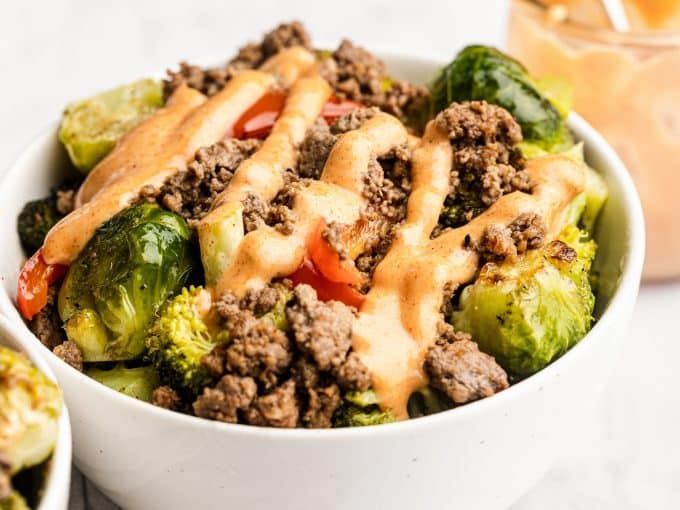 Can you use frozen vegetables?
Please don't. Frozen veggies (even after they've thawed) do not roast as beautifully as fresh veggies. They tend to stay pretty mushy. We want that glorious crispiness that roasting fresh vegetables always gives!
Can you use ground turkey?
Absolutely. I like to season my ground turkey more aggressively than I do beef so I recommend tasting and adjusting your seasonings to your preferences if using turkey.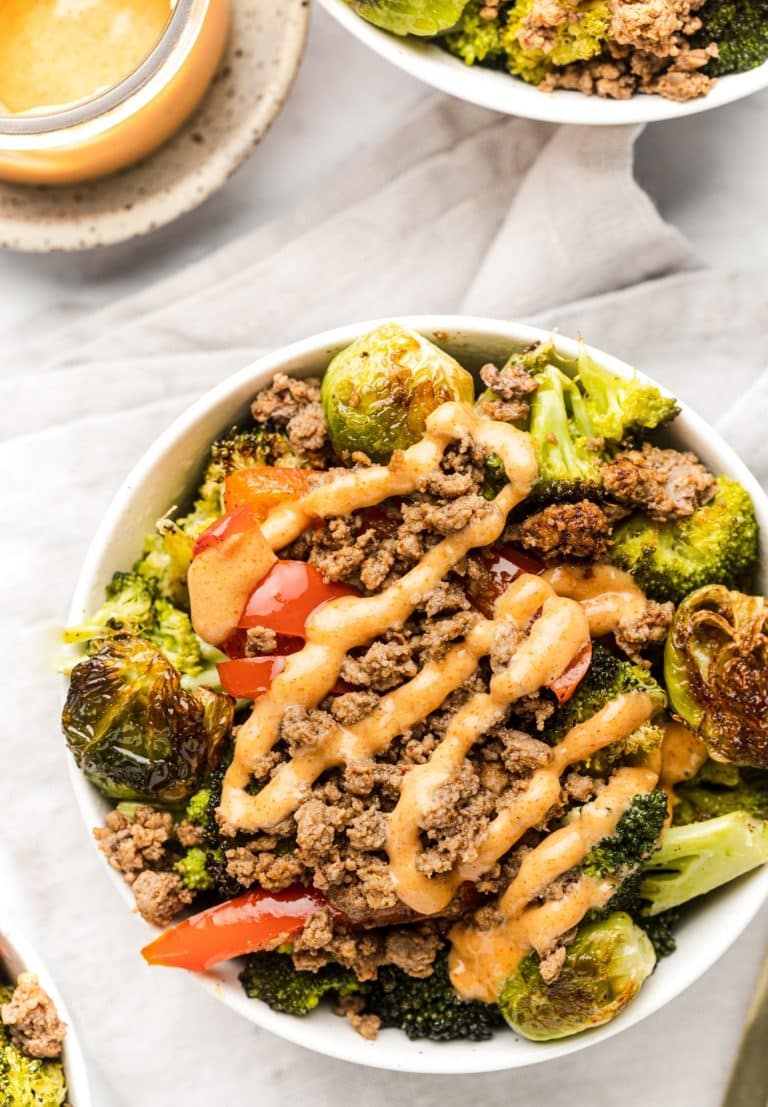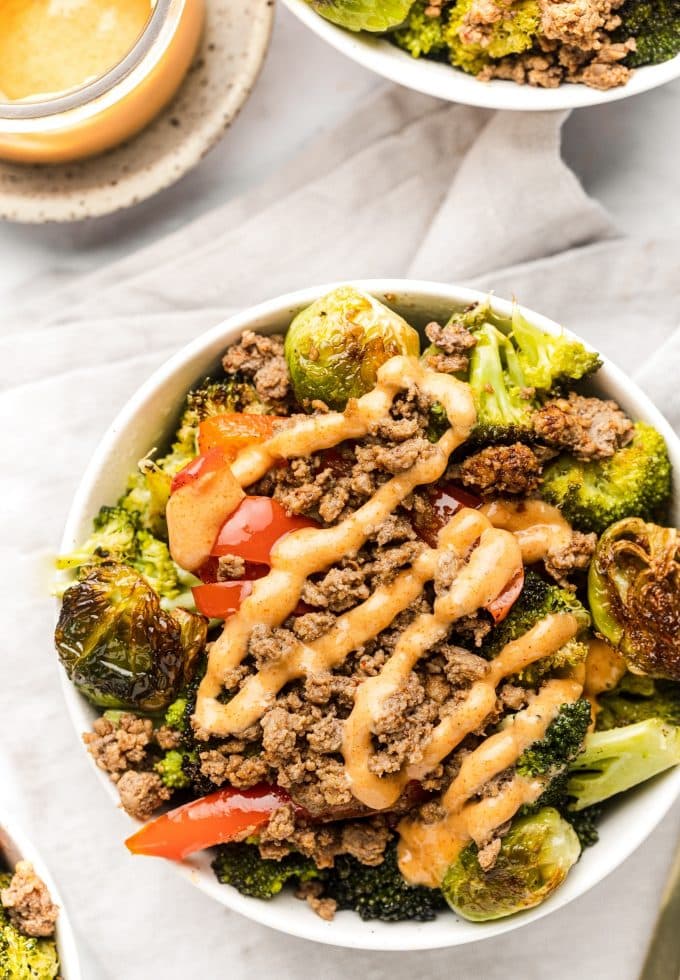 How to make this Whole30
The beef and vegetables are obviously Whole30 compliant already. The Comeback Sauce is Whole30 so long as you use a compliant mayo and ketchup. While you can obviously make your own (just google for an abundance of recipes), there are plenty of store-bought options that will work beautifully in my Comeback Sauce. I'll link to a few but you should always READ THE INGREDIENT LIST. Sometimes they change or a brand may have different varieties that aren't compliant so you don't want to get them confused. It's your Whole30 and your responsibility to make sure products are compliant. I hope these links are helpful!
Whole30 Mayo: Primal Kitchen Avocado Oil Mayo, Tessemae's Organic Mayo, Chosen Foods Classic Mayo, Sir Kensington's Avocado Oil Mayo
Whole30 Ketchup: Tessemae's Organic Ketchup, Primal Kitchen Organic Unsweetened Ketchup, Good Food for Good Organic Ketchup
How to store leftovers
Leftovers can be stored in an airtight container in the refrigerator for up to 3 days.
Does this freeze well?
Just store the finished Beef & Veggie Bowls with Comeback Sauce in a freezer bag or other freezer safe container. If using a bag be sure to squeeze out any excess air before sealing. This will be good in the freezer for up to 6 months.
When you're ready to enjoy just thaw it out and reheat on the stovetop or in the microwave.
More recipes like this:
Sausage and Veggies with Easy Mustard Sauce
Oregano Lemon Chicken and Potatoes
Pistachio Herb Crusted Salmon with Asparagus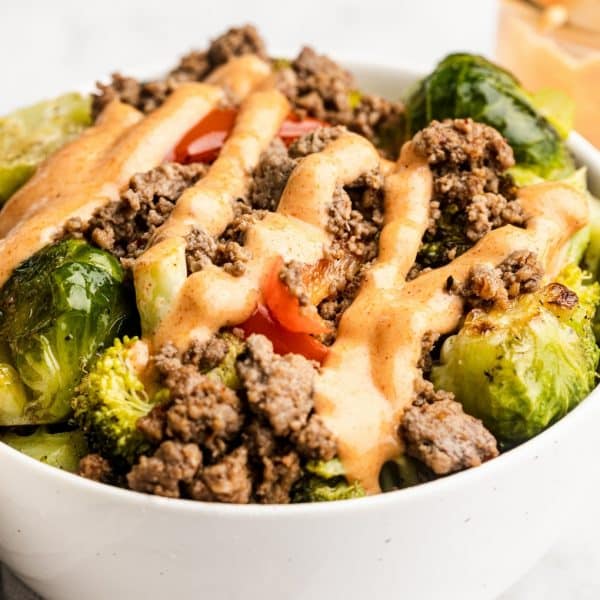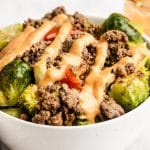 Beef & Veggie Bowls with Comeback Sauce
Throw together Beef & Veggie Bowls with Comeback Sauce when you need a quick tasty dinner! Easy and satisfying!
Ingredients
Beef
1 lb lean ground beef, I use 93/7. Can sub ground turkey.
1/2 tsp salt
1/2 tsp pepper
1/2 tsp chili powder
Veggies
20 – 24 oz fresh broccoli, Sometimes I use two 12 oz bags and sometimes it's two 10 oz bags. Just depends on where I'm shopping!
1 lb fresh brussels sprouts
1 bell pepper, color of choice
3 tbsp olive oil, extra virgin
1/2 tsp salt
1/2 tsp pepper
1/2 tsp garlic powder
Comeback Sauce
1/2 cup mayo
1 tbsp ketchup
1 tsp lemon juice
1/2 tsp Tabasco
1/2 tsp paprika
1/2 tsp garlic powder
1/2 tsp ground mustard
1/2 tsp salt
Instructions
Preheat oven to 425 degrees.

Cut any large broccoli florets in half or thirds. Add broccoli florets to baking sheet in a single layer.

Trim the bottom of each brussels sprout and peel away the first layer of leaves. That's where you usually see the dirt and any brown sprouts. Once this is done you'll have beautiful little bright green sprouts. Add them to your baking sheet in a single layer beside the broccoli.

Slice your pepper into strips. Spread in a single layer on baking sheet beside the other veggies.


Drizzle olive oil over all veggies. Sprinkle with salt, pepper, and garlic powder. Bake for 20 to 25 minutes.

While vegetables are roasting, add your ground beef (or turkey) to a skillet on the stovetop. Use your spatula to crumble the beef. Cook on medium high, stirring occasionally, until beef is browned. If your beef isn't very lean you may want to drain the grease. Stir in salt, pepper, and chili powder.

Add all Comeback Sauce ingredients to a bowl and stir together until well combined.

To assemble, divide all roasted veggies into bowls. Top with cooked ground beef and Comeback Sauce. You're ready to eat!
Notes
Nutrition information assumes that all of the Comeback Sauce is consumed so that comes to 1/8 cup of sauce per serving (assumes 4 servings). If you use less or more you'd need to adjust the calories.
Nutrition
Calories: 556kcal, Carbohydrates: 24g, Protein: 33g, Fat: 38g, Saturated Fat: 7g, Cholesterol: 82mg, Sodium: 1261mg, Potassium: 1357mg, Fiber: 8g, Sugar: 7g, Vitamin A: 2950IU, Vitamin C: 261.8mg, Calcium: 124mg, Iron: 5.7mg