Oregano Lemon Chicken and Potatoes
Chicken and potatoes sauté together in this easy skillet meal. Fresh oregano, lemon, and garlic flavor every bite!
Update: This recipe was originally published in 2020 and has been republished with all new photos.
This satiating meal comes together in just 30 minutes. It's simply flavored with lemon juice, a few seasonings, dried herbs, and fresh oregano. You'll love this for busy weeknights or even Sunday dinner!
While many skillet recipes tend to be lower carb and full of veggies (which you know I love), this beauty is truly a celebration of the potato. Because it's worth celebrating, right?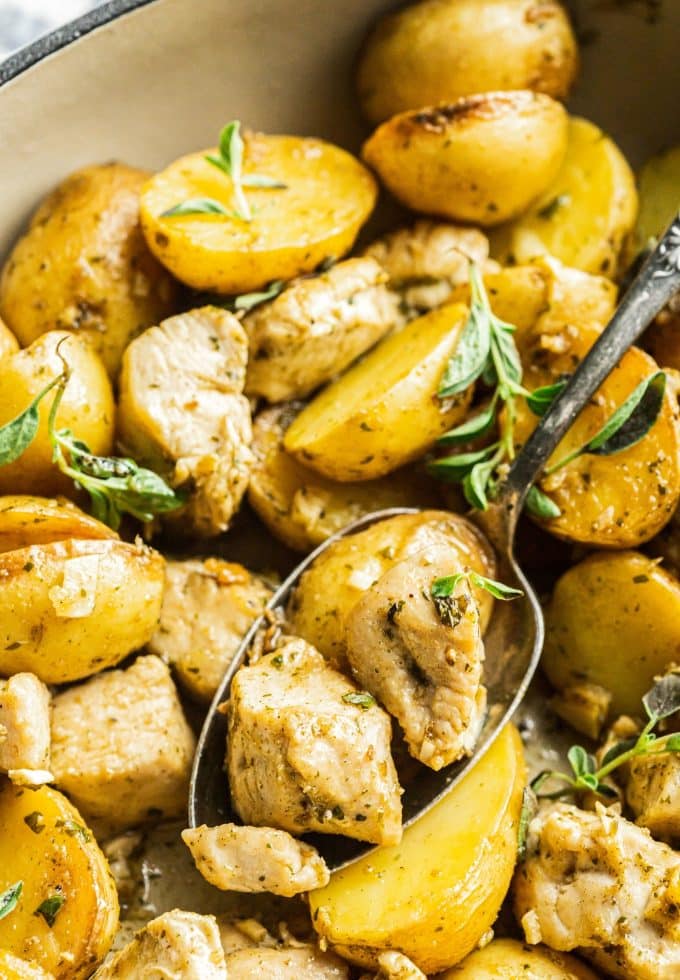 For this recipe you'll need (full list of ingredients and instructions are in the recipe card below):
Olive or avocado oil
Chicken breasts
Baby dutch yellow potatoes
Chicken stock
Lemon juice
Minced garlic
Herbs and seasonings
To start, brown your chicken and set aside. Then brown your potatoes so they're beautifully golden but not quite cooked through.
Now combine everything together with a few ingredients to create that yummy lemon sauce.
Cover and simmer until it's all cooked to tasty perfection.
Stir in fresh oregano and eat! How easy is that?!
What size skillet should you use?
I recommend an 11 or 12″ skillet. You'll be able to accommodate more food in the pan this way which ensures quick and even cooking. Using a skillet that's too small increases your cooking time. It also makes it much more difficult to achieve the browning we want on the chicken.
Chicken thighs or breasts?
Feel free to use boneless and skinless chicken breasts or thighs. I use breasts most often simply because that's what my family prefers.
Can you use a different type of potatoes?
Absolutely! I personally love baby dutch yellow potatoes in this skillet meal because they're easy to cut in half (amen for quick prep!) and have a naturally buttery flavor. But use what you have! Gold or yellow potatoes would be my back up pick. Simply cut them into 1 or 1 1/2 inch pieces so they're close in size to your chicken.
How to store leftovers
Leftovers can be stored in an airtight container in the refrigerator for up to 3 days.
Does this freeze well?
Just store the finished Oregano Lemon Chicken and Potatoes in a freezer bag or other freezer safe container. If using a bag be sure to squeeze out any excess air before sealing. This will be good in the freezer for up to 6 months.
When you're ready to enjoy it just thaw it out and reheat on the stovetop or in the microwave.
How to serve this
Enjoy as is or serve with a green vegetable to round everything out. My Roasted Brussels Sprouts, Garlic Green Beans, or Easy Roasted Broccoli would all be delicious!
More recipes like this:
Skillet Chicken & Brussels Sprouts
Garlic Crushed Red Pepper Chicken Stir Fry
Sheet Pan Lemon Chicken Dinner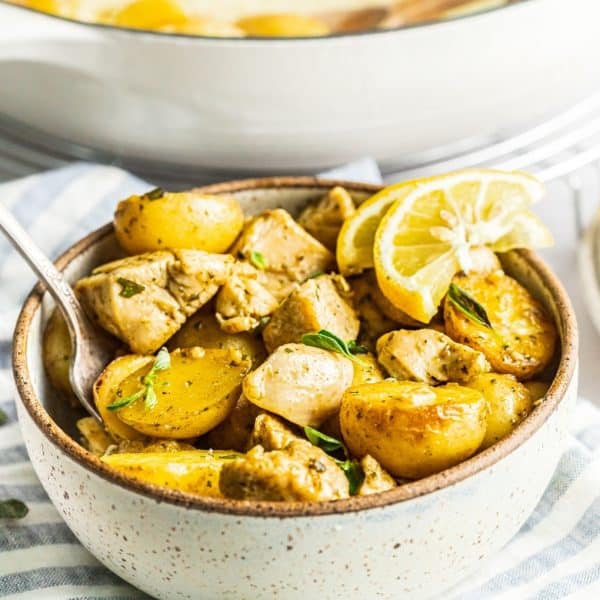 Oregano Lemon Chicken and Potatoes
Chicken and potatoes sauté together in this easy skillet meal. Fresh oregano, lemon, and garlic flavor every bite!
Ingredients
Chicken
1 1/2 lbs chicken breasts, boneless, skinless, cut into 1-inch pieces
1 1/2 tbsp olive or avocado oil
1/4 tsp salt
1/4 tsp black pepper
Potatoes
1 tbsp olive or avocado oil
1 lb baby dutch yellow potatoes, halved
1/2 cup chicken stock or broth
2 1/2 tbsp lemon juice
1 tsp garlic, minced
3/4 tsp salt
1/2 tsp onion powder
1 tsp dried thyme
1 tsp dried parsley
1 tbsp fresh oregano, chopped
Instructions
Add 1 1/2 tablespoon oil to a large skillet. Heat on medium high. Once pan is hot, add your chicken. Salt and pepper. Sauté for 3 to 4 minutes uncovered, flipping occasionally. Chicken should have some browning but should not be cooked through. Remove from skillet and set aside.

Add remaining tablespoon of oil to skillet. Now add potatoes and saute, stirring occasionally, for 10 minutes or until outside of potatoes are browned. Potatoes shouldn't be cooked through quite yet.

Reduce heat to medium. Add chicken back to skillet along with chicken stock, lemon juice, and minced garlic. Sprinkle with salt, onion powder, dried thyme, and dried parsley. Stir. Cover. Simmer for 5 to 7 minutes or until potatoes and chicken are cooked through.

Taste. Add more salt or lemon juice if desired. Stir in fresh oregano and serve!
Notes
Don't have baby dutch yellow potatoes? You can use any white or gold potato if you like. Just be sure to cut them into 1-inch pieces so they'll cook evenly with the chicken.
Nutrition
Calories: 356kcal, Carbohydrates: 17g, Protein: 40g, Fat: 14g, Saturated Fat: 2g, Cholesterol: 110mg, Sodium: 834mg, Potassium: 1155mg, Fiber: 3g, Sugar: 1g, Vitamin A: 72IU, Vitamin C: 19mg, Calcium: 67mg, Iron: 5mg