10 Minute Vegan Gravy
This easy vegan gravy is ready in 10 minutes or less! It's so simple and full of flavor. Serve over mashed potatoes this holiday season or any night of the week (because it's really too simple to just use on special occasions).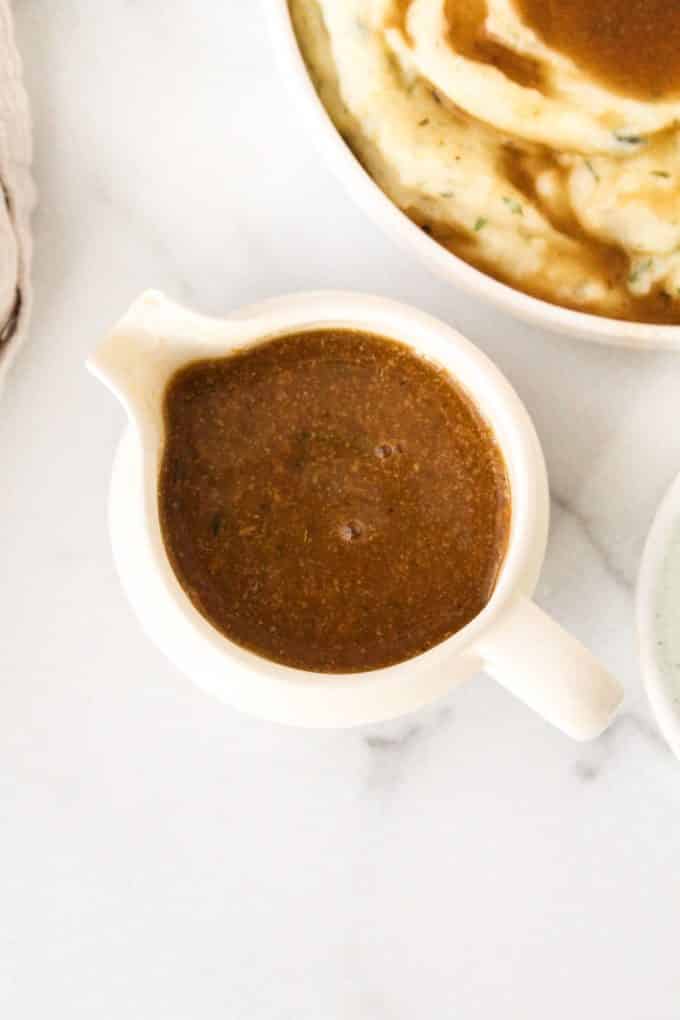 Gravy is my love language. Also garlic, lemon, potatoes, and roasted veggies. I apparently have a few. So it's important to me to be able to quickly throw together a delicious gravy even if I haven't prepared a chicken or turkey to get drippings from.
My 10 Minute Vegan Gravy just requires vegetable broth, nutritional yeast, coconut aminos, seasonings/herbs, and a thickener (I like tapioca flour). It really is so much like a traditional turkey gravy but requires absolutely no turkey. I bet if you make this once you'll find yourself whipping it up again and again. No sense waiting for Thanksgiving to make this one, friends!
For this recipe you'll need (full ingredients list and instructions are in the recipe card below):
Vegetable broth
Coconut aminos
Nutritional yeast
A few seasonings and dried herbs
Tapioca flour or another thickener
Everything except the tapioca flour goes right into a medium pot on the stovetop. Bring to a boil and then reduce to medium-high heat. Simmer for a few minutes.
To thicken this gravy, shake equal parts tapioca flour and water together in a small jar. Whisk the flour slurry into the gravy. Remove from heat and serve! (If you'd like to use a different thickener you can find more info on that below.)
What is coconut aminos?
Coconut aminos is a soy sauce alternative that's similar in flavor but a little sweeter. It's gluten-free, vegan, Paleo, Whole30, and low-glycemic. It contains a wide range of minerals including vitamin C and 17 amino acids. It also has as much as 65% to 75% less sodium than soy sauce. That's a lot, right? Typically the ingredients are simply coconut tree sap and salt.
Can you sub soy sauce for coconut aminos?
Soy sauce is a lot saltier and has a much stronger flavor so while you can certainly use it it's not a 1:1 swap. I'd recommend starting with just a teaspoon and giving the gravy a taste before adding more. Then add a little at a time until you've achieved the taste you desire.
Can you add mushrooms or onions?
This gravy is designed to be very simple and smooth so there are no mushrooms or onions included. If you'd like to incorporate them sauté them separately before adding the other gravy ingredients. Or if you're looking for a mushroom gravy I'd recommend just trying my Vegan Mushroom Gravy recipe instead.
Ways to Thicken this Gravy
Let's talk about 3 simple ways to thicken this gravy and which I recommend:
Tapioca flour (also known as tapioca starch) is my preferred method. It's made from the roots of the cassava plant. It's also grain free, gluten free, and super easy to work with! To use it as a thickener I like to shake it in a small jar with equal parts water and then whisk the flour slurry into the gravy. This is the same way I use arrowroot flour but I've found that it holds its thickening abilities far better than arrowroot.
Arrowroot flour (also know as arrowroot starch or powder) is another grain free and gluten free thickener. It's made from the arrowroot plant, maranta arundinacea. To thicken with it I recommend creating a flour slurry (just as I mentioned above for tapioca flour), removing the pan from the heat, and then whisking it into the gravy. While effective, arrowroot flour is a bit finicky though. It loses its thickening ability if you reheat the gravy and it can get clumpy if added to something that's on direct heat. You can absolutely use it, just know that it takes a little finesse.
All Purpose Flour is of course the classic gravy thickener. If you're not eating gluten free or grain free this is a good option. To use it as a thickener you'll need to let it simmer (it doesn't thicken immediately like tapioca or arrowroot). Add it with all other ingredients and let everything simmer, stirring frequently, until thickened.
Can you make this gravy ahead of time?
Absolutely! Just reheat it on the stovetop or in the microwave before serving. (If you use arrowroot flour as your thickener the gravy will thin during reheating so I'd suggest sticking with tapioca flour or all purpose flour.)
How to store this gravy
Store leftovers in a sealed airtight container in the refrigerator for up to 5 days.
10 Minute Vegan Gravy
This easy vegan gravy is ready in 10 minutes or less! It's so simple and full of flavor. Serve over mashed potatoes this holiday season or any night of the week (because it's really so simple).
Ingredients
32 oz vegetable broth, 4 cups
2 tbsp coconut aminos
2 tbsp nutritional yeast
1 tsp dried rosemary, I prefer crushed if you can find it
1/2 tsp garlic powder
1/2 tsp salt
1/2 tsp onion powder
1/2 tsp thyme
1/4 tsp black pepper
1 1/2 tbsp tapioca flour
Instructions
Add all ingredients except for the tapioca flour to a medium sized pot. Bring to a boil. Reduce to medium-high heat and simmer, stirring occasionally, for 5 to 10 minutes.

Taste and add more salt or garlic powder if desired. (The amount you need can vary depending on the brand of vegetable broth you need.)

In a small container combine 1 1/2 tablespoons tapioca flour and 1 1/2 tablespoons water. Shake. Pour the mixture into your gravy and whisk so it's thoroughly mixed in. You'll notice the gravy begins to thicken immediately. Remove from heat and serve over mashed potatoes or rice. (Do not continue to simmer or it will continue to reduce which means less gravy for everyone and that's never a good thing.)
Notes
This gravy continues to reduce as it cooks and makes about 3 cups of gravy.  Don't have tapioca flour? Above the recipe card you'll find instructions for using arrowroot flour or all purpose flour instead of tapioca flour. 
Nutrition
Serving: 0.5cup, Calories: 31kcal, Carbohydrates: 6g, Protein: 1g, Fat: 1g, Saturated Fat: 1g, Polyunsaturated Fat: 1g, Sodium: 1009mg, Potassium: 59mg, Fiber: 1g, Sugar: 1g, Vitamin A: 331IU, Vitamin C: 1mg, Calcium: 2mg, Iron: 1mg