Salisbury Steak in Mushroom Gravy
This Salisbury Steak in Mushroom Gravy is the kind of comfort food you need in your life. It's incredibly easy to make and that gravy is lick your plate good.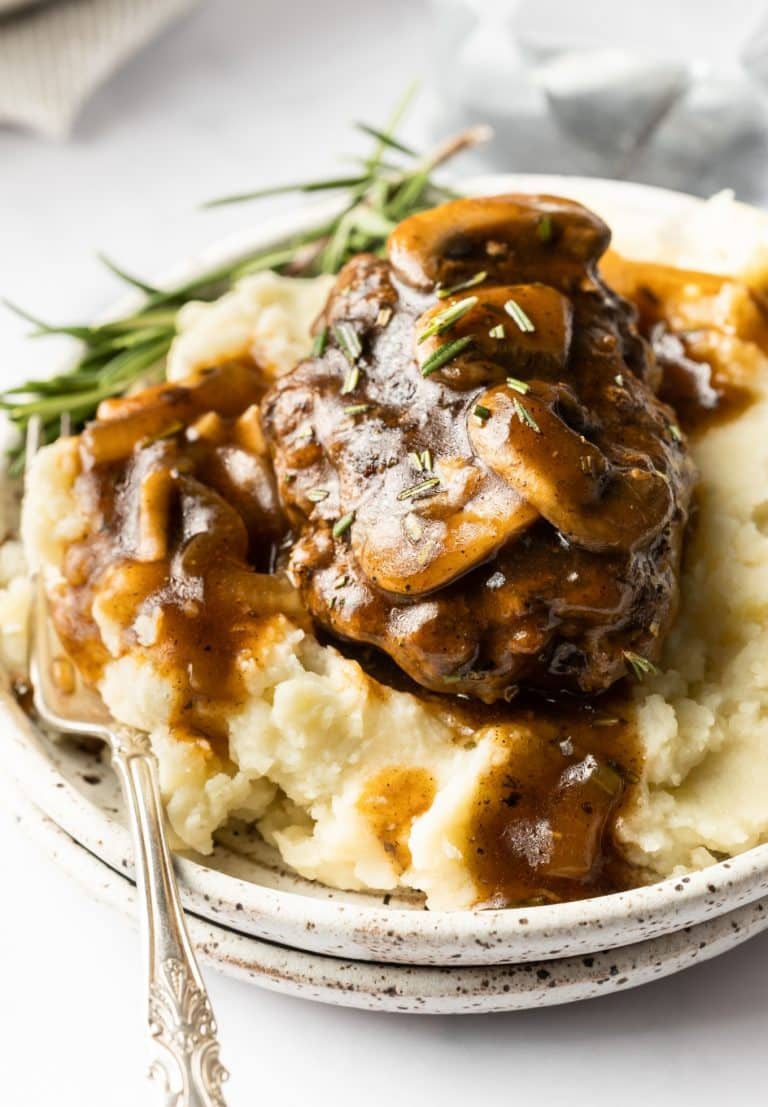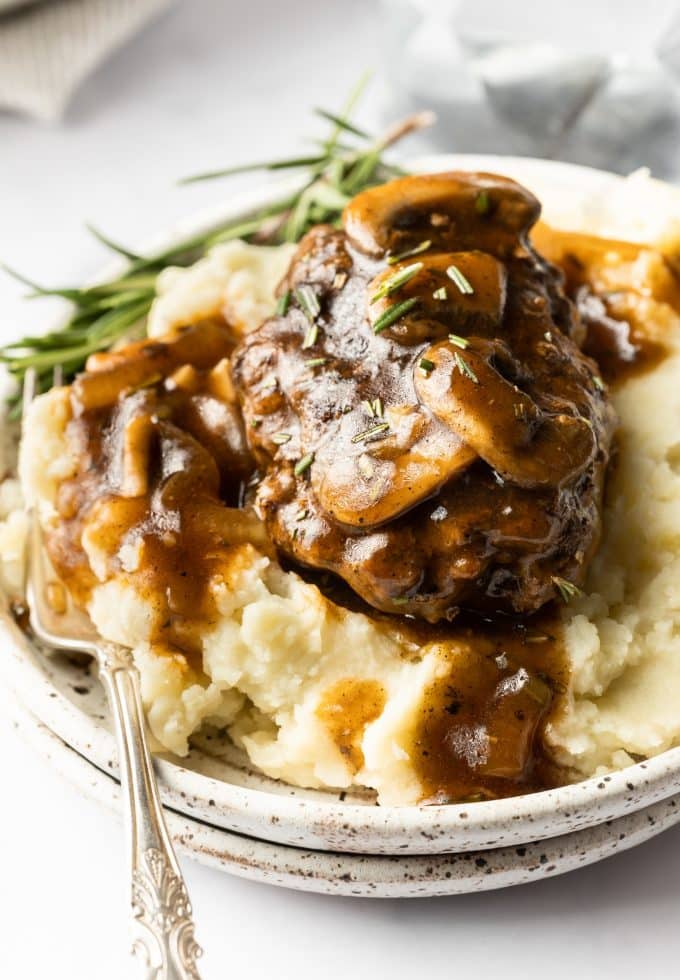 Update: This recipe was originally published in 2019 and has been republished with all new photos.
Salisbury Steak in Mushroom Gravy is one of those dishes that I could really eat on repeat. It just warms me right up and gives me all the good feelings. Like pot roast or a beef chili!
My version doesn't include breadcrumbs because we're keeping this healthy and easy. But it really truly tastes like the classic dish even with these good for you swaps.
For this recipe you'll need (full list of ingredients and instructions are in the recipe card below):
Ground beef
Egg
Onion
Mushrooms
Olive oil
Beef stock
Minced garlic
Tomato paste
Fresh rosemary
Arrowroot flour
A few simple seasonings
To begin we'll mix a few ingredients together and form our burger patties. They go in the skillet with a cooking fat of your choosing. I tend to use olive oil but ghee or avocado oil would also work. Brown both sides of the meat. Don't worry about cooking it completely through yet. We just want that gorgeous coloring on there.
Then remove the burgers from the pan and make that gravy! Your onions and mushrooms will sauté for a quick minute or two to get them soft and fragrant. Add the rest of the gravy ingredients along with your burgers. Cover. This is that magical part of your dinner prep when everything cooks together and that gravy infuses the beef with so much good flavor.
I thicken my gravy with arrowroot flour. It tastes like nothing and blends beautifully. A one pound bag costs me $6.99 at Whole Foods and it lasts for an eternity since I only use a tablespoon or two at a time.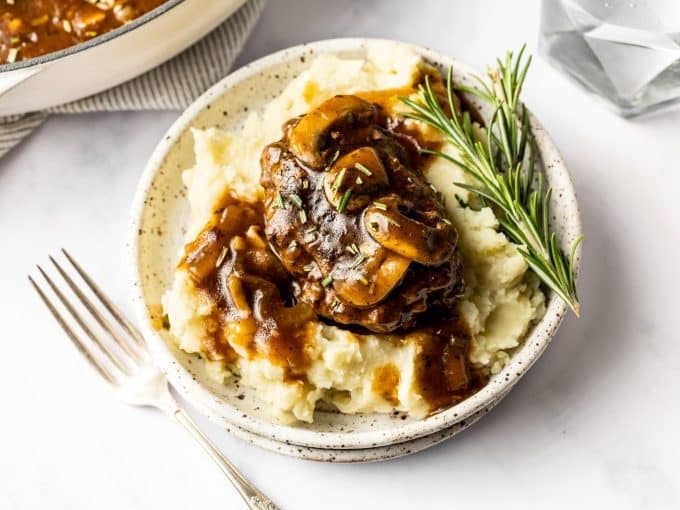 What is arrowroot flour
Arrowroot flour is a starch extracted from the arrowroot plant and it is a fantastic substitute for cornstarch or regular white flour for thickening. It's a lot less processed, completely flavorless, and blends into everything. It cannot be used in exactly the same way as other thickeners so be sure to follow recipe instructions so you're using it correctly. In this recipe (and in many of my recipes) I like to shake it with equal parts cool water to create a slurry. Then I add that into whatever I'm thickening at the end of my cooking time. (Heating it too long can make it lose its ability to thicken.)
Can you skip the mushrooms?
Sure! The gravy doesn't rely on the mushrooms for much flavor so you could omit them and still achieve a really satisfying dish.
Can you use beef broth instead of stock?
Absolutely. I do it all the time. The flavor difference is usually fairly minor. Just adjust the seasonings at the end if necessary.
How to serve this
I recommend serving this rich entree over my Light & Creamy Mashed Potatoes to really take advantage of all that glorious gravy.
Want to make this low carb? Serve over a cauliflower mash, cauliflower rice, zoodles, roasted veggies, or spaghetti squash.
More recipes like this: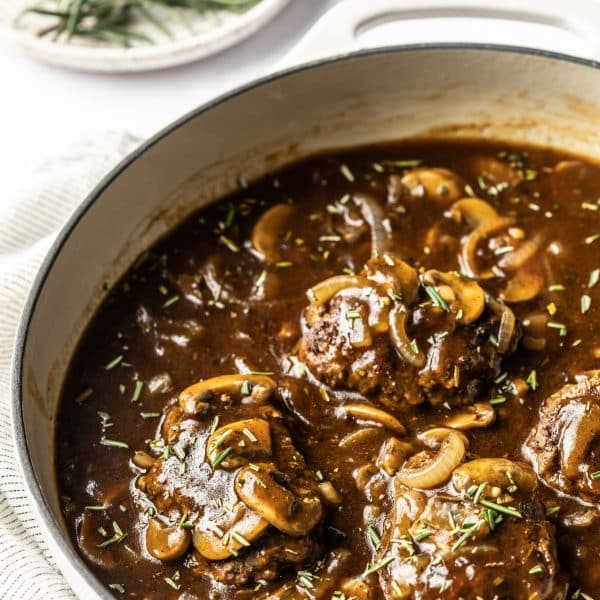 Salisbury Steak in Mushroom Gravy
This Salisbury Steak in Mushroom Gravy is the kind of comfort food you need in your life. It's incredibly easy to make and that gravy is lick your plate good. Plus it's dairy free, gluten free, and Whole30 compliant.
Ingredients
Salisbury Steaks
1 lb lean ground beef
1 egg
1/4 tsp salt
1/4 tsp pepper
1/4 tsp onion powder
1/4 tsp garlic powder
2 tbsp olive oil, extra virgin
Mushroom Gravy
1 medium white or yellow onion, thinly sliced
8 oz mushrooms, fresh
1 tbsp olive oil, extra virgin
3 cups beef stock or broth
1 tbsp minced garlic
2 tbsp tomato paste
1 tbsp fresh rosemary, chopped
1/4 tsp salt
1/4 tsp pepper
1 tbsp arrowroot flour
1 tbsp water
Instructions
Salisbury Steaks
Combine the lean ground beef, egg, salt, pepper, onion powder, and garlic powder in a large bowl. Use your hands to mix ingredients together and form four patties of the same size.

Heat 2 tablespoons of olive oil (or another cooking fat) in a skillet on medium high heat. 

Place your patties in the skillet. Pan should be hot so you'll hear that sizzle when the meat touches the oil. Brown both sides of the hamburger patties, about 4 to 5 minutes per side. Remove the patties from the skillet and set aside.
Mushroom Gravy
Add mushrooms and onions to the skillet along with 1 tablespoon of oil. Reduce heat to medium or medium-low. Sauté for around 2 to 3 minutes so that your onions start to wilt. 

Return patties to skillet with the mushrooms and onions. Also add beef stock, tomato paste, minced garlic, chopped fresh rosemary, salt, and pepper. Cover and let everything simmer for 10 minutes. (Your gravy should bubble a little but not truly boil.)

Remove patties from skillet again. Turn off heat. In a small container combine arrowroot flour and water. Shake. Pour the mixture into your gravy and whisk so it's thoroughly mixed in. You'll notice the gravy begins to thicken immediately. Return the patties to the skillet. You're ready to serve!
Notes
Depending on how you buy your ground beef, it can be tricky to get exactly one pound. That's not a problem. I've used a package of 1.15 lbs with no issue so just get close to a pound and you'll be good to go. Make sure you've turned off the stove heat before stirring in your arrowroot flour and water mixture. Unlike flour you don't want to really cook the arrowroot flour into your food or it can lose some of its thickening ability. 
Nutrition
Serving: 1steak + a fourth of gravy, Calories: 317kcal, Carbohydrates: 9g, Protein: 31g, Fat: 17g, Saturated Fat: 11g, Cholesterol: 111mg, Sodium: 805mg, Potassium: 1042mg, Fiber: 1g, Sugar: 4g, Vitamin A: 180IU, Vitamin C: 5.6mg, Calcium: 44mg, Iron: 4mg