How to Make a Faux Boxwood Wreath
As I began decorating our new home I knew that I wanted to hang two window panes with boxwood wreaths in the center of each. When I priced them out I saw that I could easy spend $50 – $75 per wreath. Ummm that's a no.
Thankfully I was able to quickly create my own for about $15 per wreath. That's a huge savings and I am so happy with the result! Today I'm sharing how I created mine for very little money in about 30 minutes.
What you'll need (for one):
Grapevine wreath. Hobby Lobby sells these for $2 – $16 per wreath depending on the size you want. For my living room I chose a 14″. It was $3.99! You can't beat that. Of course if your wreath is for your front door you'll likely want to go bigger.
Plastic greenery. Any good craft store will have lots to choose from. Mine is from Hobby Lobby and they have several aisles of it. Choose very small leaves to achieve the boxwood look. You can go with long strands or with the smaller bushes. Just make sure that you can easily pull the stems off. I did a mix of both a strand and two bushes. They were $7.99 each at full price but of course it's Hobby Lobby so they were 50% off (they go on sale every other week) which brought my greenery total to $10.50.
Hot glue gun & plenty of glue sticks. I always have this on hand. I swear I've hot glued basically everything in my home.
Let's get started!
This wreath is as simple as gluing the greenery to your grapevine wreath. Yes, you could use a foam wreath and jab it 200 times with greenery. That's not my preference. I just love grapevine. It's natural, more substantial than foam, and beautiful on it's own so you're not freaking out about covering every little piece of it. Plus it's a lovely way to repurpose something!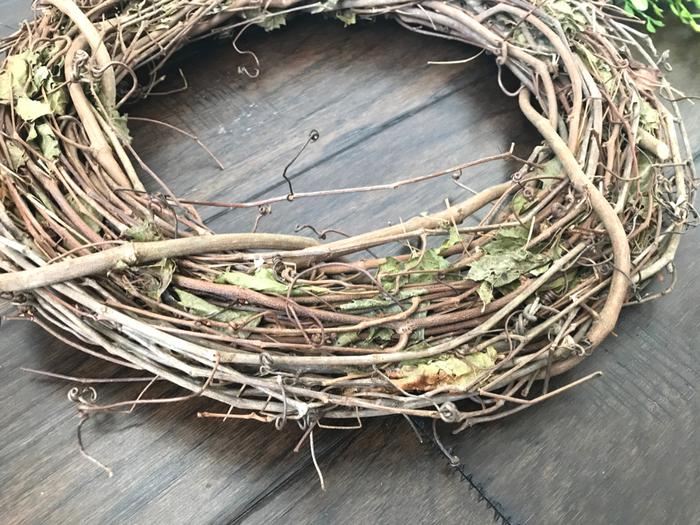 Pull your greenery stems off the bush or strand. They're attached with plastic and come apart really easily. This was the job I gave my three year old. She loved creating a pile of stems and it was honestly a big help because I could just focus on the gluing.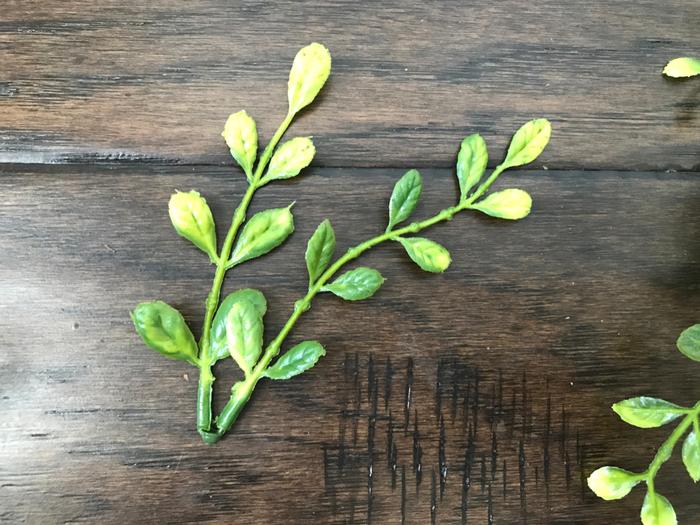 If your hot glue gun has varying heat settings I'd recommend a low setting for this project. High heat can melt the plastic greenery.
Glue each strand to the front of your wreath so they all go in the same direction. This creates that boxwood look. Continue until you've achieved the fullness you're looking for.
Now glue some greenery around the outside and inside of the wreath. You don't have to do much there because very little of it gets seen when it's hung. No need to do the back.
The amount of greenery you use overall is really up to you. Some prefer a very tight look where the greenery is completely attached to the grapevine. I like a lot of fullness with some of my greenery extended off the wreath a bit.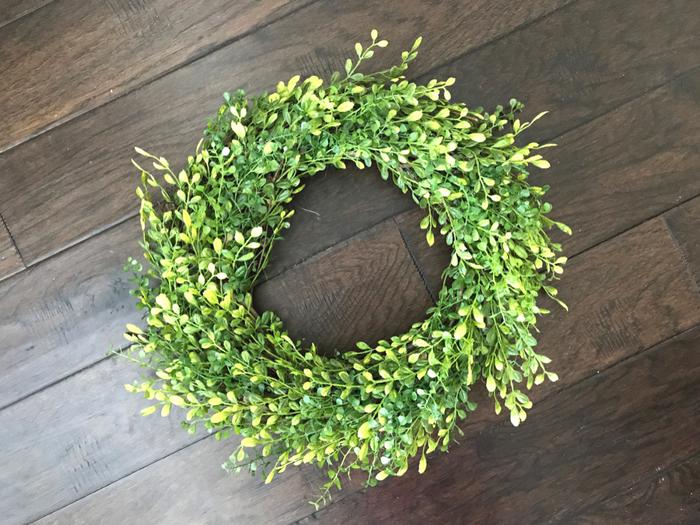 Before you hang your wreath you'll want to remove any excess glue strands that are visible. Just pull them off as you see them.
Hang with burlap ribbon or directly on a hook or nail. The wreath isn't heavy so a damage free plastic hook worked great for me. I just stuck it to the glass of the window pane and voila!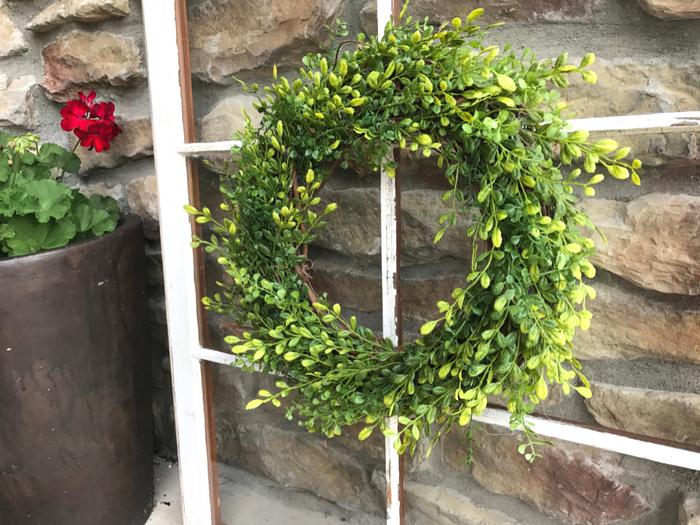 Here are the finished wreaths hung in our living room! Yes, that's a box of markers in the left cabinet. I have small children. I spend all my money on markers and that's why I have to make my own wreaths. (Kidding.)
I hope this is helpful for you! If you do make your own faux boxwood wreath I'd love to see it! Tag me on Instagram if you share your wreath so I can check it out!
Save
Save
Save