Quick Sausage & Spring Veggies
This light and simple meal includes sausage, crispy bacon, tender asparagus, and peas. It's easy, fast, and all cooks together in a skillet!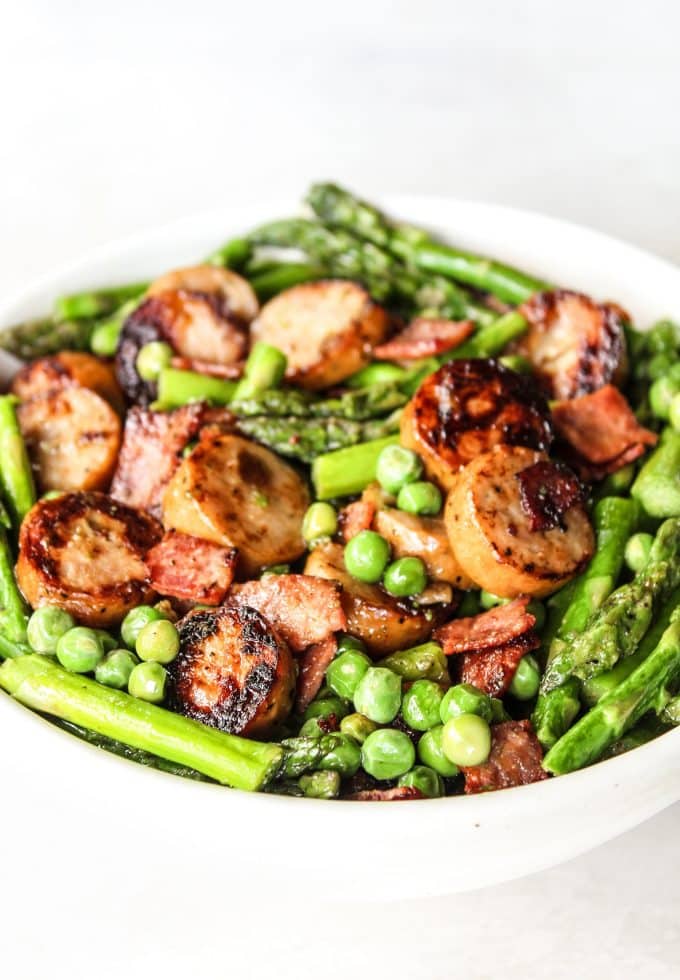 Now you know I love a one pan meal, friend. Anything that makes dinnertime painless is a win for me. For this beauty I focused on spring veggies and fast cooking proteins. So not only is this recipe flavorful (and it is), it's also ready in less than 20 minutes!
We'll start with getting that bacon nice and crispy. Then add in the sausages to give them some browning. (I like to use Applegate chicken sausages and Wellshire turkey bacon, but use whatever your favorites are.) Once that's done, set it all aside and move on to the spring veggies.
Your asparagus and peas will cook quickly with ghee, lemon juice, and seasonings. When they're close to done toss the sausage and bacon back to the pan with minced garlic. Stir and let everything heat through. Time to eat!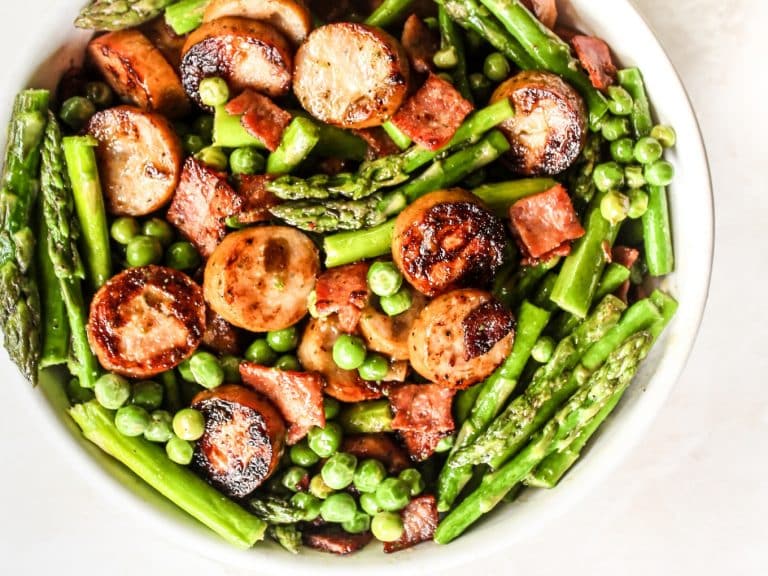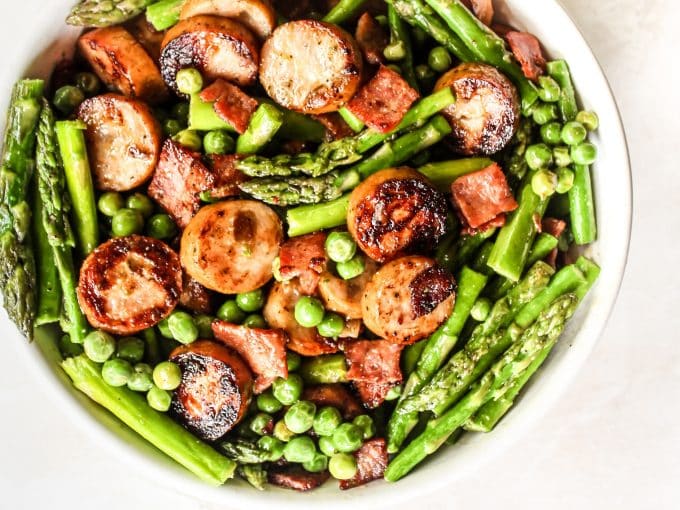 Are you doing a round of Whole30? Did you hear that after a billion years (slight exaggeration) of not allowing peas, the fine folks on the Whole30 team changed their position? You can find more info on that on the Whole30 website. But the final word is that yes, you can enjoy peas even if you're participating in Whole30.
When my son was a toddler he snacked on peas all the time. Just steamed peas with nothing on them. They're so soft and have such a mild flavor that I always thought they were perfect for him to enjoy at that age.
Over time he's lost interest so I like to work peas into other dishes. Peas in a pasta? Yes. Peas in a soup? Of course. How about peas in this tasty skillet meal? Oh yeah baby. Let's do that.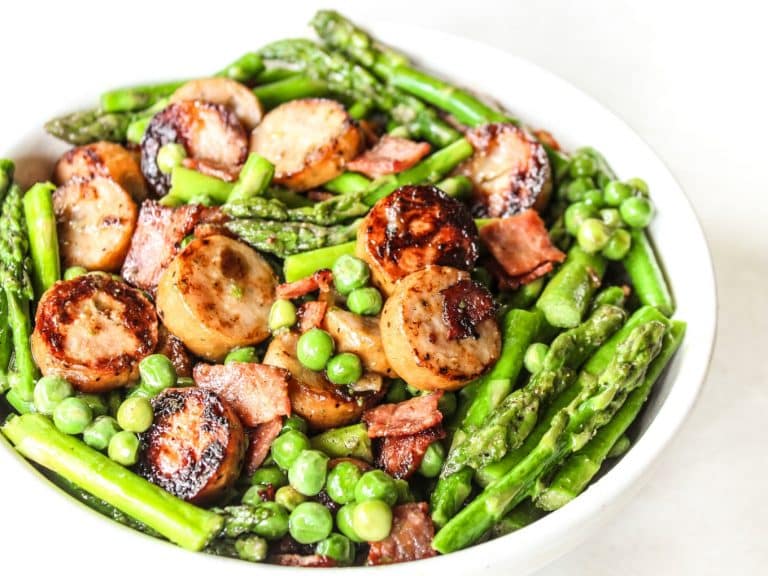 Hey, if you love quick meals ready in 30 minutes or less, don't forget that my cookbook, Clean Paleo One-Pot Meals, is available for pre-order now! You can find out more here.
More recipes like this:
20 Minute Skillet Sausage & Zucchini
Easy Sausage & Cabbage Skillet
Sheet Pan Sausage, Potatoes, and Green Beans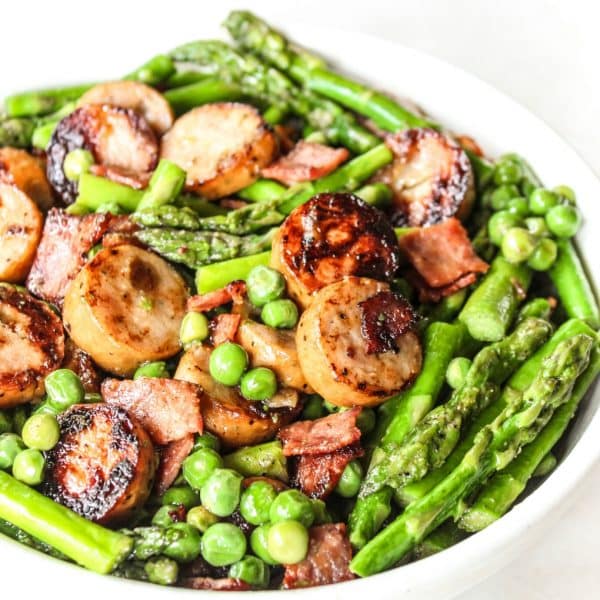 Quick Sausage & Spring Veggies
This light and simple meal includes sausage, crispy bacon, tender asparagus, and peas. It's easy, fast, and all cooks together in a skillet!
Ingredients
1 tbsp olive or avocado oil
4 fully cooked sausages, sliced into circles, 1/4-inch thick
4 slices bacon, diced, I prefer turkey bacon.
2 tbsp ghee, If dairy-free, use olive or avocado oil.
1 tbsp lemon juice
1 lb asparagus, trimmed, cut into thirds
8 oz english peas, shelled
1/2 tsp salt
1/2 tsp black pepper
1/4 tsp garlic powder
1 tsp garlic, minced
Instructions
Add diced bacon to a large skillet. Sauté on medium to medium-high heat until almost crispy, stirring occasionally. If using turkey bacon (my preference) add the oil with the bacon (instead of waiting for the sausage) because it will need the extra fat. When bacon pieces are close to crispy, add oil and sliced sausage. Sautè, flipping sausage frequently, for 2 to 3 minutes or until sausage slices have some browning and bacon is crispy. Remove sausage and bacon from pan and set aside.

Add ghee (or an oil if dairy-free) to skillet with the asparagus and peas. Sprinkle with salt, pepper, and garlic powder. Add lemon juice. Stir and cook for 3 to 4 minutes or until asparagus is crisp tender.

Reduce heat to medium (if you were on medium-high). Add sausage and bacon back to the skillet along with minced garlic. Stir. Cover so everything heats through for 1 to 2 minutes. Taste. Add extra salt if desired. 
Notes
Nutrition information assumes chicken sausage and turkey bacon are used.
Nutrition
Calories: 392kcal, Carbohydrates: 18g, Protein: 23g, Fat: 27g, Saturated Fat: 9g, Cholesterol: 93mg, Sodium: 1486mg, Potassium: 421mg, Fiber: 5g, Sugar: 6g, Vitamin A: 1584IU, Vitamin C: 32mg, Calcium: 41mg, Iron: 4mg