Skillet Breakfast Potatoes
These breakfast potatoes are obsession-worthy. Crispy edges, tender on the inside, and so easy to make. Don't let the name fool you! These beauties definitely aren't just for breakfast either! They're delicious as a side at dinner too.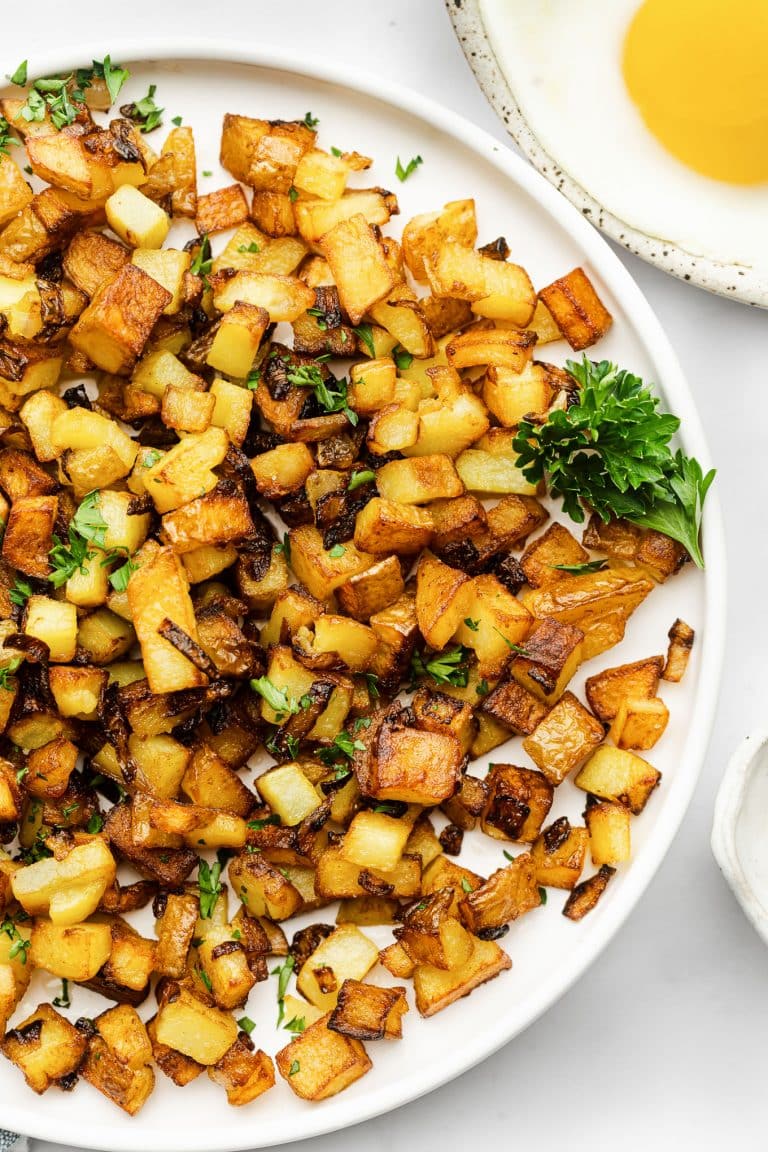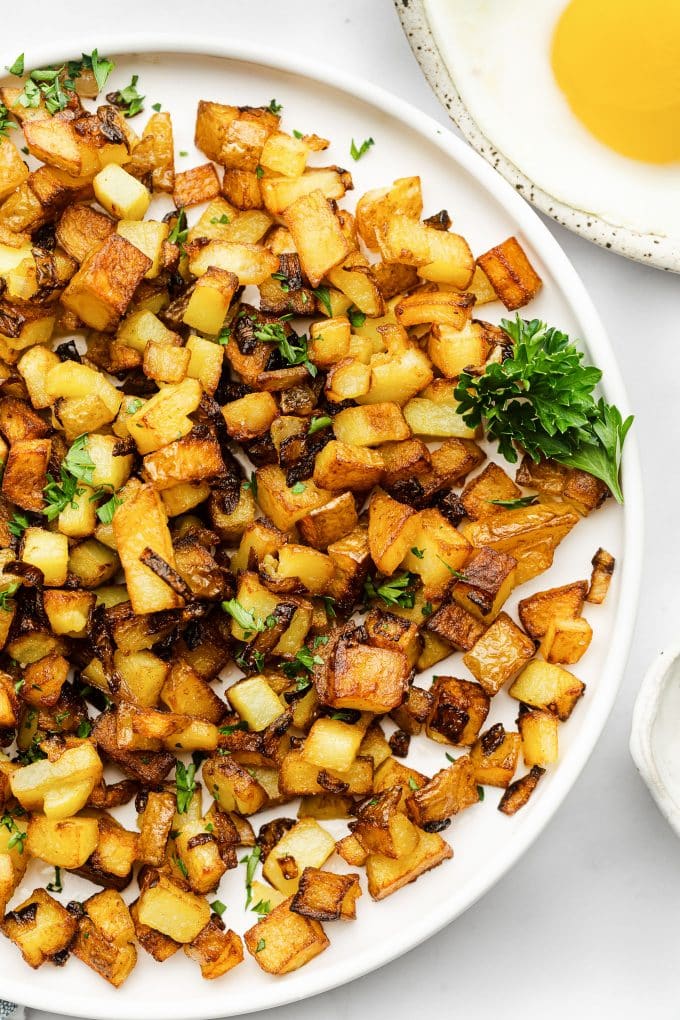 Update: This recipe was originally published in 2018 and has been republished with all new photos.
When I say I make these potatoes two to three times a week I am not kidding. I've been making these for years and never tire of them. They're quick and require all ingredients I typically have on hand already. All good reasons to break out the skillet, right?
 You can use any potatoes you like but I prefer gold or yellow potatoes. They produce a more buttery flavor without any actual butter. Other items you'll be needing are olive oil (I use EVOO), a white or yellow onion, salt, and pepper. That's it. Really. No need to complicate this one, folks. Sometimes keeping it simple really is best.
These make a yummy addition to your breakfast with a little chicken sausage or fried egg on top. I also serve them as a side dish with dinner when I need something fast.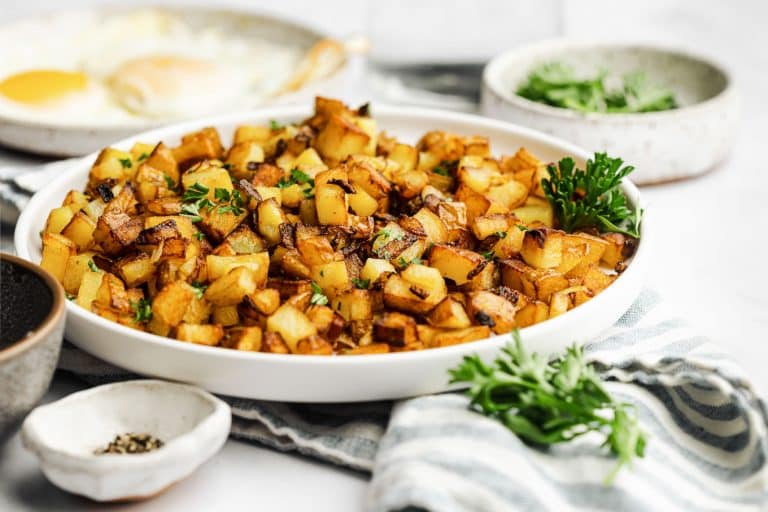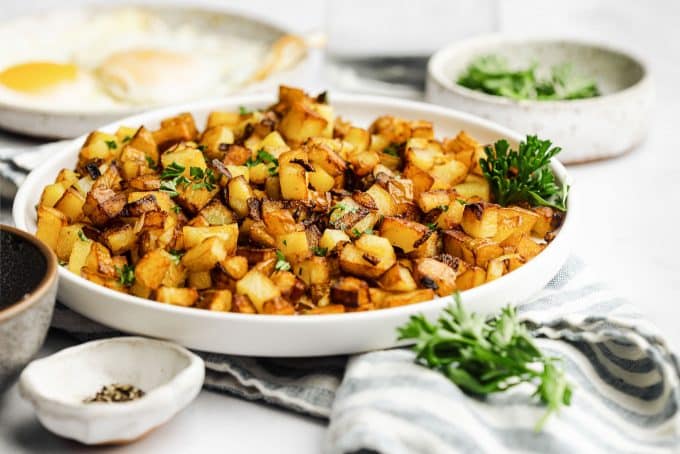 For this recipe you'll need (full list of ingredients and instructions can be found in the recipe card below):
Olive oil
Potatoes
Onion
Salt
Pepper
What potatoes are best to use?
Any potato will work but I prefer yellow or gold potatoes for that buttery flavor.
Ways to customize these potatoes
I've designed this recipe to be a simple side but you can customize it further with some of these ideas:
Amp up the seasonings with chili powder, paprika, garlic powder, onion powder, and/or dried oregano.
Add 1/2 a diced bell pepper to the skillet with the onion. (Or just go with my Southwestern Skillet Potatoes if that's what you're craving.)
Chop up a fully-cooked chicken sausage and add it to the skillet when your potatoes are pretty close to done. It will brown quickly and add some protein to this delectable side.
Stir in fresh chopped herbs like parsley, basil, or oregano before serving.
If you want to turn these potatoes into a complete meal just add eggs! I like to scramble mine in a bowl with a little water, salt, and pepper. Follow the recipe instructions to let the potatoes completely cook. When the potatoes are done, pour in your egg mixture. Keep the heat on medium low or low and stir the eggs into the potatoes. They'll cook super fast since the skillet and potatoes are already hot. Now you have a meal!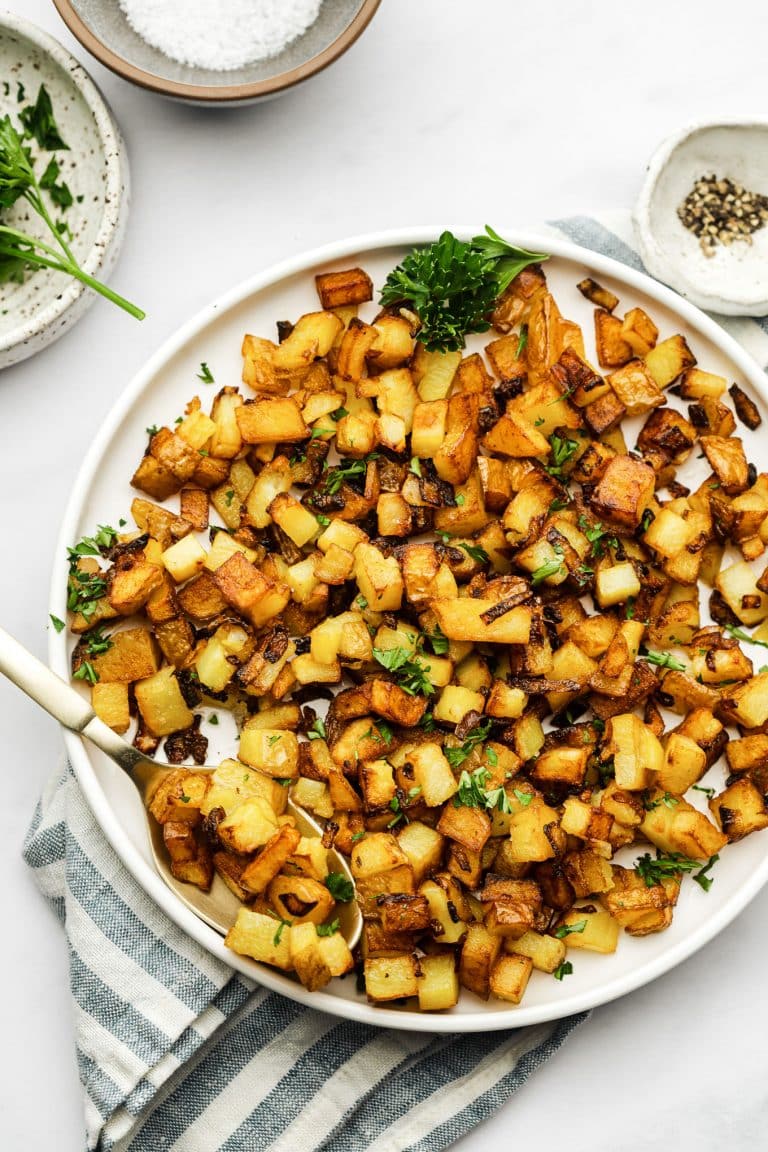 Tips to perfect skillet potatoes
The trick to successful Skillet Breakfast Potatoes is getting the outside a touch crispy while the inside is soft. To do this you'll want to do three things.
Make sure you're chopping your potato into small pieces that are the same size. Sloppy cutting can lead to some potato bits being overdone while some are underdone. Take the time to dice your potatoes well.
Don't overload your pan with too many potatoes. They should spread evenly in the pan to create a single layer. If you pile the potatoes too high you'll have a hard time browning them.
Don't cover your potatoes until potatoes are browned. Covering will make them cook faster but they'll also turn awfully mushy. It's better to leave the lid off and stir occasionally so you brown all sides. After browning is complete you can cover for an additional two to three minutes to ensure everything is cooked through.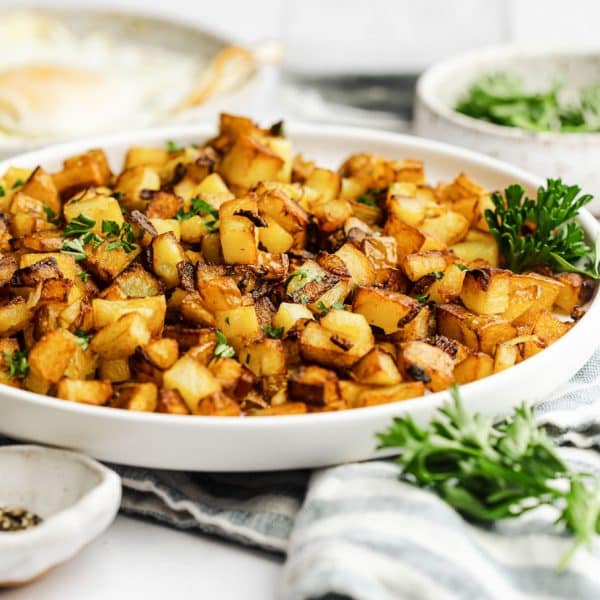 Skillet Breakfast Potatoes
Skillet Breakfast Potatoes are a yummy addition to any meal (even dinner). They're so simple to make with only a few ingredients you probably already have on hand.
Ingredients
2 – 3 tbsp olive oil, extra virgin
4 medium gold potatoes, diced
1/2 medium white or yellow onion, diced
salt & pepper to taste
Optional: fresh chopped herbs
Instructions
Heat 2 tbsp oil in a large skillet on medium high heat.

Once oil is hot, add the diced potatoes and onion to the skillet. Sauté, stirring occasionally, for 10 to 15 minutes, until sides of potatoes have browned. (If your potatoes aren't diced small it will take longer to brown the sides.) Add another tbsp of oil if needed.

If potatoes have browned but don't seem a little soft to the touch cover the pan with a lid and reduce heat to medium for 2 to 3 minutes.

Salt and pepper to taste. Serve as is or garnish with fresh herbs before serving.
Notes
Don't overload your skillet or your potatoes will take a long time to brown. You want to have almost a single layer evenly distributed in your pan. Nutrition information assumes that you used 2 tbsp olive oil. You can easily double this recipe to feed more people! That (plus how easy it is) is why it's such a hit when entertaining!
Nutrition
Calories: 198kcal, Carbohydrates: 31g, Protein: 4g, Fat: 7g, Saturated Fat: 1g, Polyunsaturated Fat: 1g, Monounsaturated Fat: 5g, Sodium: 11mg, Potassium: 736mg, Fiber: 4g, Sugar: 2g, Vitamin A: 4IU, Vitamin C: 35mg, Calcium: 24mg, Iron: 1mg