Smashed & Roasted Italian Potatoes
Smashed & Roasted Italian Potatoes are crispy on the outside, buttery, and big on flavor! You won't want to stop eating them!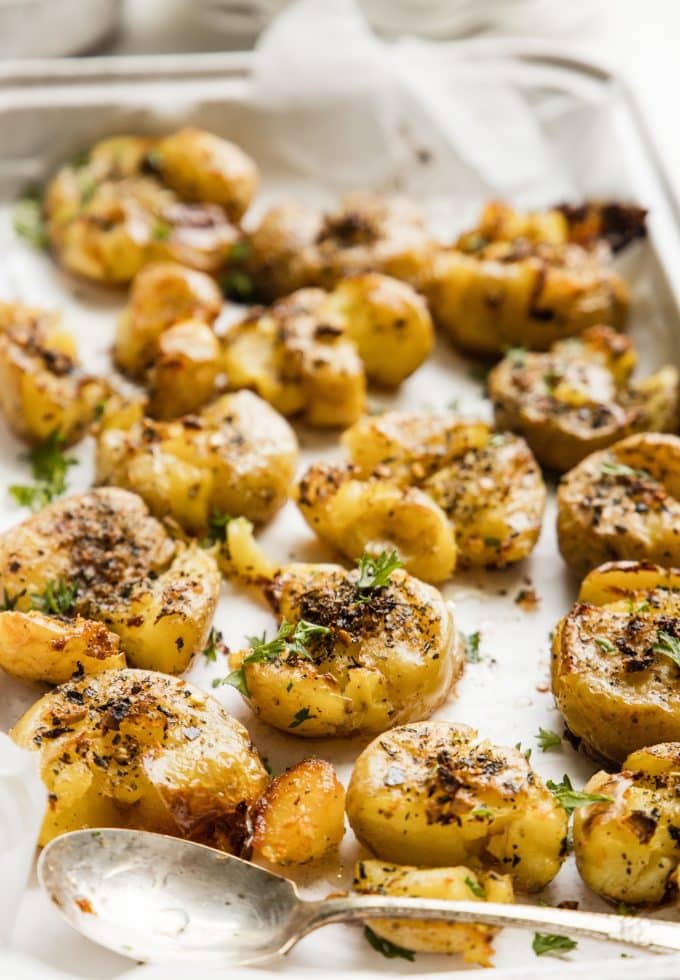 Update: This recipe was originally published in 2018 and has been republished with all new photos.
These Smashed & Roasted Italian Potatoes are a twist on one of my favorite recipes, Rosemary Garlic Smashed Potatoes. That's a lot of smashing and roasting going on. And that's a very very good thing, friend.
These are spicier than my original recipe because the homemade seasoning includes crushed red pepper. They're not hot but there's definitely a little kick.
To achieve the right amount of crispiness these potatoes cook twice. First, in a pot of water. Second, in the oven. It's not hard and it's most definitely worth the extra effort. Give the potatoes a quick boil to soften them up so they're ready to be smashed. Then gently press down on each potato with a potato masher, add spices for lots of big flavor, and roast. When they come out of the oven they are crispy, buttery, and oh so incredible.
I add a little fresh chopped parsley on top after baking for color. (Y'all know I can't stop myself from using fresh herbs in all the things.)
Trust me, there is nothing boring about these guys. The first time I made a batch my husband popped one in his mouth and made that face that means I better plan to make them regularly.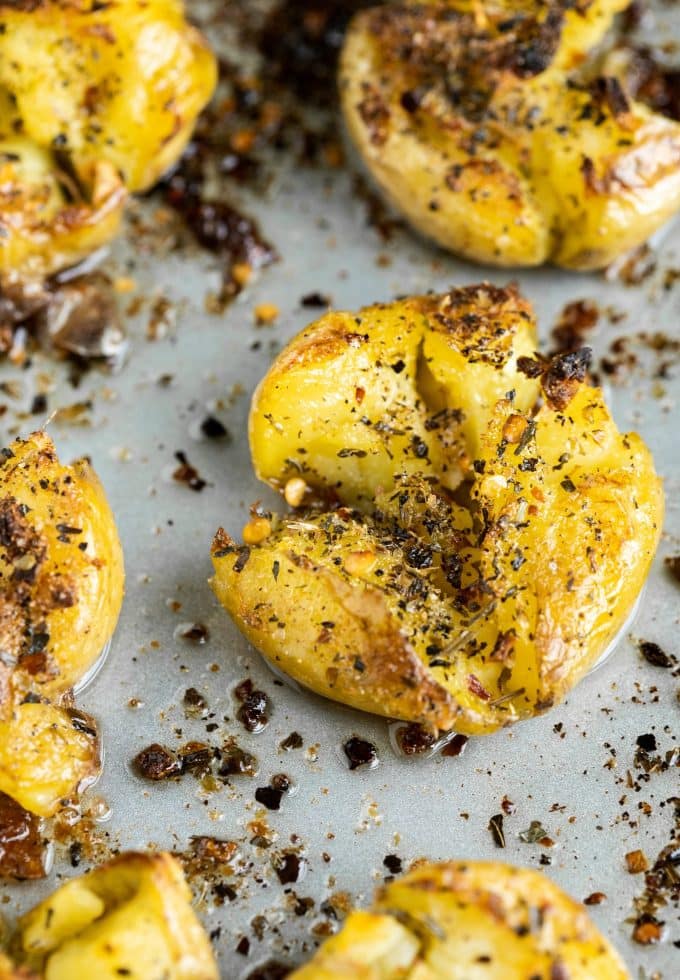 For these addictive potatoes you'll need (full list of ingredients and instructions are in the recipe card below):
Olive oil
Baby dutch yellow potatoes
Ghee or butter
Minced garlic
Seasonings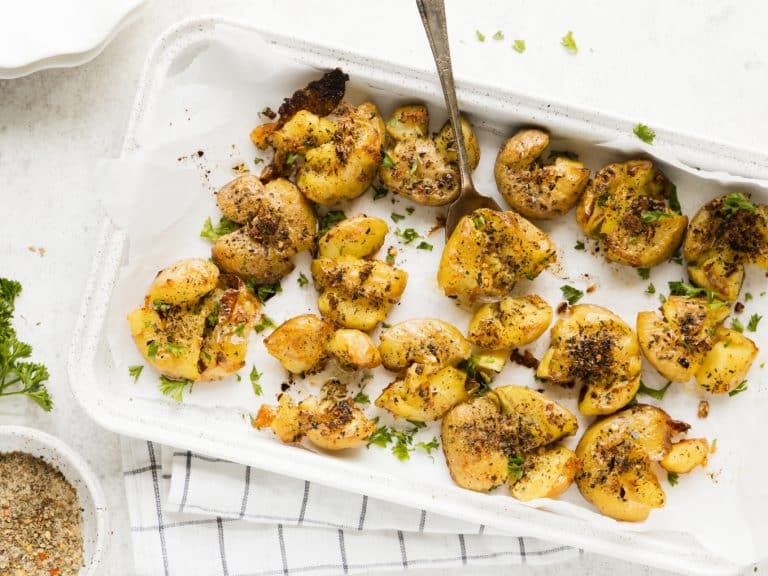 Are these potatoes Whole30?
Yes, just be sure to use ghee instead of regular butter if you want these to be Whole30 compliant.
Can these be made dairy free and vegan?
These potatoes can be dairy free if you use a vegan butter instead of ghee or regular butter. Earth Balance works well!
Is there a benefit to using ghee vs regular butter?
Both ghee and butter are completely delicious on these potatoes. Feel free to use either! (I personally love the richness of ghee so that's always my preference.)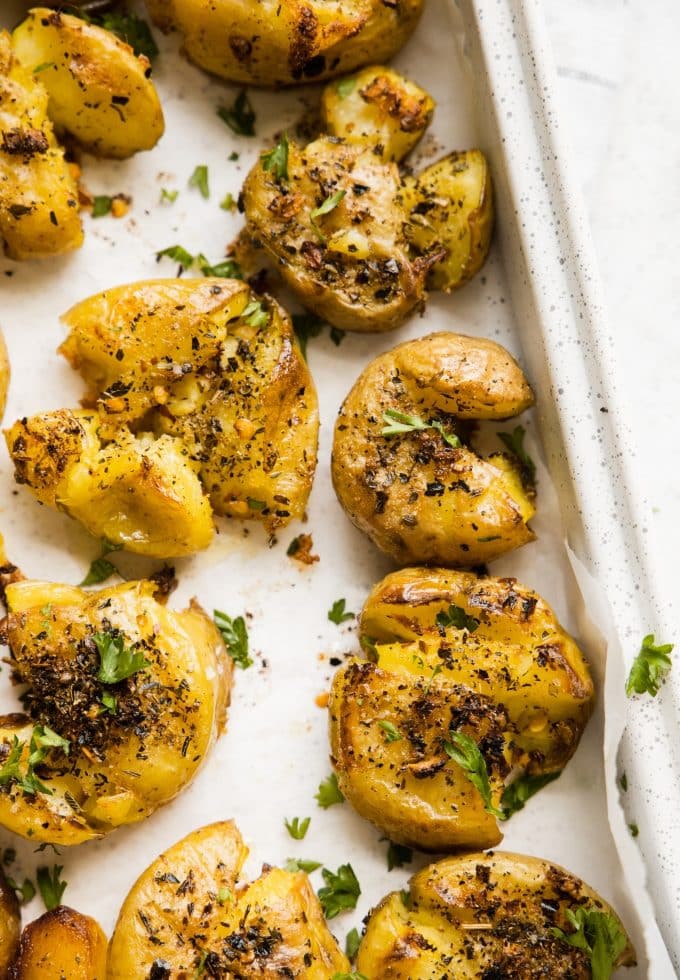 How to serve this
Serve these with chicken, steak, seafood, whatever. Add a green vegetable and you have a complete meal. (But I bet your favorite part will be these potatoes.)
More potato side dishes like this:
Rosemary Garlic Smashed Potatoes
Easy Seasoned Roasted Potatoes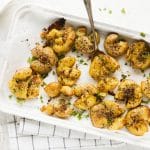 Smashed & Roasted Italian Potatoes
Smashed & Roasted Italian Potatoes are crispy on the outside, buttery, and big on flavor! You won't want to stop eating them! Plus they're Whole30 compliant and gluten free.

Ingredients
1.5 lbs baby dutch yellow potatoes
3 tbsp olive oil, extra virgin
3 tbsp ghee or butter
1 tbsp garlic, minced or fresh
Italian Seasoning
1 tsp garlic powder
1 tsp dried oregano
1 tsp dried basil
1/2 tsp onion powder
1/2 tsp crushed red pepper
3/4 tsp salt
1/2 tsp pepper
Optional: fresh chopped parsley
Instructions
Preheat oven to 450 degrees.


Bring a pot of water to boiling and then add the potatoes. Allow them to boil for 5-8 minutes or until potatoes are a little soft to the touch.

Oil your baking sheet with olive oil to prevent sticking and then spread your potatoes in an even layer on the baking sheet. You don't want one on top of another or they won't brown as well.

Use a potato smasher or fork to gently press down on each potato so they are a bit flattened. A potato smasher does a better job because it evenly flattens the potato. You'll have more potatoes fall apart if you use the fork but don't sweat it. They'll taste delicious anyway.

Melt your ghee or butter in a microwave safe dish or on the stove. Stir the garlic into the ghee. Pour your ghee/garlic mixture over each potato.

Sprinkle all Italian Seasoning ingredients over the top of your potatoes.


Place baking sheet of potatoes in the oven. Bake for 20-25 minutes. (25 minutes works best for my oven.) Potatoes should have some browning and be crispy on the outside.

Remove from oven. Add fresh chopped parsley (optional) and serve right away!

Nutrition
Calories: 298kcal, Carbohydrates: 23g, Protein: 4g, Fat: 21g, Saturated Fat: 8g, Cholesterol: 28mg, Sodium: 458mg, Potassium: 711mg, Fiber: 4g, Vitamin A: 75IU, Vitamin C: 20mg, Calcium: 63mg, Iron: 5.8mg