Simply Roasted Apples & Potatoes
Simply Roasted Apples & Potatoes are the perfect combination of sweet and savory. Everything caramelizes and becomes beautifully tender. Plus it's all ready in 30 minutes!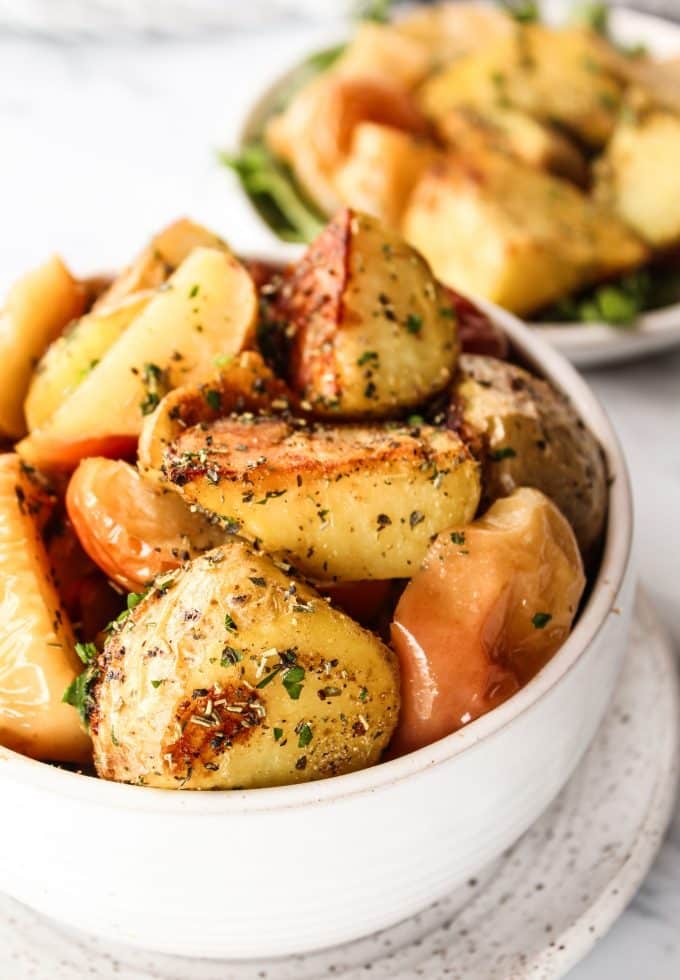 Update: This recipe was originally published in 2017 and has been republished with all new photos and instructions.
Apples are such a fall flavor to me and I originally created this recipe for the crisp months of football, falling leaves, and back to school. Of course since apples are readily available in most places year round this is definitely a dish that we can enjoy in any season.
So let's talk about these Simply Roasted Apples & Potatoes.
If you've never roasted apples before you're in for a treat. Roasting brings out their natural sweetness. All the sticky juice drips onto the potatoes. It mingles with the bit of salt and the final result is just heavenly.
Do you see all that gorgeous browning? Everything caramelizes beautifully.
The apples get so soft in the oven. Since they stay in the skin they're like little bowls of savory apple sauce.
The herbs add another layer of flavor. It's a total surprise against the apples.
You'll love this special side dish with any meal any time of year!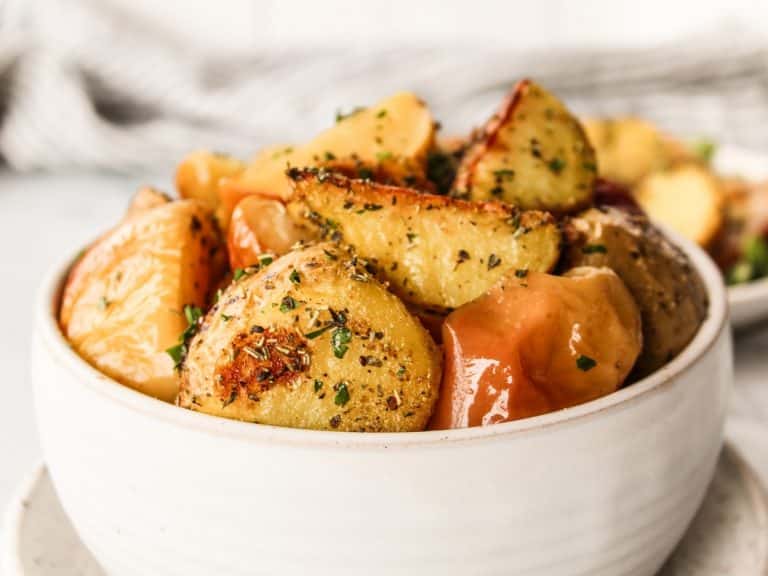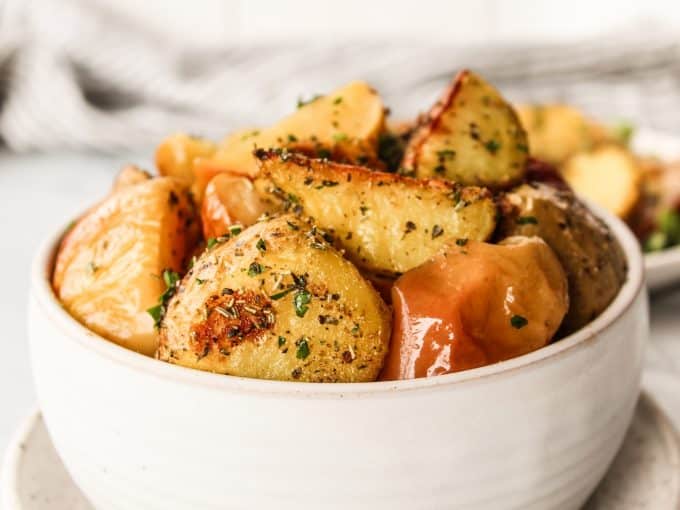 For this recipe you'll need (full list of ingredients and instructions are in the recipe card below):
Olive oil
Potatoes
Apples
Seasonings and herbs
What size sheet pan should you use?
I use a 12 x 17 baking sheet for all my sheet pan recipes. This accommodates a lot of food without overcrowding. If your baking sheet is smaller, use two instead of one. (Don't overcrowd.)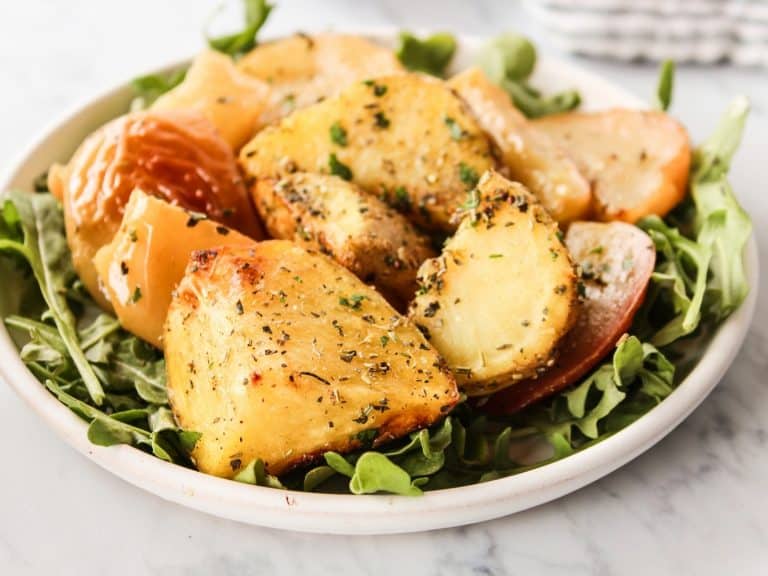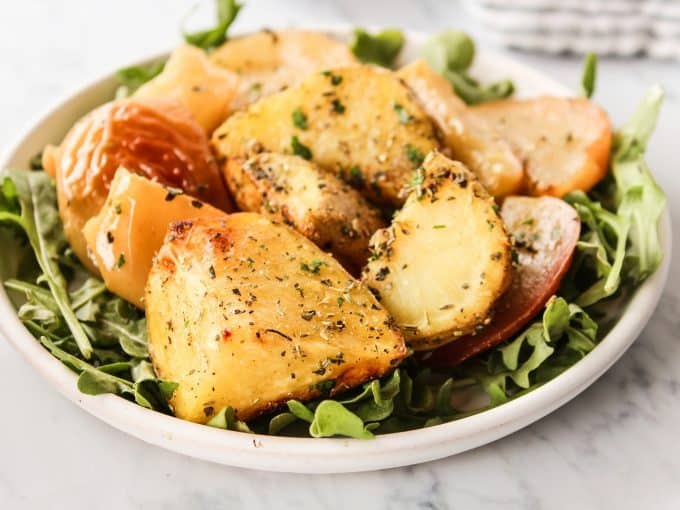 What potatoes are best in this recipe?
I recommend yellow, gold, or russet potatoes. I usually use organic yellow potatoes because I love the naturally buttery flavor they have.
What apples are best in this recipe?
Any naturally sweet apple variety will work well. I typically purchase gala apples so that's what I use most often. Green apples might be a little too tart.
Should you peel the apples?
No. The peel softens as the apples roast and holds the apple pieces together.
Fresh Herbs vs Dried Herbs
In this recipe I call for dried herbs so that this side can be made any time of year likely with ingredients you already have on hand. Of course fresh herbs work beautifully too! If using fresh herbs, I recommend adding them after everything has cooked. Since dried herbs pack more of a flavor punch you'll want to use 3 times as much in fresh as you would in dried. For this dish you'd use 1 1/2 teaspoons of fresh basil and 1 1/2 teaspoons of fresh rosemary.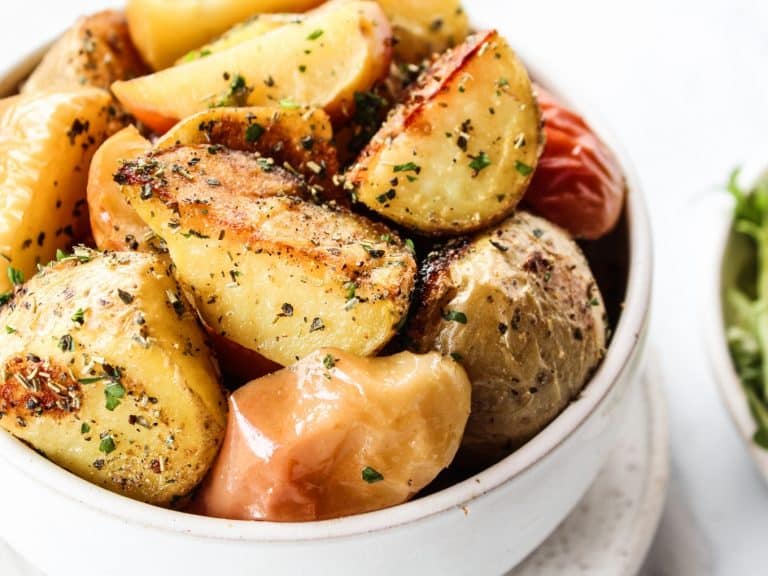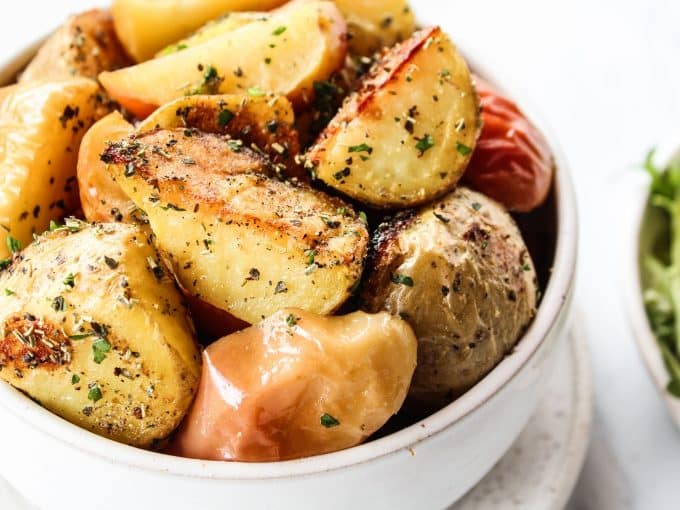 Should you use parchment paper?
Whether to use parchment paper on your baking sheet really depends on exactly what the ingredients are and if you use plenty of fat. Parchment paper is not necessary with this particular recipe because we use a hearty dose of olive oil. If you do decide to use parchment paper here you'll notice that your potatoes and apples won't brown as well.
Does this recipe freeze well?
Yes! If making this side for future enjoyment you can freeze it in an airtight freezer safe container (like freezer bags). Then thaw and reheat in a skillet on the stovetop or in the microwave.
More side dishes like this:
Herb Roasted Brussels Sprouts & Broccoli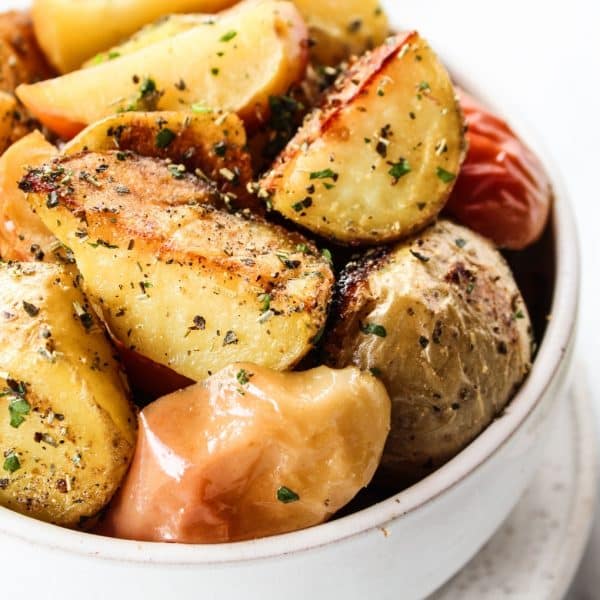 Simply Roasted Apples & Potatoes
Simply Roasted Apples & Potatoes are the perfect combination of sweet and savory. Everything caramelizes and becomes beautifully tender. Plus it's all ready in 30 minutes!
Ingredients
5 medium potatoes, yellow, gold, or russet
3 tbsp olive oil, extra virgin
1 tsp salt
1/2 tsp dried basil, or 1 1/2 tsp fresh basil
1/2 tsp dried rosemary, or 1 1/2 tsp fresh rosemary
1/2 tsp ground mustard
1/2 tsp garlic powder
1/2 tsp black pepper
5 medium apples, I prefer gala but others work as well, leave peel on
Instructions
Preheat oven to 425 degrees.

Slice your potatoes in half. Slice again so each potato is in four pieces. If your potato is fairly large you may need to cut some of them one more time. You want your potato pieces to be about the same size as the apple slices.

Add the potato pieces to a large ziplock bag or large bowl. Drizzle with olive oil, basil, rosemary, salt, ground mustard, garlic powder, and pepper. If using a bag, squeeze out excess air, seal, and shake until potato pieces are coated. If using a bowl, stir and flip potato pieces until they're coated.

Spread coated potatoes on a 12 x 17 baking sheet.

Place in the oven and bake for 5 minutes. (We are not fully cooking the potatoes at this point.)

Slice apples into quarters, removing and discarding the core and seeds.

Remove pan from oven. Add sliced apples. Use spatula to flip the potatoes and move the apples around so they too are coated with oil. Spread everything in a single layer.

Bake for 15 to 20 minutes or until potatoes are done. They should give a little when you press them.

Remove from the oven and serve immediately.
Notes
If using fresh herbs I recommend tossing the potatoes and apples in the herbs after baking is done for maximum flavor. Potatoes and apples can both stick in the oven so it's really important to take the time to get them fully coated in the oil before baking. 
Nutrition
Calories: 143kcal, Carbohydrates: 21g, Protein: 1g, Fat: 7g, Saturated Fat: 1g, Sodium: 390mg, Potassium: 171mg, Fiber: 4g, Sugar: 16g, Vitamin A: 84IU, Vitamin C: 7mg, Calcium: 13mg, Iron: 1mg