Cinnamon Raisin Diced Sweet Potatoes
These Cinnamon Raisin Diced Sweet Potatoes are naturally sweet and sugar free! They're the perfect side dish for busy weeknights or when entertaining for the holidays!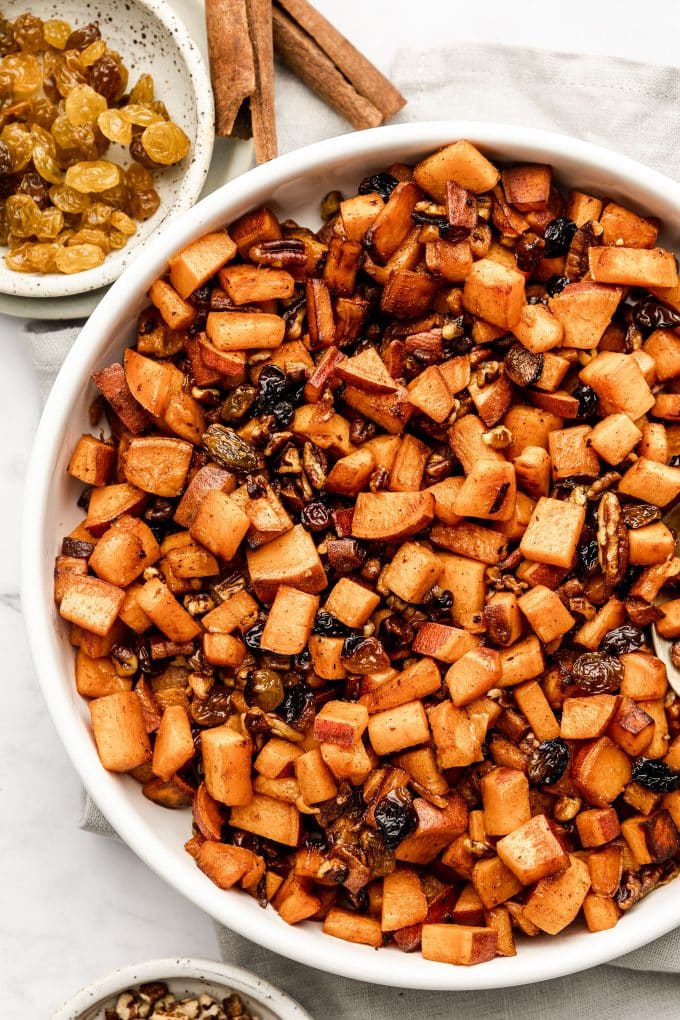 Update: This recipe was originally published in 2017 and has been republished with all new photos.
Whenever we have a big night out and my husband asks where I want to go I usually pick Ruth's Chris Steakhouse. They make a mean sweet potato casserole. One day we looked up the recipe online and it has a stick of butter in a single serving! Yikes! No wonder it's so tasty!
So this recipe is not that. (But if you are searching for a healthier sweet potato casserole try my Sweet Potato Casserole with Pecan Crumble.) These Cinnamon Raisin Diced Sweet Potatoes are mildly sweet thanks to the natural sweetness of sweet potatoes and plump golden raisins. Pecans add a bit of crunch too.
It's simple, really easy to make, and won't leave you feeling like you feeling icky.
For this recipe you'll need (full list of ingredients and instructions can be found in the recipe card below):
Coconut oil
Sweet potatoes
Pecans
Raisins
Cinnamon
Ghee or butter
First dice your sweet potato into very small chunks. The smaller they are the faster they'll cook. Try to keep them all around the same size so you don't end up with some bits of potato that aren't quite done.
Sauté your potatoes in coconut oil. I don't use a lot of coconut oil in my cooking as I tend to prefer olive oil and ghee but for this recipe I think it's the perfect match for sweet potatoes.
Once your sweet potatoes have some browning on the outside (gotta love anything caramelized, right?) toss in the raisins, chopped pecans, cinnamon, and a smidge of ghee (clarified butter). Cover and cook for a few more minutes. Voila! You're done!
This side dish is fast so you can definitely fit it into your weekly dinner rotation. Yet it's special enough to serve for the holidays too!
Cinnamon Raisin Diced Sweet Potatoes
These Cinnamon Raisin Diced Sweet Potatoes are naturally sweet and a delicious side dish to any meal! Plus they're sugar free and ready in 20 minutes!

Ingredients
2 teaspoons coconut oil
2 large sweet potatoes, or 3 medium sweet potatoes, diced
1/4 cup pecans, finely chopped
1/3 cup golden raisins
1/2 teaspoon cinnamon
1 teaspoon ghee, can substitute coconut oil for a dairy free version
Instructions
Add your coconut oil to a pan and heat to medium high heat.

Once oil is hot add diced sweet potatoes. Cook for 5 – 7 minutes or until outside of potatoes are browned. Stir frequently to prevent sticking.

Once potatoes have browned add chopped pecans, golden raisins, cinnamon, and ghee. Stir. Reduce heat to medium low. Cover and cook for an additional 5 – 7 minutes or until potatoes are soft. Serve!

Nutrition
Calories: 131kcal, Carbohydrates: 18g, Protein: 1g, Fat: 6g, Saturated Fat: 2g, Cholesterol: 2mg, Sodium: 29mg, Potassium: 267mg, Fiber: 2g, Sugar: 8g, Vitamin A: 7375IU, Vitamin C: 1.6mg, Calcium: 24mg, Iron: 0.6mg