Steak & Zucchini Stir Fry
This has to be the easiest stir fry out there! It's loaded with sirloin steak and zucchini. Plus it's ready in about 20 minutes!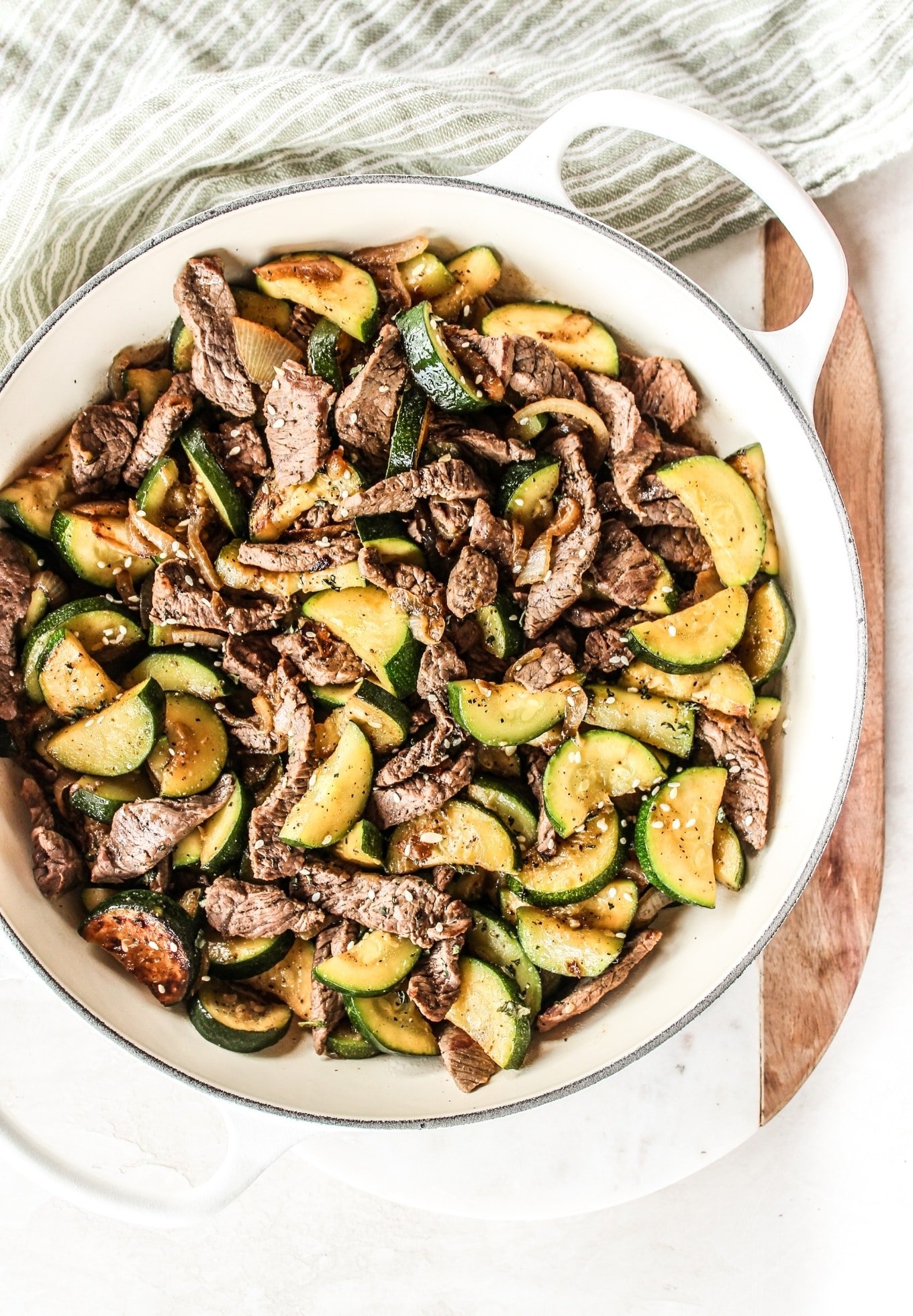 Ya'll, I am obsessed with this stir-fry. It has SO MUCH FLAVOR but it takes so little effort. We're keeping it simple because good food can be simple.
I was talking to a friend last week who is incorporating more healthy food into her routine and is using my cookbook to help her. In our conversation she said that she just doesn't feel like cooking much at night lately and boy did I feel that. Ya'll, too? That's the whole idea behind my recipes, friends. I'd love to say I'm one of those people who wants to labor in the kitchen for three hours to produce a meal that's a work of art but I am not. I want really exceptionally tasting food in under an hour and usually in 30 minutes. This Steak & Zucchini Stir Fry is exactly that kind of meal.
This delicious dish is a tasty combination of protein + quick cooking veggies. You'll be ready to eat in just 20 minutes. Enjoy as is or serve over traditional or cauliflower rice to make it extra hearty.
For this recipe you'll need (detailed list of ingredients and instructions are in the recipe card):
Extra-virgin olive oil
Sirloin steak
Zucchini
Onion
Simple seasonings
Coconut aminos or low sodium soy sauce
Rice vinegar
To make this dish we'll brown our steak first and then set it aside. It's going to cook fast since we've thinly sliced it. Then add your zucchini and onion to the skillet to get it tender. Season. Incorporate the coconut aminos, rice vinegar, and seasonings. Get ready to eat!
What's the best steak for a stir fry?
Sirloin is my favorite steak for a stir fry because it's inexpensive, readily available, and tender. What more could you want? You can easily use flank or chuck steak if you prefer but I'll always recommend sirloin if you can get it.
What is coconut aminos?
Coconut aminos is a soy sauce substitute that has a lot less sodium and contains no soy. It truly tastes like a slightly sweet soy sauce! Learn more about what it is and why it's so popular in healthy recipes here.
How do you achieve tender steak in a stir fry?
Tough steak is no good. Let's avoid that, shall we? There are several things you can do to achieve tender steak in a stir fry even with a less expensive cut of meat.
Slice that sirloin thin. Small pieces for the win here!
When slicing, cut against the grain. Lay your steak down and look for the lines that run through it. Those lines are muscle fibers. Cut your steak across those lines instead of along those lines. This breaks up that fiber so the finished steak is easier to chew!
Don't overcrowd the skillet. I say this all the time for any one pot meal and for sheet pan meals too! If you want to achieve color on your food (that gorgeous browning we always love) your ingredients need to have room to spread out and touch the bottom of the pan. If it's all piled on top of each other, whatever is on top is basically going to just steam. Do you want steamed steak? Umm no. Hard pass.
Don't be afraid of cooking at a higher temp. I love to use medium-high heat when I cook a lot of my proteins. This helps us achieve the color we want quickly.
Don't overcook your steak. Overcooked steak is tough and dry. It's better to leave plenty of pink when you sear the steak in this recipe because it will continue to cook later. So while we do cook the steak at a higher temp, we don't do it for very long.
Is this stir fry good for meal prep?
Yes, I'd recommend this for meal prep if you're storing it in the refrigerator (not the freezer). Reheat in a skillet on medium- low heat or in the microwave.
Is this stir fry freezer friendly?
Cooked zucchini is so soft that it's not my personal favorite for freezing, thawing, and reheating. It can be extra mushy and fall apart after thawing.
What to serve with this Steak & Zucchini Stir Fry?
This recipe is a complete meal; however, I always enjoy serving stir fries over traditional or cauliflower rice. It will make your dinner more satiating!
More recipes like this:
20 Minute Skillet Sausage & Zucchini
Easy Turkey & Zucchini Skillet
Steak & Zucchini Stir Fry
This has to be the easiest stir fry out there! It's loaded with sirloin steak and zucchini. Plus it's ready in about 20 minutes!
Ingredients
Steak
1 tbsp olive or avocado oil
3/4 – 1 lb sirloin steak, thinly sliced
1/2 tsp salt
1/2 tsp black pepper
Veggies
1 1/2 tbsp olive oil, extra virgin
3 medium zucchini, sliced into half moons
1/2 white or yellow onion, thinly sliced
1/2 tsp salt
1/2 tsp black pepper
1/4 tsp ground ginger
1/4 tsp garlic powder
1/4 cup coconut aminos
1 tbsp rice vinegar
Instructions
Heat 1 tbsp of oil in a large skillet on medium-high heat. (I recommend a 12" skillet so you have room for everything.) Once oil is hot, add your thinly sliced steak pieces. Cook until steak is browned, stirring frequently, about 2 to 3 minutes. The steak doesn't need to be completely cooked through. Remove steak from pan and set aside. (Leave any remaining liquid in the skillet to cook our veggies in.)

Reduce heat to medium. Add remaining 1 1/2 tablespoons of oil to skillet with the zucchini and onion. Sprinkle with salt, pepper, ginger, and garlic powder. Stir. Sauté, stirring occasionally, until the onion is translucent and zucchini is tender, about 7 to 10 minutes.

Add rice vinegar and coconut aminos to the skillet with vegetables. Return your steak to the skillet. Stir and cook until steak and sauce have warmed, about 2 to 3 minutes. Garnish finished stir fry with sliced green onion or sesame seeds if desired.
Nutrition
Calories: 394kcal, Carbohydrates: 9g, Protein: 46g, Fat: 18g, Saturated Fat: 5g, Cholesterol: 121mg, Sodium: 1046mg, Potassium: 1082mg, Fiber: 2g, Sugar: 4g, Vitamin A: 294IU, Vitamin C: 27mg, Calcium: 82mg, Iron: 4mg