5-Minute Easy Blender Salsa
Enjoy this quick salsa in just 5 minutes with a few ingredients and a blender!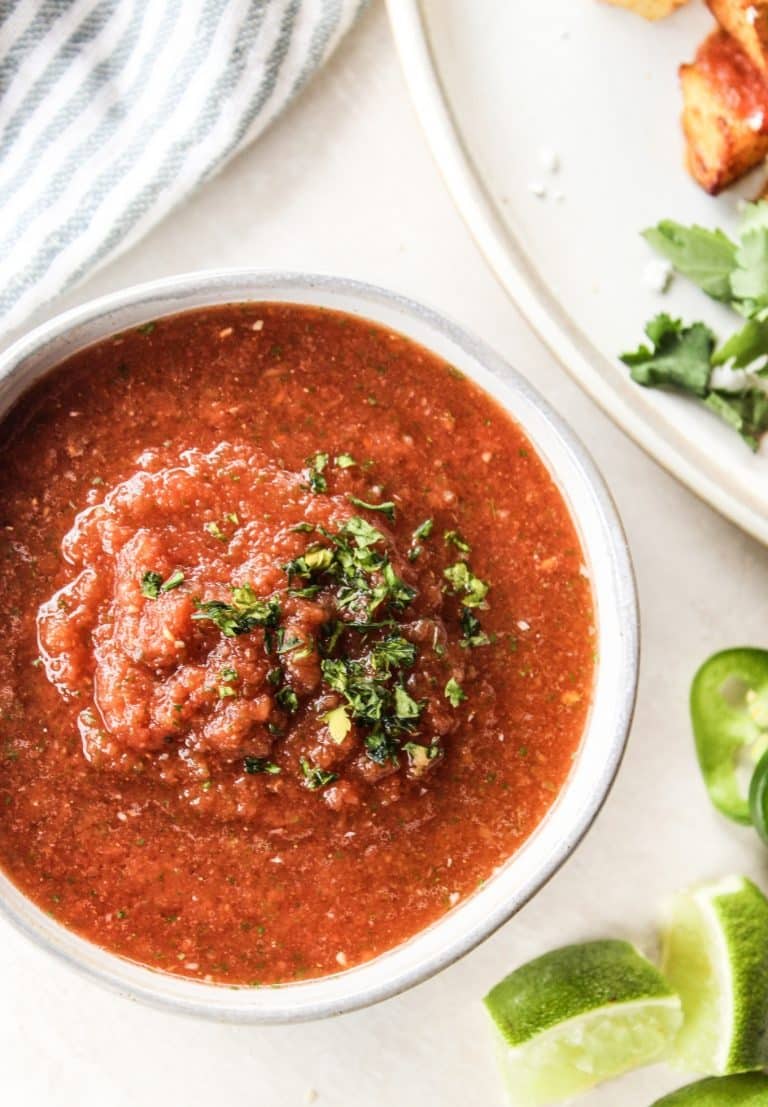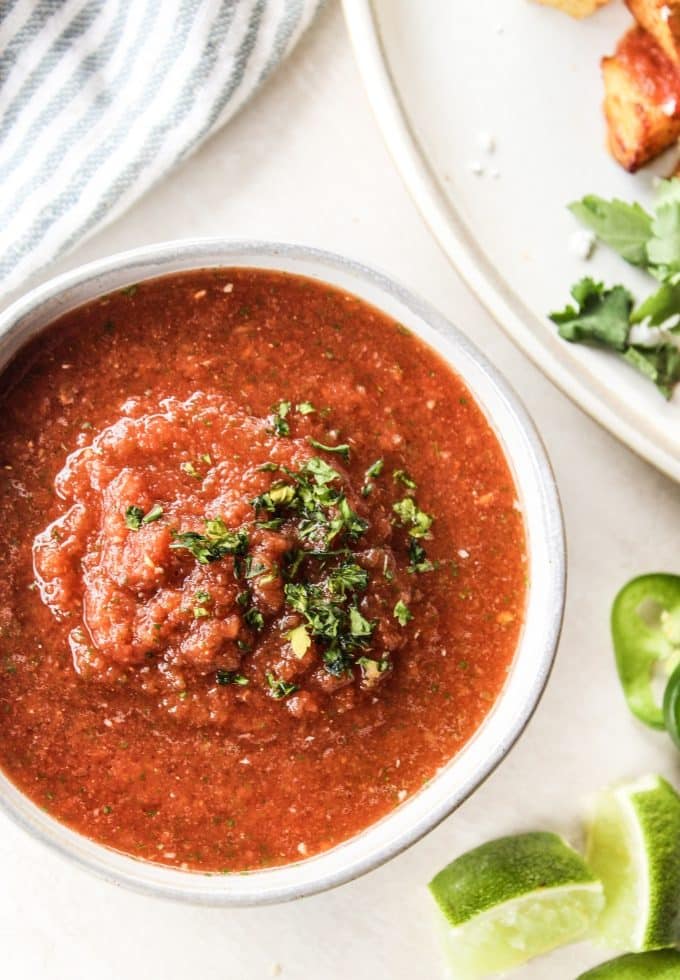 My favorite part of eating at a Mexican restaurant is that perfectly fresh tasting salsa. I love that it's pretty thin and not too chunky too!
My 5-Minute Easy Blender Salsa captures everything I love about that restaurant salsa and you can enjoy it from home.
Unlike Pico de Gallo, which is thick and includes chunks of fresh ingredients, this salsa is more liquidy to coat every chip! Plus everything just goes into the blender or food processor!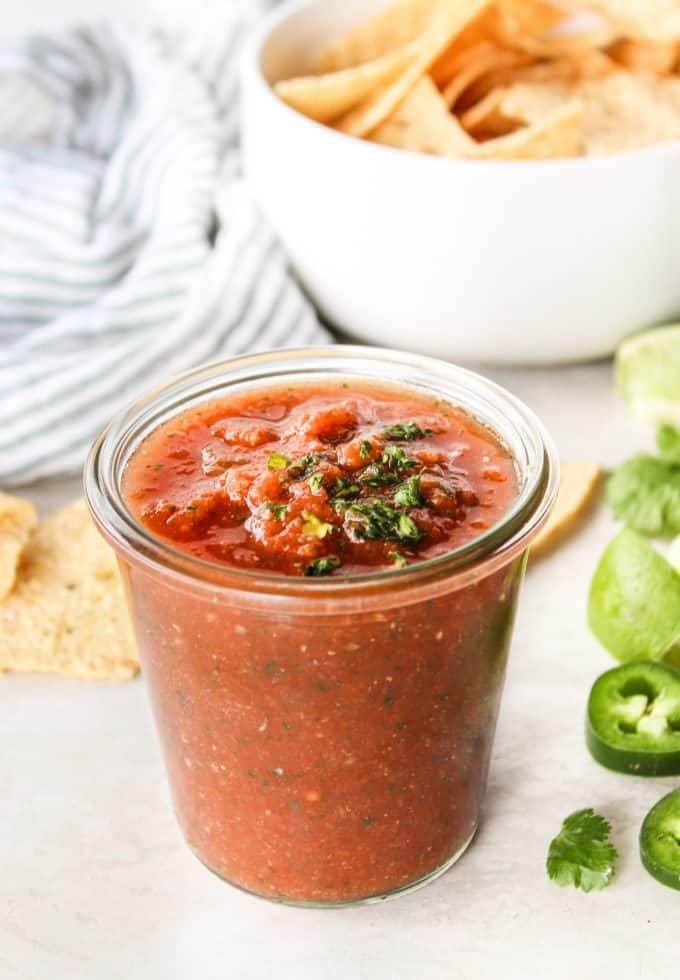 For this easy salsa you'll need (full list of ingredients and instructions are in the recipe card below):
Canned whole tomatoes
Onion
Cilantro
Jalapeno
Lime juice
Garlic
Salt
Cumin
Can you use canned diced tomatoes?
Yes, you can! I've tested this recipe with both whole and diced canned tomatoes and see no difference between the two.
Should you drain the canned tomatoes?
No need to drain those tomatoes. Restaurant salsa is intended to be liquidy so I use the liquid too. If you prefer a chunkier salsa you're welcome to drain it of course.
Can you use fresh tomatoes?
While I love a salsa made with fresh tomatoes, I do notice a difference in both taste and texture when using them in a blender salsa. I recommend sticking with canned for this particular recipe. If you're looking for a way to use fresh tomatoes try my Pico de Gallo!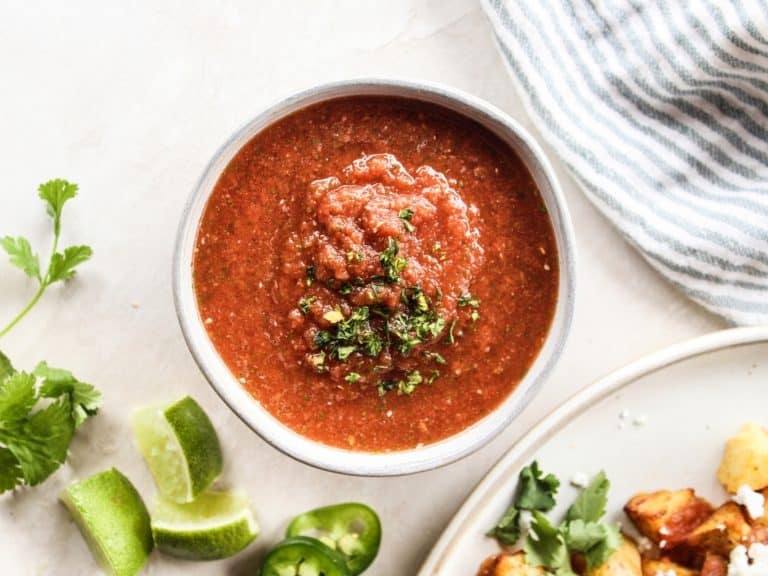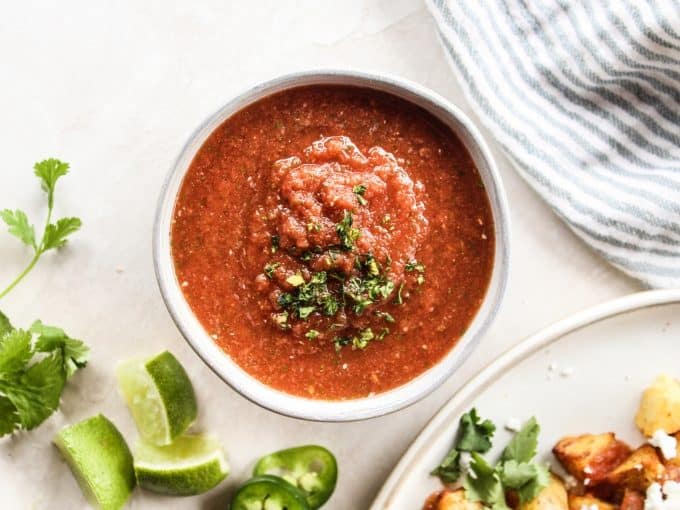 Should you chop your ingredients?
You want to coarsely chop your onion, jalapeno, and cilantro. This means you're just chopping them in large chunks of roughly the same size. This way they'll blend a bit faster and won't take significantly longer than your tomatoes.
Can you make this salsa in advance?
Absolutely! We like to make a double or triple batch to ensure we'll have leftovers. The flavors meld together a bit more as it sits in the fridge overnight. It will stay good for up to one week.
How to customize this salsa
This recipe calls for at least one jalapeno for flavor. It creates a mild salsa with very little heat at all.
To make this salsa spicy, use 2 jalapenos.
To further customize this salsa, try stirring in black beans or corn. You can also add this salsa to queso to really amp up the flavor!
How to serve 5-Minute Easy Blender Salsa
If using as a dip, we enjoy ours with tortilla chips or plantain chips.
If using as a topping, add to burgers, chicken, fish, omelets, scrambled eggs, salads, tacos, and rice bowls. Add it to E V E R Y T H I N G.
More recipes like this:
Dairy Free Green Chile Chicken Dip
Dairy Free Buffalo Ranch Chicken Dip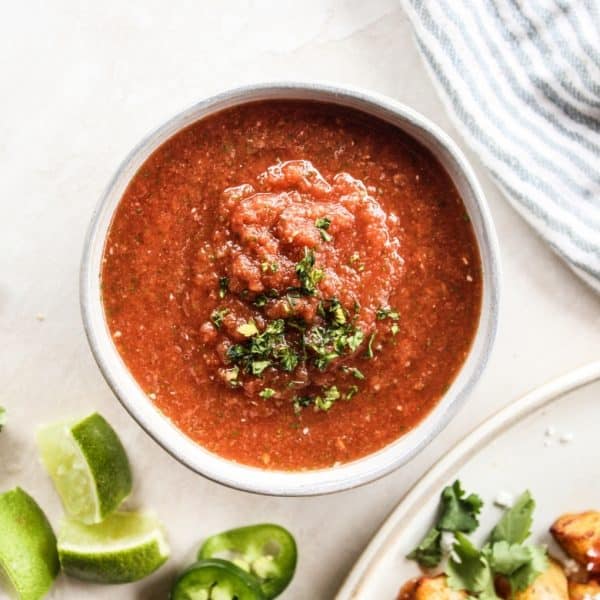 5-Minute Easy Blender Salsa
Enjoy this quick restaurant salsa in just 5 minutes with a few ingredients and a blender!
Ingredients
28 oz canned whole peeled tomatoes
1/2 white or yellow onion, coarsely chopped
1 – 2 jalapenos, cored and seeded
1 tbsp garlic, minced
1/2 cup cilantro, coarsely chopped, loosely packed
2 tbsp lime juice
1 1/2 tsp salt
1 tsp cumin
Instructions
Add all ingredients to a blender or food processor. Pulse until you've achieved the consistency you like. Taste and add more salt or jalapeno if desired.
Nutrition
Serving: 0.25cup, Calories: 12kcal, Carbohydrates: 3g, Protein: 1g, Fat: 1g, Saturated Fat: 1g, Sodium: 290mg, Potassium: 114mg, Fiber: 1g, Sugar: 1g, Vitamin A: 123IU, Vitamin C: 9mg, Calcium: 19mg, Iron: 1mg