Dairy Free Buffalo Ranch Chicken Dip
This buffalo chicken dip is thick and flavorful! You need only 5 ingredients. Serve with chips, crackers, or fresh veggies.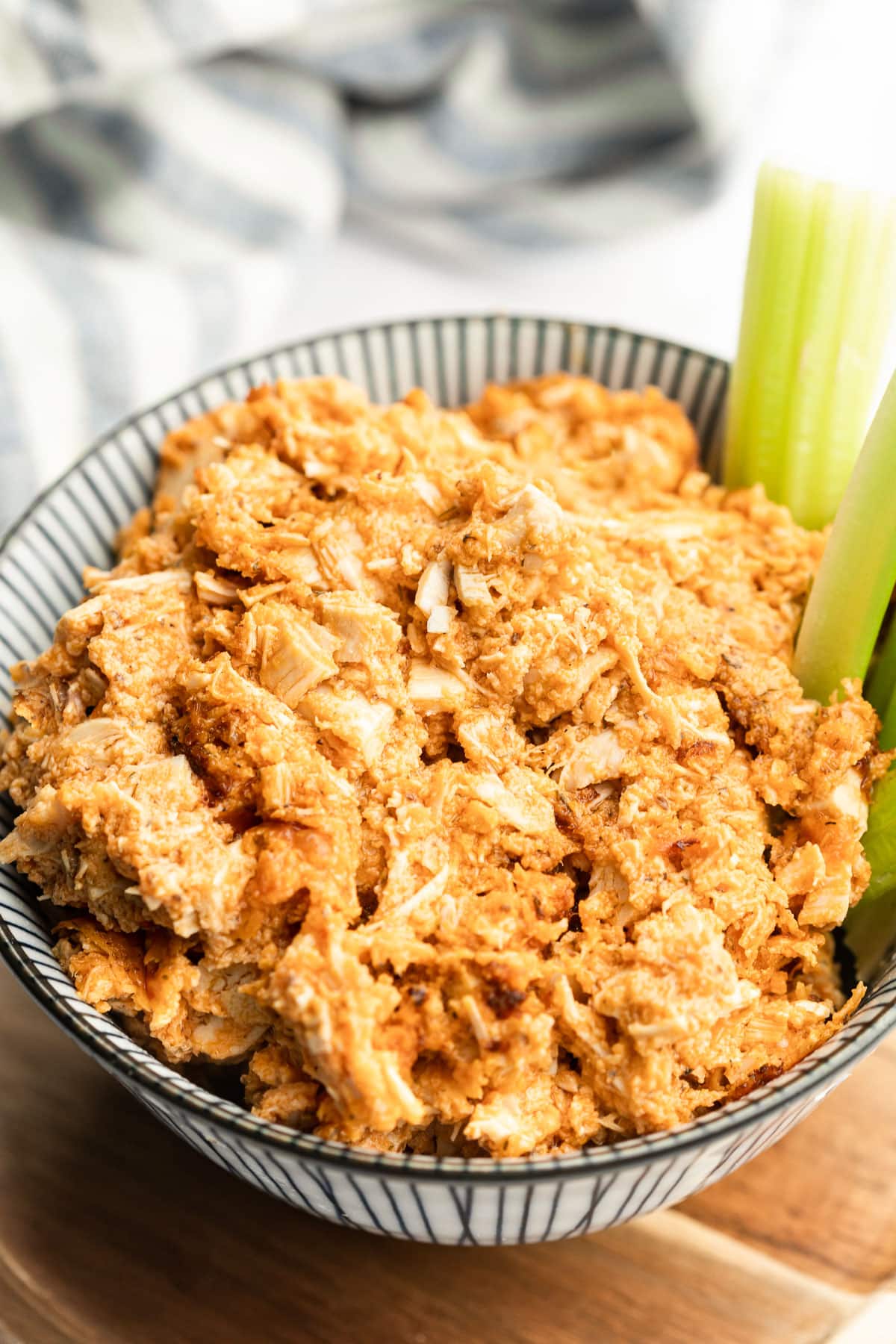 This Dairy Free Buffalo Ranch Chicken Dip is inspired by my Buffalo Ranch Chicken Casserole. Both are dairy free and very satisfying!
I can't even tell you how often I make this for guests. It's definitely the appetizer I make the most and it's high requested by my friends, husband, and son. If you love buffalo chicken, make this dip!
The best news? You'll only need five simple ingredients.
For this recipe you'll need (full list of ingredients and instructions are in the recipe card below):
Frank's Red Hot Sauce
Ranch Dressing (if dairy free, use my recipe for Easy Ranch Dressing)
Fully cooked chicken
Eggs
Salt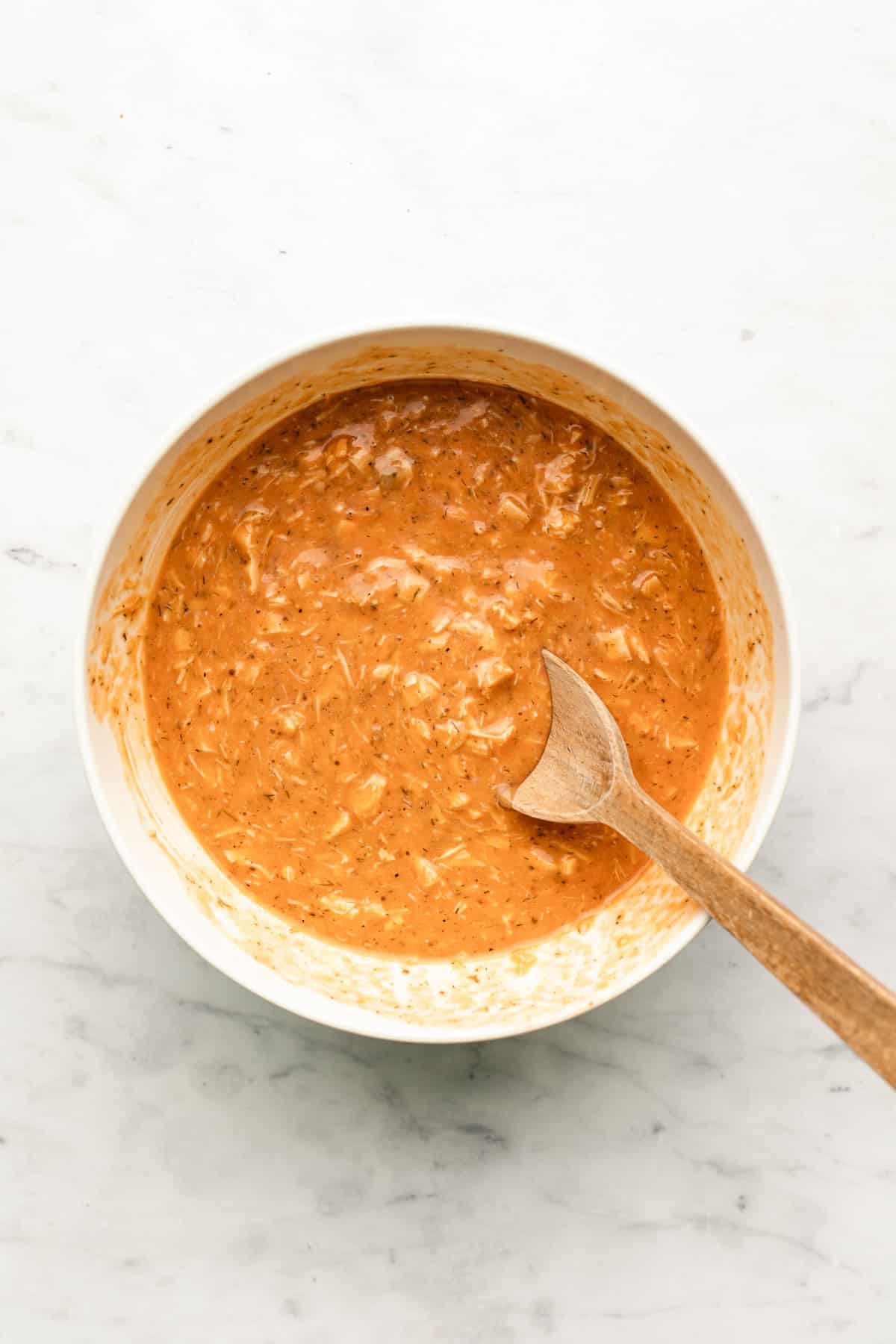 What ranch dressing is best to use?
Use any store-bought ranch dressing. If you'd like to make your own, I recommend my Easy Ranch Dressing. It's super simple because everything just goes in the blender.
Can you use a different hot sauce?
I recommend sticking with Frank's Red Hot Sauce. While I love other hot sauces and use them for a variety of dishes, this dip was built around the consistency and flavor of Frank's.
What chicken is best to use?
You have two great options here:
If you want to keep this super fast shred a store-bought fully cooked rotisserie chicken.
If you have a little extra time boil or sauté skinless and boneless chicken breasts. Then use a fork to shred the cooked chicken before adding to the dip. You can do this step the day before if you like.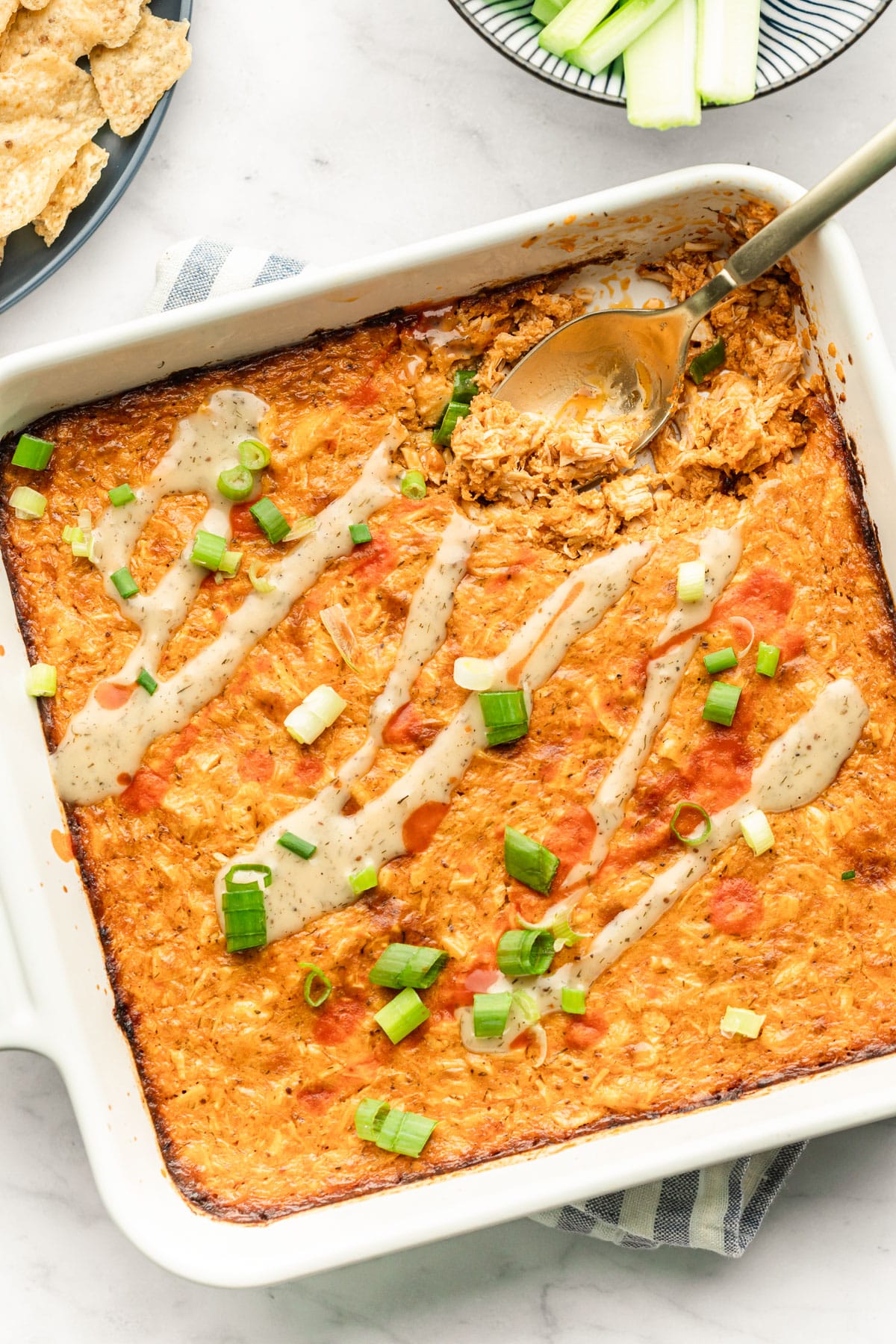 Can you omit the eggs?
The eggs in this dip act as a binder. If you omit the eggs the flavor will be the same but the dip will be liquidy. This dip is intended to be thick so I personally would keep them in.
Can you make this dip ahead of time?
Yes. I like to make this dip several hours before it's time to serve it when we're entertaining. Just cover in saran wrap and refrigerate. Then pop it in the oven 40 to 45 minutes before guests arrive.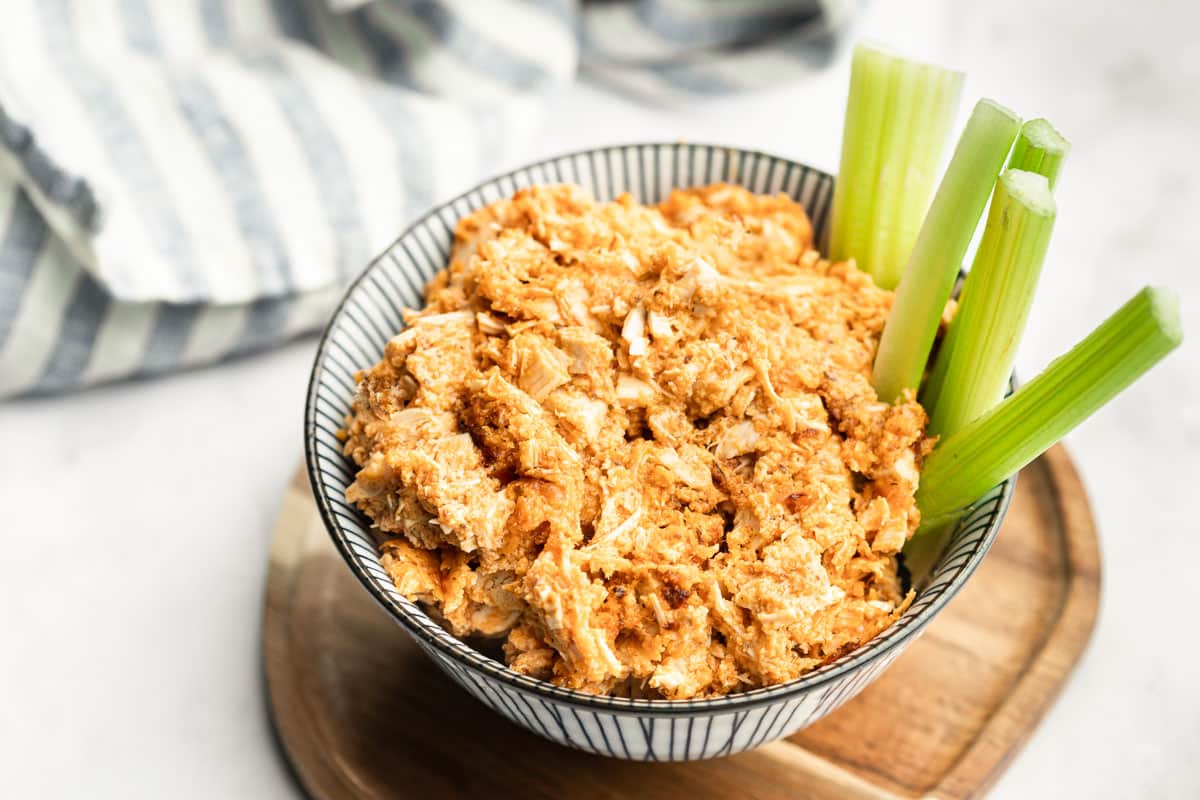 How to serve this dip
Enjoy with your favorite tortilla chips or crackers. If looking for a lower carb or Whole30 snack, pair this dip with raw veggies. I even love it scooped into potato skins!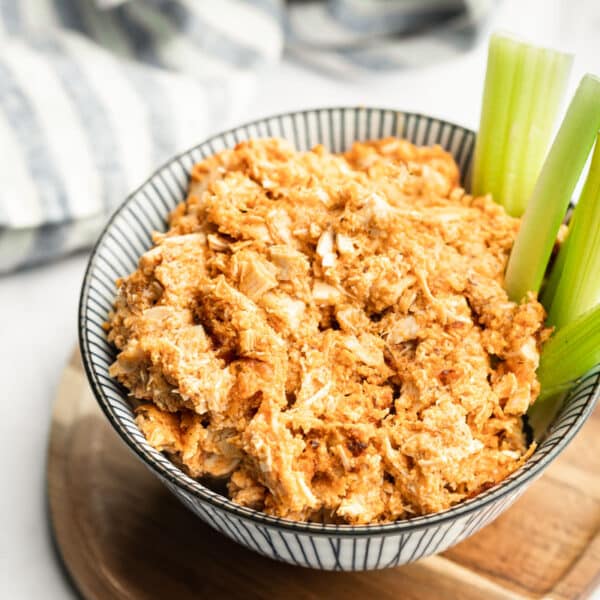 Dairy Free Buffalo Ranch Chicken Dip
This Dairy Free Buffalo Ranch Chicken Dip is a tasty appetizer that's easy to make (only 5 ingredients!) and sure to satisfy a crowd. It's even Whole30 compliant!
Ingredients
1 cup Easy Ranch Dressing, or another dairy free Ranch Dressing of choice
1/2 cup Frank's Red Hot Sauce
2 cups shredded or finely chopped chicken, cooked
1/2 tsp salt
2 eggs
Instructions
Preheat oven to 375 degrees.

In a large bowl combine your shredded chicken, Ranch Dressing, Frank's Red Hot Sauce, and salt. Stir together.


In a separate smaller bowl whisk together your two eggs.


Pour the whisked eggs into your chicken mixture. Stir until everything is well combined.


Pour the dip into a pie plate or baking dish.

Bake for 35 to 40 minutes.

Serve in the pie dish or scoop out and serve in a bowl. Enjoy warm with tortilla chips, plantain chips, or sliced raw veggies like celery and carrots.
Notes
You're welcome to use grilled, baked, sauteed, or rotisserie chicken. All work well so long as you shred or chop it.