Pico de Gallo
This homemade Pico de Gallo is a flavorful dip or topping for just about everything. Fast to make and full of fresh ingredients!
Need a tasty dip for your tortillas or plantain chips? Something to dress up an ordinary burger? A topping for your eggs? Taco? Chicken? A healthy replacement for typical salad dressings? It doesn't get better or easier than Pico de Gallo. So versatile and fast! Honestly, with all the things you can do with it you're really missing out if you haven't moved past the whole dip thing.
My husband started making this particular version years ago and I'm oh so happy he did. We were dating and he was living in an apartment with a few other guys. It was definitely a bachelor pad so imagine my surprise when one of them whipped this up. I was probably 22 and totally impressed. We've been making it ever since.
I like to think that we've perfected it over the years. We've learned a few things to really make it spectacular. The more cilantro the better. It's worth the extra effort to finely dice everything. Any onion will do (we use white or yellow often) but a red onion makes it look so darn pretty. Taste test until the amount of salt and lime juice is just exactly right. Make more than you think you'll need because it goes fast. It's great as soon as you make it. It tastes even more amazing when you let it sit in the fridge for at least an hour.
If you come over to our house for a cookout you can bet we'll be serving Pico de Gallo. Invite us over and we'll probably bring it with us. It's a crowd pleaser every single time.
You can adjust the amount of jalapeno you use so that it's kid friendly. When I'm making it at home just for us I usually leave the jalapeno out simply because it packs a lot of flavor without it and we have two small children. It's totally your call. You won't be disappointed either way.
Fresh ingredients. Big bold flavor. 100 ways to use it.
Yes please.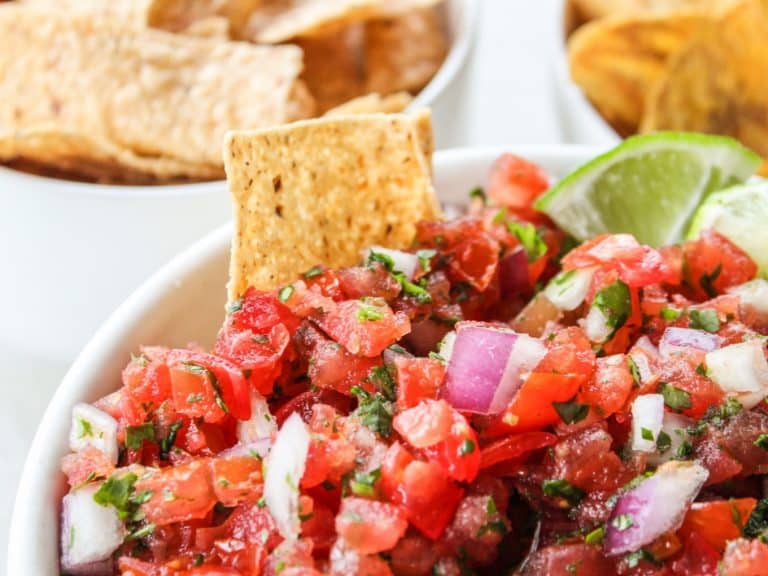 For this easy Pico de Gallo you'll need (full list of ingredients and instructions are in the recipe card below):
Ripe tomatoes
White or red onion
Cilantro
Jalapeno (optional)
Lime juice
Salt
My best Pico de Gallo tips
Chop your tomato and onion so they're close to the same size. You don't want giant chunks of onion and smaller bites of tomato. Keep it uniform in size so every bite has a little of everything.
While both red and white onion work great, the red onion is going to give you the prettiest finished dish.
Chop the cilantro smaller than the tomato and onion.
Add the lime juice and salt a little at a time. Taste. Add more as needed. It's easy to adjust the taste to your personal preference if you start with less!
How to serve Pico de Gallo
If using as a dip, I enjoy mine with raw veggies (cucumber, broccoli, and carrots especially), plantain chips, or tortilla chips.
If using as a topping, add to burgers, chicken, fish, omelets, scrambled eggs, salads, tacos, and rice bowls. Add it to E V E R Y T H I N G.
Can you make Pico de Gallo in advance?
Absolutely! We like to make a double or triple batch to ensure we'll have leftovers. The flavors meld together a bit more as it sits in the fridge overnight. You'll notice more more liquid in the bottom of the the container the next day too because the tomatoes will continue to release liquid as they sit. We really like that but you can drain some of the liquid if you prefer less.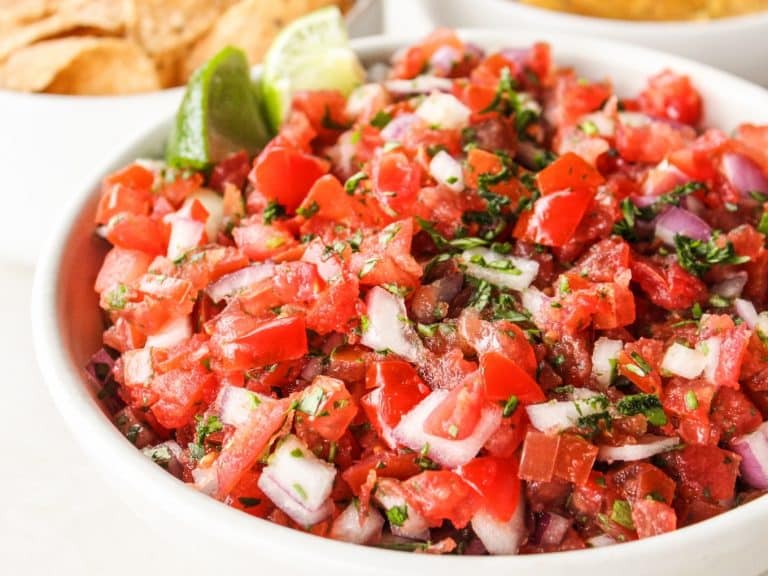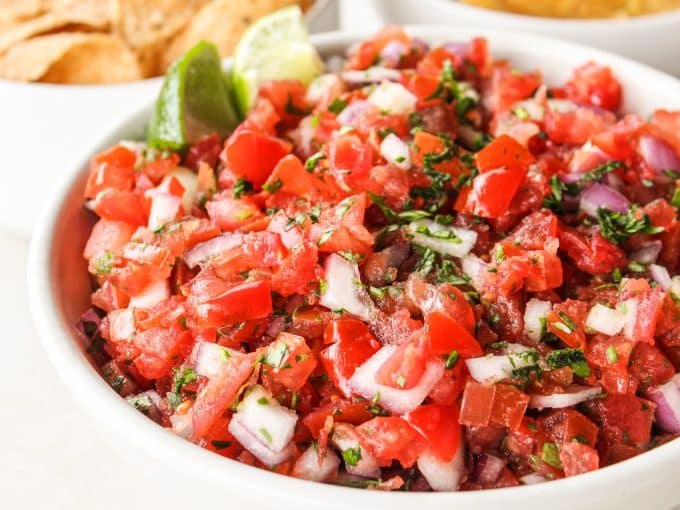 How to store Pico de Gallo
Store in an airtight container in the refrigerator for up to 3 days.
More appetizer recipes like this:
Dairy Free Buffalo Ranch Chicken Dip
Buffalo Chicken Twice Baked Potatoes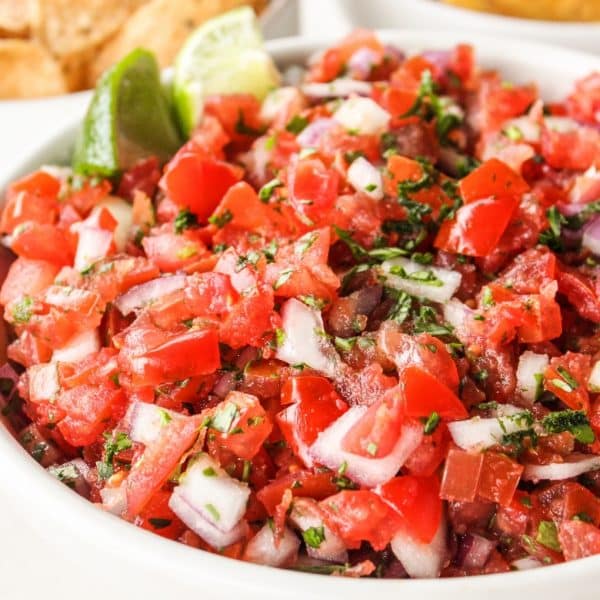 Pico de Gallo
This homemade Pico de Gallo is a flavorful dip or topping for just about everything. Fast to make and full of fresh ingredients!
Ingredients
6 medium tomatoes
1 large onion
1/2 cup fresh cilantro leaves
lime juice
salt
Instructions
Chop your tomatoes, onion, and cilantro. Add to a large bowl and stir until combined.

Finely chop jalapeno if you'd like some heat and add to bowl too.

Squeeze in lime juice and sprinkle salt to taste.

Serve or refrigerate until ready to eat.
Nutrition
Calories: 30kcal, Carbohydrates: 6g, Protein: 1g, Sodium: 8mg, Potassium: 332mg, Fiber: 1g, Sugar: 4g, Vitamin A: 1205IU, Vitamin C: 18.9mg, Calcium: 18mg, Iron: 0.4mg