THE BIG Chicken and Kale Salad
Need a quick lunch that's loaded with veggies and protein but easy to throw together? This is my go to lunch salad and it's truly big enough to fill you up!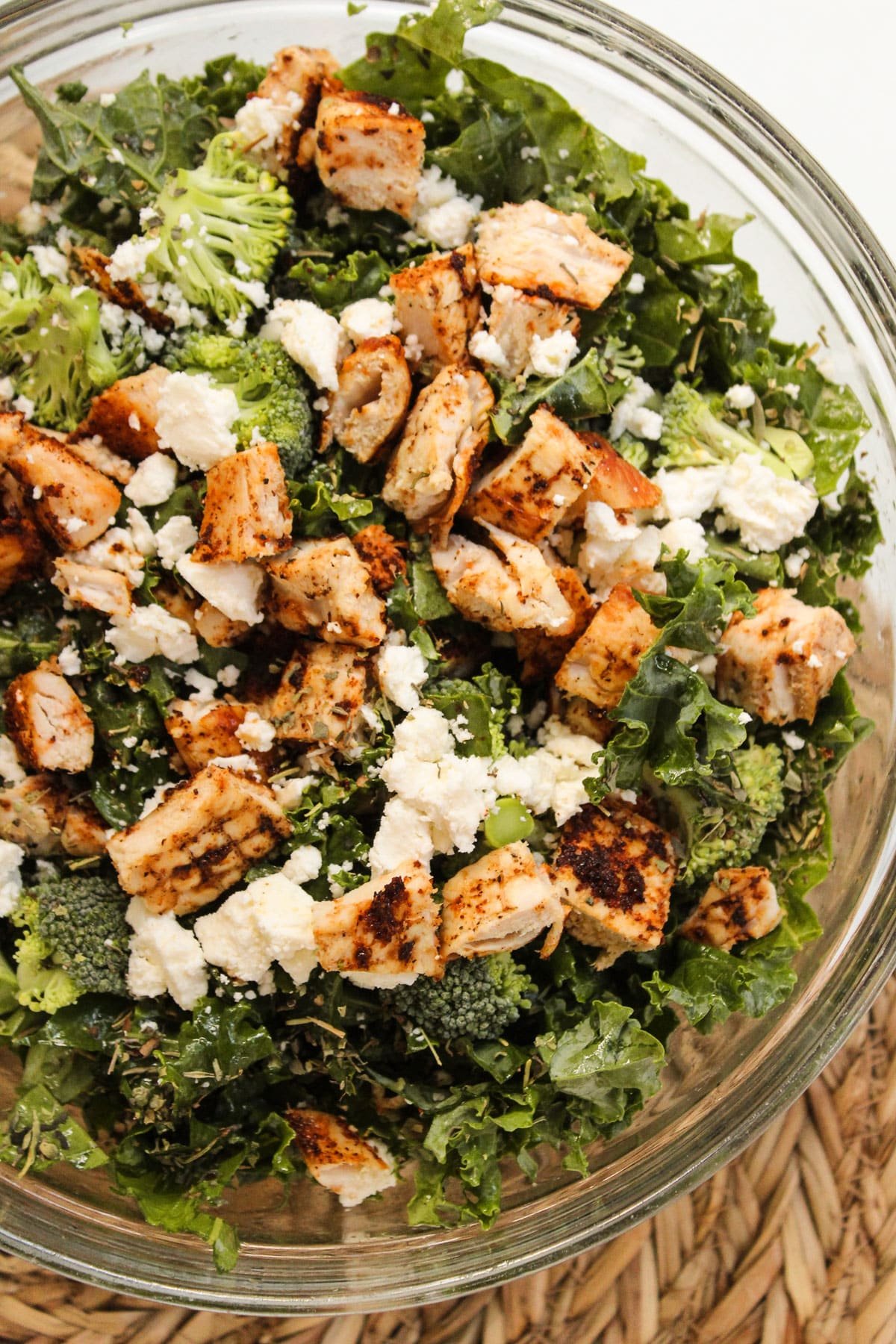 A few weeks ago I shared this salad in my Instagram stories and received lots of comments and questions about it. It's so good, so easy, and I can't get enough of it. Truly I've been eating it for lunch three or four times a week for over a month. So I figured it deserved a place on the blog!
Let me start by saying this is designed to be a huge salad. So don't be surprised when you start to assemble it and realize you need to put it in a mixing bowl. You do. I'm telling you now. I eat it right out of the glass mixing bowl you see in these photos.
When I first made this salad I knew I wanted loads of kale since I'm making up for lost time as a former kale hater. I've become such a fan of the stuff! To further increase the veggie content I added fresh broccoli that you'll want to chop into bite sized pieces.
For protein you can use any fully cooked chicken you like. I make my Air Fryer Chicken Breasts and keep them in the fridge so I can enjoy them for several days. Store bought rotisserie chicken also works great. Just shred it and add it to your salad.
Crumbled feta gives us a great fat, some saltiness, and some creaminess.
The dressing is a simple combination of extra virgin olive oil, balsamic vinegar, and lemon juice. You really don't need much.
And finally the secret ingredient that you absolutely should never skip is Italian herb seasoning. You can find this on the spice aisle of your grocery store. It contains a blend of dried herbs and the type used can vary slightly depending on what brand you use. They typically contain oregano, basil, rosemary, sage, and thyme. This seasoning blend adds so much flavor to this salad. It's a game changer!
What is curly kale?
There are a variety of different types of kale but curly kale is the kind you'll see most often in grocery stores. It's usually a dark green and the edges of the leaves are very wavy (or curly). It's typically sold as a bundle of large leaves that are tied together at the stem.
Do you need to massage the kale in this salad?
Often times people will recommend massaging the kale with a little olive oil or lemon juice. This is an optional step that can soften the leaves and tone down the bitterness. Because we're chopping the leaves into bite-sized pieces I've found that massaging the kale is an unnecessary step in this particular recipe.
Having said that, you can definitely massage the kale in the recipe if you'd like! Simply add one teaspoon of the olive oil to the chopped kale before adding the other ingredients. Use your hands to gently scrunch the leaves until they're a little softer. Then add in all other ingredients including the remaining olive oil.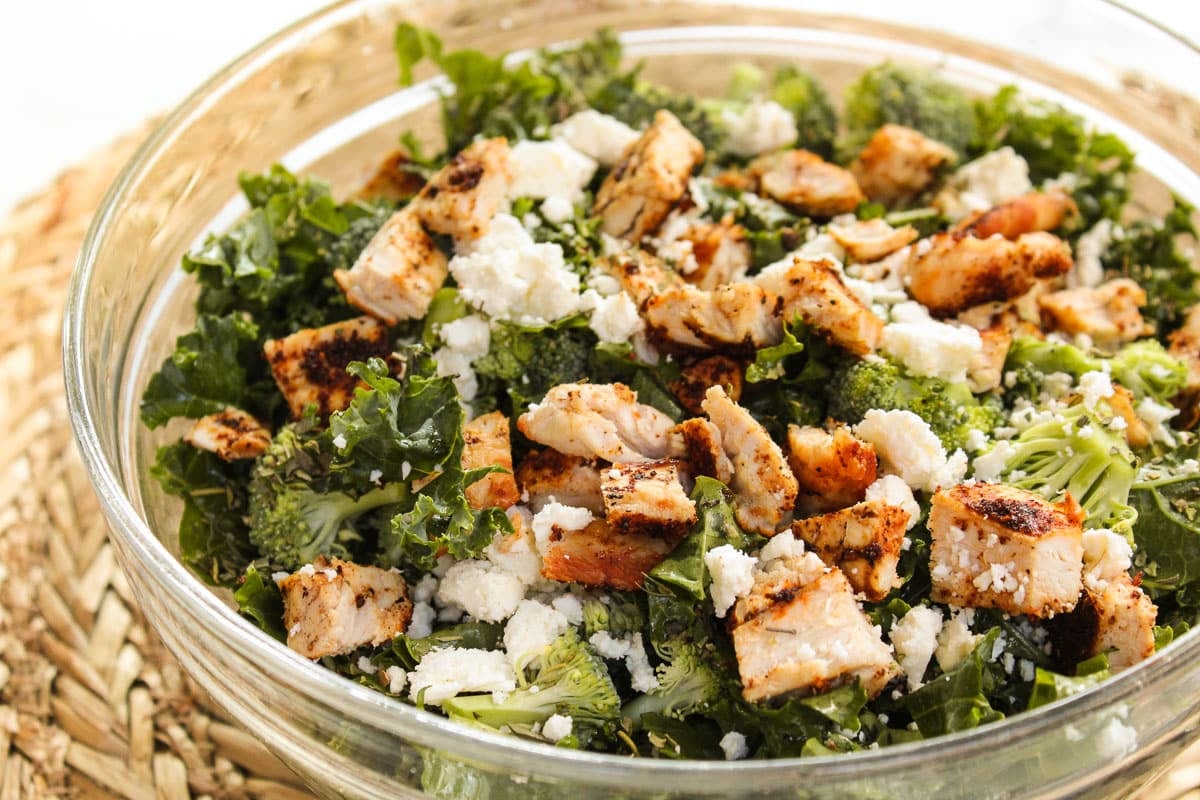 Ways to customize this salad
Because I created this salad to be simple enough to throw together for lunch several times a week I kept the ingredient list short. There are so many yummy additions you can include if you have them on hand (and have the extra time). Here are a few ideas for you.
Chopped nuts like walnuts, pecans, or cashews and sunflower seeds would add a great crunch and more saltiness.
Dried cranberries, raisins, or diced pears can add a bit of sweetness.
Swap the chicken for whatever leftover protein you already have made in the fridge. Steak or roasted turkey would be excellent.
For extra protein and essential amino acids try including edamame.
If you don't have fresh broccoli, use whatever veggie is convenient for you. Chopped brussels sprouts, cucumber, or leftover zucchini from dinner the night before (I've done that one) will be great in here.
Is this salad good for meal prep?
This salad is an excellent one to make ahead of time. The leaves soften as they continue to absorb the oil and vinegar which I personally enjoy. Refrigerate in an air tight container for up to 3 or 4 days.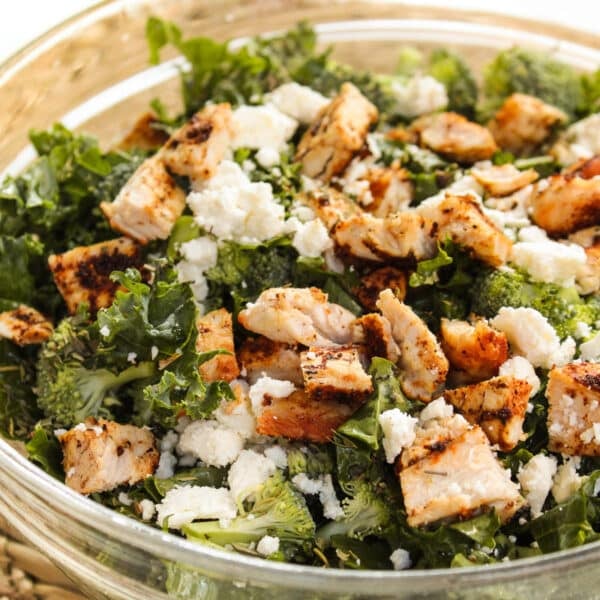 THE BIG Chicken and Kale Salad
Need a quick lunch that's loaded with veggies and protein but easy to throw together? This is my go to lunch salad and it's truly big enough to fill you up!
Ingredients
3 cups curly kale, chopped
1 cup fresh broccoli, chopped
1 cup chopped or shredded fully cooked chicken, I make my Air Fryer Chicken Breasts for this recipe and just dice up a breast.
¼ cup crumbled feta cheese
1 tablespoon olive oil, extra virgin
1 tablespoon balsamic vinegar
1 teaspoon lemon juice
1 teaspoon italian herb seasoning
salt and pepper to taste
Instructions
Rinse the kale leaves and dry with a paper towel. Cut the kale leaves from the tough stems. Discard the stems. Use a knife to chop the kale into bite-sized pieces. Measure the kale to ensure you have enough. You'll want 3 cups of packed chopped kale. Place the chopped kale in a large salad bowl.

Pour the olive oil, balsamic vinegar, and lemon juice over the kale. Stir so the kale leaves are coated.

Add the chicken, chopped broccoli, feta cheese, and italian seasoning. Stir. Salt and pepper to taste.
Notes
Yes, this is designed to be one giant and filling salad. If you're eating this along with something else (like a delicious bowl of soup) you can of course divide this up into 2 or 4 servings. 
Nutrition
Serving: 1salad, Calories: 552kcal, Carbohydrates: 21g, Protein: 55g, Fat: 30g, Saturated Fat: 9g, Polyunsaturated Fat: 4g, Monounsaturated Fat: 14g, Trans Fat: 1g, Cholesterol: 158mg, Sodium: 1046mg, Potassium: 1473mg, Fiber: 11g, Sugar: 6g, Vitamin A: 20865IU, Vitamin C: 271mg, Calcium: 794mg, Iron: 6mg