Balsamic Peach Arugula Salad
I love a salad that perfectly balances sweet and savory. This Balsamic Peach Arugula Salad does just that.
The key to this incredible bowl of veggie goodness is the roasted peaches. You can use fresh peaches if they're in season, but I am using frozen peaches. Gasp! Shocking, I know. Roasting them with a little ghee and balsamic vinegar brings out their sweetness. So we can absolutely enjoy this even when peaches are out of season (or just so dang pricey)!
Asparagus and thinly sliced red onion goes onto a baking sheet along with the peaches.
Once everything is beautifully roasted just add it all to a bed of arugula along with pistachios and a drizzle of a simple balsamic glaze.
If you've never made a balsamic glaze before you're in for a treat. Most recipes will include sugar but you absolutely do not need it. Balsamic vinegar sweetens on its own as it thickens. What you're left with is a shiny reduction that dresses up any dish. (I also use it in my Healthy Bruschetta Chicken.)
I love this as an entree because it makes a spectacular lunch or light dinner. Of course it also could be served up as a side.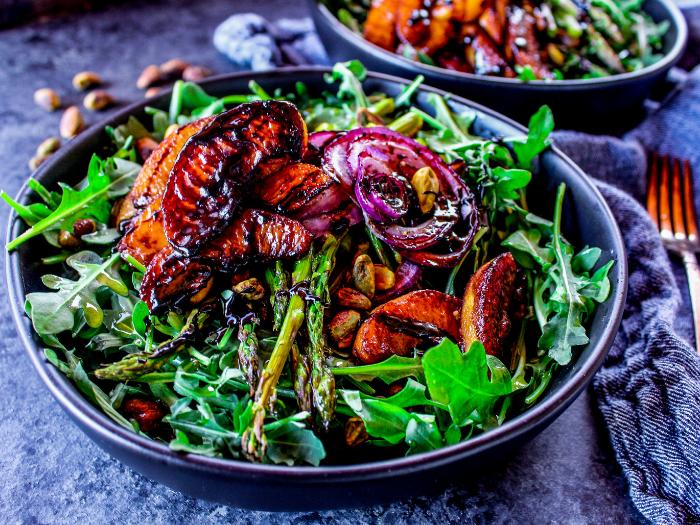 Balsamic Peach Arugula Salad
This Balsamic Peach Arugula Salad is the perfect balance of sweet and savory. You can use frozen peaches so enjoy as an entree or side any time of year.
Ingredients
Roasted Balsamic Peaches
12 - 15

frozen peach slices

1

tbsp

balsamic vinegar

1

tbsp

ghee

,

melted
Veggies
15 - 20

thin stalks of asparagus

2

tsp

olive oil

,

extra virgin

1/2

medium red onion

,

sliced into thin rings

4

oz

arugula

salt & pepper

1/4

cup

pistachios
Instructions
Preheat oven to 425 degrees.

Spread frozen peach slices on half of a parchment paper lined baking sheet. Leave room to add your asparagus later. Drizzle melted ghee and 1 tbsp of balsamic vinegar over the peaches. Place in oven and bake for 5 minutes.

Remove from oven. Carefully flip peach slices. You should see some good caramelization already starting.

Spread asparagus on remaining side of baking sheet. Lay red onion on top of the asparagus. Drizzle 1 tsp olive oil over the asparagus and red onion. Liberally salt and pepper. Bake peaches, asparagus, and red onion for 10 minutes. (I recommend using thin stalks of asparagus for this salad but if you only have thicker stalks you'll want to increase your baking time here to around 12 minutes.)

While everything is in the oven prepare your balsamic glaze. Add 1 cup balsamic vinegar to a small saucepan. Bring to a boil over medium high heat. Reduce heat to medium. You should see bubbling along the outside of your pan. Let simmer for 10 minutes. Stir occasionally as vinegar begins to thicken and coat the spoon. Remove from heat and set aside to cool for a few minutes. It will thicken a bit more as it sits and you'll end up with around 1/4 cup of balsamic glaze.

Let's assemble the salad! Divide your arugula into two bowls. Toss with remaining 1 tsp olive oil. Salt and pepper. Add half the asparagus, red onion, and peaches to each dish. Drizzle balsamic glaze over top. Sprinkle pistachios on top. Enjoy!
Notes
Nutrition information is based on serving this to two people as an entree. You can easily enjoy this into a side salad for four people. Simply divide the nutrition information in half.
Nutrition
Serving:
1
salad (1/2 of all ingredients)
,
Calories:
418
kcal
,
Carbohydrates:
50
g
,
Protein:
9
g
,
Fat:
19
g
,
Saturated Fat:
6
g
,
Cholesterol:
19
mg
,
Sodium:
50
mg
,
Potassium:
1077
mg
,
Fiber:
7
g
,
Sugar:
38
g
,
Vitamin A:
2805
IU
,
Vitamin C:
28.1
mg
,
Calcium:
185
mg
,
Iron:
5.3
mg