Lemon Chicken Cobb Salad
This Lemon Chicken Cobb Salad is loaded with apples, cucumbers, red onion, avocado, hard boiled eggs, chicken, and a super quick lemon vinaigrette!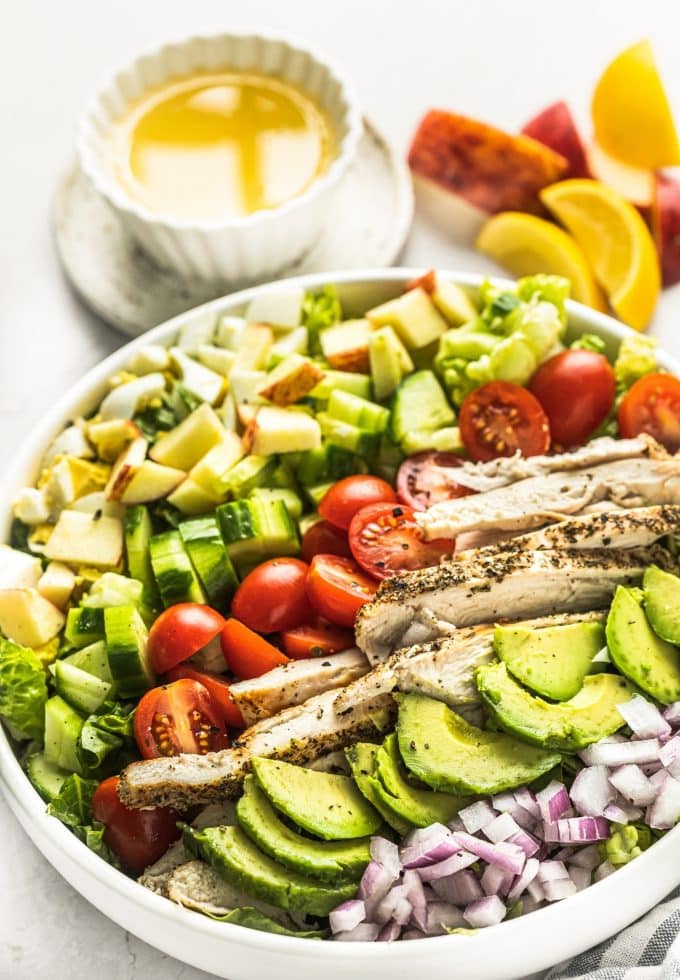 Update: This recipe was originally published in 2018 and has been republished with all new photos.
When I think of cobb salad I think of hard boiled eggs. In fact if I'm at a restaurant and contemplating if I want their salad bar I always check first to see if they have eggs on it. They make every salad more satisfying.
In this salad we're also using chicken, avocado, apples, cucumbers, and red onion. You can of course add bacon if you like. I left it out because avocado already has plenty of fat (really good fat) in it and the chicken and eggs are great sources of protein.
Really good chicken always comes down to what flavor you infuse it with. For this recipe we're going with simple flavors and a healthy dose of lemon.
The lemon vinaigrette in this salad requires only 3 ingredients. Just three! Plus these are all ingredients you likely already have on hand: light olive oil, lemon juice, and orange juice. The orange juice helps cut some of the bitterness of the lemon juice but it's not a sweet dressing.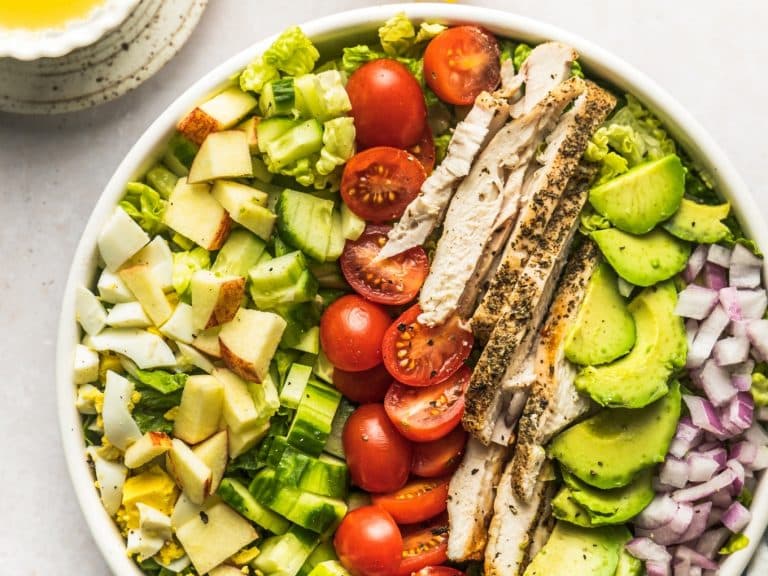 Can you add cheese?
Absolutely! If you're not avoiding dairy you'll love feta or blue cheese with this salad.
Can you use extra virgin olive oil in this dressing?
You'll notice in this vinaigrette recipe (and many of my dressing recipes) I specifically say to use a light olive oil and to avoid extra virgin. I personally adore extra virgin olive oil and I use it all the dang time. The only time I don't use it is in some dressings.
The oily taste is too strong and the oil itself is just too thick. (The main exception is my Easy Homemade Italian Dressing. You can get away with extra virgin there.) Just trust me. Buy the light olive oil and keep it on hand.
How to make hard boiled eggs
To hard boil your own eggs just place the eggs in a pot and cover with cold water. You want the water to reach about an inch above the eggs. Bring the water to a boil, cover, turn off the heat, and remove the pot from the hot burner. Let the eggs sit in the water for 8 to 10 minutes. Rinse them in cold water before peeling.
How to slice an avocado
To get really pretty slices just cut your avocado in half. Gently remove the skin and the pit. Place each half pit side down on a cutting board. Use your knife to cut very thin slices horizontally. Fan the avocado out a bit and add to your salad. You're basically a professional chef now.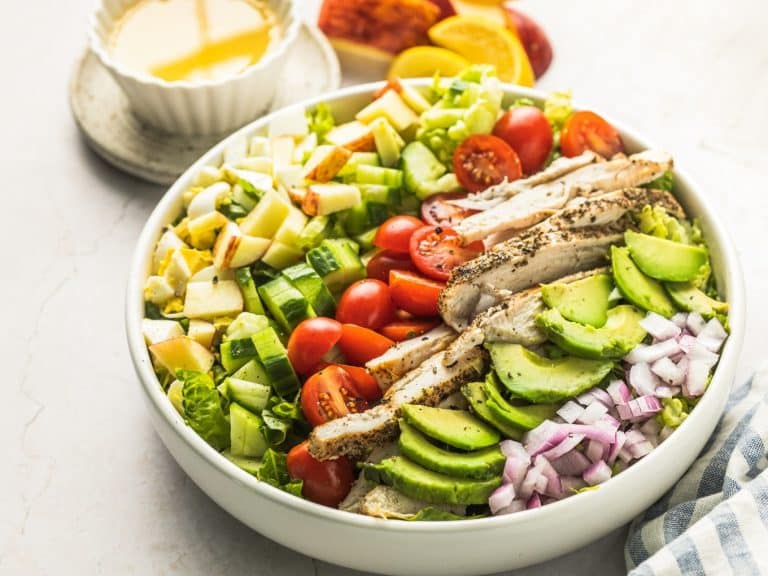 More salads like this:
Southwestern Steak Salad with Lime Vinaigrette
Lemon Chicken Cobb Salad
This Lemon Chicken Cobb Salad is loaded with apples, cucumbers, red onion, avocado, hard boiled eggs, chicken, and a super quick lemon vinaigrette!

Ingredients
Chicken
1 lb chicken breasts, skinless and boneless
1 tbsp olive oil, extra virgin
2 tbsp lemon juice
2 tsp dried basil
1/2 tsp salt
1/2 tsp pepper
1/2 tsp garlic powder
Salad Fixings
2-3 heads of romaine lettuce, chopped, can use another leafy green of choice
3 eggs, hard boiled, diced
1 apple, chopped, I prefer Gala, Fuji, or Red Delicious
1 medium avocado, ripe, sliced
1 small container of cherry or grape tomatoes, halved
1/2 cucumber, diced, can remove peel or leave it on
1/4 red onion, diced
Lemon Vinaigrette
1/4 cup light olive oil, do not use extra virgin
2 tsp lemon juice
1 tbsp orange juice
Instructions
Add olive oil to saute pan or cast iron skillet. Heat pan to medium high heat.

Slice chicken horizontally to create thin cutlets. This helps us cook the chicken faster and gets us better browning on all sides.

Add chicken to hot pan. Sprinkle salt, pepper, garlic powder, and dried basil on top of each cutlet. Cook until chicken has some browning on bottom side, about 3 to 5 minutes. Flip chicken. Add lemon juice to the pan. Cook until remaining side of chicken is browned, about 5 minutes.


To assemble the salads, divide your chopped lettuce into bowls. Top with tomatoes, apples, cucumber, hard boiled eggs, and red onion. Slice your chicken and add it to the salads. Add your sliced avocado at the very end to prevent browning.

Combine all Lemon Vinaigrette ingredients in a jar and shake. Drizzle over each finished salad when you're ready to serve!
Notes
This recipe is plenty to serve to 4 people as an entree. If you're just making it for one I recommend going ahead and making the full recipe because this salad does beautifully when made in advance. (Just don't add the dressing or avocado to the salads until you're ready to serve.) It's so much easier to eat healthy when you meal prep! If you have extra Lemon Vinaigrette leftover just store in an airtight container in the refrigerator.
Nutrition
Calories: 448kcal, Carbohydrates: 15g, Protein: 30g, Fat: 31g, Saturated Fat: 5g, Trans Fat: 1g, Cholesterol: 195mg, Sodium: 477mg, Potassium: 903mg, Fiber: 6g, Sugar: 7g, Vitamin A: 1606IU, Vitamin C: 17mg, Calcium: 59mg, Iron: 2mg