Southwestern Steak Salad with Lime Vinaigrette
This Southwestern Steak Salad with Lime Vinaigrette is one very hearty salad. It has layers of flavors. A little crunchy. A little sweet. This one will definitely make you say yes to your vegetables and you'll have no regrets.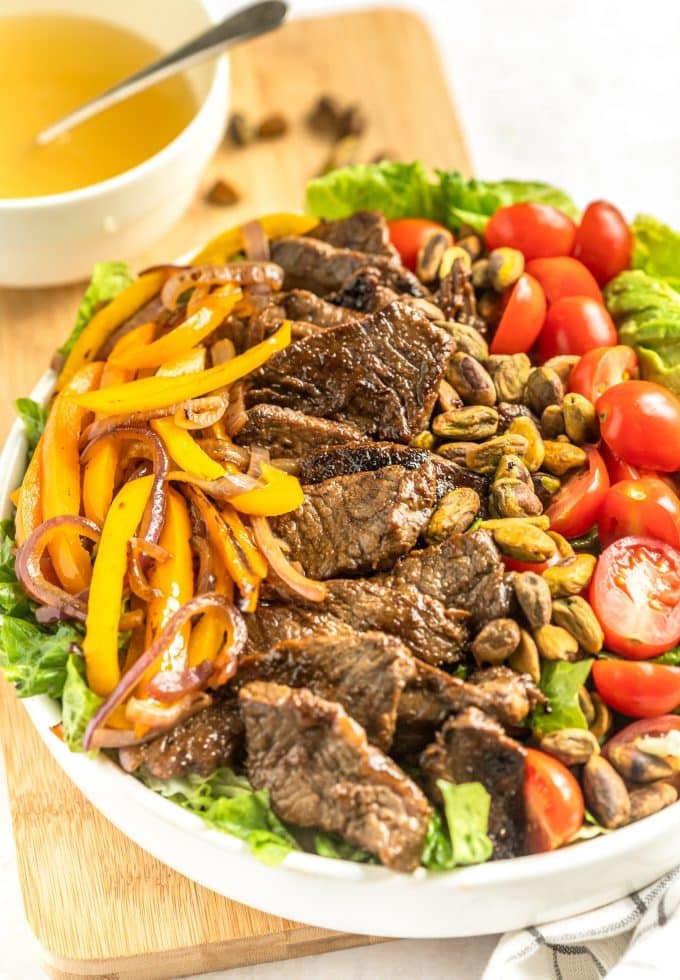 Update: This recipe was originally published in 2018 and has been republished with all new photos.
If I'm going to choose a salad over anything else it has to really be a very good salad. I am not a "throw some cucumbers and tomatoes on a few leaves and call it a meal" kinda gal. Umm that's a hard no. I'm a meat, potatoes, and roasted veggies kinda gal. But I can be totally tempted to do the whole rabbit food thing if what you're offering is spectacular.
This is spectacular, friend.
Let's talk about the most important part first, shall we? The steak I've selected is top sirloin. This is the same cut of beef I use in kabobs because it's both tender and inexpensive. I swear I get asked what kind of steak I've used every time we serve it up and guests are always surprised and impressed.
Prepare your steak however you like. On the grill or in a skillet on the stove. To keep things simple and appropriate for any season I'm providing stovetop instructions in the recipe below.
An easy 4 ingredient marinade, peppers, onions, tomatoes, avocado, cilantro, and pistachios. Now that's a good salad!
The final touch to this incredible salad is the dressing. You're only three ingredients (yes, three!) away from this crazy tasty Lime Vinaigrette. It doesn't get easier than this one. You may have extra dressing after making this salad too. If so, just refrigerate your leftover dressing and use it again and again!
And there you have it! One gorgeously satisfying salad that's sure to please! Plus it's completely low carb, dairy free, gluten free, and Whole30 compliant. BOOM.
Can you add cheese?
Absolutely! If you're not avoiding dairy you'll love cojita, feta, or blue cheese with this salad.
Can you use extra virgin olive oil in this dressing?
You'll notice in this vinaigrette recipe (and many of my dressing recipes) I specifically say to use a light olive oil and to avoid extra virgin. I personally adore extra virgin olive oil and I use it all the dang time. The only time I don't use it is in some dressings.
The oily taste is too strong and the oil itself is just too thick. (The main exception is my Easy Homemade Italian Dressing. You can get away with extra virgin there.) Just trust me. Buy the light olive oil and keep it on hand.
How to slice an avocado
To get really pretty slices just cut your avocado in half. Gently remove the skin and the pit. Place each half pit side down on a cutting board. Use your knife to cut very thin slices horizontally. Fan the avocado out a bit and add to your salad. You're basically a professional chef now.
More salads like this: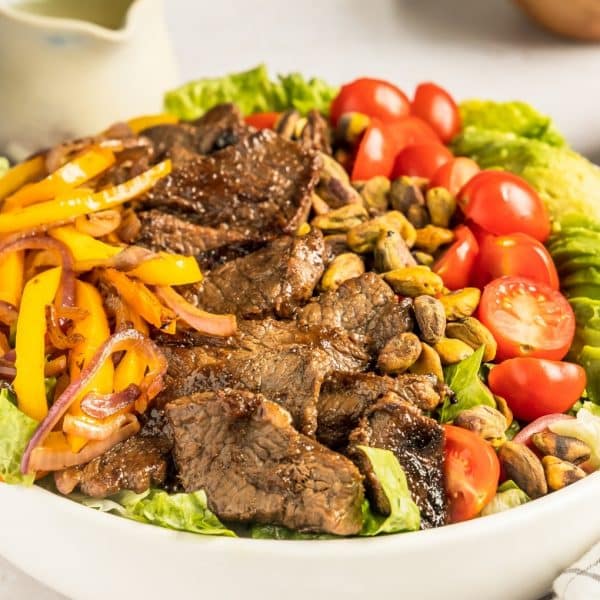 Southwestern Steak Salad with Lime Vinaigrette
This Southwestern Steak Salad with Lime Vinaigrette is so flavorful and hearty! Juicy seared steak, peppers, onions, avocado, tomato, fresh cilantro, and crunchy pistachios! Plus the super simple dressing will blow you away! You'll never believe it's all Whole30 compliant, dairy free, and gluten free.

Ingredients
Steak
1.5 – 2 lbs top sirloin steak
1/2 cup coconut aminos
1 tsp garlic powder
1/2 tsp salt
1/2 tsp pepper
Salad Fixings
1 tbsp olive oil, extra virgin
2 bell peppers, red, orange, or yellow
1 medium onion, yellow, white, or red
3 heads of romaine lettuce, chopped, can use another leafy green of choice
1 small container of cherry or grape tomatoes, halved
1 medium avocado, ripe, sliced
1/2 cup pistachios, shelled
Lime Vinaigrette
1/4 cup light olive oil, do not use extra virgin for the vinaigrette
1/4 cup lime juice
1 tbsp orange juice
Instructions
Cut your steak into thin slices. Toss them in a Ziploc bag with all marinade ingredients. Seal. Lay flat. Massage the bag with your fingers to make sure the marinade is evenly distributed throughout the steak. Let the marinade work it's magic for at least 30 minutes.


Add olive oil to a skillet on medium to medium high heat.


Chop your peppers and onion into strips. Place them in the hot skillet. They're done when they've started to wilt and have some nice browning.


Remove cooked peppers and onions from heat and set aside.


Add your sliced marinaded steak to the same skillet. Sear and cook according to your preferences. Because the steak is already cut it will cook fast no matter how you like it.


To assemble the salad, divide your chopped lettuce into bowls. Top with tomatoes, avocados, and pistachios. Add peppers, onions, and steak.


Combine all Lime Vinaigrette ingredients in a jar and shake. Drizzle over each finished salad when you're ready to serve!

Notes
This recipe is plenty to serve to 4 people as an entree. If you're just making it for one I recommend going ahead and making the full recipe because this salad does beautifully when made in advance. Just don't add the avocado and dressing to the salads until you're ready to serve. It's so much easier to eat healthy when you meal prep! If you have extra Lime Vinaigrette leftover just store in an airtight container in the refrigerator.
Nutrition
Calories: 698kcal, Carbohydrates: 28g, Protein: 57g, Fat: 39g, Saturated Fat: 7g, Cholesterol: 133mg, Sodium: 1111mg, Potassium: 1735mg, Fiber: 8g, Sugar: 9g, Vitamin A: 4815IU, Vitamin C: 107.6mg, Calcium: 101mg, Iron: 5.4mg