30 of the Best Lemon Recipes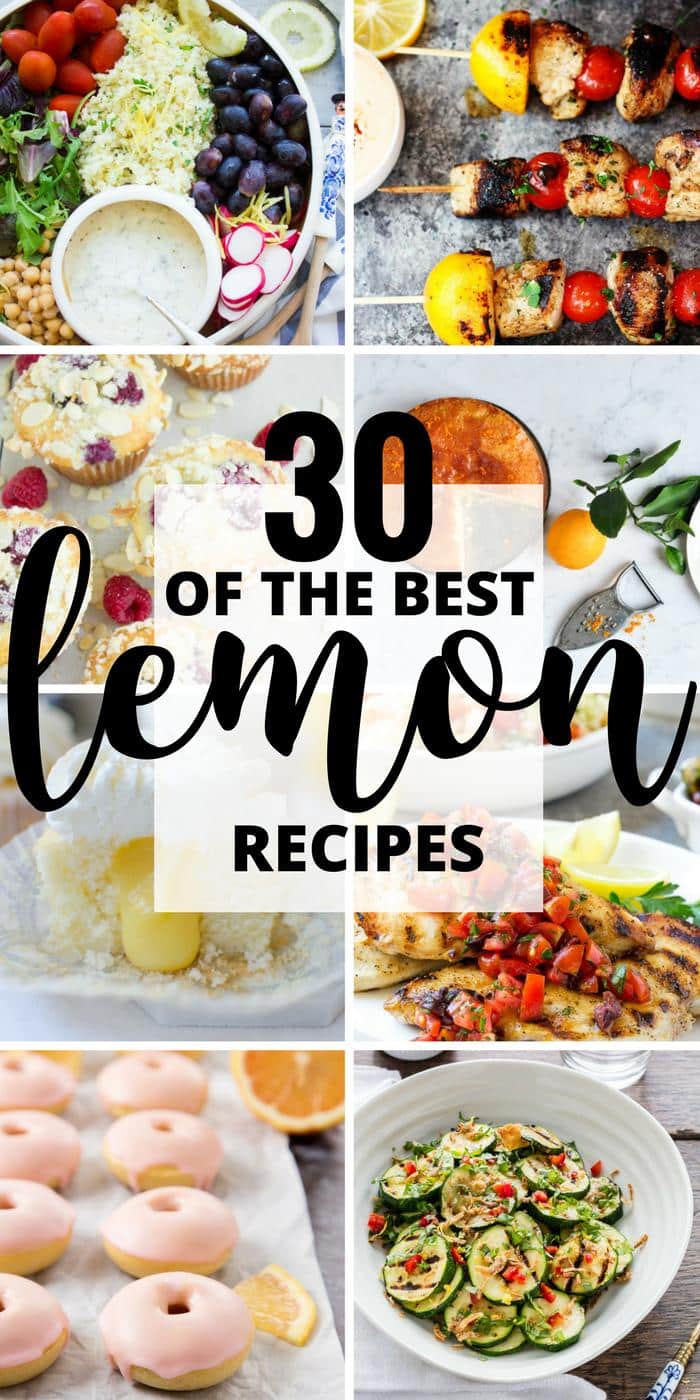 I love citrus everything. This is especially true in the Spring and Summer when the warm weather just seems to call for it. Today I'm kicking off a three part series that will focus on amazing recipes which feature citrus. We'll start with this compilation of 30 of the very best lemon recipes.
Now unless you're my three year old you wouldn't want to take a bite of a fresh lemon. How she can do that I'll never know. I think it's part of it's charm that something so naturally tart can be made so sweet with just a little sugar or honey. This makes it perfect for both savory and sweet dishes.
One of my favorite memories of childhood is my sister and I selling plastic cups of lukewarm lemonade to our neighbors. Thank you to all those sweet people who tolerated all our money making schemes (there were many) and ordered up a cup. It wasn't until adulthood that I began to appreciate how beautifully lemon could shine in an entree, salad, or side dish. And shine it does.
All the recipes I've shared below are bright and packed with that glorious lemon flavor. Enjoy the scroll and click any images to see the recipe.
1. Vanilla Cupcakes Stuffed with Lemon Curd
These gorgeous vanilla cupcakes are light, fluffy, and filled with a homemade lemon curd. That curd is oozing out. Someone stop me from licking my screen. I don't want to embarrass myself.
2. Lemon Chicken Skewers
We do a lot of grilling when the weather is warm and kabobs are my favorite way to grill. This recipe features lemon in the marinade and some even go right on the skewers.
3. Strawberry Lemon Frozen Yogurt
This frozen yogurt may be the color of strawberries but it's the lemon you'll taste the most. Plus it requires no sugar (honey is the sweetener) and no churning! Just blend & freeze for one hour!
4. Greek Lemon Chicken
This dish features lemon in the marinade and in the tomato relish. I really love this play on Greek flavors!
5. Lemon Raspberry Almond Crunch Muffins
I can never resist a muffin in the morning. This one pairs lemon and raspberry, two fruits that totally belong together.
6. Meyer Lemon Syrup Cake
This cake isn't overly sweet and is a little tangy instead. What a perfect way to honor the complexity of the lemon. A slice of this would be amazing with a cup of coffee.
7. Lemon Lavender Bundt Cake
Speaking of cakes that would go well with coffee, check out this one. Lemon + Lavender. Yes, yes, and yes.
8. Lemon Lavender Tarts
And because lemon and lavender belong together you just must try these tarts. This tart dough is lovely and impossible to resist when topped with lemon lavender curd.
9. Lavender Lemonade Cupcakes
It appears we're on a lemon lavender roll so why break up the party? Lavender frosting. Lavender. Frosting. Sounds like I'll be licking the bowl right after I finish with this screen.
10. Zingy Summer Garlic Lemon Chicken
This recipe is heavy on the lemon and the garlic. That's a food maker after my own heart. Plus it requires only 10 minutes of prep so you can spend the 30 minutes it's cooking just enjoying the evening and a glass of wine. Sounds like a plan to me.
11. Lemon Cream Tarts with Berries
This is such a fun dessert for when you're entertaining. Everyone loves getting their own individual dish, right? No judgment from me if you go for seconds. I'll be back in line with you.
12. 20 minute Sheet Pan Lemon Dill Salmon and Asparagus
One pan dinners are a must and this one is ready is only 20 minutes. That's what I call a win. It combines lemon, dill, and salmon. Delicious!
13. Mini Pink Lemon Baked Donuts
How adorable are these baked donuts? They are cute enough to go into my daughter's play kitchen but she'd have to pry them out of my hands first and that's not happening. These sweet treats are cakey and lemony. Need I say more?
14. Crispy Lemon Pesto Roasted Brussels Sprouts
If you don't adore brussels sprouts then you're doing it wrong. I'm serious. I recently told this to a blogger friend of mine and she finally got around to roasting them and now she's a believer too. Roast your brussels sprouts, friends. This version combines brussels sprouts with a lemon pesto. Hello. That's genius.
15. Roasted Courgette Salad with Lemon Chilli Basil and Crispy Shallots
First, a courgette is a zucchini. Were you wondering? I was. I have a ton of zucchini in my garden and it's one of my favorite vegetables. This colorful recipe serves them up in a unique way, roasted in the oven and tossed in a lemon chilli dressing.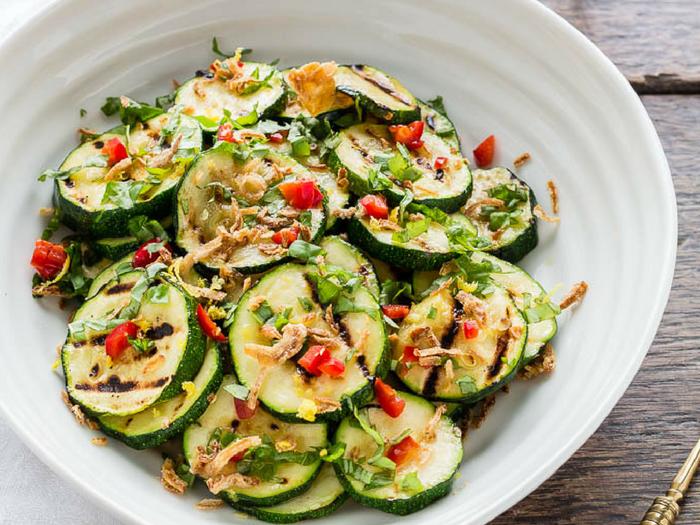 16. Small Batch Raspberry Lemon Bars
Sometimes a small batch of a really good thing is a great idea because otherwise I'll lock myself in my house until everything has been eaten. So small batch is the way to go.
17. Quick Lemon Thyme Chicken
Garlic, lemon, white wine, and thyme. That's the stuff my dreams are made of.
18. Lemon Spinach Pasta with Sun Dried Tomatoes
She had me at sun dried tomatoes and white wine sauce.
19. Strawberry Shortcake & Lemon Curd Parfait
Scones, lemon curd, strawberries, and fresh whipped cream. I honestly don't know what you could object to about this dish.
20. Classic Lemon Blueberry Loaf Cake

It doesn't get better than lemon and blueberry. Oh wait, it does. Make them into a cake.
21. The Best Lemon Cheesecake Ever
I prefer my cheesecakes to be really light instead of heavy and covered in sauce. This one has my name all over it. Brace yourself. It has a coconut cookie crust. Hallelujah.
22. Lazy Day Garlic and Lemon Chicken
This lovely chicken cooks right in a yummy lemon sauce (which would also make an incredible salad dressing). I'm envisioning this over rice or greens.
23. Heirloom Tomato Salad with Roasted Lemon and Garlic
A simple salad is the perfect side on a warm summer evening, isn't it? This one is filled with beautiful tomatoes, lemon, garlic, and basil. You can't beat that.
24. Lemon Risotto:  Chicken, Seafood, or Vegetarian
You can make this dish with several protein options or just go vegetarian. Whichever you choose you'll definitely want that ricotta topping. Ricotta, chives, basil, & lemon, OH MY.
25. Lemon Cauliflower Rice Salad with Yogurt Dressing
I was first introduced to cauliflower rice when I did Whole 30 three years ago and I've been a fan ever since. It's mild so the sky is really the limit for what you can do with it. Using it in a salad makes for a heartier salad that can easily be an entree or side dish.
26. Baked Lemon & Blueberry Cheesecake
Another incredible cheesecake has made the list. The bottom of this gorgeous thing is made of ginger snap biscuits. Ginger and lemon together. Oh yes, sign me up for that.
27. Roasted Summer Squash with Thyme and Charred Lemon
I'm a big believer in roasting vegetables. Steamed veggies are boring (it's true) but roasting brings out all the flavor. This side dish is a star because not only is your squash roasted but your lemon is too.
28. Double Lemon Cupcakes with Buttercream Frosting
This yummy cupcake recipe includes sour cream to ensure it's moist and fluffy. I don't know about you but I'm totally sold.
29. Lemon Beer Cake with Honey and Figs
This citrusy cake has a extra special ingredient, blonde beer, along with a rich frosting that includes ricotta and quark cheese. Also let's all appreciate how beautiful those figs are.
30. Garlic Herb Salmon Marinade
This simple marinade is designed for this salmon but honestly I can't imagine what you shouldn't put it on. It's full of herbs! If you do choose to use it on salmon the whole dish takes about 15 minutes. That's a dinner I can always get behind.
Well that sure made me hungry. My collection of recipes featuring oranges will be going up at the end of the week. That's another fun one!
Save
Save
Save
Save
Save
Save
Save
Save
Save
Save
Save
Save
Save
Save
Save
Save