Lemon Herb Grilled Chicken
You'll love the simple lemon marinade on this grilled chicken! It's so easy, bright, and flavorful.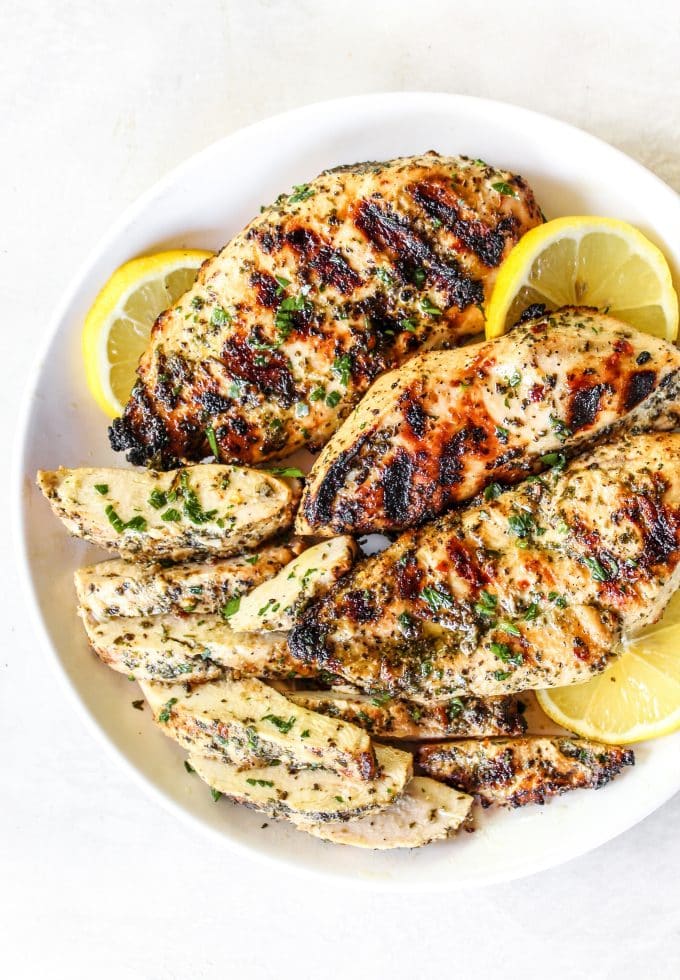 I'm always playing around with new marinade ideas because this gal loves to grill. If the sun is out you better believe I'll be making dinner on the back porch!
This Lemon Herb Grilled Chicken was a home run right away. David took one bite and pronounced that it's better than my Ultimate Marinated Grilled Chicken. Now that's a mighty bold statement because that chicken recipe is obscenely good! I'm not sure I can pass the "ultimate" title on just yet but if you've made both let me know what you think!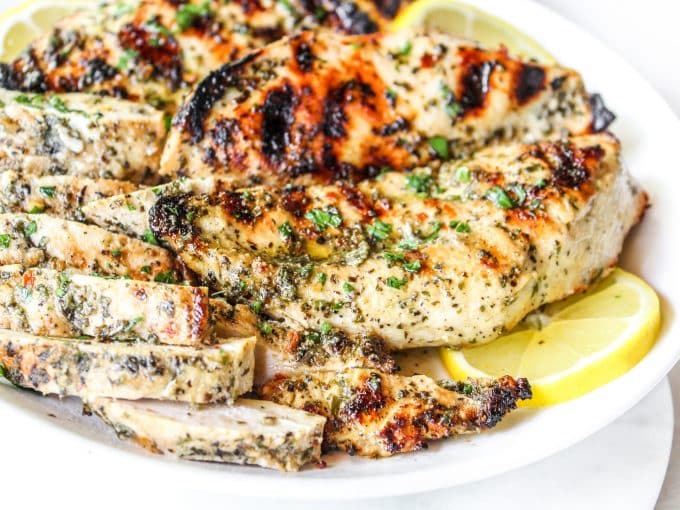 Enjoy straight off the grill with a side like Grilled Zucchini & Squash, Garlic Green Beans, or Spicy Roasted Broccoli. These chicken breasts are also incredible on top of a salad (like my Berry Avocado Salad or Balsamic Peach Arugula Salad).
How long should you marinate?
I always like to marinate chicken for at least an hour and up to 12 hours. The longer you marinate the more pronounced the flavor will be. That's especially important when using a milder marinade like this one. I try to toss the marinade in a bag with the chicken breasts in the morning so they can hang out all day together. I don't recommend longer than 12 hours because your meat can start to breakdown and the texture changes if it sits in a marinade for too long. (That goes for any marinade.)
How can you prevent your chicken from sticking to the grill?
This marinade includes olive oil so that will help prevent sticking. If you have a history of sticking problems on your particular grill then feel to add another swipe of oil or try a grill spray. If you try to flip your chicken and you notice it's sticking a bit just give it another minute before flipping and the chicken will usually release better then.
More recipes like this:
Ultimate Marinated Grilled Chicken
Garlic Balsamic Chicken Kabobs
Lemon Herb Grilled Chicken
You'll love the simple lemon marinade on this grilled chicken! It's so easy, bright, and flavorful.
Ingredients
2 lbs chicken breasts, trimmed
Lemon Herb Marinade
1/4 cup olive oil, extra virgin
1/4 cup lemon juice
1 tbsp dried basil
1 tbsp dried parsley
1 tsp salt
1/2 tsp black pepper
1/2 tsp garlic powder
1/2 tsp onion powder
1/4 tsp crushed red pepper flakes
Instructions
Place your chicken breasts in a gallon Ziploc bag with all ingredients for the Lemon Herb Marinade. Seal the bag, squeezing out any excess air. Let the chicken marinate for at least one hour and up to 12 hours.

Grill or saute your chicken depending on your preference. I'm providing instructions for both below.
To Grill
Remove each chicken breast from the bag and place on a hot grill over medium heat. Grill 5 to 7 minutes on each side or until done. (Juices should run clear.)
On the Stove
Add 2 tablespoons of olive oil or another cooking fat to a skillet on the stove. Heat the oil over medium high heat. (You'll know it's ready when the chicken sizzles as you place it in the pan.) Add each chicken breast to the skillet in a single layer. Cook for about 5 minutes. Flip your chicken. Cook for an additional 5 minutes. (Chicken should be firm to the touch when done and juices should run clear.)
Nutrition
Calories: 388kcal, Carbohydrates: 2g, Protein: 49g, Fat: 20g, Saturated Fat: 3g, Cholesterol: 145mg, Sodium: 850mg, Potassium: 895mg, Fiber: 1g, Sugar: 1g, Vitamin A: 105IU, Vitamin C: 9mg, Calcium: 39mg, Iron: 2mg