The Best Ground Chicken Burgers
This is the best ground chicken burger you'll ever make. Loaded with flavor, so delicious, and easy!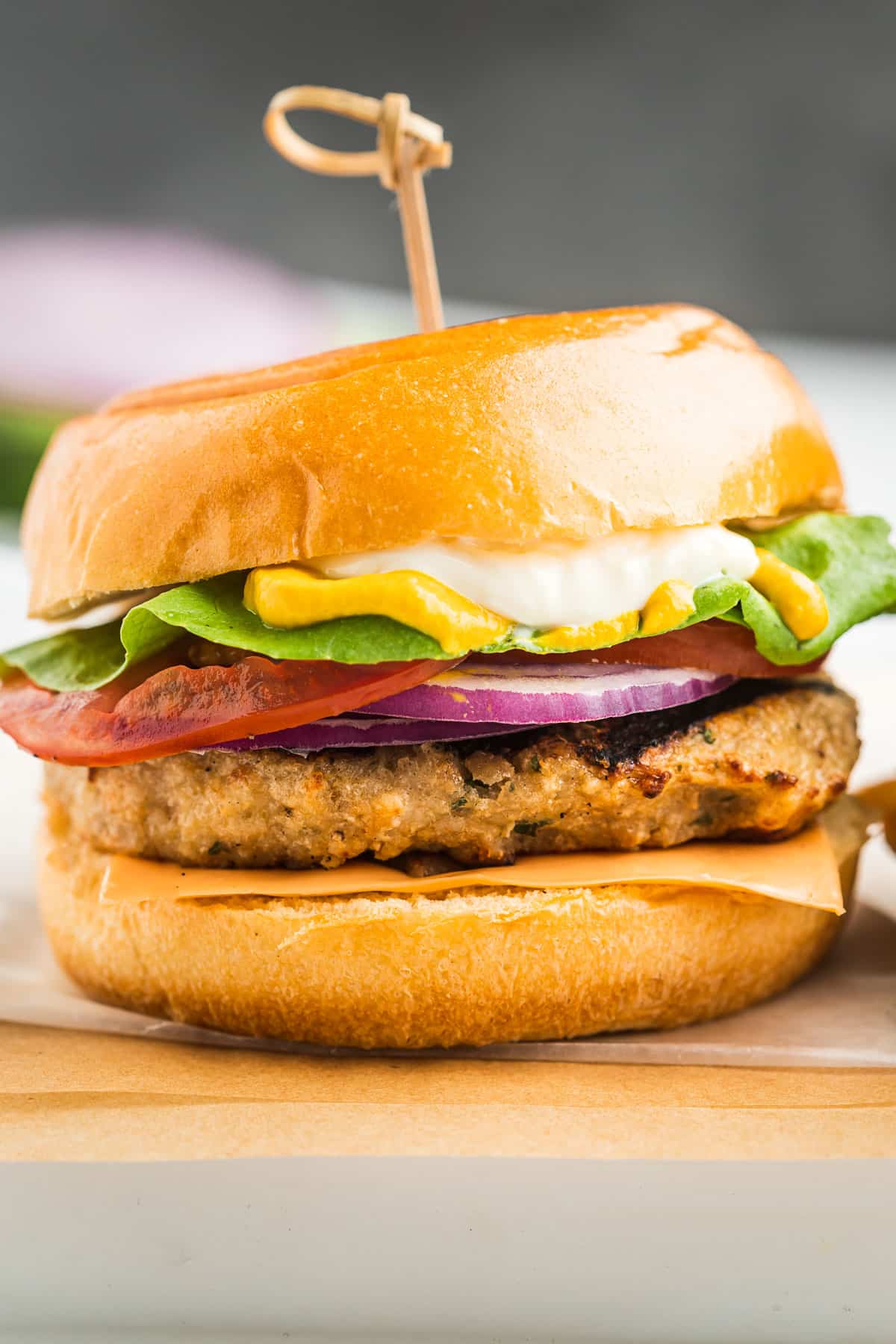 My Healthy Grilled Turkey Burgers have been a hit for years now. They were born out of necessity when my husband was first diagnosed with alpha-gal, a red meat allergy that comes from a tick bite. Ground turkey served us well in so many recipes where people traditionally use beef or pork. Then a few months ago I decided to challenge myself by working on ground chicken recipes. Ground chicken has a reputation for being dry since it's very lean but the ground chicken stir fries, meatballs, and these delicious burgers I've developed absolutely show how amazing ground chicken can be.
Now let's dive into The Best Ground Chicken Burgers, shall we?
I strongly recommend you use ground chicken and not ground chicken breasts. You may see both options available in your grocery store and while I enjoy ground chicken breasts in stir fries it's a terrible option for burgers. You need a little fat to keep burgers juicy so take my advice and purchase the ground chicken (not the breasts).
For these patties we're using a combination of breadcrumbs, yogurt, grated parmesan, and egg to keep them juicy. Plus worcestershire sauce, dijon mustard, and seasonings to give us a truly great flavor (the parmesan flavor really comes through too).
I've eaten these burgers in a bun, in a lettuce wrap, and with a knife and fork but no matter how you serve them up I promise you'll love them. If you've been hesitant to make a ground chicken burger before, this is the one that will win you over!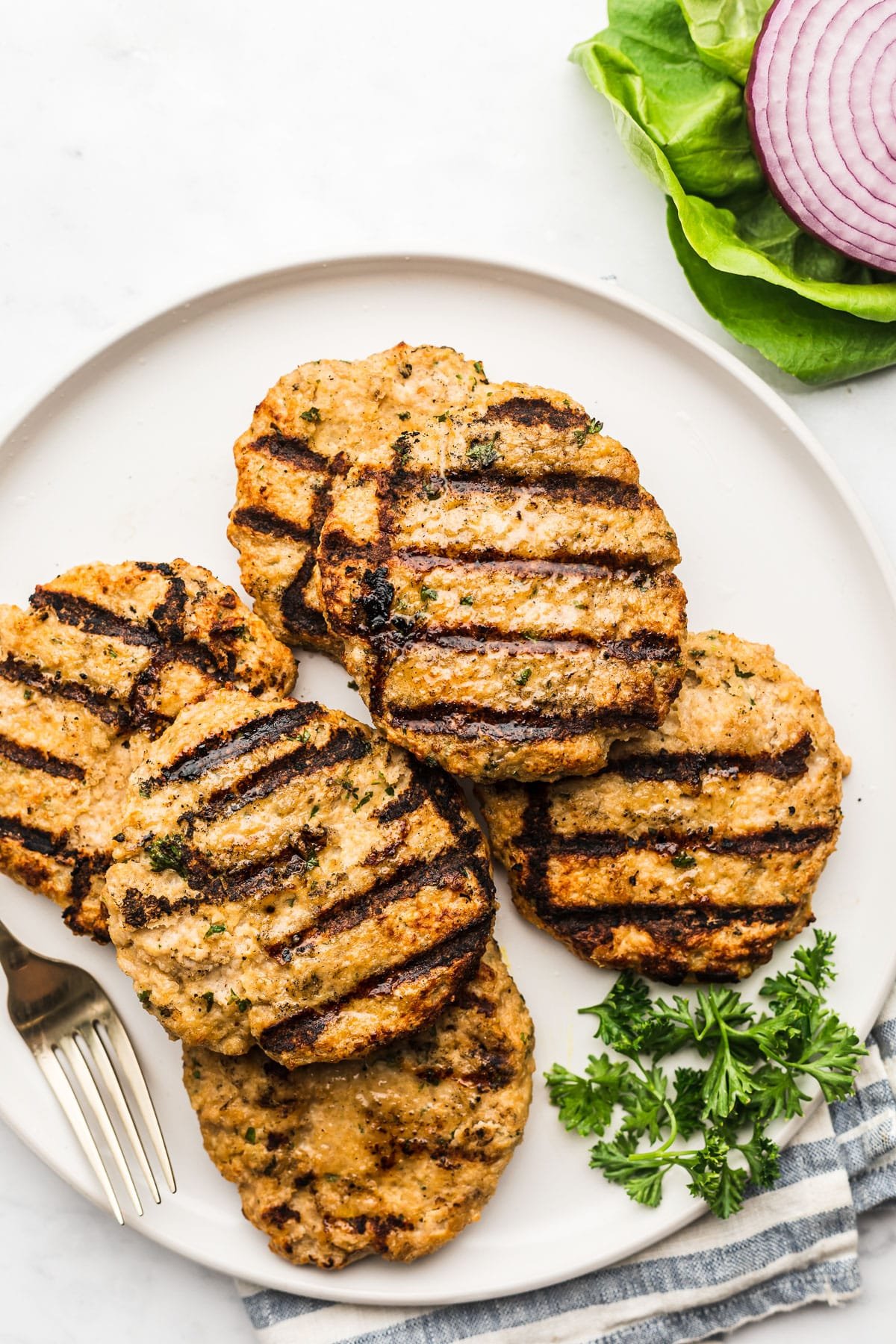 Ingredients for The Best Chicken Burgers
Ground chicken: You'll want a mix of white and dark meat so use ground chicken and not ground chicken breasts (which would be too lean and result in dry burgers).
Breadcrumbs: We're using breadcrumbs in these chicken burgers to give them a lighter texture and make them more tender. This is important when working with ground chicken since it naturally has so little fat.
Fresh parsley: I love fresh parsley in these burgers. I use flat leaf parsley but you can use curly if you prefer.
Greek yogurt: You can use whole milk, low fat, or fat free greek yogurt. Just be sure to pick an unflavored and unsweetened variety.
Grated parmesan: This grated cheese is a powdery texture and adds a unique salty flavor I love so much in these burgers.
Egg: Egg acts as a binder in these patties so they'll keep their shape. While you won't often find egg in burgers made with beef, it's helpful when working with a protein with low fat content like ground chicken.
Worcestershire sauce: This rich brown sauce is considered a kitchen staple because almost everyone keeps a bottle in their pantry. It's made from a combination of vinegars, tamarind paste, molasses, sugar, salt, and a few other ingredients. You'll often see it in recipes for marinades, soups, and it's essential if you're making a good bloody mary.
Dijon mustard: Dijon mustard is made from brown or black mustard seeds and includes white wine. It is slightly spicier than yellow mustard which is made from yellow and white mustard seeds. Dijon mustard adds another layer of flavor to these chicken burgers but does not make them spicy.
Seasonings: Garlic powder, salt, and black pepper create the perfect seasoning blend for these tasty burgers.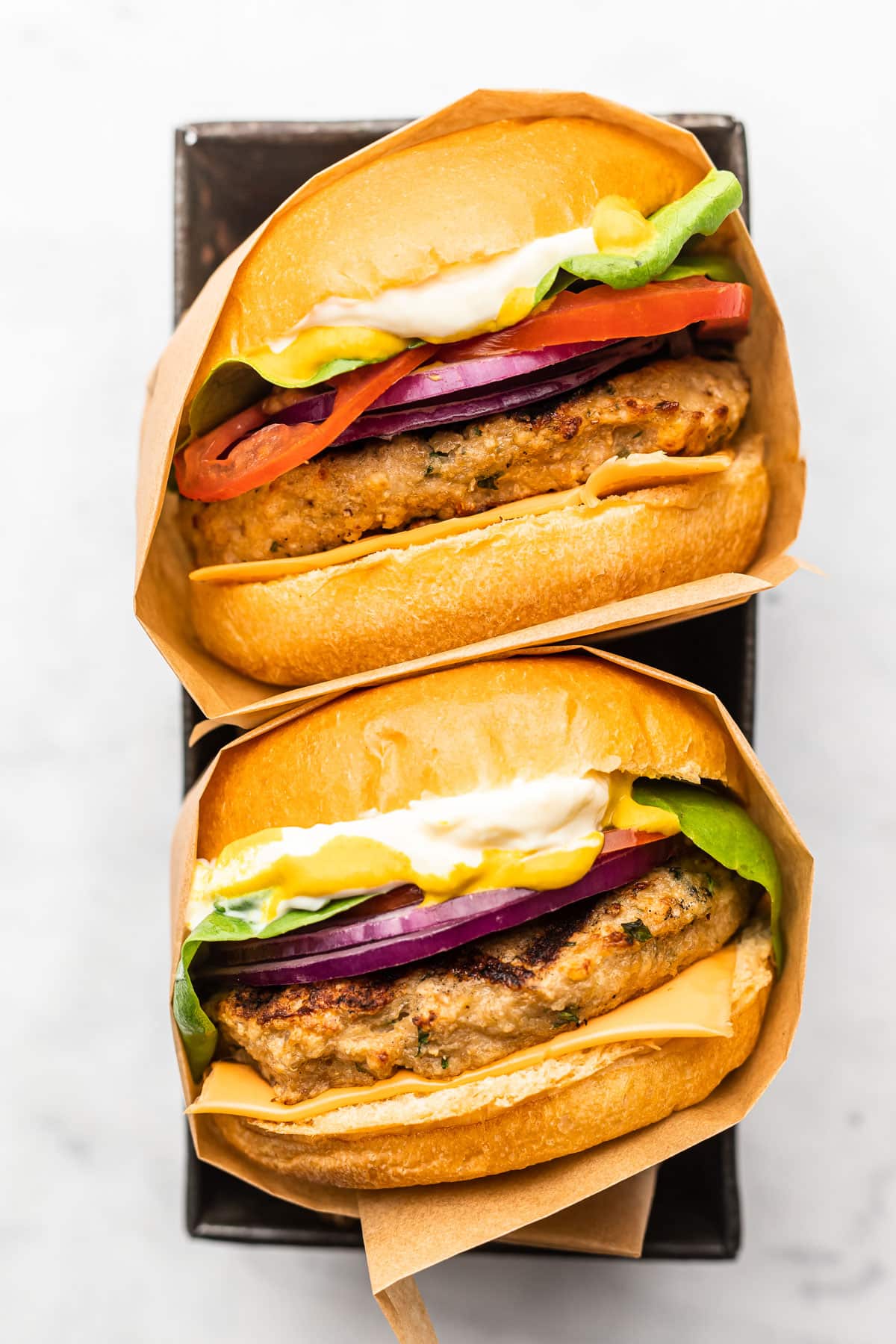 Recommended Side Dishes for Chicken Burgers
Grilling season means its time for all the yummiest grilling sides! You can obviously serve these burgers with your favorite chips but if you're in the mood to cook something special I recommend these recipes below.
How to Freeze Chicken Burger Patties
These patties do great frozen! If you want to make a big batch to cook for a later date, just form your patties and lay them flat (uncooked) on parchment paper in the freezer. Once completely frozen you can stack one on top of the other. I wouldn't do that until frozen or they'll stick together.
When you're ready to cook, thaw them in the refrigerator. Grill the thawed burgers per recipe instructions.
You can also grill the burgers and then freeze them. To reheat, microwave each patty for about 30 seconds or cook in a saucepan on the stovetop at medium heat for 1 to 2 minutes per side.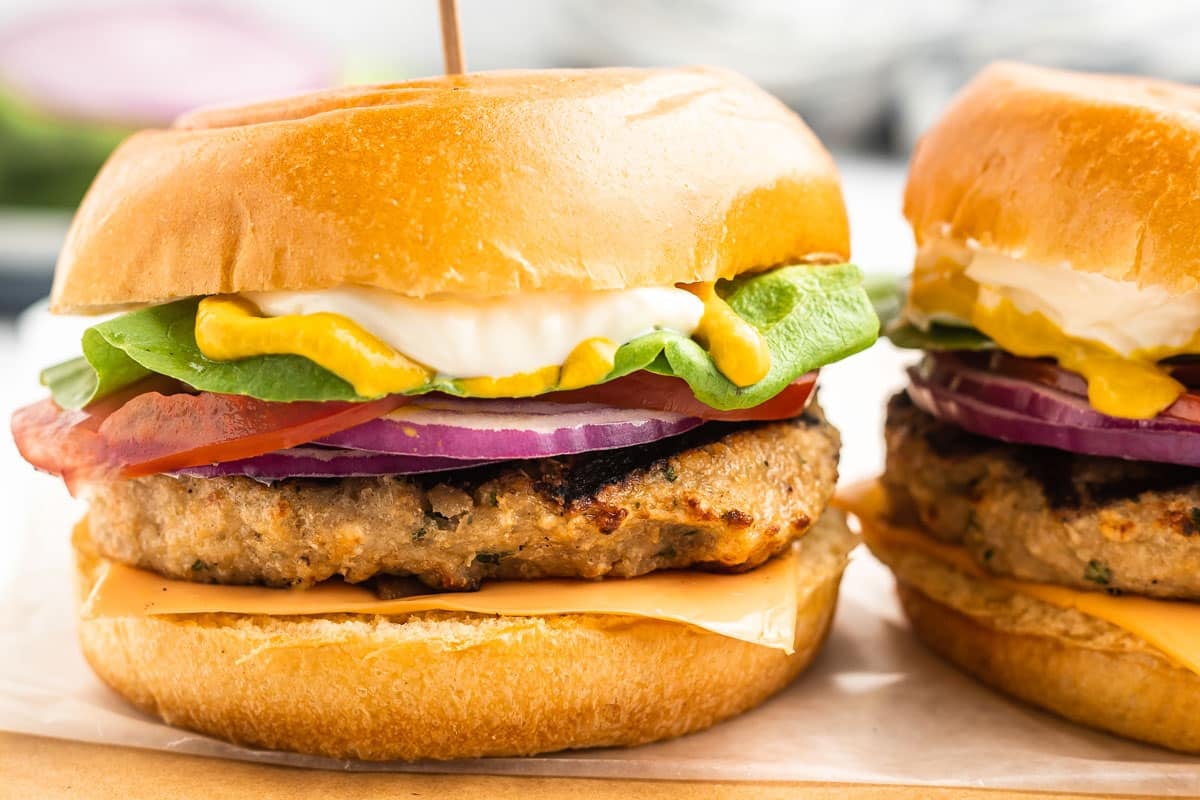 How to Store Leftovers
Cooked chicken burgers will remain good in an airtight container in the refrigerator for up to 4 days.
How to Top these Chicken Burgers
There are so many topping options when it comes to delicious chicken burgers. Choose whatever sounds good to you! In these photos I've opted for lettuce, tomato, red onion, cheddar cheese, mayo, and mustard.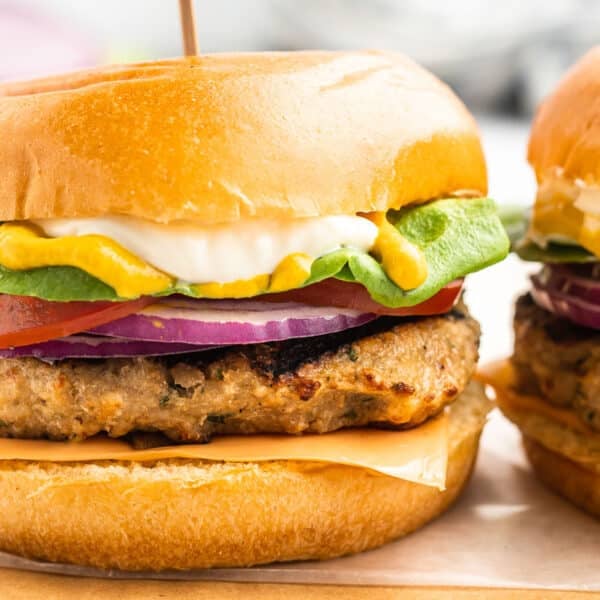 The Best Ground Chicken Burgers
This is the best ground chicken burger you'll ever make. Loaded with flavor, so delicious, and easy!
Ingredients
1 pound ground chicken, you'll want a mix of white and dark meat so use ground chicken and not ground chicken breasts
½ cup breadcrumbs
½ cup parsley, finely chopped
¼ cup greek yogurt
¼ cup grated parmesan
1 egg
2 tablespoons worcestershire sauce
1 tablespoon dijon mustard
1 teaspoon garlic powder
½ teaspoon salt
½ teaspoon black pepper
Instructions
Add all ingredients to a large bowl. Use your hands to combine ingredients.

Form into six patties. If you're not grilling immediately place the patties on a plate and cover with plastic wrap in the refrigerator.

Heat the grill to medium-high heat.

Brush olive oil on both sides of each burger (or use an oil spray). Gently place each patty on the grill. Close the lid. Cook for 4 to 6 minutes. Do not flip your burger too early or you won't get the grill marks we want. Flip. Sear remaining side until patty has reached an internal temperature of 165 F, another 4 to 6 minutes.

Remove from the grill. Serve each burger on buns with toppings of your choice. I recommend lettuce, tomato, cheese, red onion, mayo, and mustard.
Nutrition
Serving: 1patty, Calories: 187kcal, Carbohydrates: 9g, Protein: 18g, Fat: 9g, Saturated Fat: 3g, Polyunsaturated Fat: 2g, Monounsaturated Fat: 3g, Trans Fat: 0.1g, Cholesterol: 96mg, Sodium: 496mg, Potassium: 527mg, Fiber: 1g, Sugar: 2g, Vitamin A: 504IU, Vitamin C: 7mg, Calcium: 87mg, Iron: 2mg