Lemon Pasta Salad
This summery pasta salad includes a creamy lemon dressing, shredded chicken, arugula, and red onion. It's the perfect light entree or BBQ side dish!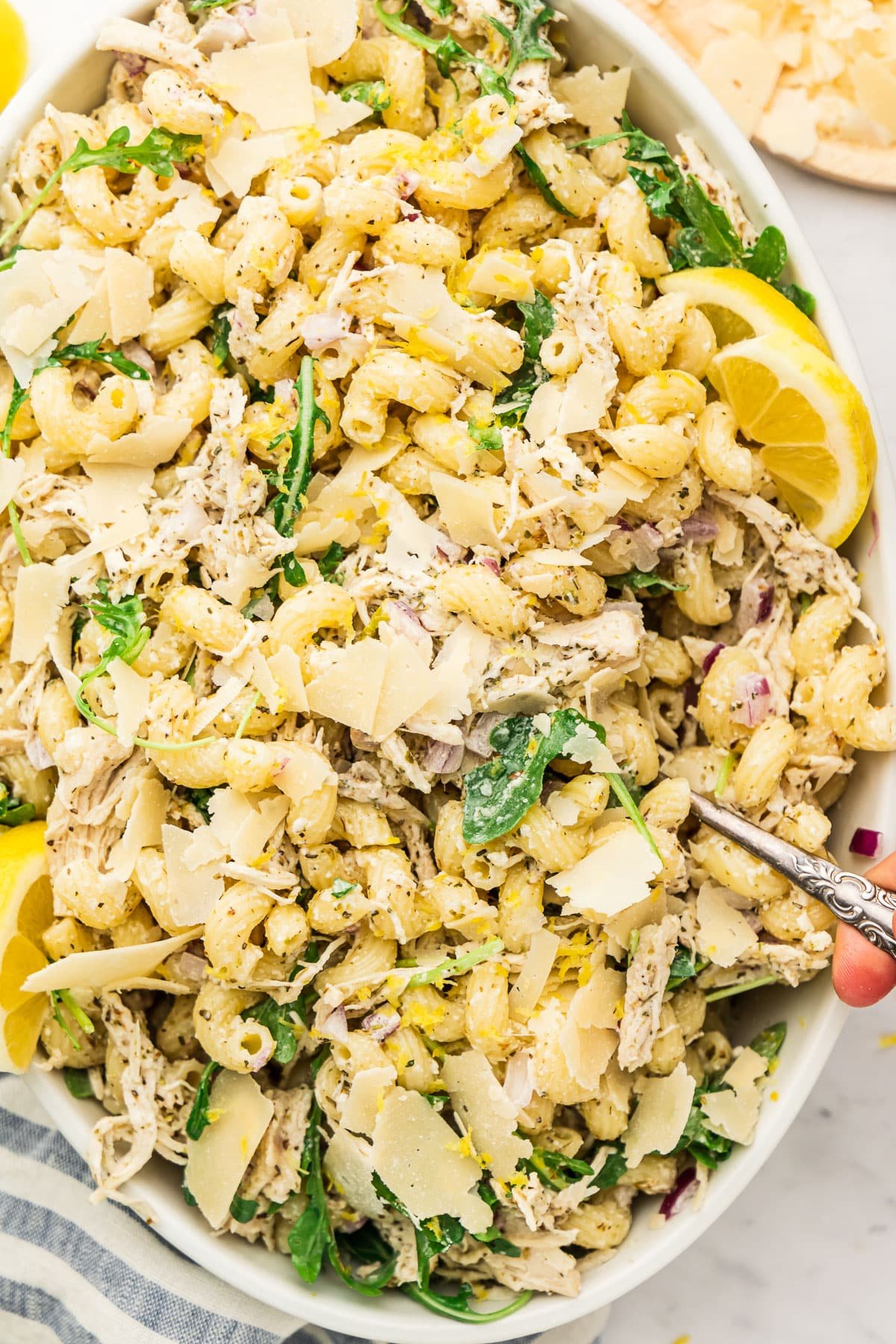 I adore citrus flavors so anything with lemon is an immediate yes for me. My Oven Baked Chicken Thighs, Sautéed Lemon Butter Mahi Mahi, Lemon Butter Shrimp, and Lemon Herb Grilled Chicken are just a few of my lemon flavored entrees. I also love to use lemon in salad dressings which you'll find in my Easy Kale Salad with Lemon Dressing and Blueberry Goat Cheese Salad with Chicken.
Now that the temperatures are climbing (we hit 99 one day last week and I practically melted) I'm in the mood for all the pasta salad recipes. Anyone else?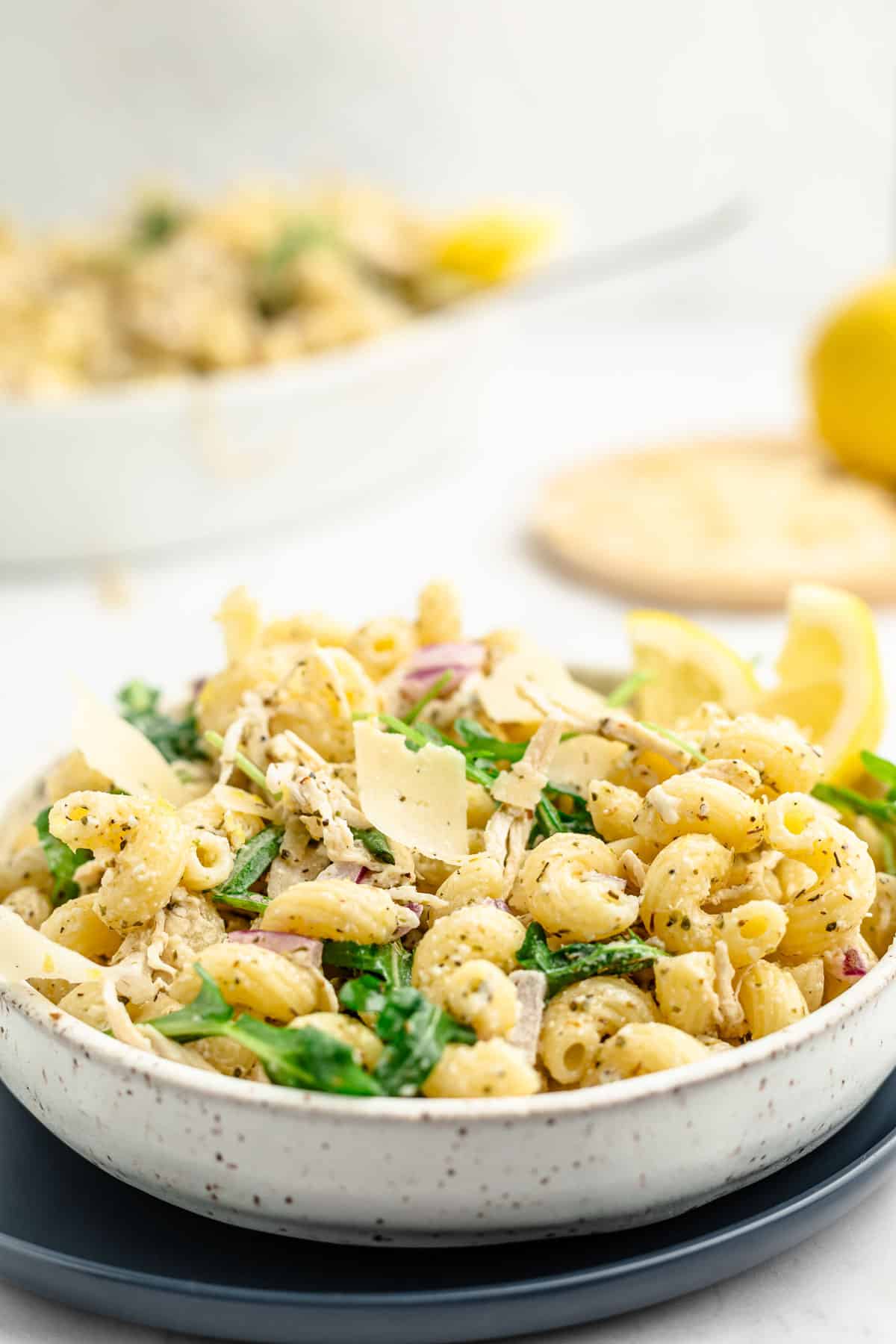 Lemon Pasta Salad Ingredients
Cavatappi pasta: I enjoy cavatappi pasta in this recipe but farfalle (bowtie) or rotini are great options. You can truly use whatever pasta you like best.
Shredded chicken: Any fully cooked shredded or chopped chicken works beautifully in this pasta salad. To save time I like to purchase a store-bought rotisserie chicken and just give it a quick chop.
Grated parmesan: This grated cheese is a powdery texture that clings to the pasta. It adds a unique salty flavor I love so much in this dish.
Arugula: Arugula is a slightly peppery leafy green. It's delicious in soups, mixed with spinach in salads, and extra fantastic in this lemony pasta salad.
Red onion: Red onion still has the classic onion flavor but it's more mellow than white or yellow onions. This makes it a great choice to enjoy raw. Plus it's such a beautiful color! I especially enjoy it in burgers, salads, and kabobs.
Olive oil: Extra virgin olive oil is the base for the lemon dressing we're making.
Lemon juice: The bright lemon flavor of lemon makes this the perfect summery pasta salad.
Mayonnaise: Use regular mayo or a light mayo. Both work well in the creamy lemon dressing we're using here. You can also sub plain unsweetened greek yogurt if you prefer.
Lemon zest: The zest adds extra lemon flavor to our pasta.
Shaved parmesan: Shaved parmesan has more concentrated flavor than grated parmesan. I love it on top of this pasta salad, caesar salad, or soups.
Seasonings: Italian seasoning, salt, and black pepper all create the perfect seasoning blend for this pasta salad.
What chicken is best to use?
Any fully cooked chicken works great! I like to shred a store-bought rotisserie chicken to save time. If you want to cook the chicken yourself, boneless and skinless chicken breasts or thighs are both great options. You can use any cooking method you like. 2 pounds of skinless and boneless chicken breasts will yield the 4 cups of shredded finished chicken that we want. My Air Fryer Chicken Breasts or Lemon Herb Grilled Chicken recipes would be perfect.
If you want to boil your chicken that's okay too. The flavor in this pasta salad comes from the fantastic dressing and all that parmesan anyway. Add chicken breasts to a pot of boiling water. Simmer on medium heat until cooked through, about 10 minutes. Remove the chicken from the water and set aside so it can cool. Then use two forks to shred the fully cooked chicken. You can also use a sharp knife to chop the chicken if you prefer. Measure the finished chicken to make sure you have 4 cups.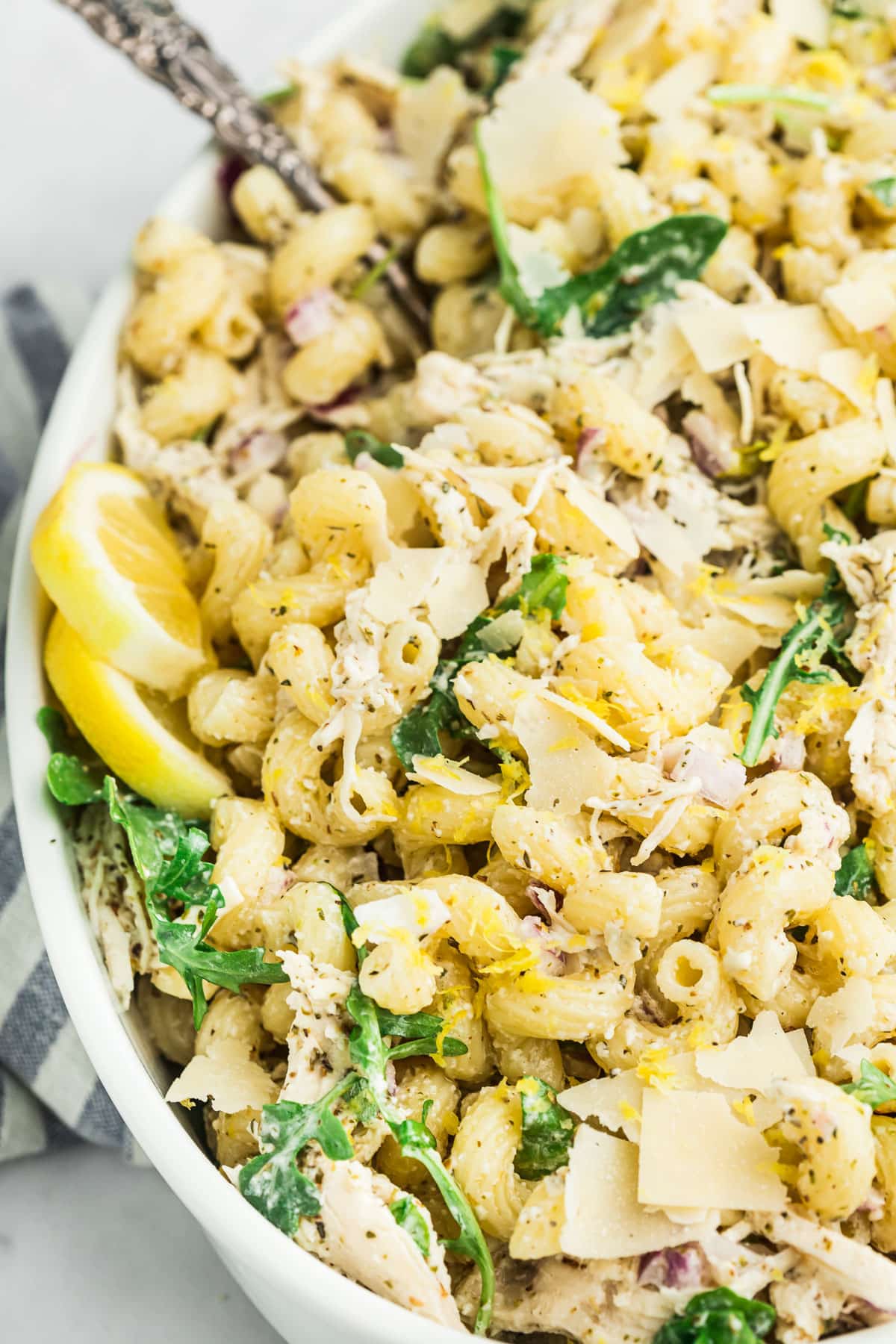 Can you make this pasta salad in advance?
Yes! Just like with all pasta salads, the flavors get more pronounced as it sits so making this a few hours before you plan to enjoy it is a good idea (but not mandatory). Refrigerate in an airtight container. Give it a good stir before serving.
How to Store Leftovers
Store any leftovers in an airtight container in the refrigerator for up to 4 days.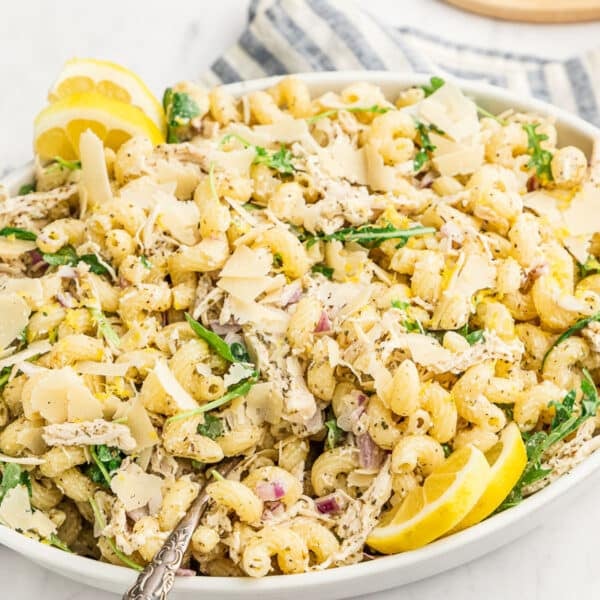 Lemon Pasta Salad
This summery pasta salad includes a creamy lemon dressing, shredded chicken, arugula, and red onion. It's the perfect light entree or BBQ side dish!
Ingredients
16 ounces cavatappi pasta, 1 pound
4 cups fully cooked shredded chicken
¾ cup grated parmesan
2 cups arugula
½ red onion, finely diced
½ teaspoon salt
Lemon Dressing
1 cup olive oil, extra virgin
5 tablespoons lemon juice
4 tablespoons mayo, can sub plain unsweetened greek yogurt
3 tablespoons Italian herb seasoning, can sub 1 tbsp basil + 1 tbsp oregano + 1 tbsp parsley
½ teaspoon salt
¼ teaspoon black pepper
To Finish
shaved parmesan
zest of one lemon
Instructions
Cook your pasta per package instructions.

Drain water from pasta and add pasta to a large bowl. Stir in shredded chicken, grated parmesan, diced red onion, arugula, and ½ teaspoon salt.

In a separate bowl whisk together olive oil, lemon juice, mayo, Italian herb seasoning, salt, and pepper.

Pour the lemon dressing over the pasta and stir until well combined. Taste and add more salt or pepper if desired.

Top with shaved parmesan and the zest of one lemon.

Refrigerate the finished pasta until you're ready to serve. Before serving, give it a good stir so the dressing isn't settled on the bottom.
Nutrition
Serving: 1cup, Calories: 422kcal, Carbohydrates: 31g, Protein: 19g, Fat: 25g, Saturated Fat: 5g, Polyunsaturated Fat: 4g, Monounsaturated Fat: 15g, Trans Fat: 0.003g, Cholesterol: 41mg, Sodium: 381mg, Potassium: 246mg, Fiber: 2g, Sugar: 2g, Vitamin A: 178IU, Vitamin C: 3mg, Calcium: 96mg, Iron: 2mg